Heather Knight plays starring role as Western Storm claim victory in last Kia Super League final
NICK FRIEND: If you believe in fate and in the concept of a 10-match group stage, then this was the only result. A brutally dominant side that lost just once along the way. Champions. The final champions. The eternal champions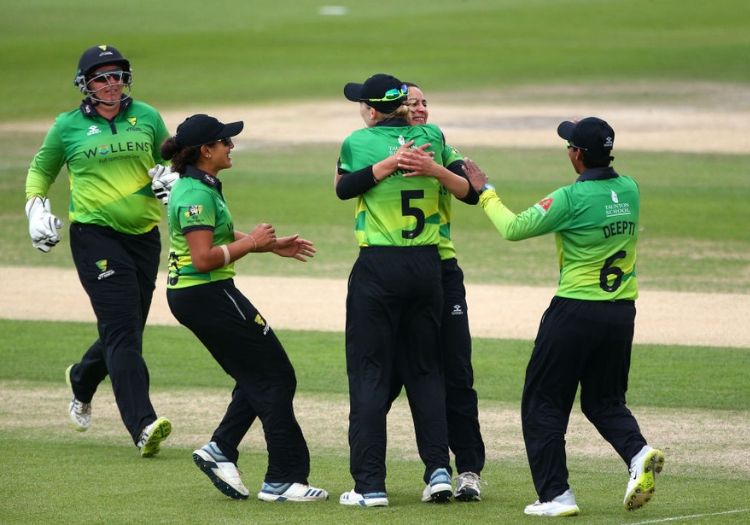 The biggest prize in Kia Super League history: be the final winners, be the very last team to lift the trophy, be the eternal champions, be the team that everyone remembers.
That was the carrot being dangled in front of two teams of cricketers; one led by England captain Heather Knight, the other led by Tammy Beaumont, England's world-class talisman.
Because this is it. The last finals day. A brave, new world awaits – a mysterious universe about which cricket knows only a few details. Only that from next year, the premier franchise competition in the women's game will comprise 100 balls.
So, this was it. And Knight wasn't going to go quietly. She wanted to be the one, to be the player whose name remains subliminally associated with this tournament. Her contribution was spectacular, making all kinds of hay after her mind had been muddled by events of the first half of the game.
Supported first by Fran Wilson and then by India's Deepti Sharma, she swept, pulled, drove and slashed with total regularity and complete calm. This was a final. The final. The final final. The one, ultimately, that will be truly remembered. And here was Knight, England's captain, Western Storm's captain, having a net. She picked her spot at her very will. When she needed a boundary, she found what she needed.
In a difficult personal summer – the mouthpiece for a torrid Ashes campaign, she stood up on the game's biggest domestic occasion.
Earlier, Danni Wyatt had looked every inch England's T20 opener. For 13 overs, she signed over the final rites to The Hundred with a brutal knock of swagger, fearlessness, courage. Until Knight took centre-stage, it was a knock that merited victory and a knock that merited its place as the last great individual effort seen by this competition.
Swagger because, well, that is how Wyatt plays her cricket. Fearlessness because, quite simply, to play Wyatt's role – a selfless surge of reckless abandon – requires a certain ignorance of consequence. Courage because this was a day that was meant to crown Western Storm as champions. They were certainly the group stage's standout side. Nine wins came from their 10 games. While others sweated on qualification for the Hove showpiece, Knight's charges had taken no time at all. That she - for some time - seemed to have shaken their right to victory was some testament to a supreme innings.
Wyatt ends the 2019 season as the competition's top run-scorer; her 423 runs came alongside a strike-rate of 167.19. Nobody that made more than 20 runs in this year's edition made theirs faster. It is some effort.
That she ended up on the losing side was not down to her own contribution, but down to that of her international skipper, her adversary on the day.
After winning the toss and opting to bat – very much the order of the day on a wearing pitch, Beaumont watched the initial carnage ensue. Before Wyatt, it was Suzie Bates, who made has history in this fixture. She made 52 in the 2016 final between the teams. Here, she whacked five fours in an enterprising knock of 26, before she was superbly caught one-handed by Sonia Odedra off her own bowling.
When the New Zealander fell, however, Beaumont strode to the crease herself, keeping Wyatt company as the assault continued. India's Deepti Sharma was taken for 40 runs from her four overs, as was England T20 international Freya Davies.
When Wyatt finally fell – eight runs after Smriti Mandhana had put down a straightforward opportunity on the long-off boundary, much of the damage had been done. Even as the wheels gradually came apart as the Vipers' innings subsided, Wyatt's 42-ball 73 had taken her side to an imposing total, demanding the joint second-highest successful KSL chase of all time from the group-stage winners. Champions, though, do these things. They pull off the improbable.
In reply, Mandhana's day did not improve. The India star, who was recalled by her national governing body before last year's finals day, had been hoping to make amends this time around. However, after badly dropping Wyatt, she fell to the first legitimate ball she faced.
Rachel Priest, meanwhile, did as Bates had done for Vipers, finding the ropes on five occasions. Yet, it was only when Sharma joined Knight that the game truly turned.
As far as cameos go, this was a stunning effort. The left-hander plundered an unbeaten 39 from just 22 deliveries, helping Knight over the line with an over to spare.
If you believe in fate and in the concept of a 10-match group stage, then this was the only result. A brutally dominant side that lost just once along the way.
Champions. The final champions. The eternal champions.
Please ensure all fields are completed before submitting your comment!