Facing up: Rob Key on fitness, retirement and life with Sky
HUW TURBERVILL: Key was a Kent legend, for his batting and captaincy. He also scored 221 for England against West Indies at Lord's. Now he is a star of the Sky commentary box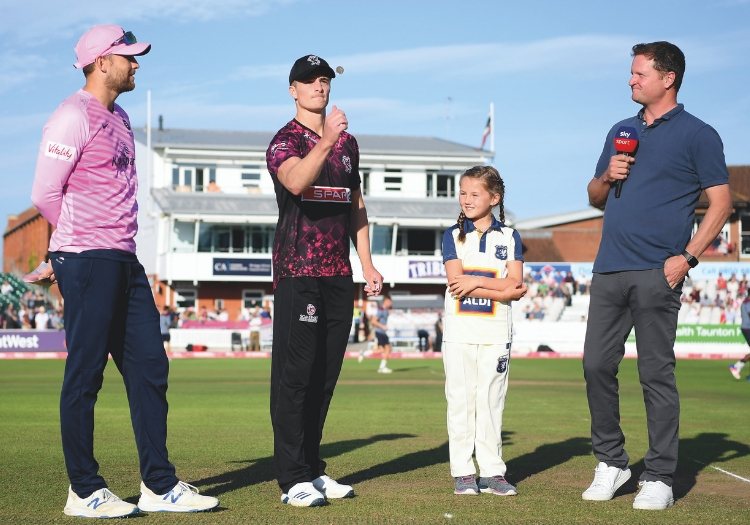 How is your new life with Sky?
It's the best job going. It is a chance to stay involved with cricket, watching from the best seat in the house. I felt like an auction winner at the World Cup, watching it with Shane Warne, Andrew Strauss and Ian Ward. I am trying not to take it for granted.
Do you feel you have to outperform 'legends' like Nasser Hussain and Mike Atherton?
Not really. I just try to give my opinion, and provide reasons for why things happen: what somebody is thinking and why they have taken that decision. I try to entertain the viewers without putting on an act – to be no different to what I was like discussing something in a dressing room. We have great off-camera chats debating teams and plans, with Bumble and Bryan Henderson [Sky head of cricket], as we are all massive England fans, then we try to put them on camera …
Your last three innings, in 2015, were 113 (v Lancashire at Canterbury), and 94 and 158 (v Glamorgan at Cardiff). Did you have any second thoughts about retiring?
I had played like a busted flush for about seven years as batsman/captain. Horrific. Even if I scored runs I was doing it without much enjoyment. I thought, "I'm better than this", I'm just fighting. Then I hit an on-drive at Derby a few games before my retirement and it was like an epiphany moment. I remembered, "That's how I play," and for the last quarter of the season it was like I was 25 again.
I had such a complicated technique and I had forgotten everything I needed to know about batting. It was nice to finish well, but then I did a hamstring, didn't have to field and thought, "It can't get an better than this".
I then missed pre-season going away with Sky, Kent signed Tom Latham, Daniel Bell-Drummond was coming through, and I thought, at 36, if I hang around here, Daniel – a young man from Kent – will end up in the 2nds – this isn't right. I had a whole T20 roster with Sky that summer, so I thought then was the time to jump into life after cricket.
Did nine years of captaincy take it out of you?
It took 15 years off my life, 10 runs off my average and 5,000 off my total of first-class runs! I couldn't give it away in the end. James Tredwell did it one year but I ended up doing it again after that. I ended up captaining for everyone but myself.
I wasn't going to play for England again, and there was often a financial crisis at Kent. They have gone on pretty well since, and it has been good to see guys like Daniel, Sam Billings and Joe Denly kick on after they emerged when I was skipper. Being a county captain is a job a lot of people think they want to do and when they do it they realise they should not have done.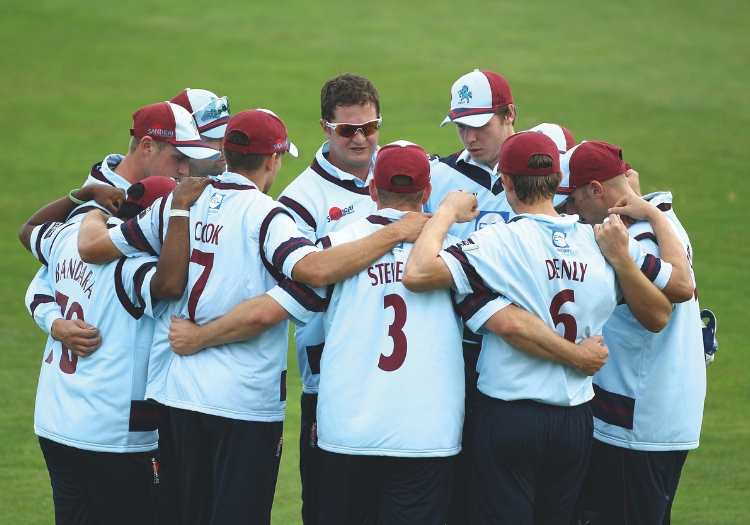 Captaining the Kent side during a 40-over match in 2010
You often joked about your fitness – would you have preferred to play in the amateur era, with Sir Colin Cowdrey and co?
No, actually I wish I had played in a later era. When I started Steve Marsh was [Kent] captain and it was almost an amateur time - live hard, on and off the field. The winter was your own to do what you wanted. Matt Walker worked in a toy store.
I did a bit of practice but generally for six months I went to see my mates in London. About halfway through my career 12-month contracts came in, with fitness trainers. Actually I was never unfit – I always did OK on the tests. I could not afford not to be. If you are not an athlete you have to score a lot of runs and if I didn't I'd find myself surplus to requirements.
What do you recall about winning the Under-19 World Cup in South Africa in 1998?
We'd been on a long tour there playing 'Tests' and one-dayers. By the time of the World Cup we were desperate to go home and we were in that great spot where we didn't care if we won or lost – if we lost we got home earlier. We bluffed our way to the final without really giving it a second thought.
We needed to win so well and so convincingly against Australia in what was effectively a semi-final and half our bags were packed. Somehow we ended up in the final, and played like we didn't have a care in the world. England were a bit like that in the World Cup this summer. It's not like they didn't care, but they were relaxed against Australia and India.
That is a bit like what Steve Waugh said about you: "He doesn't give a s*** about much and is real relaxed. I like that in a bloke; it stops him getting overawed"…
When you are relaxed and doing well people say it is a great thing. When you are doing badly people say you don't care. Moeen Ali suffers from that. So it works both ways. I tried to stay philosophical.
I had a piece of wood, and somebody was trying to knock three other pieces of wood over with a ball made of cork and leather. Fielding was as close as a human gets to being a dog. There are a hell of a lot of people doing a hell of a lot more important things than being a cricketer. Thinking about that helps you stay relaxed.
I read in your Evening Standard column that the Australians were surprisingly nice to you in 2002/03.
I tended to find that the better the player, the better the bloke. If you asked Shane Warne a question no matter who you were he'd talk to you for hours about cricket. But in club cricket Australians would overplay their status and think they were legends; many were completely obnoxious.
The Australians in 2002/03 – Warne, Steve Waugh, Adam Gilchrist – had that great way of knowing they were very good. It was almost an insult that they didn't get into you that much. They knew they had it covered. I have always admired the way the Australians played the game in county cricket – Martin Love, Andrew Symonds… They were so skilful at what they did and how they spoke. Yes they were blunt, but the modern Australia players talk in riddles.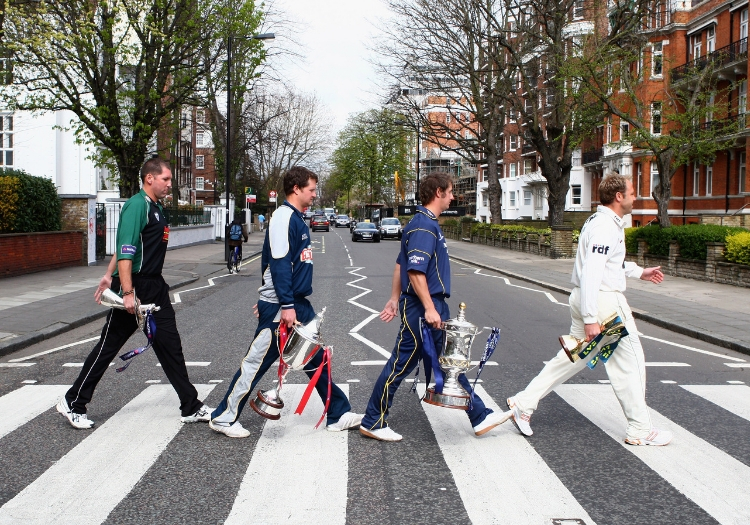 Matt Mason of Worcestershire with the Pro40 Trophy, Key of Kent with the T20, Phil Mustard of Durham with the Friends Provident and Chris Adams of Sussex with the Championship Trophy cross Abbey Road in 2008
Talk us through that 221 against West Indies at Lord's in 2004…
I was in the form of my life, I'd made 1,000 runs by the first day of June. I couldn't get out if I wanted to. It was a low, flat surface. After the first 80 runs it was the best I have ever batted. I started doing things I didn't realise I could do, and I think that is down to the adrenalin of international cricket – you see that with Jason Roy. After tea I had a horrendous migraine. My vision was blurred and I thought "I'll have a dip here", but I managed to get through to a double-hundred.
You seemed close to a Test recall in 2008 (you made 178 not out v New Zealand at Canterbury)…
That was at a time before one-day cricket became important. I used to think it was the bane of my life. Instead of a day off I had to play a Pro40 somewhere. I just wanted to be a Test cricketer. I was averaging well in four-day and nothing in one-day and I was not that bothered about it.
When I was called up for the one-day squad [2009 World T20] I was averaging about three in limited-overs and 90 in four-day. Geoff Miller told me it was a reward for my longer-game form, and I thought "Really?" I was talked about before Jonathan Trott was selected, then when Alastair Cook was picked I'd gone for an operation, but I have no regrets.
Yes, I wish I had played 100 Tests, won an Ashes series, but overall I feel incredibly lucky at what cricket has given me. I do wonder if eventually cricket will call my bluff and I have to end up doing something else…
Like playing more golf?
I used to hate it. I thought it was boring, and wondered why lads like Darren Stevens didn't save his legs for cricket. There was no better feeling than scoring a hundred, and I would spend the whole winter planning, trying to improve my batting, but since retiring actually I have found golf a complete switch.
Now I think all the time about how I can avoid slicing it and so on. I have played a couple of charity cricket games but I am so bad now. If someone asked me to play club cricket for money, it would be the worst investment. I wouldn't have the first clue anymore about scoring runs.
What about darts? Didn't you have tournaments with Andrew Flintoff, Steve Harmison and Cook?
Harmy was pub sports champion. We also had to watch a lot of programmes with him on tour, anything connected to the north-east – Spender and Crocodile Shoes. He had wallets full of DVDs of programmes like Antiques Roadshow and Shameless. It was hard being a southerner!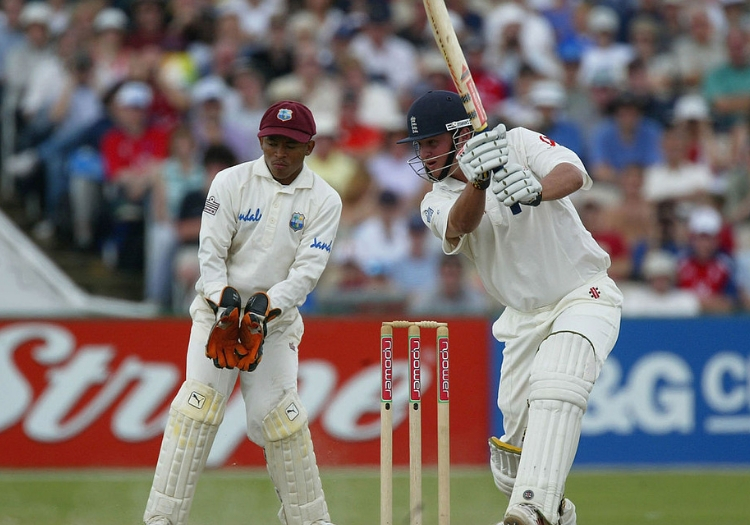 Key played 15 Tests for England
Where do you get your wit from?
I am not sure. I guess I have a cynical outlook on things. That's why I enjoy doing the Standard columns. I had 20 years of lying and bluffing as a professional sportsman. You were asked, "Are you feeling good? Did you play well as a team?"
And you'd reply: "Yes, we are not far away as a team…" It was complete nonsense. I love those interviews where a team has lost and a player has scored a hundred and tries to make out he is unhappy – there's no better feeling than scoring a hundred!
The super over
Favourite box set?
Game of Thrones. There are so many to choose from but if I had to pick one… Athers and I debate the finale. He liked it, I didn't, but he's more glass-half-full. It left me cold, a bit like the Lost finale.
Who would you invite to a dinner party?
Brian Cox – I used to hate physics at school but find it fascinating now. Neil Armstrong – I loved the film Apollo 11 and find the subject fascinating: it really was man's greatest venture. And somebody who could reveal the truth about all the conspiracy theories.
Best holiday ever?
I have had some lovely family holidays, but I will pick Portugal for a three-day golf trip: Freddie Flintoff's northern team against my southerners. We got chewed up, but that was a formidable few days.
This article was published in the September edition of The Cricketer - the home of the best cricket analysis and commentary, covering the international, county, women's and amateur game
To remind ourselves of happier times we're offering a £20.19 subscription to celebrate England's World Cup win once again. Click here to claim
Please ensure all fields are completed before submitting your comment!