Rishabh Pant's hundred for the ages on a day that started so well for England... INDIA V ENGLAND TALKING POINTS
NICK FRIEND looks back on a remarkable day's cricket in Ahmedabad as a hundred from India's thrilling wicketkeeper-batsman left the hosts in charge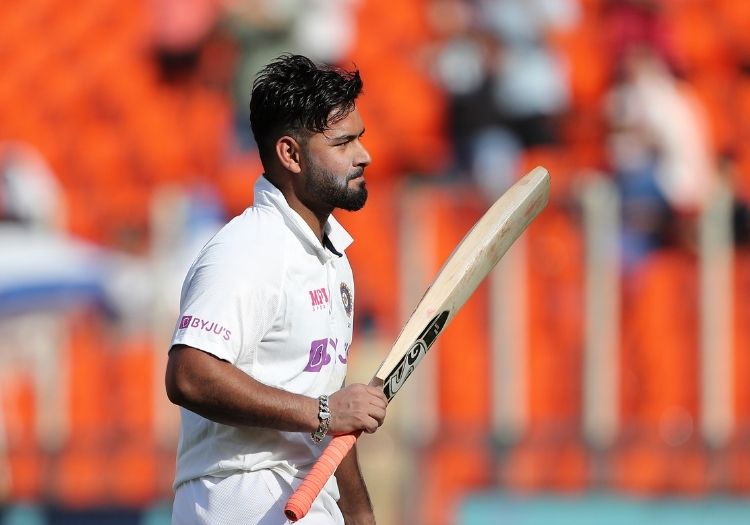 Rishabh Pant: A genius at work
If it was the knock that clinched a series victory for India, then it was a worthy masterpiece from Rishabh Pant on a pitch that – though blameless – no other batsman has come close to dominating.
It seems maddening to recall the beginning of India's series victory over Australia, when Pant was left out at Adelaide, with Wriddhiman Saha preferred. That's no particular slight on Saha, but Pant might just be the game-changing cricketer among a generation of game-changing cricketers.
It is too easy, too boring, too predictable to simply christen a 23-year-old daredevil product of the Indian Premier League as a T20 slogger. Likewise, it is too lazy to suggest that those who star in the shortest format's glitz and glamour don't also have the desire and the skill to tough it out over five days. Not that this Test will go that far, but the point remains.
Because Pant didn't just come to the crease and tee off. He ensured that he earned that right, first by taking India to tea, then by reaching parity with England, third by his presence when the new ball was taken. And then, carnage: all founded on his earlier resilience, restraint and self-trust, before sheer genius took over. At one stage, he had 55 off 91 balls. Just 24 balls later, he ripped off his helmet to the acclaim of a cricketing universe residing firmly at his feet.
We all knew he was a star. We all knew he had the shots. That much has been obvious for some time. Even when he reverse-swept James Anderson over the slip cordon, we knew he had that kind of glorious nonsense in him.
The question mark around talent like that is only ever in an ability to piece everything together. But just like that, in a 118-ball festival of outrageous theatre, he did it all: the dogged, determined Test cricketer who jabbed away through the afternoon as England aimed their counterpunch and the free-spirited maniac who, having survived the initial onslaught, landed the knockout blow.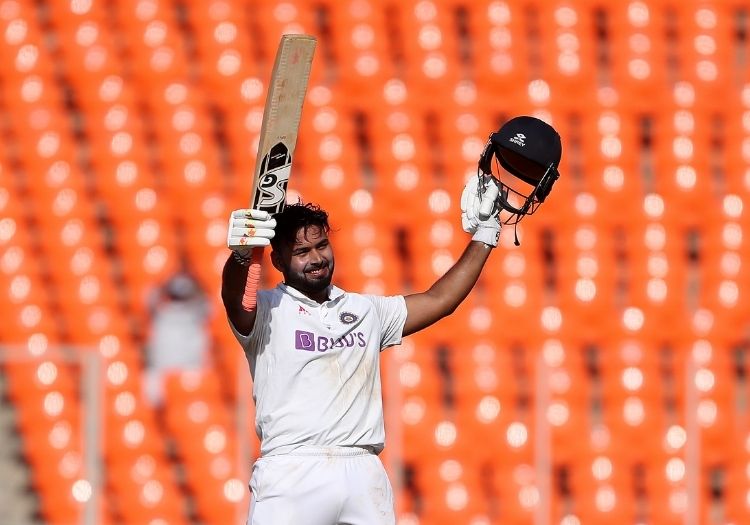 Rishabh Pant played a remarkable innings
And it had all started so well for England…
Andrew Strauss called the morning session from the comfort of his Channel Four studio, that there was more to be optimistic about than England supporters might initially have believed as they tuned in for the sequel to the tourists' most underwhelming day of the series.
Yes, defeats in the second and third Tests were more chastening – certainly, in the manner that the pain was administered – but Joe Root's charges had won a good toss on Thursday, only to throw away that advantage through a feeble timidity with the bat that left them significantly below par and well behind in the game.
And so, there was little to lean on heading into the second morning: the best day for batting surrendered to hosts whose bread and butter is scoring big runs on surfaces like these, the feeling that the balance of the bowling attack in Ahmedabad might once again be awry, a sense from the outside that months in the bio-secure bubble might be catching up with a squad understandably shattered by the lethal combination of heat, humidity, scrutiny and stifling intensity.
Strauss, one of England's great captains, had a feel for what might transpire – at least until Pant's wildcard. Perhaps he was merely playing the role of the 4am dreamer, enticing his free-to-air audience to remain with him as Rohit Sharma and Cheteshwar Pujara made hay. But what followed was a morning straight out of the playbook of the Strauss-Flower Era. England were never better under their collective leadership than when attempting to suffocate their opposition: death by a thousand dots.

Anderson was at the core then, of course, and is still its centrepiece now. He conceded seven runs in the two-hour session in a country where spin dominates and a small number of conspiracists maintain he cannot bowl. Eight wickets at 15.37 apiece would beg to differ.
From the other end, Ben Stokes defied biology. Playing through the unquestionable grogginess of a dodgy stomach, he put his insides through their paces with a 10-over spell separated only by a change of ends, conceding only 16 runs in the process.
The wicket of Virat Kohli was his reward: a delivery that rose from nowhere to send him on his way without scoring. He has one innings left in the series and so it would be remiss to speak too soon, but few sides come through a four-Test series in India without conceding a century to India's captain.
In all, knowing that the direction of the session would either end or renew their series chances, England took 3 for 56 in 25.5 overs. And until Pant's remarkable defiance – with Washington Sundar's notable company, it looked as though the contest was very much alive.
Dom Bess struggles on return
The decision to recall Dom Bess was an obvious move on the back of England misreading conditions for the pink-ball Test. One spinner should definitely have been two, perhaps with discussions around a third. Ironically, on this occasion, England are probably a seamer light. Chris Woakes has already gone home for his rest period, but it feels every inch his kind of pitch. Not that Jofra Archer, Stuart Broad and Mark Wood wouldn't have enjoyed the extra carry either.
But back to Bess; there were certainly no qualms when he was selected here. Rather, it would have been difficult to comprehend had he been excluded once again, with England keen to rectify last week's errors and Moeen Ali not available.
His task was unenviable, beginning the afternoon session and having to follow the excellence of the morning against Pant and Rohit Sharma. But on his return, the same inconsistencies were evident. And as Jack Leach, his partner-in-crime, has improved with every passing spell this winter, Bess has continued to struggle for control. Full tosses were often followed by half-trackers as he overcorrected his length.
His effort could not be faulted, as the television cameras – perhaps more than was necessary – cut to his disappointed figure. It was impossible not to sympathise with him, a 23-year-old in his second match of the series during his first winter of Test cricket in Asia, having effectively learnt on the job since his debut in 2018 against Pakistan.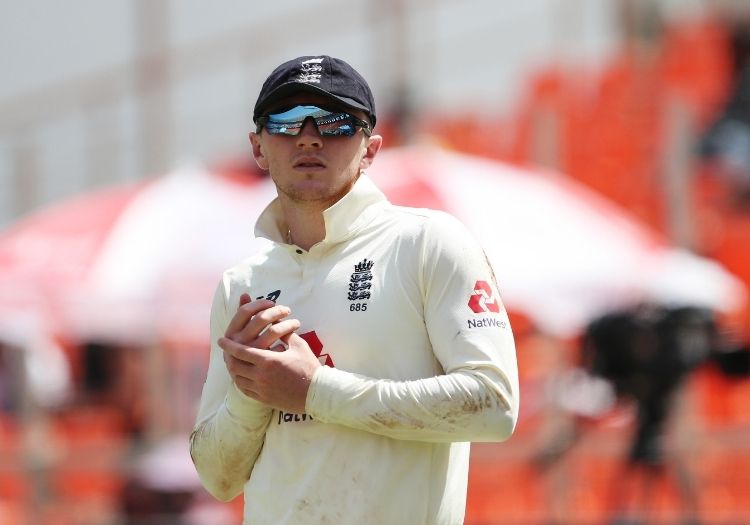 Dom Bess endured a difficult return to England's side
Much talk was made after the decision to leave him out about the nature of his wickets: he took 17 at 22 apiece in his first three Tests of 2021. While several of those were traditional off-spinners' scalps on helpful subcontinental surfaces, others were more fortunate – deflecting off Ollie Pope's shoulder at short leg in one case.
Ahead of the second Test, CricViz analyst Ben Jones wrote about the danger of 'luck' in predicting player performance. Bess' Test bowling average at the time was 31.24, a significant improvement on his expected average for the deliveries he had bowled (39.2).
As Ben Stokes explained after yesterday's play while speaking about England's batting: "Cricket is great sport where the outcome is what's commented on."
And that nuance was evident in Bess' efforts in Ahmedabad. Nitin Menon, an excellent umpire enjoying a fine series, turned down a marginal lbw call against Pant well before any of the later carnage had even begun to ensue. England retained their review, though that was scant consolation to Bess, whose facial expression was of a man in need of a wicket. The other side of the tea break, when Sundar drove in the air towards cover, it drifted just out of reach.
On another day, both might have gone in England's favour and Bess' figures would have been sprinkled with a pair of crucial wickets. As it was, neither went his way. Even when he was finally given an lbw decision by Virender Sharma, it was overturned.
And so, rather than emerging with an unlikely first innings lead, the tourists were left to rue what might have been. Somewhere in that turn of events is the pure unpredictability at the heart of the game.
Our coverage of India vs England is brought to you in association with Dafabet India. For more on Dafabet and to place a bet, click here
Please ensure all fields are completed before submitting your comment!