Allrounder Ashwin and fabulous Foakes... TEST MATCH TALKING POINTS
NICK HOWSON rounds up day three of the second Test in Chennai as India continue on their route to certain victory and England were made to toil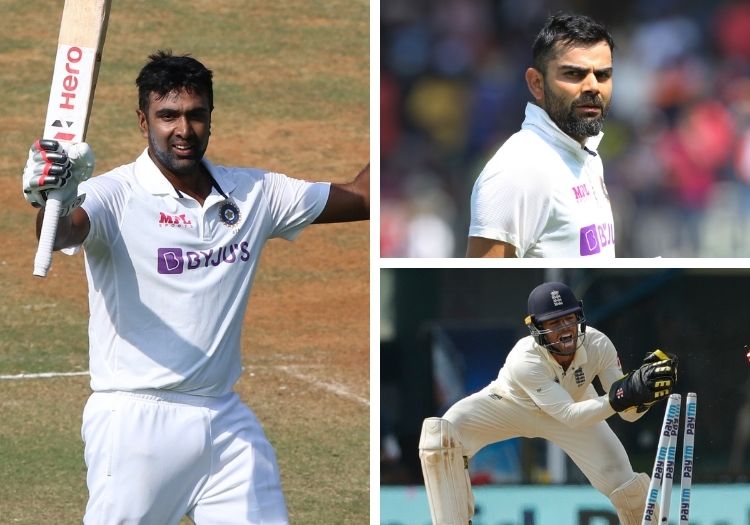 India v England: 2nd Test scorecard
We'd be bad sports to try to claim the pitch as the difference in Chennai
Fabulous Foakes
Despite the temptation to jump all over any positives emanating from this Test match for England, there can be no doubting the performance of Ben Foakes in Chennai.
Kevin Pietersen had described Jos Buttler flying home after one Test and England not fielding their best team against India as "disrespectful".
Anyone who had watched any of the 28-year-old's five Tests outings of domestic performance knew what was coming. Now the secret is out.
Foakes was simply magnificent on the third morning. Perhaps bar Joe Root's first Test double hundred, it was the best individual performance by a member of the tourists' squad during the series.
The very best sportspeople impose themselves on an occasion, ensuring they become part of the story rather than an extra. Foakes has that kind of talent, forcing himself in the game regardless of the situation.
A fast, late spinning pitch isn't just a nightmare for batsmen. Wicketkeepers must continually be on their toes, anticipating the unpredictable. In the 22nd and 26th overs of India's second innings he produced two fine pieces of work to at least ensure England's desperate claw on this contest had some grip.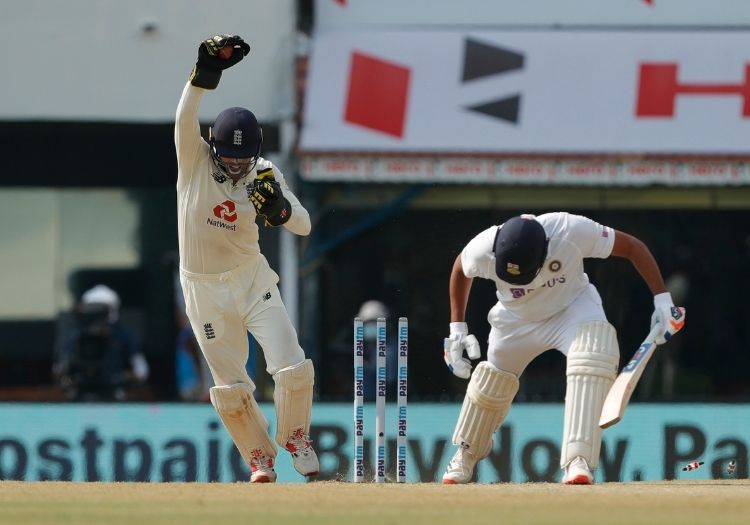 Ben Foakes was at his very best during the morning session
First, he was alert to stump Rohit Sharma after he had followed a ball from Jack Leach, before he whipped off Rishabh Pant's bails after he advanced down the wicket. One completed against a right-hander facing a ball around the wicket, the other behind left-hander from a ball delivered over. Two vastly different circumstances yet the same result on both occasions.
Add those to the first innings stumping of Axar Patel, the run-out of Cheteshwar Pujara and unbeaten 42 with the bat and the display looks like an increasingly stellar one from Foakes, particularly given the chaos going on around him.
There is no doubting Buttler's performances either side of the stumps over the last 12 months. He is a certain starter when available, which hasn't always been the case. But there continues to be a real argument for both men playing, particularly in Asia.
The problem comes in the form of the schedule. If Foakes is to be the sub-continent option, then it will not be until October and November 2022 when he's seen again, when England are due in Pakistan.
Alternatively, Foakes could become the full-time Test 'keeper, to reduce the demands on Buttler; an all-format player England are eager to protect and look after. The Surrey man could be an answer to a key question.
Classy Kohli
On a pitch where you are rewarded for how well you apply yourself, how surprised should we be that Virat Kohli has made it look easier than most?
Astonished perhaps not but impressed we certainly can be. Kohli came in off the back of another first innings failure and took 20 balls to get off the mark. Every delivery looked a struggle and a maiden pair looked to be on the card.
Only once before in his Test career had he taken so long to register his first run.

This was a proper Test innings and while it only added 62 to the hosts lead, on a pitch doing as much as this it was worth significantly more.
Once Kohli had avoided a second duck, he got on the front-foot, attempting to nullify the vicious spin.
Granted, the India skipper road his luck at times and on another day he gloves a delivery to a close catcher but he looked as in control as it is possible to be on this foothole of a surface.
And upon being given anything loose, Kohli transformed seamlessly from defence to attack and pounced on opportunities to score.
There was something rather ironic about the manner of his dismissal from a ball which didn't turn a lot and was adjudged to be clipping the top of middle. Given the demons in the pitch, there was something curious about his exit.
This was another second-innings fifty, batting in the toughest circumstances possible in the match and yet able to show his class. Yet another example of Kohli's mastery.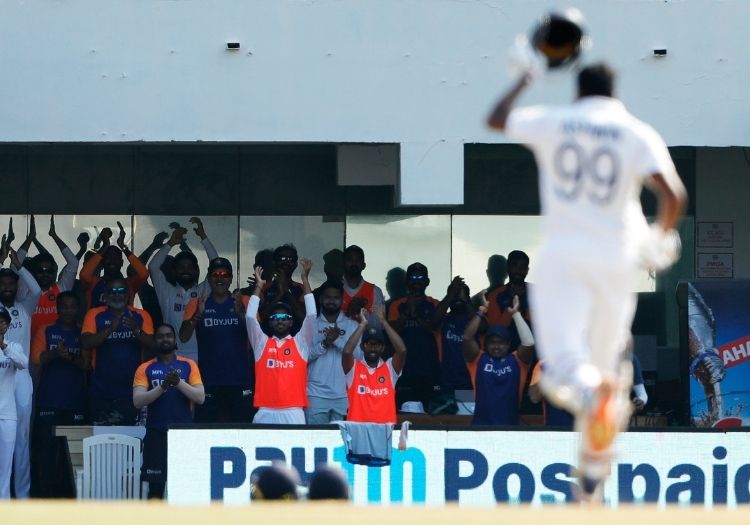 Ashwin's century was met with jubilant scenes
Ashwin rebuilds allrounder status
The ICC player rankings are not worth losing much sleep over, but before this Test they showed Ravichandran Ashwin in sixth position in the allrounder standings.
Only Ben Stokes, Jason Holder, Ravindra Jadeja, Shakib Al Hasan and Kyle Jamieson are above him.
That status is despite having gone three-and-a-half years without a landmark score, a run of 35 innings with an average below 17. Meanwhile, with the ball, he'd taken 189 wickets, yet is seventh in the bowling rankings.
But on day three, Ashwin put that streak behind him with a fifth Test century. It was a knock without any pressure but nonetheless, it was a sparkling effort on a pitch which England had toiled on the previous day.
By the end, with the tourists struggling for inspiration he was playing with a flourish and made the surface look like a batsman's dream.
He became just the second player to take a five-for and score a hundred in a Test three times, and first to do so against England since Garfield Sobers in 1966.
Sir Ian Botham is now the only player with more, having achieved the double five times.
It was also the 34-year-old's third century batting at No.8. Only Daniel Vettori (five) has more from players batting in the bottom four.
England's top order
While England attempt to delay the inevitable as much as possible on day four, there is at least some interesting context to consider.
The formation and identity of their top three for the third Test in Ahmedabad is a fascinating subplot.
They will have at least five top-order contenders to fill three berths. Jonny Bairstow and Zak Crawley, assuming he fully recovers from a wrist injury, are waiting in the wings.
After Dom Sibley and Rory Burns succumbed on the third evening, day four will see Dan Lawrence given his opportunity to stake a claim. With his average in the 20s since debuting in Sri Lanka, he looks to be the most vulnerable.
The problem with this surface is you can grind away for hours all the while knowing there is a ball with your name on it.
But it could be a defining period for Lawrence, who showed really good intent early on against Ashwin and Axar Patel, taking on anything which sat up on the pitch.
Images courtesy of BCCI
Our coverage of India vs England is brought to you in association with Dafabet India. For more on Dafabet and to place a bet, click here
Please ensure all fields are completed before submitting your comment!