Rachael Heyhoe Flint Trophy 2023: All you need to know
Schedule, dates, squads, players to watch, tournament history, TV and streaming information, odds, prediction and more ahead of the new women's regional 50-over competition in 2023...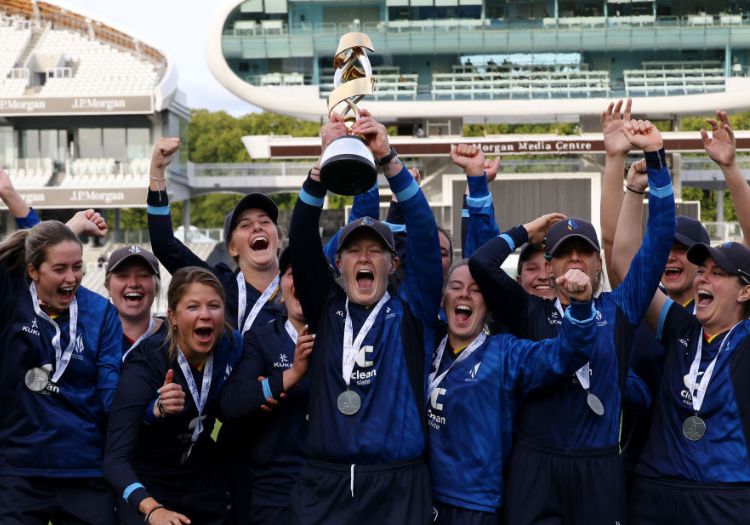 What is it?
The Rachael Heyhoe Flint Trophy is the women's domestic 50-over tournament in England and Wales. The competition is named after Baroness Heyhoe Flint, who was the captain of England from 1966 to 1978.
What's the format?
The eight teams will all play each other once in a round-robin competition.
Four points are awarded for a win and an extra point is given if the winning team's run rate is 1.25 times higher than the opposition.
If a game is drawn the team with the highest net run rate is awarded the points.
The team that ends up on top of the league goes straight to the final while the second and third placed team go into a playoff to determine the second finalist.
When is it?
This year's fixtures start on Saturday, April 22, with the group stage finishing on Saturday, September 16.
The play off game takes place on Thursday, September 21, with the final three days later on Sunday, September 24.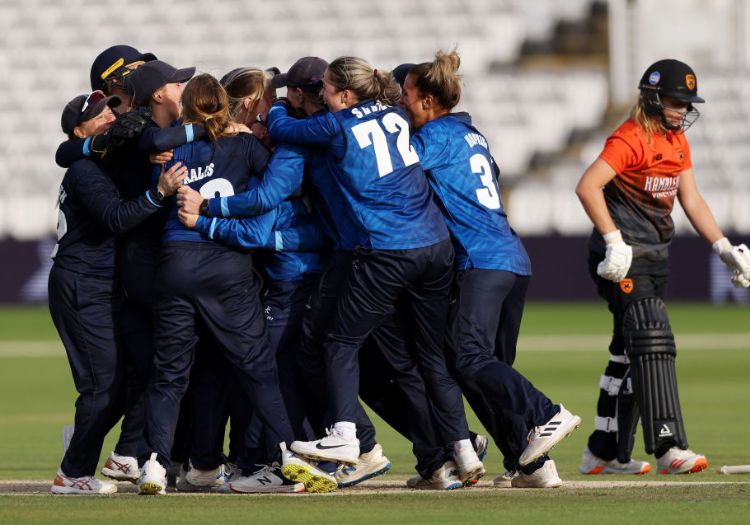 Who are the teams involved?
The teams competing in the trophy are Southern Vipers, Northern Diamonds, Central Sparks, The Blaze (previously called Lightning), Thunder, Sunrisers, South East Stars and Western Storm.
Northern Diamonds are the current champions after finally breaking Southern Vipers' hold on the trophy. The Vipers had previously beaten the Diamonds in the 2020 and 2021 finals.
Sunrisers have the unwanted record of not winning a single game in the tournament over the past three years.
Thunder and Blaze have also yet to have much success in the competition and each will be hoping that this year will be the first time they make it into the playoffs.
An improved performance from South East Stars last year saw them reach the playoffs. They were 11 points ahead of their nearest rival in fourth, Western Storm.
It was a frustrating year for Central Sparks. Having made the playoffs in 2021, they were unable replicate that in 2022, only winning two games.
What happened last year?
A dramatic final saw Northern Diamonds beat Southern Vipers by two runs from the final ball.
Southern Vipers fell agonisingly short, needing four runs to win they were only able to scramble two as the hopes of three consecutive final wins evaporated.
Lauren Winfield-Hill drove Northern Diamonds to victory, top-scoring in the competition with 470 runs which included the 65 that she hit in the final.
Winfield-Hill's teammate Hollie Armitage had the highest score of the tournament, with her knock of 131 not out against Western Storm.
While Sunrisers suffered another frustrating season, they did have a ray of hope in Grace Scrivens. The 19-year-old allrounder finished as the joint top wicket-taker with 13 wickets at an average of 14.69. That record was only matched by Northern Diamonds' Linsey Smith, who reached 13 wickets having played one more game and with an average of 18.07.
Thunder's Alex Hartley had an incredible bowling performance against South East stars, taking 6 for 24 which included five maidens.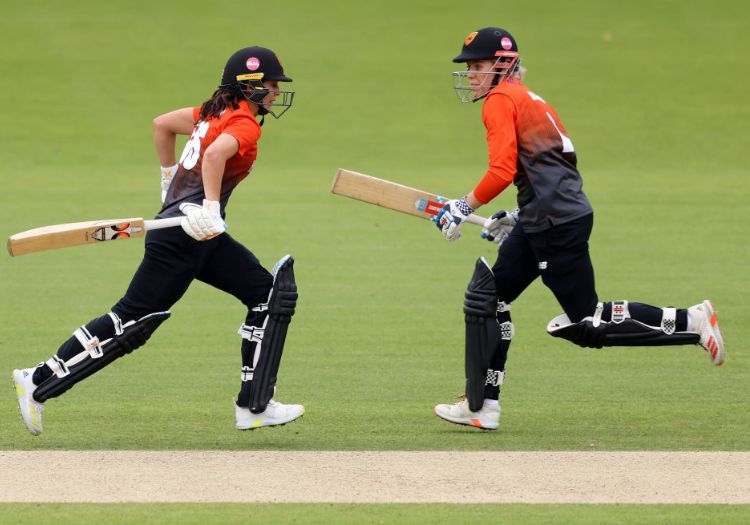 Who are the players to watch?
Southern Vipers: Linsey Smith
You know the saying, once you have finally beaten them, join them. Having been in the Northern Diamonds side that lost the final to the Vipers two years in a row, Smith finally helped get her side the title by taking two wickets and hitting 27 runs.
This season she will line up for the Vipers,having re-signed for the team she played for in 2016. If she can maintain her form from last year there could be an opportunity for her to regain her place in the England team.
Northern Diamonds: Lizzie Scott
The 19-year-old fast bowler had a whirlwind end to the 2022 season where she made her debut for the Diamonds and then was called up to the U19 T20 World Cup for England. At a young age she has shown she can cope with the pressure of the big moments.
In the final last year she took 1 for 10 from five overs as she stifled the Vipers' run chase. With Linsey Smith moving to the south coast there should be more opportunities for Scott to shine.
Central Sparks: Grace Potts
Potts had an impressive, breakout 2022 season where she ended as her side's leading wicket-taker in both the Rachael Heyhoe Flint Trophy and the Charlotte Edwards Cup. In the Heyhoe Flint Trophy she took 10 wickets in her six matches at an economy rate of 4.35.
The impressive form also saw the 20-year-old get picked up by Manchester Originals in The Hundred. She played five matches for the Originals, gaining invaluable experience, and she has been selected by Trent Rockets for the upcoming season.
Blaze: Nadine de Klerk
The Blaze will be hoping the change of name will bring a change in fortune but the main reason for their fans to be excited is the signing of Nadine de Klerk. The 61-times capped South Africa international is coming off a successful T20 World Cup campaign, where she featured for her country on the way to the final.
In the semi-final against England she took the crucial wicket of Nat Sciver-Brunt, her new Blaze teammate. The 23-year-old allrounder should be blockbuster viewing.
Thunder: Tara Norris
The American fast bowler has tasted plenty of success in this competition in the past. Norris left Southern Vipers this year having helped them lift the trophy in 2020 and 2021.
Norris played in the WPL in the winter, taking a five-for in her first game for Delhi Capitals. She has the talent and experience to take that next step and show the Vipers what they are missing.
Sunrisers: Grace Scrivens
Although still very young, there are not many people unaware of the talent of Scrivens. Last year she was the standout player for the Sunrisers as they failed to put a win on the board.
The 19-year-old allrounder led her team with bat and ball in the Heyhoe Flint Trophy. She finished as the joint top wicket-taker in the tournament with 13, as well as being her side's leading run-scorer with 297. Scrivens then starred in the Under-19 T20 World Cup, hitting the second most overall runs of the tournament with 293.
South East Stars: Ryana MacDonald-Gay
Another star of England's Under-19 T20 World Cup campaign, MacDonald-Gay only featured in four Heyhoe Flint Trophy games last year but still made a big impression. She hit 112 runs which included a 54 not out against Lightning.
Last year saw her make her Hundred debut for Oval Invincibles, and she featured in every game as they took the trophy home. This year promises to be even more impactful for the 19-year-old allrounder as her game develops further.
Western Storm: Sophia Smale
The 18-year-old Welsh allrounder was named the breakout star of The Hundred last year where she was Oval Invincibles' leading wicket-taker with eight. Her scintillating form saw her called up to England's Under-19 T20 World Cup squad. She played six matches in the tournaments taking eight wickets overall.
Although she was mainly utilised as a bowler for England she showed her capabilities with the bat in last year's Heyhoe Flint Trophy when she hit 59 against the eventual champions Northern Diamonds.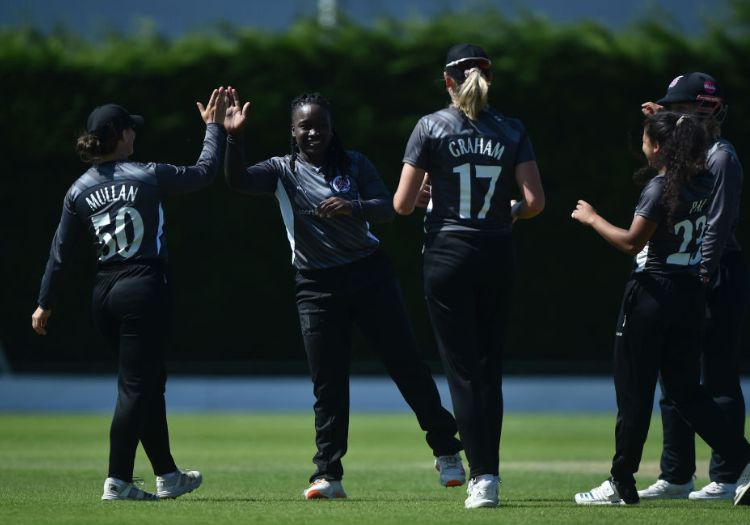 What are the squads?
Central Sparks: Eve Jones, Emily Arlott, Hannah Baker, Chloe Brewer, Erin Burns, Ami Campbell, Poppy Davies, Georgia Davis, Bethan Ellis, Ria Fackrell, Abbey Freeborn, Katie George, Amy Jones, Anisha Patel, Davina Perrin, Grace Potts, Liz Russell, Issy Wong
Northern Diamonds: Hollie Armitage, Leah Dobson, Rebecca Duckworth, Abi Glen, Yvonne Graves, Grace Hall, Bess Heath, Sterre Kalis, Beth Langston, Katie Levick, Emma Marlow, Lizzie Scott, Rachel Slater, Phoebe Turner, Lauren Winfield-Hill, Jessica Woolston
South East Stars: Bryony Smith, Alice Capsey, Kira Chathli, Claudie Cooper, Aylish Cranstone, Alice Davidson-Richards, Freya Davies, Sophia Dunkley, Tash Farrant, Phoebe Franklin, Dani Gregory, Ryana MacDonald-Gay, Bethan Miles, Kalea Moore, Emma Jones, Paige Scholfield, Alexa Stonehouse, Jemima Spence, Kirstie White
Southern Vipers: Georgia Adams, Lauren Bell, Maia Bouchier, Charlie Dean, Georgia Elwiss, Nancy Harman, Chloe Hill, Freya Kemp, Ella McCaughan, Sophie Mitchelmore, Alice Monaghan, Anya Shrubsole, Linsey Smith, Rhianna Southby, Charlotte Taylor, Mary Taylor, Finty Trussler, Emily Windsor, Danni Wyatt
Sunrisers: Kelly Castle, Amara Carr, Kate Coppack, Jo Gardner, Eva Gray, Jodi Grewcock, Cordelia Griffith, Saskia Horley, Scarlett Hughes, Lissy Macleod, Abtaha Maqsood, Flo Miller, Jess Olorenshaw, Mia Rogers, Grace Scrivens, Katherine Speed, Mady Villiers, Dane van Niekerk
The Blaze: Kathryn Bryce, Grace Ballinger, Tammy Beaumont, Georgie Boyce, Sarah Bryce, Ella Claridge, Nadine de Klerk, Sarah Glenn, Kirstie Gordon, Teresa Graves, Josie Groves, Beth Harmer, Lucy Higham, Marie Kelly, Michaela Kirk, Cassidy McCarthy, Sophie Munro, Nat Sciver-Brunt
Thunder: Ellie Threlkeld, Steph Butler, Alice Clarke, Danielle Collins, Kate Cross, Naomi Dattani, Deandra Dottin, Sophie Ecclestone, Phoebe Graham, Alex Hartley, Liberty Heap, Laura Jackson, Hannah Jones, Emma Lamb, Fi Morris, Daisy Mullan, Tara Norris, Shachi Pai, Hannah Rainey, Seren Smale, Sophia Turner, Olivia Thomas
Western Storm: Sophie Luff, Emma Corney, Lauren Filer, Danielle Gibson, Alex Griffiths, Nicole Harvey, Niamh Holland, Heather Knight, Claire Nicholas, Lauren Parfitt, Mollie Robbins, Chloe Skelton, Sophia Smale, Fran Wilson, Nat Wraith
Who is the favourite?
History says this is a two-horse race between Southern Vipers and Northern Diamonds, the only two sides to reach the 50-over final. Southern Vipers are two-time winners and have only lost three List A matches in three years. Northern Diamonds, meanwhile, are the defending champions.
However, the Vipers have lost a number of key players over the winter and will likely be raided by England during both the Ashes and September's white-ball internationals, opening the door for a strong Central Sparks side to have another crack at silverware. They reached the Charlotte Edwards Cup final in 2022 and the playoffs in the 2021 Rachael Heyhoe Flint Trophy.
And of course, The Blaze are something of an unknown quantity. As Lightning, they never threatened the top of the table but they have a new home, a new name, and new personnel in 2023.
What's the prediction?
Ask this question on another day and you'll probably get a different answer. Gut feeling, however, says Diamonds will retain their crown, possibly edging Central Sparks in the final.
With no centrally contracted England players on their books, they should avoid the selection disruptions which will impact their rivals, and their young squad lifted a trophy last season, so what's stopping them from doing it again?
Where can I watch it?
No broadcast deal has been agreed for the 2023 Rachael Heyhoe Flint Trophy.
However, as in previous years, regions will stream their games on their respective websites and YouTube channels.
Please ensure all fields are completed before submitting your comment!