Rachael Heyhoe Flint: A pioneer of cricket, who opened up the sport to half the population
Who is Rachael Heyhoe Flint, after whom the women's 50-over competition is named? OSCAR RATCLIFFE charts the career of one of the greats of the game, whose fearless and ambitious personality changed cricket considerably during her illustrious career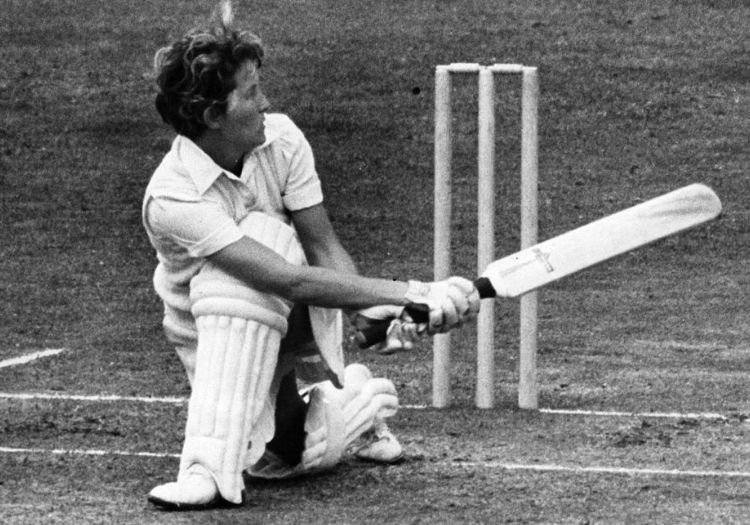 On July 22, 2017, in front of a packed Lord's, Anya Shrubsole bowled Rajeshwari Gayakwad to take the last Indian wicket and win England the World Cup.
More than 180 million people around the world were estimated to have watched the tournament, 126 million in India alone. Women's cricket was front-page news and Shrubsole herself was soon a BBC Sports Personality of the Year nominee.
Six months earlier a cricketer, without whom it is hard to imagine this zeitgeist-puncturing moment would ever have been possible, passed away. 
Her name was Rachael Heyhoe Flint and her legacy is not just Heather Knight and her team, but India's Smriti Mandana, New Zealand's Sophie Devine and Australia's Elysse Perry. It is no exaggeration to say that this global and increasingly professional venture would not exist in its current form were it not for the baroness described as "the WG Grace of women's cricket".
Rachael Heyhoe Flint was born in Wolverhampton on June 11, 1939 to Roman Crocker and Geoffrey Heyhoe, who were PE teachers. Her provenance founded a love of sport, with Heyhoe Flint playing squash and golf to county level and as a goalkeeper for England's national field hockey team. It was, however, in cricket that the Wulfrunian would make her name.
As a student at Wolverhampton Girls' School, Heyhoe Flint was taken to Edgbaston to see New Zealand's women. This sparked an interest in the game and soon it became clear that here was a batter of rare talent. Not long after she was picked up by Staffordshire and three years after leaving school in 1960  she made her England debut in South Africa. 
The right-hander was quick to make her mark, hitting a fifty in just her second Test match, and soon became the first woman to hit a six in a Test match, doing so at The Oval in 1963.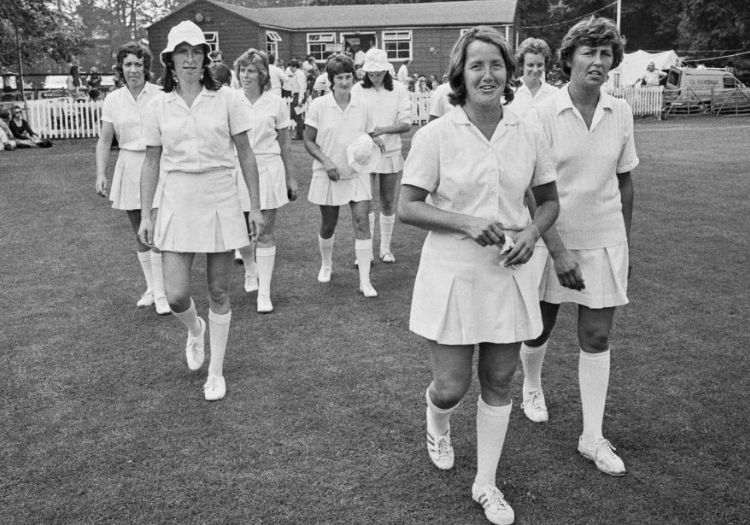 Rachael Heyhoe Flint leads out England
In an era where women were still playing in skirts, central contracts for England's women were light years away. In her early years as an international cricketer Heyhoe Flint worked as a PE teacher at Wolverhampton Municipal Grammar School, using her annual leave to represent her country. 
The summer of '66 was a seminal one for Heyhoe Flint. Having been named England captain at the start of the season, in her very first game in charge she hit her maiden Test century, 113 against New Zealand at Scarborough.
It was the start of a period of unmitigated success for England Women. In her 12 years as captain between 1966 and 1978 her side never lost a Test match. As a batter Flint also took to the role and her career average was more than 10 runs higher leading the side than when in the ranks.
By 1967 Heyhoe Flint was working as a journalist for the Telegraph and as her profile grew, so too did her ambitions to boost that of her game. Fundraising for tours of Australia and New Zealand soon gave way to an altogether bolder ambition: a World Cup. 
A friendship with Sir Jack Hayward, a Wolverhampton business tycoon, was enough to secure the capital required to finance the tournament.
RACHAEL HEYHOE FLINT TEST CAREER

Tests: 22

Runs: 1,594

Average: 45.54

100s: 3

50s: 10

HS: 179
Then, with typical vigour, Heyhoe Flint assembled seven teams (including swiftly cobbled together International and Young England sides) in a round robin league to be played in England.
It was the first global cricket competition of its kind, predating the inaugural men's World Cup by two years – a ground-breaking step not just for women's cricket, but the game at large. 
England won the last match of the competition which, despite forming part of the round robin, ended up serving as something of a traditional final, being between the top two sides England and Australia. England batted first and Heyhoe Flint herself scored 64 out of a total of 279 for 3, which proved too much for the Australians. Princess Anne was guest of honour for that grandstand finale which was held notably at Edgbaston, not Lord's. 
Indeed, though that first World Cup by Heyhoe Flint's own admission "created huge public awareness for the very existence of women's cricket" acceptance in the Marylebone's arcane institution was still a significant frontier.  At this stage, save for the Queen in her annual visits, women were not permitted to set foot on the playing field.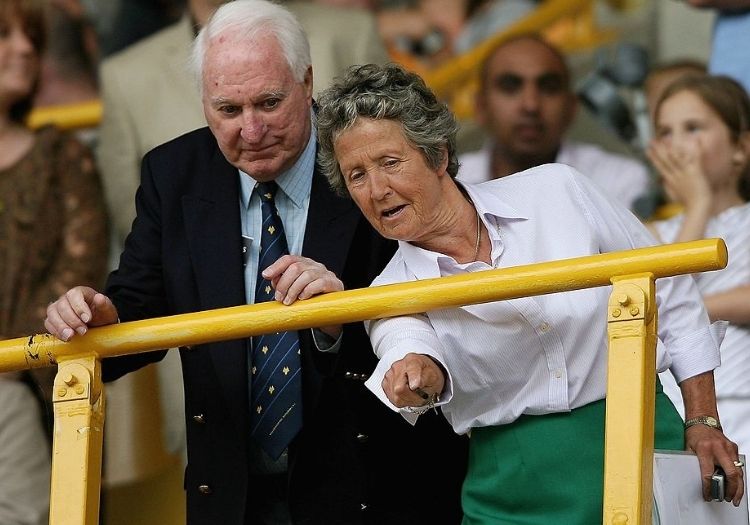 Heyhoe Flint and her friend Jack Hayward
Three years later this barrier was pierced, with Flint leading her side onto the hallowed turf in a one-day international against Australia. Heyhoe Flint, though momentarily overcome by the event's historic weight, steered England to an eight-wicket victory and hit the winning runs. Opener Enid Bakewell sacrificed her wicket to get her skipper to the crease, saying 'you've done so much to get us here you deserve to bat'.
Though she won this battle for emancipation at Lord's, the war raged on for decades and it wasn't until 1998 that the MCC allowed female members, Heyhoe Flint being one of the first admitted having initiated the debate by applying for membership seven years earlier. In 2004 she became the first female on the MCC committee.
Her last appearance in an England shirt came during the 1982 World Cup aged 42. She scored 1549 runs at 45 in 22 Tests and 642 runs at 58 in one-day internationals. In retirement she became an after-dinner speaker of note, a radio personality, a director of Wolves and in 2010 the first female to be inducted to the ICC Cricket Hall of Fame. That same year she was named a director of the ECB, again the first woman to hold the office.
In 2020, the English domestic 50-over competition was named in her honour and, in conjunction with the tournament, that winter 41 full-time domestic contracts were announced, a move described as "the most significant step forward for the women's game in recent years" by Clare Connor, the ECB's managing director.
It's just the sort of innovation that Rachael Heyhoe Flint would have pioneered with tenacity and panache. 
Please ensure all fields are completed before submitting your comment!