Bat For A Chance partner with Foundation of Goodness to donate cricket kit to Sri Lankan schools
Sri Lanka legend, and Foundation of Goodness trustee, Kumar Sangakkara delivered kit bags to five schools, sent by 16-year old schoolboy, Will Gaffney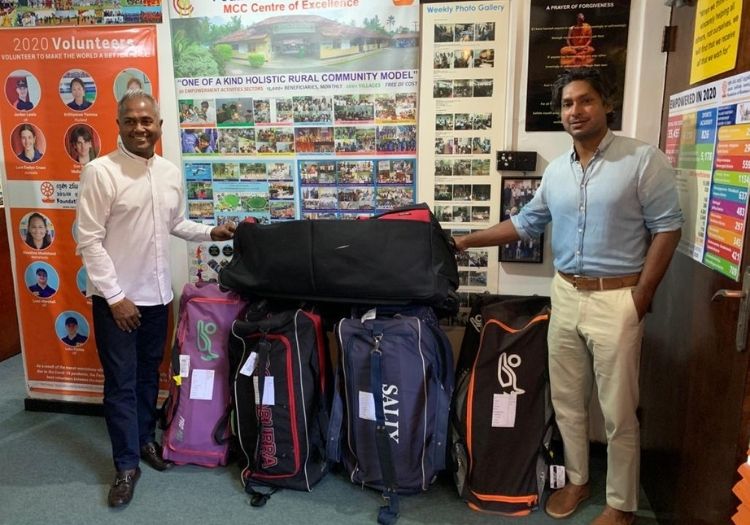 "Bringing smiles to kids less fortunate than us through cricket." That's the simple ethos of Bat For A Chance, a cricket charity set up by 16-year old schoolboy, Will Gaffney.
Will enjoyed a cricket tour to Sri Lanka in 2016 where he witnessed first-hand the impact of cricket on underprivileged children. Inspired to make a difference, the teenager established Bat For A Chance, with the aim of using kit donations and coaching support to improve community cricket around the globe.
"I was fortunate enough to play in some amazing places and also in the middle of nowhere on a coconut mat in Kandy," Will explains. "There was a real lack of kit and reflecting on the tour a couple of year later, I sent out some emails and that's how we came about."
In under two years, the charity has sent kit to communities in four different continents, including partnering with the MCC Foundation to send softball kits to refugees in Lebanon, kitting out the Sierra Leone national team and providing a young Afghan refugee in the UK with his first set of hard ball pads.
Now, after partnering with Sri Lankan charity Foundation of Goodness, Bat For A Chance is helping the very communities who inspired its inception.
Set up by Kushil Gunasekera in the wake of the 2004 Boxing Day tsunami which devasted many Sri Lankan communities, Foundation of Goodness has delivered projects in over 400 villages to help rural communities achieve economic sustainability.
On Wednesday (January 20), Sri Lankan cricket legend and Foundation of Goodness trustee Kumar Sangakkara delivered equipment bags - containing half a dozen cricket bats, pads, gloves, helmets, boxes and clothing - to five schools on behalf of Bat For A Chance.
One of the schools selected to receive an equipment bag is Devapathiraja College in Rathgama, which was forced to relocate inland following the tsunami and counts 19-year old Sri Lanka international Kavisha Dilhari among its alumni. The college has one of the best under-19 women's teams on the island, with many players going on to represent the Foundation of Goodness Seenigama Ladies team, and Will is excited to be a part of their story.
"I think one of the most fantastic things is that the kids are playing cricket regardless and we're enhancing their joy and love for the game," he said. "They may be out there playing with a plank of wood and some socks rolled up into a ball and all of sudden we're replacing that with a tennis ball and a cricket bat. It makes all the difference.
"I have to say thank you to Kumar for letting us use his name and handing over the kit himself, it's a dream come true. And huge thanks to Kushil and Omar [Khan] for facilitating this magical moment.
"What Kushil has done out there is amazing and to have such an amazing Sri Lankan charity supporting us when we're just starting out is great."
Sangakkara, himself, was full of praise for Bat For A Chance, applauding the huge impact the kit will have on the lives of local children.
"Congratulations to Will for his wonderful initiative supporting underprivileged young cricketers in Sri Lanka," said the former national team captain. "The equipment donated will bring much joy and happiness in the year ahead for children who struggle to play the game due to a lack of equipment."
"They may be out there playing with a plank of wood and some socks rolled up into a ball and all of sudden we're replacing that with a tennis ball and a cricket bat. It makes all the difference."
Meanwhile, Gunasekera added: "We are delighted to be working with Bat For A Chance and have been wholeheartedly impressed by Will's determination to reward deserving causes in cricket loving countries."
From playing on the coconut mats in Kandy to delivering life-changing kit to rural communities, sending equipment to Sri Lanka has brought the charity full circle. However, this partnership is just the beginning of a huge 2021 for Will and his quest to spread joy through the magic of cricket.
"The next step is to strengthen our relationship with the Foundation of Goodness while also working on a couple of projects in Uganda and Rwanda," Will said.
"It's incredible where we get requests from. Before being involved with this, I had no idea that cricket was on the rise in Africa or had a strong presence in Europe.
"It's a simple but complex game, it's creative and dynamic and I think it's one for all. Cricket just has this magical ability to bring people from all different backgrounds together."
To find out how you can donate equipment, visit Bat For A Chance.
Please ensure all fields are completed before submitting your comment!