Tim Macdonald is in his dream job
NICK FRIEND: As Lisa Keightley's long-time lieutenant, Macdonald - England Women's assistant coach - has an unusual backstory that allows him to empathise with his players
For eighteen months, Tim Macdonald has flown under the radar. But the more you talk to England's assistant coach, the more you come to understand how a 40-year-old Australian with a limited playing career behind him has taken on such an important role in the establishment of Lisa Keightley's regime.
Empathy goes a long way in a player-coach relationship: understanding the challenges at hand, appreciating the circumstances of each individual, recognising your own story in the lives of your charges. Until last year, Tash Farrant was balancing county cricket with work in a school; recent call-up Emily Arlott has spent time as a community coach with Worcestershire; Katherine Brunt made her international debut a decade before she was able to turn professional with the advent of central contracts. Macdonald can relate to all three; his pathway to this juncture bears more similarities than many who might hold a position like his. "Most of the girls are still learning to be professionals, I'm certainly still learning how to be a professional coach," he reflects. "We have similar journeys."
Six times during a 45-minute conversation, he refers to this as his "dream job" – a long way from when he was part of the family business, training people up to work in the hospitality and age care industries. For 10 years, he helped to run that venture once his brief foray as a fast bowler for Tasmania and Western Australia had come to an end. He only left it behind for good once this opportunity came along.
"I suppose you could say I coached on the side," he laughs, "but I basically had two full-time jobs. I loved coaching so much that I would probably still spend 40 hours a week on that and then 40 hours on the business. That wasn't sustainable."
But that didn't stop him, and nor has it curtailed the ambitions of the women whose careers he is now tasked with advancing. "I would be lying on the couch at 9pm trying to relax but then getting a device open to look at someone's stats from a tournament they were playing at that time," he recalls. "It was literally not being able to switch off. Then, I would be sitting at my desk two days later and finding something I was supposed to be working on too hard, so then opening up Cricinfo or the management system and looking at footage.
"Cricket has always been my passion. I empathise with those that you can tell want it so much that they're still able to have those two lives. I'm probably not as good as some of them at time management – that's definitely an area that didn't help me towards the end of trying to do both. But for these girls, it's something that they have to be good at – and they are.
"Even the regional retainers, it would be only just enough to get by on. We hope that changes in the future. I definitely have a lot of empathy for that, but at the same time I think the time is right to start pushing towards them being able to do what I've been able to do now, which is focus on coaching. We have already seen when we've given them the chance to be part-time cricketers how much better they've got in a 12 to 18-month period.
"Hopefully, as much as I empathise with it, they do get a period in their careers – not just with an England contract, but with a domestic contract – where they can do it full-time and not have to have the stress or the worry of having to pay their mortgage or rent."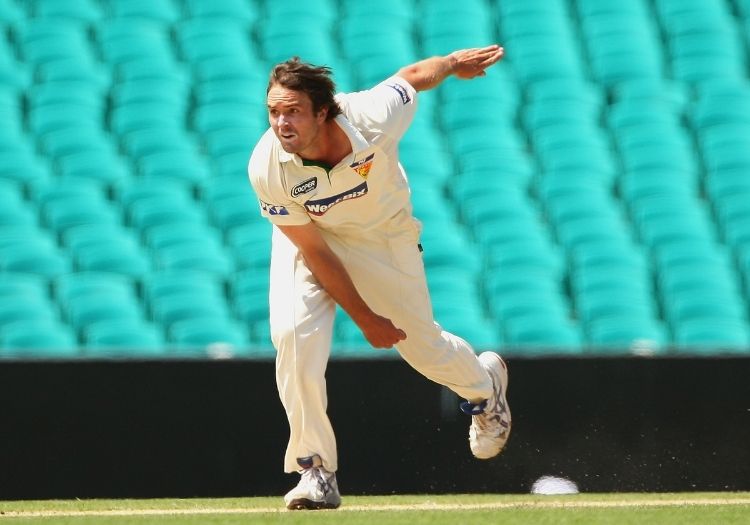 Macdonald played 21 first-class games for Tasmania and Western Australia
Macdonald twice studied at university: the first time for an arts degree with a view to becoming a journalist, and the second time, after moving back in with his parents, for a bachelor of communications and IT when he was on the cusp of Western Australia selection. He is especially proud of having completed that second course: "That's not something I've always been great at – I have a lot of ideas but sometimes am not great at finishing them off."
At the same time, he was riding the wave of the second team circuit, attempting to force his way into the professional game as a seamer in a country hardly short on his kind: Macdonald was a late bloomer as a first-class cricketer – he didn't receive his first contract until he was midway through his twenties, doubling up his higher education with a one-man business offering tech support. "It was a lot of cricketers and coaches' computers, going round and setting up their wifi – or dial-up in those days," he says. While he has escaped the tag of amateur engineer in dressing rooms since then, his understanding of data, analytics and spreadsheets has informed his "quite modern" methods as a coach.
His time in women's cricket – and his partnership with Keightley – is coming up to five years since it first began, when Perth Scorchers were looking for someone to cast a part-time eye over their bowlers and Macdonald fit the bill. Needless to say, his obsession – he is a self-confessed "cricket badger – or a nuffy in Australia" – meant that the role grew from there. He adds: "It just developed into me being the assistant coach and being around pretty much full-time: a) because I loved it and, b) because I suppose it was a really good release for me."
It led to where he is now: when Keightley was handed the England reins and her first assignment was the T20 World Cup shortly before the outbreak of the pandemic, she needed an assistant for the tournament and Macdonald, her trusted lieutenant, was the obvious candidate in the short-term. After the competition, ended for England by the Sydney rain at the semi-final stage, he reapplied for the post on a permanent basis – a decision he describes as "a really good pivot point in my life". And what stands out so clearly is the authenticity of his gratitude for how his stars have aligned.
"I was looking for something to give full-time to coaching," he says. "I had chased down a couple of roles and was looking for roles that hadn't quite eventuated yet, so the opportunity to have the three-month stint over the tri-series and World Cup in Australia was perfect timing for me. I got out of the business and went into coaching. In a way, it was a big saviour for me; I've got a dream job now and I'm able to focus on it full-time now.
"It is so much fun. This is my dream role. I've spent a lot of time in the business world before this and sitting there for a lot of hours behind a desk dreaming of this. Sometimes I do have to pinch myself. I hope that shows. I tend to enjoy cricket and enjoy training a lot, and I think that's probably one of my strengths that I bring: I'm very rarely down. When cricket's on, I do forget that we're in the middle of a pandemic and my family is on the other side of the world.
"It is so enjoyable. Working with athletes who are at the pinnacle of world cricket, working on competitions, series and tournaments that are at the pinnacle of world cricket, that's exactly what I want to do at the moment. That's where I enjoy coaching. It's an absolute dream and I'm loving it.
"I didn't see myself as a coach while I was playing, but I've always watched and read and thought and talked about the game a lot. I suppose it took me so long to make it as a pro, but I just kept trying because I loved the game so much. It wasn't a glittering career, but I got everything I had out of myself. I don't think I could have done any better than I did and that was the best I could do.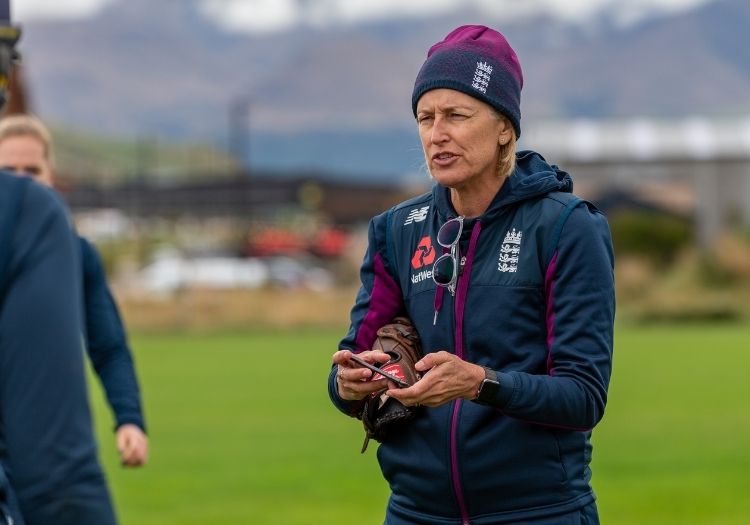 Macdonald and Lisa Keightley have worked together since he came on board to work with Perth Scorchers' bowlers
"I was like a fanboy while I was playing those games for Western Australia and Tasmania: I'd run in to bowl and Tim Paine would have the gloves behind the stumps or Ben Hilfenhaus would be bowling from the other end or I'd sit down and watch Adam Voges peel off another hundred. I was like a kid in the candy store."
When it all ended, he returned to club cricket in Perth with Claremont-Nedlands, the team for whom he had played growing up, before becoming their coach once his body called time on his bowling days.
He adds: "Coaching for me – and this might sound bad – allows me to be back as part of it. I did get that opportunity for five years to play with professionals, feeling a little bit like an imposter in the room. But this gives me that opportunity again, coaching at this level. Just being in and around that and helping in the Big Bash gave me that feeling of being back playing again, which I loved. That's still there definitely, but it has evolved a lot for me since then."
It is one of the reasons for which he is unfussed by the prospect of turning his hand to the top job in the near future, though the prospect of leading and shaping a franchise team intrigues him. He has had this exact discussion with Keightley and Jonathon Finch, director of England Women's cricket, in the recent past.
"I tend to not be a planner in terms of thinking far ahead," he explains. "I think I'm gathering the skills to hopefully be able to do it – I think I've still got some more development and learning to do. But I'm also in my dream role."
He knows, too, that the job of assistant is a cushier existence than the more brutal stresses that face head coaches like Keightley. "You get to have all the fun and make all the relationships and be everyone's friends," he jokes. "If you then become the head coach, you're then the one delivering the bad news all the time and fixing all the messes. Lisa is so good at that, and I have a lot to learn in that department. I also sit back and think about how good this role is and how much I'm enjoying it."
Much of that enjoyment is the consequence of a thriving relationship between two coaches whose skillsets complement one another. Keightley's forte, he believes, is her management of people: "Lisa is very laid-back, calm and takes things in her stride – she can deal with a crisis and get a group up."
And his own qualities? "I suppose mine were slightly different: I have a very innate knowledge of the game, I watch so much cricket – especially when I started working in the women's game. My wife had played a lot, so I had seen some female cricket, but I probably hadn't studied it like I like to study cricket. I basically spent two or three years studying the female game. I'm big on stats and data. Also understanding rhythm and preparation for fast bowlers is something that I do, which isn't necessarily in her skillset.
"But I've also learnt so much from her and the way she goes about it. it probably is unusual – and I'm conscious of the fact that I've now worked as a professional coach for nearly five years under the same coach, and also conscious that we're two Australians who have come over here to infiltrate with the England setup.
"After 18 months, I hope – and I know – that if you spoke to any of these players, they know how much we care about them and their success. I wouldn't say that they've forgotten we're Australian – we definitely get reminded of it!"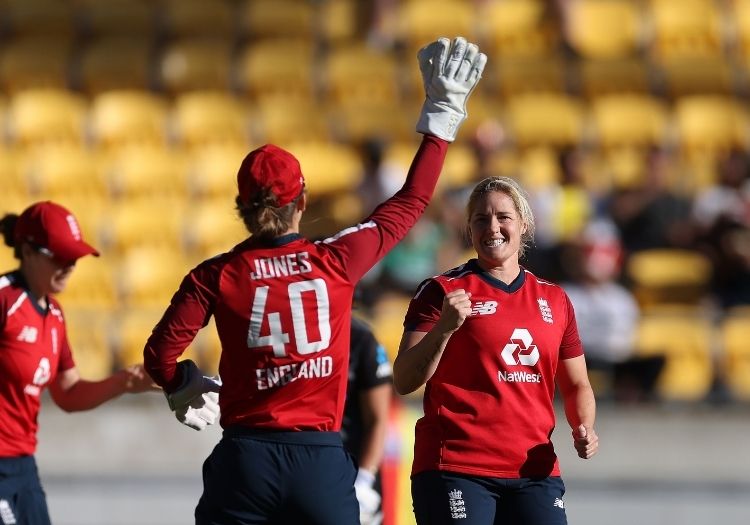 Macdonald has been keen to learn from Katherine Brunt
He is aware as well that he is a male within a predominantly female sphere, even if it has been a long time now since he gave that fact much thought. Rather, he admits: "I would almost find it more unnatural now to go back to working in a male environment and I would be conscious of how I would coach and how I'd have to approach relationships and situations. This is second nature to me now."
Equally, though, he is keen to see an increase in the number of women involved in coaching at regional and national level. "They have got experiences that we have never been able to have. That's a lot of the conversations and the work that we do with Katherine Brunt: I have never experienced what she has experienced, so in a lot of cases she's better at delivering messages than me.
"Hopefully we see a rise in that – I know the ECB is trying really hard to work and fast-track, upskill and educate female coaches. We definitely need more female coaches in the female game and possibly even in the male game. The experience that they bring and the different perspective that they have on the game is really valuable. I'm lucky enough that I get to work with Lisa."
As with Keightley, an additional challenge for Macdonald through the last two summers has been the absence of his family in the United Kingdom. He previously spent two seasons shortly after the turn of the century representing Norton in the North East Premier League, but this remains a home from home, away from loved ones on the other side of the globe.
Travel issues and visa complications meant that – like Keightley and her partner – Macdonald didn't see his wife and children between July and Christmas in 2020. There were plans in the offing for them to visit this summer at the back end of the series against India, though restrictions on flying out of Australia have curtailed those intentions.
It is a side of the game that has perhaps been overlooked at times by observers during this era of bio-secure bubbles; in the men's arena, Chris Silverwood has taken time off to be at home during certain white-ball series, delegating responsibility to his assistants. For Keightley and Macdonald, their family in England are predominantly their colleagues.
It is why, as Macdonald explains, the most taxing part of last year came in the idle moments caused by the cancellation of tours by India and South Africa, with England's summer ultimately consisting of just five behind-closed-doors T20Is in September against West Indies.
"There was a bit of unknown about what was going to go on," he says. "While the cricket was going on, it was good and it was exciting, but I suppose the lack of cricket made that distance tougher as well. I think it's always easier when you're getting your head buried in for a series and there's cricket going on. When you've got your downtime, that's what makes it tougher.
"But everyone is sacrificing at the moment, and the other side of that sacrifice is that this is pretty much my dream job. I don't know how sustainable coaching international cricket is anyway when you've got a family, so when the opportunity arose, we just thought I had to take it. There is nothing I'd rather be doing. You just have the harshness of a pandemic coming in between you living on the other side of the world, which usually isn't as hard as it is during a pandemic, I suppose."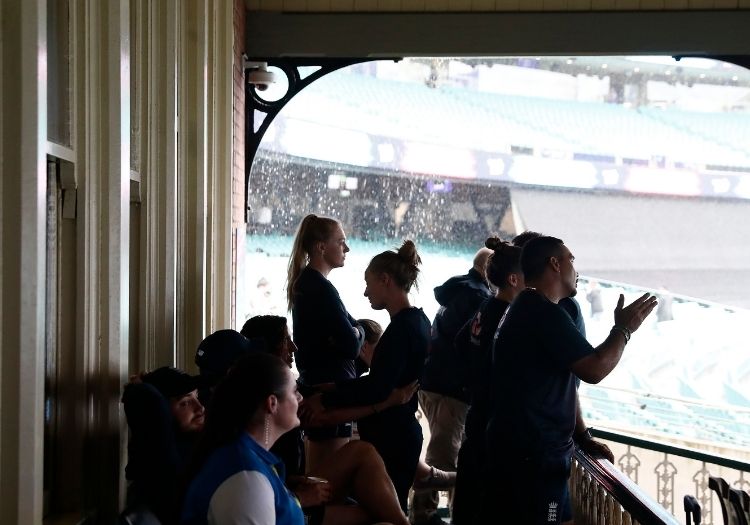 Macdonald's initial stint with England ended in disappointment after their T20 World Cup semi-final was curtailed by rain in Sydney
From a coaching perspective, it meant that he devoted even more time to his craft. "It's a weird balance for me at the moment," he reflects. "I'm finding that if there are days off from cricket and my family is on the other side of the world, I probably am better off thinking about and working on cricket."
Has he become better at managing his own workload, an attitude developed while holding two jobs simultaneously for the majority of his adulthood? "I've learnt when I haven't done it that it's not a good outcome," he laughs, knowingly, "but I haven't learnt to give myself time off. I know that it helps – I just haven't got better at it! I sometimes find myself as a full-time coach feeling like there's too much downtime. That's something I'm still working on."
Indeed, under Keightley there are ongoing plans to structure more training breaks for England's players into their annual schedule, with a feeling that their highest-quality work has taken place when the squad has been refreshed by time away.
"One of the differences with the England girls to what we're used to in Australia is that England cricketers love training and playing for 12 months of the year," says Macdonald. "It can breed a culture of training for training's sake, whereas we're quite conscious now that – as the girls learn how to be professionals – they do have to take some time off.
"When they do come in, it's then meaningful. I think that's the same for the coaches; you could tell at the end of 2020 that everyone had been stretched to their limits. We weren't giving the best of ourselves as coaches, so the break back with the family over Christmas before the New Zealand tour was exactly what we needed. When we hit the ground in New Zealand, everyone was so refreshed and excited and happy to be there."
Still relatively new to this, by his own admission, he has taken time to learn from Brunt – "one of the greatest of all time" – though now approaching her final years as an international cricketer.
What does he mean by learning?
"I think it's probably a different type of learning – learning how to work with her and get the best out of her, so she can get the best out of the rest of those bowlers. We're trying to build a really strong bowling unit, but that is hard to do when there's not much cricket, as there wasn't last year.
"This year, when there's more cricket, you will see more opportunities for players – the volume of cricket over the next 12 months is so huge that we need to have multiple options ready. We know that Katherine is probably in the twilight of her career and Anya (Shrubsole) has had a long international career.
"They are two world-class bowlers who have taken the majority of the wickets in all formats of the game for the seam attack; we know that they possibly won't be around forever, so how do we get enough cricket into a larger group while still winning games and series and making sure that those two have a massive impact as well, because they're still world-class bowlers who will help us win tournaments? That has been the focus; it's really exciting."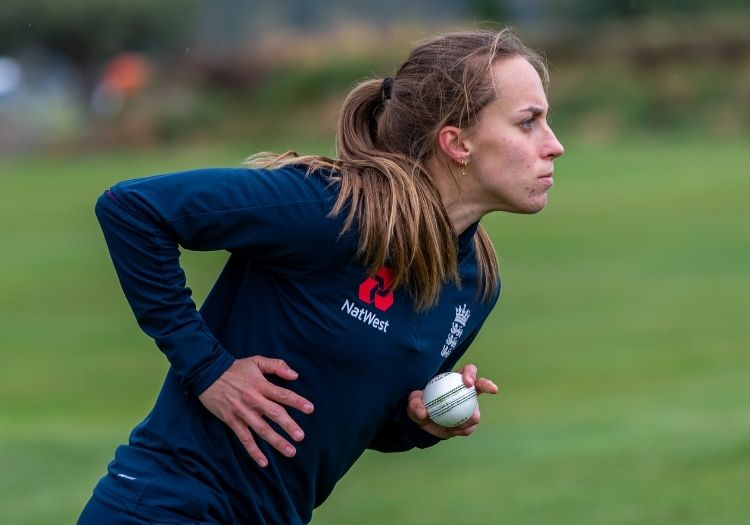 Macdonald's own journey allows him to relate to players like Tash Farrant
Arlott is the most recent addition to that jigsaw, pulled from Central Sparks into the national reckoning seemingly out of the blue; Heather Knight declared that she hadn't known much about her until a month ago. Macdonald insists, however, that she has been on the radar for a while: "I suppose we were just surprised at how quickly her talent progressed in terms of her performances."
Because of how sporadically county cricket was streamed in the past, the widespread implementation of live streams through the Rachael Heyhoe Flint Trophy has been a game-changer, while Macdonald and the rest of Keightley's coaching team have spent recent weeks at regional fixtures, scouting players and scouring the circuit for others to watch out for.
He adds: "As we get the opportunity to bring these new, talented players in, it is great to have the regional competition underneath that. It means we're not just picking on net sessions and talent; we're picking based on performance. Given the infancy of the regional competition, we know that we haven't seen the last of a bowler or batter emerging."
And when they do, they will have a friendly, empathetic face in Tim Macdonald waiting to guide them through a dream journey not dissimilar to his own.
Please ensure all fields are completed before submitting your comment!