Meet the Scottish cricketers who cycled 672 miles for charity in memory of former teammate Con de Lange
OLIVER THORPE: Craig Wallace and Ally Evans recently completed a mammoth 672-mile cycle ride – the distance reflecting De Lange's cap number – in memory of the slow left-arm bowler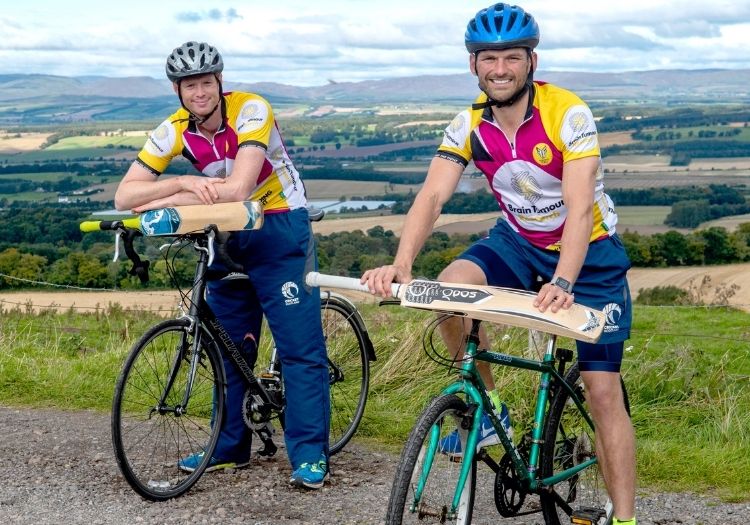 Losing a friend can be among the most difficult things with which anyone can have to come to terms.
In April 2019, Scotland bowler Con de Lange passed away, 18 months after being diagnosed with a brain tumour, leaving behind his wife, Claire, and two children – Daisy and Rory.
South Africa-born De Lange played 13 ODIs and eight T20Is after making his debut against Ireland in 2015. His death was keenly felt, across both Scottish cricket and the wider game.
In their friend's memory, two of his former teammates, Craig Wallace and Ally Evans, recently completed a mammoth 672-mile cycle ride – the distance reflecting De Lange's cap number – in memory of the slow left-arm bowler. They travelled all over Scotland, taking in various cricket clubs along the way.
"I went to Ally with an idea about six months ago," explains Wallace. "It turned from me talking about doing the route to us both talking about doing the route when Ally jumped on; I'm glad he did as I don't think I could have done it without him."
The initial plan was to travel from Bristol – where Wallace and Evans learned of De Lange's passing – and up through England, visiting all the clubs at which he played. However, Covid-19 put an end to those plans.
Over the week, the pair cycled around 100 miles each day, taking in the surroundings of St Andrews, Fife, Perth, Aberdeen and Edinburgh before finishing at Feguslie Cricket Club in Glasgow; quite a feat for two men who are hardly cycling nuts and had barely sat on a saddle since childhood.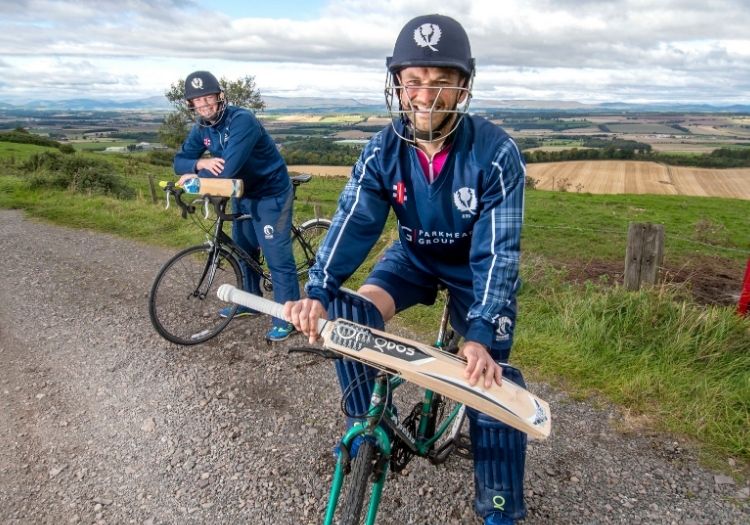 Wallace and Evans visited a number of cricket clubs during their cycle. Photo credit and top photo credit: Donald MacLeod
"Part of the appeal was doing something that neither of us actively do to add an extra sense of challenge," Evans says. "Con, the person, was never someone who gave up, and could take on any challenge.
"I remember going out on my bike for the first couple of times during lockdown and thinking 'oh my goodness, this is so hard', but it got a bit easier each time.
"We spend our lives chasing a ball and running around, spending very little time in the saddle. Extending ourselves to something that we're not used to doing was part of the challenge."
While it was an enjoyable week for them both, it didn't go by without its problems. Around an hour in, Evans hit a pothole and went over his handlebars.
"It was 9.6 miles," laughs Evans. "One of the handlebars bent, I gave myself a dead leg; luckily that was the only fall.
"On the last day when we had some of the Scotland boys with us, one of them nearly ended up in the canal as we were going from Stirling to Glasgow, it's almost a shame he didn't because that would've been really funny," he smiles.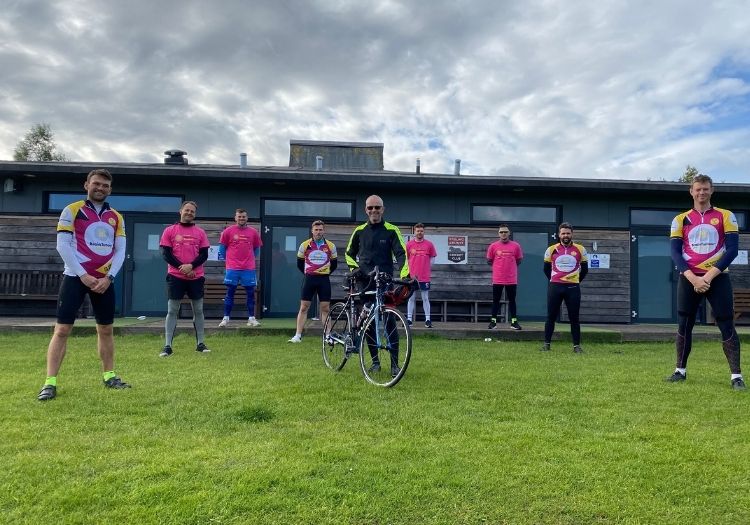 The pair were joined on the saddle by a number of supporters throughout. Photo credit: Craig Wallace
Support was a key part of making the challenge successful. Both men had their parents follow them – helping at their time of need, whether through a cup of coffee or a packet of jelly babies.
"My parents were driving behind me with the full beam lights on so I could see as I cycled, and it wasn't until we saw pictures and videos afterwards that we asked ourselves 'what the hell are we doing?'", recalls Evans.
"Especially during storm Alex, Ally and I had the easy job," says Wallace. "It's our parents that put in the hard yards. I feel pretty guilty actually as we didn't know much about it; they obviously knew that we would need more looking after than we thought. They were brilliant.
"Just seeing other people cheered you up and gave you energy for an hour. There was a 40-mile stretch from Aberdeen to Montrose where my mum came and found me on the A92 to bring me out of the rain for five minutes, handing me a cup of tea before I got going again."
Despite having such great support networks around them, there was a lot of time for both men to reflect on why they were doing this and who they were doing it for.
According to Brain Tumour Research – the charity for which the bike ride raised money – brain tumours kill more children and adults under the age of 40 than any other cancer.
Wallace explains: "I know four or five people that have passed away from brain tumours who were in their thirties or forties. The thing that really gets me with it (brain tumours) is that you get no time and no cure. So hopefully this money can go towards finding a way of making the remaining time enjoyable if there is no cure."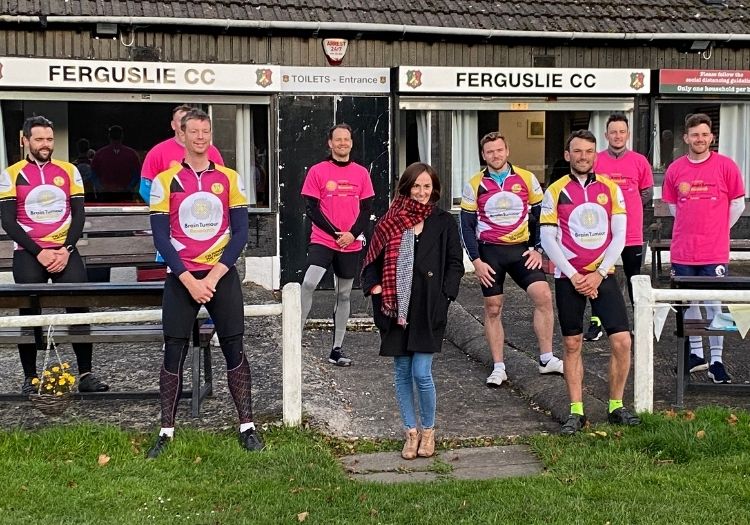 Ferguslie Cricket Club was where the challenge ended. Wallace and Evans are photographed with Claire de Lange (front centre) and others. Photo credit: Craig Wallace
Losing de Lange wasn't an easy time for either Wallace or Evans, and both keep their memories of their former teammate close to their hearts.
Wallace says: "The first time I played against him, he was this quiet little South African. At the time we had two other left-arm spinners. I was keeping wicket and was sledging him about the fact that we have loads of left-arm spinners coming through.
"He kept looking at me and smiling," he adds. "I did it twice and I think he his 80 odd not out and won the game. That shut me up pretty quickly!
"It showed how much of a fighter he was and when someone said something in a fight, he just fought harder and harder. He did that on so many occasions over the years, especially for Scotland.
"Off the field, getting to know him as a person was amazing. He's the sort of guy that when you were talking to him, he listened, gave you the time of day and did anything to help you."
Evans echoes Wallace: "I was speaking to Richie Berrington on one of the last days and I said to him 'I keep expecting Con to jump out of the bush', because he was always playing little pranks. He would always find a way, even in the darkest times, to perk people up.
"He was an incredible human being. The last thing or person he worried about was himself; it was always family, friends, club, teammates before him."
At the time of writing, they had raised an impressive £11,242. Wallace says: "The cricketing community, especially in Scotland, is amazing. Because it's so small, everybody knows everybody and even if they didn't know Con personally, they knew how great a guy he was."
The fundraising page for Craig and Ally's effort can be found here.
For unrivalled coverage of the county season, subscribe to The Cricketer and receive 3 issues for £5
Please ensure all fields are completed before submitting your comment!