Pacemakers: How the ECB's Loughborough sports scientists are promoting speed among their bowlers
SAM MORSHEAD: What is going on behind the scenes to accelerate England's pursuit of someone capable of topping 90mph more than half a dozen times a series? The Cricketer went to find out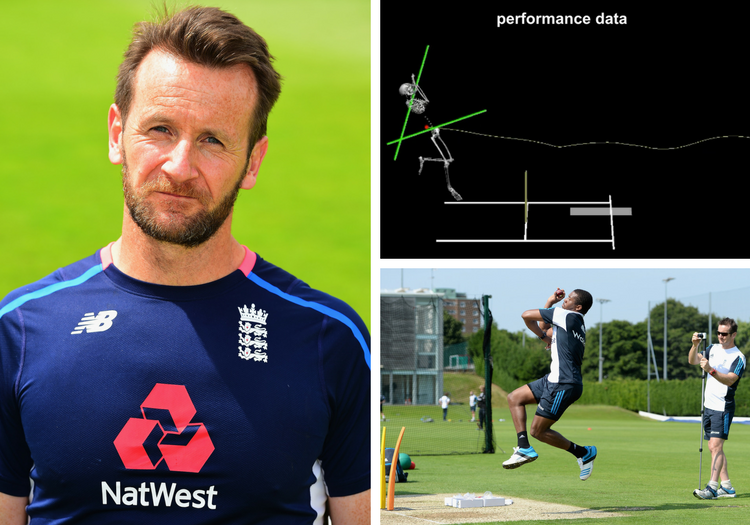 As a UK viewer of the Ashes, it was almost impossible to avoid two biting questions over the course of the recent series.
One, what exactly does it feel like to get Kwiffed. And, two, where on earth are all England's fast bowlers?
Frustratingly, after two months of nauseating repetition on and off the field, the answer to both seems little clearer.
Online gambling outlet Kwiff still sounds like the title of a Chaucerian hairdressing quarterly, and English seamers still appear to come equipped with in-built speed limiters.
Though Stuart Broad, Jake Ball and Chris Woakes all breached the 90mph barrier on occasions down under, the relative sluggishness of England's attack was the bane of every bleary-eyed cricket fan back in Blighty as it became increasingly apparent that the urn would be wearing green and gold for the foreseeable future.
The immediate impulse when things go wrong is to find an easy scapegoat and, in this instance, there seemed to be several – ranging from the selectors and county cricket, to that old favourite, the ECB National Performance Centre in Loughborough.
The latter has become an obvious target for detractors during recent times of struggle, billed as an expensive white elephant or 'Bluffborough', as George Dobell, one of its more vociferous critics, has put it.
So what is going on behind the scenes to accelerate England's pursuit of someone capable of topping 90mph more than half a dozen times a series? The Cricketer went to find out.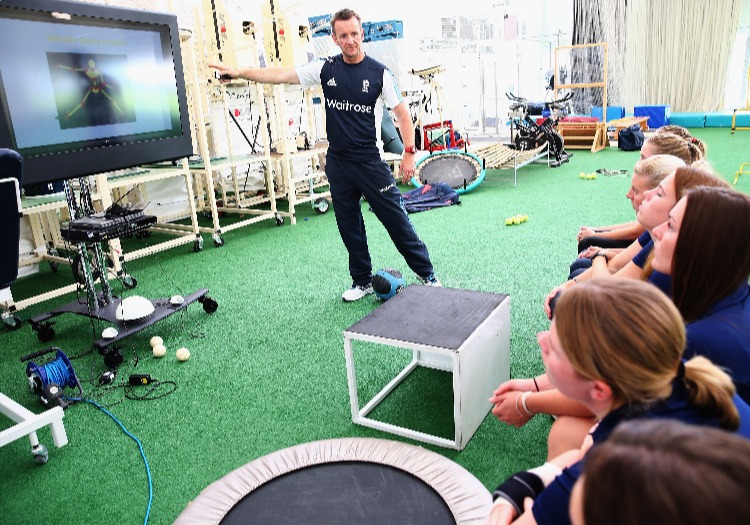 Kevin Shine leads a workshop at Loughborough
The day after England's fourth defeat in five Tests down under, a chastening innings-and-123-run loss in Sydney, 12,000 miles away in the very chilly East Midlands, the members of the England Pace Programme were back at work under the guidance of the ECB's lead fast-bowling coach Kevin Shine.
Shine and his team combine computer science with old-fashioned coaching in an effort to produce the next generation of genuinely quick bowlers for the England team.
A decade of research by two PhD students, Peter Worthington and Paul Felton, have generated a digital modelling system which gives the coaches an indication of the body shape, approach to the crease and power each of their bowlers need to achieve their maximum potential speed.
Worthington's study – a biomechanical analysis of fast bowling in cricket – gave scientific insights into how fast bowlers bowl fast, and Felton's subsequent follow-up has produced the computer programme which puts those theories into action.
And, Shine says, England's current crop of seamers are starting to see results.
"This stuff takes time and we want to make sure it's peer-reviewed, and that we can't mess anyone up," he says. "We never wanted to clone. We have always been interested in individuality. We wanted to get the science to inform coaching methodology."
Worthington conducted his research between 2006 and 2010, and returned to Shine with a series of complicated formulae – gobbledygook to you and me – which, when simplified, described the core components of a genuinely fast seam bowler.
"The model has no idea what fast bowling is," says Felton. "It is just a load of equations which it needs to find the answer to."
Some seem obvious – a faster run-up, for example – but others require a little more nuanced understanding.
Worthington determined that faster bowlers release the ball later, boast more trunk flexion (movement through their hip region) and keep their front leg straighter upon the point of release.
Furthermore, the quickest bowlers spread the impact force of foot on turf by landing heel first and pushing forward, rather than pounding the pitch straight down in a single motion.
The findings reinforced the groundbreaking 'Four Tent Peg' theory devised by fast-bowling coach Ian Pont (outlined in last month's Cricketer). But there was more work to do.
England needed to be able to adapt those principles to each individual bowler, and assess which elements of their technique needed tweaking to generate extra pace.
"There is no one-size-fits-all to coach this," as Shine says.
Once Worthington had completed his PhD and submitted it the ECB in 2010, Shine sent the findings on to the counties, who in turn organised "talent ID days" via their academy set-ups.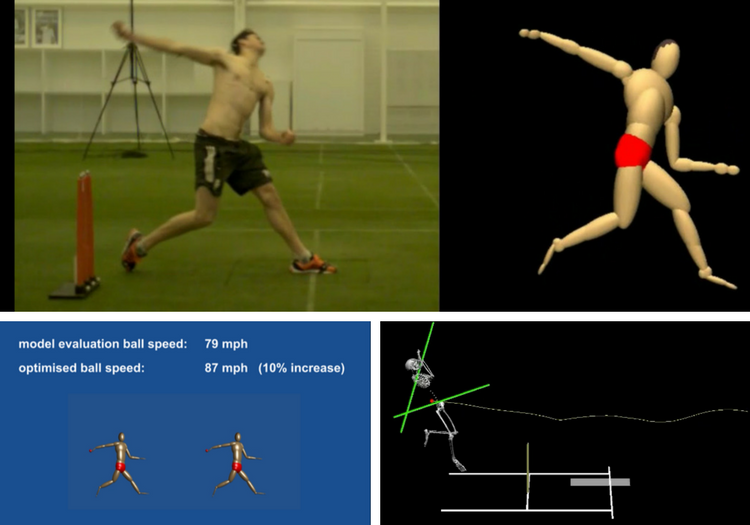 Images from the computer model designed and developed by the ECB
The 18 clubs were encouraged to pick out individuals who boasted a natural bowling shape similar to that in the PhD models. In the meantime, Felton began his research for a study of the factors limiting the performance of fast bowlers. To do so he needed to see how dozens of small changes impacted on overall speed.
There is one obvious hitch.
"You can't ask a bowler to run up 10 times at different speeds and keep everything else the same," says Felton.
Instead, he turned to technology and, specifically, computer modelling.
"We asked questions about what aspects of technique we could change to make the bowler bowl quicker, or which forces we could change," Felton says.
Each model – a digitised simulation of a bowler – needs a mass of data to imitate the human body. That data takes the form of 'segments' (the equivalent of bones in a skeleton), 'wobbling masses' (imitations of muscle and flesh), 'torque generators' (the muscles around each joint) and 'viscoelastic springs', which model the contact between foot and ground.
Half of Felton's four-year study was spent perfecting the model, then he took on a cricketer. That cricketer was Tom Helm of Middlesex.
"The first time I saw him bowl here as an 18-year-old, it was obvious he had height, swing, an unbelievable attitude and we thought he had potential… but he didn't have much pace," says Shine.
"It's like training a javelin thrower for a World Championship. Fast bowlers don't work in those cycles."
"We thought, 'let's see if we can coach someone to bowl faster', knowing we wanted to keep the swing, bounce and accuracy in place as well."
Helm was sequestered to Felton two days a week. The seamer was put through Loughborough's 3D motion analysis and sessions on dynamometers – a gizmo designed to measure the individual's power output.
Every one of Helm's joints were measured to discover their relative strength, for 12 hours at a time. With all that data on board, Felton could test his model.
"We asked the model to recreate what he was already doing… to show it works. If it doesn't then it's useless," says Felton.
Thankfully for all involved, it did.
Between them, sports scientist and coach came up with questions they wanted answered with the help of the model – was there something in Helm's technique that could be improved to make him bowl faster? And was there something limiting his performance?
"We hear these questions all the time," admits Shine. "So we thought this was absolutely the logical place to go to.
The model was asked to tweak Helm's virtual body movement upon arrival at the crease, to change the way in which his front foot landed and to increase his theoretical strength to see which, if any, would increase his speed.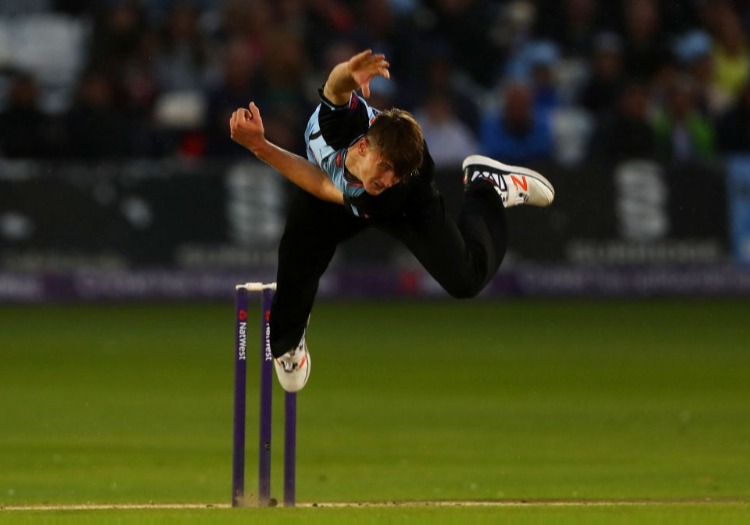 George Garton is one of England's big fast-bowling hopes
"The model has no idea what fast bowling is," says Felton. "It is just a load of equations which it needs to find the answer to."
Helm, who was bowling at 79mph when his action was originally mapped, was told by the model that he could, in theory, increase to 87mph with basic changes to his technique.
By throwing in a revamped point of impact with his front foot, the computer suggested that Helm could hit 97mph.
By improving his strength on top of that, he might be able to reach 98mph. There were caveats.
"In this model he's using maximum strength and you won't do that through a day during a game," says Felton.
"When Felts and I first saw this model we thought 'oh god, the bowler's bust it', but think about it… if the one job we had was to get Tom Helm to bowl a 97mph ball, and nothing else, then that is possible," says Shine.
"It's like training a javelin thrower for a World Championship. Fast bowlers don't work in those cycles."
A comparison of pictures of Helm in 2017 and still images from the computer simulation of 2013 show some striking similarities, and his increasing speeds suggest that the model and process work.
"We've changed his kinetic sequence," says Shine. "We've slowed it down to use all his natural attributes to bowl quicker. I'm a simple fast-bowling coach and I believe in making it as simple as possible."
Shine shows The Cricketer an example of the way he and his coaches used to assess each of his bowler's fast-bowling attributes – a scorechart for pace, action and craft which relies at least in part on subjective analysis.
Designed by Shine around the characteristics of fast bowling, the scoring system awards points for front-foot contact, ball release, match speed and the like.
That sort of simplification has been applied to the PhD work of Felton and Worthington to aid the counties in the development of young quicks, with the ECB launching an app to track their progress.
Called 'Interactive Coach', the app stores personal programmes, stats and speeds and will be rolled out to every county for the first time this season.
All the information inputted by the county coaches goes back to Shine and his team in real time, ensuring that they are kept fully in the loop with the development of fast bowlers across the country.
Every England and Pace Programme bowler gets screened and their information logged on a database, which now features more than 150 names.
Shine is convinced there are authentically fast English bowlers in county cricket. An exciting group of players including George Garton, Zak Chappell, George Scrimshaw, Josh Tongue and Helm go to support that belief, while Shine is determined to see Stuart Meaker in an England shirt again and has high regard for 23-year-old Paul Walter, the Essex giant whose professional career began just 12 months ago.
But he and his coaches have had to contend with several factors out of their control. Shine cannot, for instance, dictate the amount of overs bowled by these young seamers every English summer. He cannot curate county pitches in April and May to be much more than green-topped seamers. Nor can he influence when red-ball cricket is played.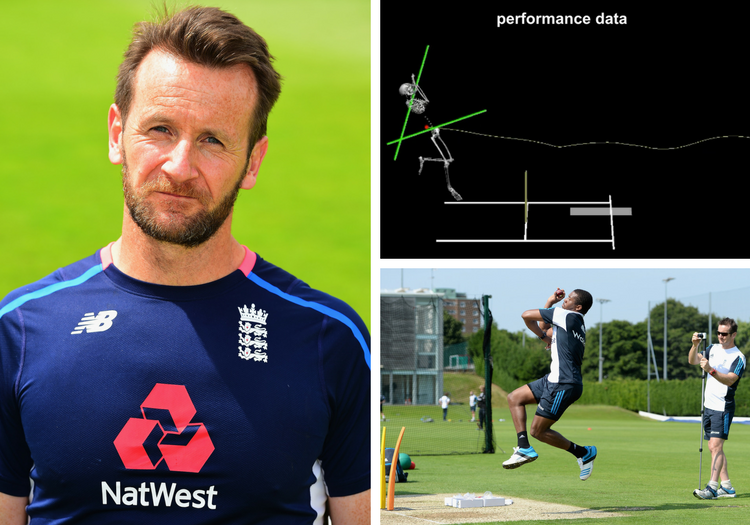 Then there has been the small matter of injuries.
Of the current senior crop, Mark Wood, Toby Roland-Jones, Steven Finn and Craig Overton have all had various fitness issues, while the problems have dripped down into the pathway bowlers. Again, Loughborough's work has at times been linked.
"Injuries are still a massive factor and we are still trying so hard to understand that," Shine says as he pulls up old footage of a wide-eyed and floppy-haired Stuart Broad collapsing at the crease during a net session in Loughborough 15 years previously.
"We put up poles and told him not to touch them. It's about giving the player a problem and telling them to sort it," he says. "That was injury prevention."
Perhaps Shine is sensitive to recent criticism. That would be understandable. Perhaps he is frustrated at the lack of chances given to some of his protégés, or the workload expected of them domestically.
That, too, would make sense.
What is undeniable is the depth of research that has gone into the programme he and his coaches have put together at Loughborough.
If there's pace out there, and Shine is adamant there is, he has the tools to find it.
Now, what happens if we ask the computer model what it means to be Kwiffed?
Please ensure all fields are completed before submitting your comment!