Meet Tom Hartley: A champion athlete's son getting batsmen in a spin
ELIZABETH BOTCHERBY: His dad represented Great Britain in athletics, winning a European gold medal in 1974. After making his first-class debut in 2020, Tom looks set to continue his family's sporting legacy with Bill watching proudly from the stands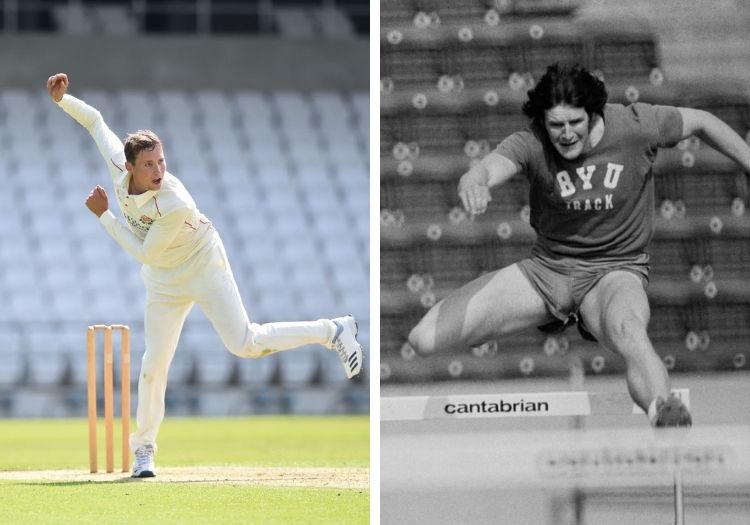 Bill Hartley is lost for words, an unfamiliar affliction for a Scouser.
"It's hard to explain unless you've had a son or daughter who's playing sport at a decent level," he eventually says. But he doesn't need to explain, his voice betrays him, swelling with pride as he discusses his son's blossoming cricket career.
The son in question is Tom Hartley, the promising Lancashire spinner who made his first-class debut last summer and, 206 days later, was named as a teammate of Kagiso Rabada and Nicholas Pooran for this summer's edition of The Hundred.
Such sporting success is not unusual in the Hartley household. Bill represented Great Britain at 400m hurdles and 4x400m relay, winning a silver medal in the latter event at the 1974 Commonwealth Games in Christchurch before claiming European gold eight months later alongside Alan Pascoe, David Jenkins and Glen Cohen.
Since hanging up his spikes, he has turned his hand to the family's plant nursery and garden centre in Lydiate and wonders why The Cricketer would want to speak to him. After all, he didn't play much himself – "I played in school, but you'd probably have to use inverted commas!"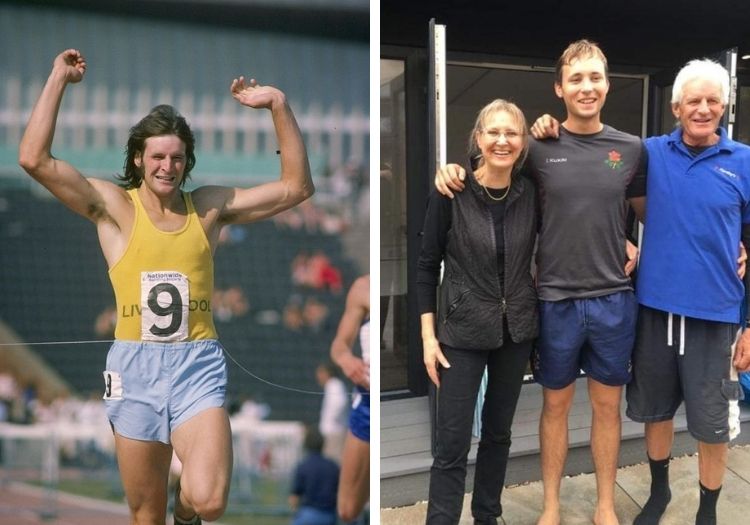 Bill Hartley (L) winning the 400m hurdles at Crystal Palace in 1975; Tom and his parents (R)
However, when Tom talks about his fledgling career, his dad is never too far from the action. He is his training partner, his role model, a measuring stick for success and a constant source of advice. But, most importantly, he helped nurture his love of the game.
"Dad always had me in the back garden playing footy and cricket and stuff," Tom explains. "He was quite happy for me to go down my own route, he didn't pressure me to go into athletics. He'd had a lifetime of it, and I think he was pretty happy to be away from it. And he's always been a keen cricket fan, so he had no problem with me jumping down that route.
"He's been real rock for me. He's been there, he's been a pro athlete and I feel like I can take a lot from him. If I feel like I'm getting slower, I'll ask him to do some sprint training because he's got all that knowledge. And, seeing what he's done, I feel like I have to do him one more!"
Parents are often the forgotten piece in the jigsaw of sporting success – the financial sacrifices, the long car journeys to rained off away matches, the endless pick-me-ups after a poor day in the field – and Bill, as his son's testimony confirms, was one of the main protagonists in Tom realising his childhood dream – a dream sparked around 13 years ago by a chance encounter in a Crosby schoolyard.
"It was always cricket," Bill remembers. "Of all the sports he did, it was apparent to me early on it was the one he had the most natural ability for.
"When he was a kid, he played football. He was keen on the game and went into the academy – well, he went in and quite quickly came out again. He was a decent footballer, but he wasn't what they were looking for.
"Then he started at Merchant Taylor's which is a strong cricketing school, and they encouraged the kids to play. When he was in year five or six, each class was given a bat, a ball, and a set of stumps and told it would be good for them to play at breaktimes and lunchtime and that's how he started."
Casual games in the playground and family garden quickly became regular training at Ormskirk CC - the club which, in the last decade, has produced Durham's Michael Jones, Leicestershire's Gavin Griffiths, and Tom's fellow 2020 debutant, George Lavelle. And from under-14 level, he joined Lancashire's age-group programme.
Climbing the academy ladder with the likes of Lavelle and George Balderson, his progress was slower than many of his peers, taking time to develop his mastery of spin. However, upon graduating into the second team alongside Jack Morley – another Bob Willis trophy debutant – in 2018, his progress was meteoric. Representing the second XI in both Championship and T20 cricket, he shaved three runs from his red-ball average and dropped his economy from 3.35 to 2.32, in two seasons - a development which didn't go unnoticed by Glen Chapple and co.
Regularly training with the first-team ahead of the 2020 season, he was optimistic about earning his debut that summer, especially when he was selected to travel down to Worcester for Lancashire's Bob Willis Trophy clash against Leicestershire. However, with the coaches giving nothing away, Tom was as surprised as anyone when Dane Vilas pulled him aside 24 hours before the toss at New Road.

"We went [to Worcester] the day before and we did normal training," he says. "It was quite dry so I thought with only me and Parky [Matt Parkinson] in the squad I might get a go and the day before, after training, Dane came up to me and told me I was going to get a run in the first team. It was really unexpected!"
He claims he played it cool but the same couldn't be said for a certain family member: "My dad gets more excited than I do! He probably wouldn't have slept much that night and the days after he was just buzzing really."
"Oh, without a doubt!" Bill confesses when asked if Tom is telling the truth. "It's hard to explain. You can will it as much as you want but it's only them can do it. It's something you hope [for] but it was a very pleasant surprise when it happened. It was a very proud moment."
Leicestershire won the match in thrilling fashion, chasing down 150 inside 16 overs to inflict a surprise defeat on the previous season's Division Two champions. However, having been chucked in at the deep end as Lancashire's sole spinner and emerging with a handful of wickets – Hassan Azad, Harry Swindells and Ben Mike – not even defeat could dampen Tom's spirits.
"With no crowd it felt like a second team game but there's a lot more pressure and the standard was a lot higher," he says. "Being the only spinner in the side, everyone was looking to me to bowl a fair few overs and [while] no one wanted to put too much pressure on me, I knew to be able to win the game I had to perform well and take a few wickets.
"It was unfortunate we lost as a team but on a personal note, I was quite happy to get my first game out of the way and I got three wickets. You feel like you could have got more, but on the whole I thought I did alright."
Unfortunately, due to the pandemic, Bill was unable to attend. However, with appearances coming thick and fast in both formats, he finally got the opportunity to watch Tom play against Yorkshire in the T20 Blast – a match which also marked the white-ball debut of George Lavelle.
"I watched the game from the balcony of the hotel," Bill says. "Tom had stayed there overnight, and I came down and had the room during the day and watched the game from the balcony with a few others. Just to see him run out with the rest of the boys, fantastic.
"And I sat for many, many hours with George's mum and dad watching the pair of them play and it's really fabulous. For Ormskirk as well, producing two more county players following Michael [Jones] and Gavin [Griffiths] in recent times." Another tidal wave of pride washing over proceedings.
Ultimately, Lancashire's season finished in disappointment – a rain-shortened five-wicket defeat to Nottinghamshire in the semi-finals of the T20 Blast. But for Tom, 2020 was beyond what he could have predicted. Hoping for a single first-team appearance, he made four in the Bob Willis Trophy, bowling 111 overs (only four balls fewer than leading seamer Tom Bailey), taking six wickets and conceding just 2.91 runs per over. With the white-ball, he was ever-present, collecting a further six scalps, posting the fourth-best economy in the side (7.11), and reaching Finals Day at the first attempt.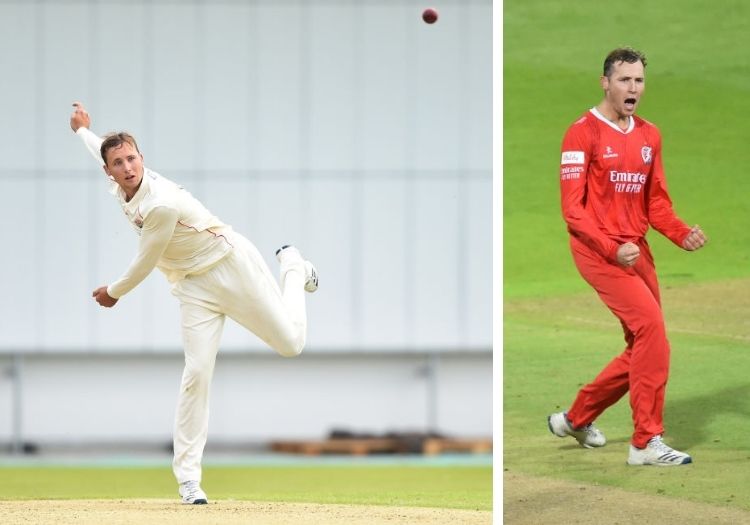 Tom Hartley was among the wickets in both four-day and T20 cricket for Lancashire in 2020
In December he was crowned Lancashire's young player of year, a deserved award for a standout few months. But the excitement wasn't over yet. Having missed out in the original draft, not a huge shock for a player without first-team experience, Tom took a second speculative punt on the re-draft for The Hundred, hoping his 2020 form would catch a franchise's eye.
And this time, he hit the jackpot. Home side Manchester Originals took the bait, stumping up £24,000 pound to secure his signature in February.
"I put my name in the draft hoping I might get a go," he reveals. "I did alright in my first season so deep down you're hoping you get picked up in one of the lower brackets, but then you see who else is in the draft. It was a bit unexpected but I'm just over the moon I got picked."
Receiving the information ahead of the official announcement, he was a little concerned about loose lips: "I found out the day before, so I had time to digest it and the next day when it went out, I got a barrage of messages.
"I told my dad; I couldn't keep that from him, and he was more excited than me again. He was asking if he could tell anyone and I was like no, just keep it a secret until the next day! But on the inside, he wanted to tell everyone and so did my mum. They love seeing me do well and they just want to show off about it!"
Here, Bill has to disagree – but only briefly, as his pride in his son's achievements quickly returns: "It was only until the next day, it wasn't a problem! But we were all ecstatic for him, very happy. The biggest thing for Tom is the opportunity to learn. It's a massive step up in level but fabulous to be asked and I think it's going to be a learning experience, mingling with that quality of player and coach."
After cramming so many new experiences and milestones into half a year, it's only now - on the eve of the new season - that Tom can reflect on a monumental 12 months. And both he and his dad are all too aware that his call-up may never have arisen if it hadn't been for the pandemic.
"It's been a rollercoaster really," says Tom. "Not a lot of good has come out of Covid but for me I've been able to play. I don't know if I would have got this opportunity without it.
"Take it back a year – last March, last April – and I was hoping to get my first-team debut and suddenly you're playing the majority of the games. It was a bit of a whirlwind really and something you've just got to take day by day. Looking back on it, it was really unexpected, but I've loved every minute of it."
"He was one of the players where Covid went in his favour," Bill echoes. "Lack of overseas [players], that kind of thing and he was given the opportunity. You dare to hope he's going to play first-team cricket at some date, and it was a great moment for him when he was selected, absolutely fantastic.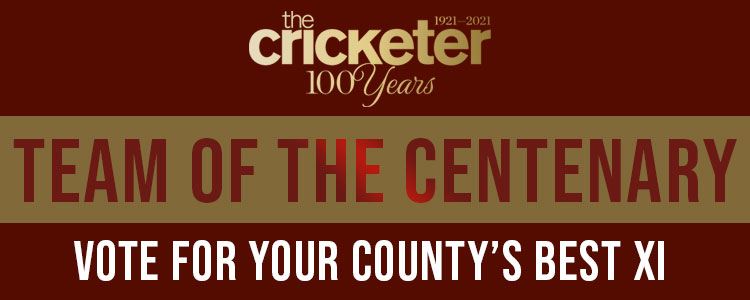 "But, when you think of all the hours they spend, the age group cricket, through the counties, school, it's so many hours and when you make your first team debut, it's the fruits of your labour."
And it's at this point Bill drops one of his favourite quotes: "I always say to Tom that old Gary Player saying: 'The harder you work, the luckier you get.' And it's so true, it really is. [2020] is the reward for all the long hours he's spent training.
"You never spend those hours thinking you're going to play county cricket. You do it because you love it and he absolutely loves playing cricket. And, when you get the reward for all your hard work, it's even more satisfying."
But rather than resting on his laurels, Tom has been training all winter, tweaking his game in a bid to capture even greater success in 2021. He's the latest in a long line of spinners to earn their stripes on Emirates Old Trafford's turning track and with his 6ft 4in frame and left-hand angle, he recognises the benefits his unusual physique has to offer and is keen to exploit them.
"People expect me to be a big, fast seam bowler!" he laughs. "I've gone to Australia a couple of times and they see me rock up and think: 'Bloody hell, are you sure he's a spinner?' It plays to my advantage with the bounce I can get and the height I can bring it down from, so I think it's a really advantage for me. Being an anomaly can always be in your favour.
"I made a few changes this winter and they've helped me so far, especially spinning-wise. I've changed my front arm to keep me in a straight line. I was losing a bit of momentum with it so focussing on my line is what I'm trying to work on. Hopefully, I can also get a few more opportunity with the bat and show them what I can do with that too."
But as far as a good season goes, he'll settle for replicating the success of last year, keeping his place in the team with the increased competition for places, and handling the pressure of playing in front of crowds.
"I'll be nervous having crowds back," he says. "It will be a different experience altogether. Towards the end of last year, my nerves were starting to settle down again when I was playing but with the crowds back, they'll be skyrocketing again."
For Bill, however, it's far simpler: "Sitting at the back of the stand somewhere to watch the game and watch him play." Discreet, humble, and, most of all, proud.
Subscribe today and receive The Cricketer's centenary issue – six issues for £19.21. Click here
Please ensure all fields are completed before submitting your comment!