James Hildreth's 303: What was and would never be
NICK HOWSON: A doyen of Somerset for 19 seasons, Hildreth discusses his marathon knock, the art of building an innings, never being content and why an England call evaded him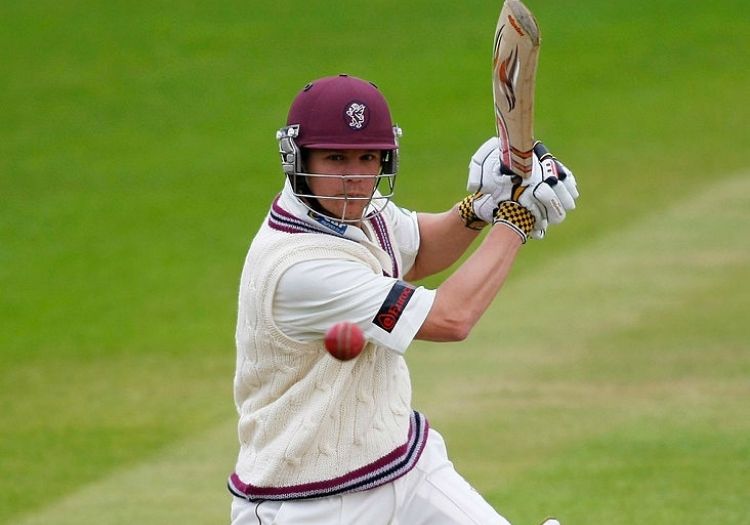 "You always want to do more, you're never settled and there is no end. You can't complete batting."
It is telling that even during a conversation about one of the County Championship's great marathon knocks, that the individual who made it all happen can still speak of misgivings and regrets.
When Douglas Jardine described cricket as "battle, service, sport and art" he was outlining a discipline with so many factors it is virtually impossible to approach a feeling of total satisfaction. One of England's most famous captains didn't miss a trick.
Partly, that is why a discussion intended to celebrate James Hildreth's 303 not out, stretched across 338 balls, just short a night's sleep and eight hours at the crease quickly turned into one about unfulfillment. In a sport where we try to quantify every statistic, it is what they reveal about the individual that is most significant. Context is everything.
To fully understand how this effort came to be, it is first important to understand Hildreth's approach to building an innings and how his effort for Somerset at Taunton against Warwickshire in mid-spring came to be and why it was even possible.
With 46 first-class centuries stretched across multiple decades, Hildreth's longevity could conceivably be confused for doggedness and resilience.
Hildreth's career paints a different story; one of a right-hander who plays on the front-foot, unwilling to merely soak up deliveries and dig a trench. Even defending is executed positively and bathed in intent.
"I think I play my best when I'm attacking," he explained to The Cricketer. "If I try and absorb deliveries, I go into a survival style mindset and it doesn't tend to help my batting. I'm better if I try to put bat to ball and score some runs.
"Counterintuitively, it would make me bat longer if I try and use up as many balls as possible. I started my career like that, and my strike rates have generally been pretty high.
"I've taken it to the bowlers almost straight away. That doesn't mean slogging but playing positively by looking with a good intent to score runs straight away, rather than getting into a survival-style mindset which for me doesn't tend to work as well.

"A lot of innings you play follow a similar pattern because it is about going through the processes you have and trying to be consistent with those at the beginning of any innings you play.
"You work from there and build momentum as you get used to the pitch and the bowlers. The key to batting is trying to get used to that consistency. Once you get into it, that is the reason why you get a score".
That philosophy bears itself out in the numbers, with Hildreth's red-ball scoring rate staying constant for much of his career. He went at 65.35 per 100 balls in what was Division One of the County Championship, having recorded 67.56 in the second tier. Even last season's 124 runs in the Bob Willis Trophy were scored at a respectable 55.60.
The perception has always been that attacking presents opportunities for the opponent. But with batting so much about feel and rhythm, it is about what works for the individual rather than what the manual says.
"That is just the nature of my game," Hildreth added. "I feel like I am better if I am playing some shots. If I am scratching around or out of form for me to think 'let's go out there and try and get through the first 30 balls' that tends to make me go a bit negative and tentative.
"If I have more of a positive mindset where I am looking to score runs I move a lot better forward and back. I am defending but I am defending in a positive way rather than thinking of survival. When I have played my best knocks that has been there from the get-go."
As colleague Nick Friend highlighted while speaking to Essex's Nick Browne and Luis Reece of Derbyshire following the start of the new county season, there is a large slice of trepidation that accompanies the start of a fresh campaign for batters. Coupled with the pressure to start the campaign well in favourable conditions, you're eager to avoid being that season's Billy Godleman.
And while Hildreth was no different in that regard, recent form should have provoked greater confidence. Ten centuries and 4,727 runs had come from the last four first-class seasons. Having been one of England's rolling substitute fielders during the 2005 Ashes, he was now being considered for a starring role. Also, this was mid-April when conditions were at their most plush and 2009 when pitches were prepared for four days.
"This was 12 years ago where the pitches were slightly different and the way counties set up was different," the right-hander recalled. "Now it feels like counties set up for two or three day games. The surfaces were probably a bit different.
"There are not many guys averaging 40s anymore and that is the nature of the wickets and the type of cricket that is being played now.
"If you were in there was an opportunity to go big. The pitch was set up for getting into the season rather than getting results straight away. You knew as a batter you probably had a good chance once you got yourself in to make the most of it.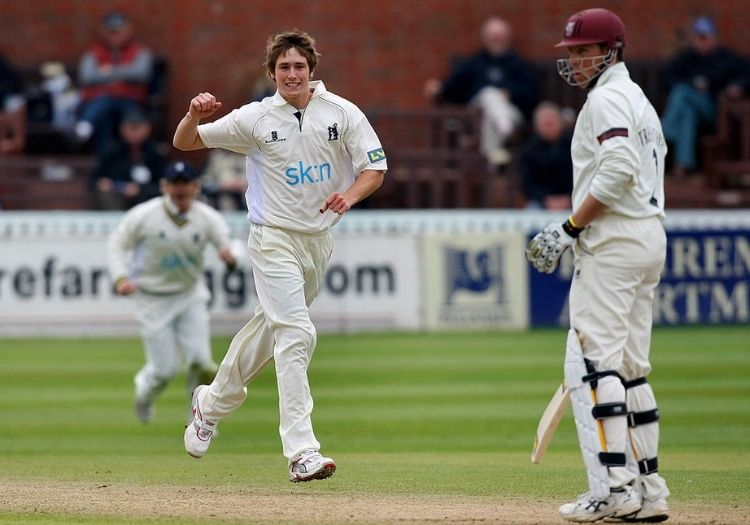 A young Chris Woakes was part of the Warwickshire attack
He added: "You're so desperate to score runs. I remember being so amazingly nervous before and wanting to get off to the best possible start. I was batting at No.4 with Tres (Marcus Trescothick) and (Justin) Langer in front of me, so I thought there would be a bit of time until I'm batting.
"We got off to a pretty decent start (118 for 2, Trescothick 52). You're always pretty motivated and there are always a few extra nerves at the beginning of the season just going into that first innings.
"I felt pretty confident going into the game. It was a decent wicket being able to watch the guys in front of me. Then you get into the rhythm of batting as you do in any innings really.
"One of the keys to batting is managing those emotions when you go out, not getting too up or too down. That is like the first games of most years.
"During this period, I was at that age that you want to be kicking on and playing for England. There is an extra expectation on me to go out and prove to people that I can play at the next level.
"At that age (25) you start it thinking 'I want to have a good year'. Those kinds of years were crucial times in that regard. We know England like to select people who are early-to-mid 20s so I was in prime age."
Warwickshire's first innings 500 and Ian Bell's 172 at a decent lick had Hildreth, standing in the slips for the first five sessions, "licking his lips" at the prospect of playing on a pitch which looked ideal to settle any early-season nerves.
Trescothick and Arul Suppiah smashed 70 before the close on day two but both departed at the hands of Chris Woakes and James Anyon, who made up a depleted visitors' attack including an injured Neil Carter, Ant Botha, Darren Maddy, Rikki Clarke and Jonathan Trott. Tim Ambrose had already succumbed to a back problem and was replaced by Tony Frost behind the stumps. And yet, the pain for the visitors had barely begun.
Hildreth put his foot on the throttle from the outset. First playing alongside Langer, who himself was hindered by a leg issue which forced him to bat with a runner, he went to a breezy half-century in 75 balls "feeling utter relief that you've got a start in the first game of the season". Then the floodgates opened.
"I remember getting in the 70s and it must have been (left-arm spinner) Botha who came on because I started scoring quite quickly and hitting boundaries," he explained. "I think it was JL (Langer) who told me to cash in and make the most of it.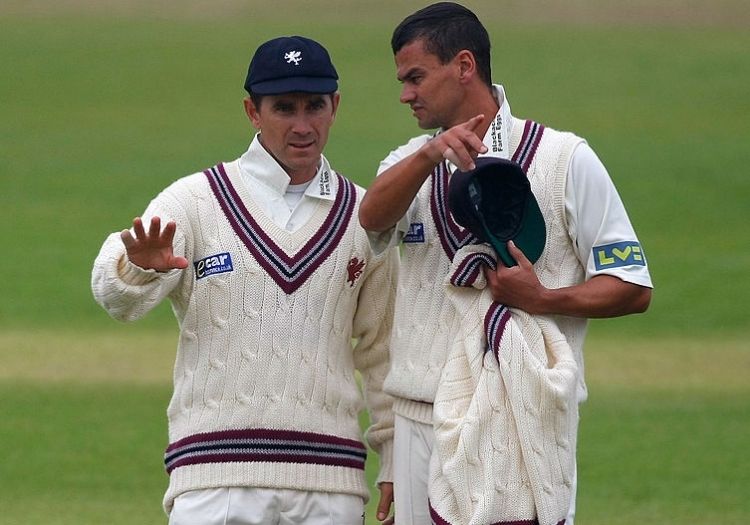 Somerset captain Justin Langer was unwilling to allow the game to stagnate
"I went four-six-four and a couple of sixes. Then he reigned me in a bit and said I had a chance to get a hundred. There was a drinks break and I regrouped. That taking stock was good for me from what JL said.
"The beauty of cricket as a batter even though you get a big score you're batting in segments, in intervals. There are natural ends to different periods. Getting fifty, getting through to lunch and you've only got two hours to bat until tea. You restock, see how you're going.
"I remember getting to the end of the day and I was 190-odd (191*) not out. It was another chance to regroup and think about how you're going to play. You've gone through all the bowlers and you know the conditions. All the journalists are saying it would be great to get a double hundred. That's the first goal and there would be no reason not to. Then you just bat."
As Hildreth's partners rotated - Woakes got Langer (76) lbw and Zander de Bruyn (4) - his focus never altered. Nor did the fluency of his innings, which was quickly becoming the central narrative of a contest heading for a draw. His first century came in 134 balls and 143 minutes, the second either side of the start of day four in 103 balls and 178 minutes.
By the time day four arrived, attention had turned from an opportunity to land an opening-round win, to the Somerset record books. Chances had been limited, though Maddy had been convinced he'd caught Hildreth in the gully only for the umpires to rule the ball had fallen short. It was a rare and rather cruel opening for Warwickshire.
Individual and partnership feats were on the line, even if Craig Kieswetter perhaps needed reminding. The future England T20 World Cup winner was eyeing a maiden first-class century and once Hildreth had 200 and later bettered his previous red-ball best of 227, the onus of the innings changed. Even with captain Langer eyeing a declaration and late dart at victory.
"I think it was probably in the back of everyone's minds (the records)," said Hildreth. "The game was dead.
"I was fully aware of what my previous score was and knew I wanted to better that. Because 227 to 300 is not a huge number of runs, but I had no idea about the Somerset run-scorers or anything like that.
"I got past my best first-class and thought 'imagine getting 250' and then you've got a little bit of time. 'Could I get 300 here?' and you keep ticking along and think, 'blimey this is potentially possible here'.
"There was all the chat around that stage, when I was around the 250 and Craig got his hundred, about when we should declare. How long do we have to bat for? There were a load of things going on.
"I was on 270-280 and they were saying let's just wait until Hildreth gets his 300, Craig gets his 150 and we'll declare then. From nowhere the pressure builds on you again. Suddenly everyone is waiting for you to get to 300 and the emotions and nerves start building up.
"When he's (Kieswetter) got to 70-80 it was all on him, and rightly so. A first-class hundred, coming onto the scene, a brilliant young prospect. There was chat that when he got his first hundred his dad was going to buy him a Range Rover.

"It was a great time to bat with him, to help him get through to his hundred and the emotions that would have created for him. For a long period of time, it was about watching him getting to that hundred."
A batting paradise or not, there was no doubting the brilliance of Hildreth's triple century when it came. An in thumping Trott, who would later that summer get the nod for England during the Ashes, through midwicket there was a tinge of irony to it all.
"I remember Jonathan Trott bowling a bit of part-time and I pulled him in the air," he recalled. "It might have been Woakesy on the boundary and it landed safe and went for four. There was an absolute 'what the hell has happened here'. I got 300 runs; a weird, surreal moment.
"When you're standing in the field after that it is not pure elation, just a deep-seated contentedness that you feel as though you have contributed and done well and feel pretty proud in yourself in what you have done."
Langer would eventually wave them in with Hildreth unbeaten on 303, Kieswetter on 150 and the lead standing at 172. Maddy, Frost and Bell soaked up 38 overs as a flat pitch had the final word, and the draw was agreed to.
For all the numbers and records there remains a feeling of emptiness. Hildreth's triple century remains the earliest in County Championship history, the biggest ever made in what was Division One and just three (Kevin Pietersen, Murray Goodwin, Sean Dickson) have recorded bigger knocks in English domestic cricket. Only Langer, Sir Viv Richards, Jimmy Cook and Harold Gimblett have made more in a single innings for Somerset.
The glorious stand of 318 fell two short of Somerset's all-time first-class partnership record for the fifth wicket. Hildreth missed out on becoming the club's highest-scoring Englishman in a red-ball match (then Gimblett and since replaced by Trescothick), while Langer's innings record (342) remains intact.
Even amid glorious success, there is a feeling of unfulfillment. Cricket's unconquerable characteristic was there for all to see again.
"Would I have been bothered at the time? You're so elated that you've got that big partnership," Hildreth said. "But it was as I was walking off and got back in the changing room where someone said to me you only needed 15 or 20 to get the record.
"I was thinking 'thanks mate, I got 300 there'. I don't think it really matters. It doesn't bother me that I could have got a higher score. I was so chuffed with getting that really.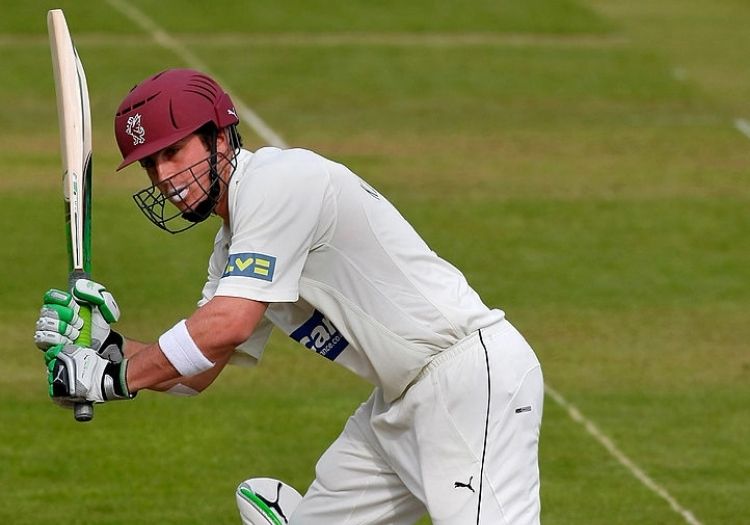 Craig Kieswetter went to his maiden first-class century at Taunton
"It is not a game that you can complete, it is a game that carries on. That's what I love about it. It is endless. No one knows how you're going to go in the season and it is up to you and you need a bit of luck.
"There are loads of different variables in that, you get a score and the nature of batting is you could always have done a bit more. You analyse your own game, inevitably it is a mistake you've made and you think 'if only I could have got a bit more'. It is the feeling of never being satisfied that keeps driving you.
"You realise as a batter there is always the next thing. There is always a bit more that people want. If you get a fifty, you should have got a hundred. If you get a hundred when then why didn't you get a big hundred?
"There is always something so you can never quite fulfil which is great because it is never-ending. It is a good example of getting a triple hundred and people seeing something slightly more. You get very used to it as a batter. It is the nature of our sport."
Dissatisfaction would certainly be an accurate description of the rest of Hildreth's season. His next 14 first-class innings in 2009 produced 606 runs and a single century. And it came to finding a replacement for a crocked Pietersen for the crucial Oval Ashes Test later that summer it was Trott and not Hildreth who got the call.
Six seasons during which the right-hander would reach 1,000 runs would follow and yet there remains regret over how that campaign unfolded. A message from Alastair Cook directly following the 303 and a handful of Lions outings in the West Indies and then at Derby would be the closest Hildreth got to full honours thereafter.
"In the next game (against Durham) I got a 70-odd (71) so I wasn't far off 400 runs from the first two games. Then to finish the rest of the season as I did, was disappointing. You want to play for England and selection wise if you have those peak seasons which are above everyone else that is what you need to get selected.
"I had a massive platform and opportunity to do that and get some huge runs and kick the door down. I remember after the season being really frustrated that I didn't go on and really capitalise on that start.
"They were always lining up Trotty because he'd done so well for a few years, so I never felt that close to selection. If I got loads of runs for the rest of that year, then who knows. But I didn't feel like I was close or if I had carried on doing well, I could be selected, no-one was talking about that to me.
"I remember thinking it was a difficult England side to get into anyway because of some of the players that were around. But I never felt I would have been in contention. Even if people were talking about it I was never given that impression I guess."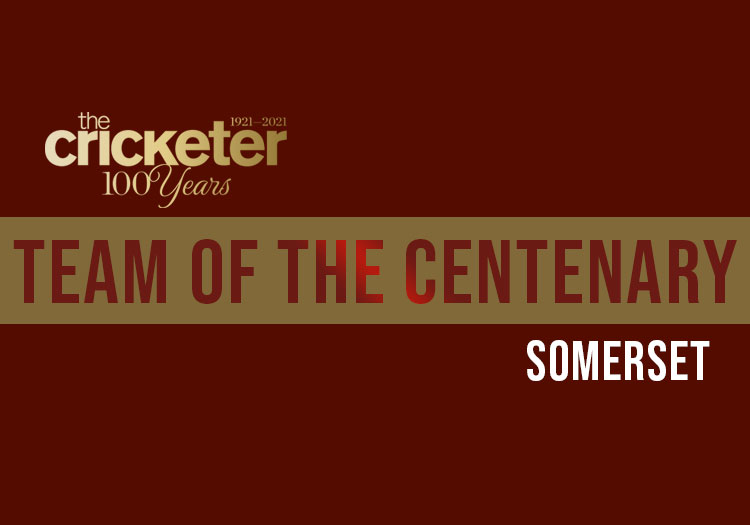 So, despite the mountainous score, the adulation that followed and the memorabilia (a print of the scorecard hangs in his house and Kieswetter's whiskey distillery made a special bottle for the occasion) Hildreth's big score is a landmark moment for the wrong reasons.
"This season (2009) was a good example of creating that massive season," said Hildreth, who is now chasing Bill Alley in the Somerset all-time FC list. "You're always better off going average, average, unbelievable, average, average, rather than going pretty good and consistent throughout your whole career.
"That's what I observed from some of the guys getting picked. They just had one brilliant season which was quite frustrating in a way because if you're just having lots of good seasons and not that stand out massive season then it doesn't get you selected."
Subscribe today and receive The Cricketer's centenary issue – six issues for £19.21. Click here
Please ensure all fields are completed before submitting your comment!