How Lord's became a place of comfort and hope for Afghan refugees
NICK FRIEND: Once a week since the start of autumn, Lord's has given itself to Afghanistan's refugees as part of a project spearheaded by the MCC Foundation's director Sarah Fane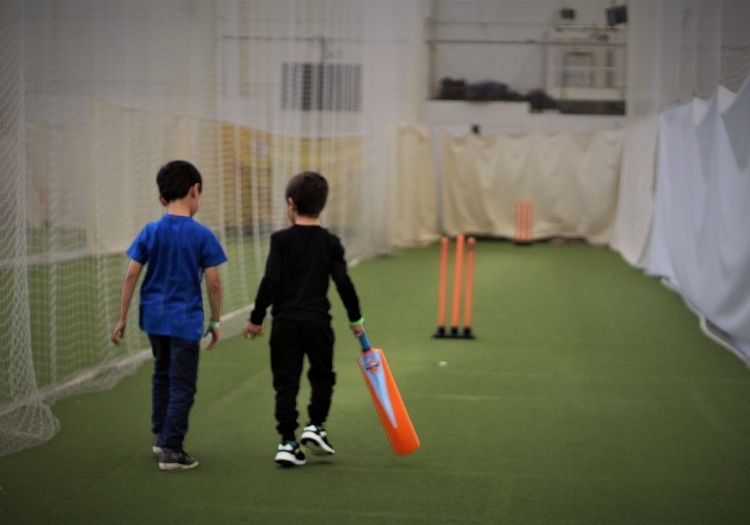 Much of Sarah Fane's adult life has been devoted to the Afghan community, so when the Taliban launched its offensive in August and took control of the country, the MCC Foundation's director approached the famous club and urged it to mobilise.
Originally a wartime doctor, in 2002 Fane founded Afghan Connection, a charity that built schools and cricket pitches. When she took on her role with the charitable arm of MCC, Afghanistan and its people remained the working precedent for her raison d'être: they are perhaps the game's greatest recent example of its power to change lives.
"That's my whole inspiration for what I do at Lord's, really," she tells The Cricketer, looking out from the Tavern Stand. "I go back to that all the time. That's what taught me what cricket does for young people. To me, that's the most important thing."
Unless you've been living under a rock, you will know what a turbulent time this is for the game. We spoke shortly after Azeem Rafiq gave testimony in front of the DCMS committee; also in the news was the early spread of the Omicron variant and the tragedy of the English Channel disaster that saw 27 people lose their lives when a dinghy carrying migrants capsized.
Stories like those should hit everyone hard, but they touch Fane on an especially personal level, given the path down which adulthood has led her. 
"I was thinking that our charity is so incredibly relevant in all of that," she says.
Guy Lavender, the MCC's chief executive, responded to Fane's wish, and a project was established in the image of its driving force. Once a week since the start of autumn, Lord's has given itself to Afghanistan's refugees: it began as a short-term idea, collecting refugees from a local hotel and walking them back to the ground on foot.
Volunteers would adorn the hotel's dining hall with posters, gather up everyone keen and lead them to a stadium that – according to the testimony of one beneficiary, speaking in a short film about the scheme – had always felt like the most distant pipedream.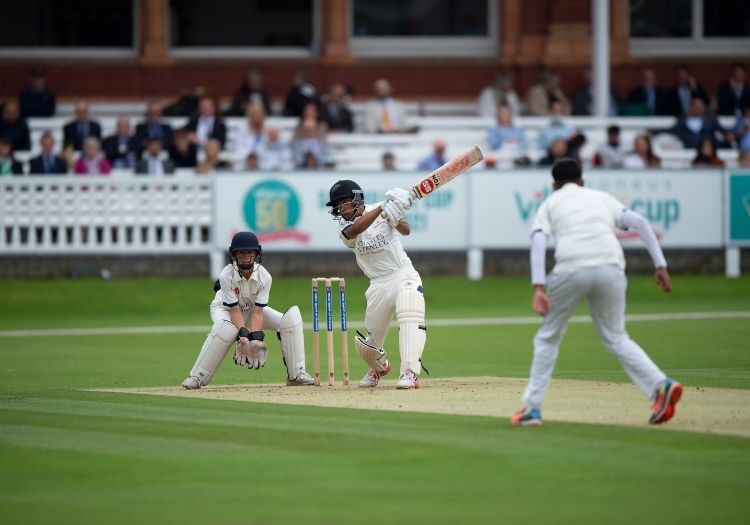 The MCC Foundation held its inaugural Finals Day in September (Image: MCC Foundation)
MCC coaches were provided, the Jewish Council for Racial Equality supplied English books and Bat for a Chance – a cricket-kit charity established by teenager Will Gaffney – lent equipment.
Those were the early days, and Fane admits that she assumed its popularity would wear off as people were rehoused around the country and interest waned. Instead, the opposite is true: it will continue into 2022. The borough of Kensington and Chelsea has offered interpreters, and Westminster Council has laid on a bus to replace the walk. The nets come free, and Lord's have enlisted their chefs to cook up a traditional Afghan menu. 
"Every week, the chef is in tears most weeks because he loves that he's doing something positive," says Fane with a smile.
Seventy people attended the first session, and the numbers now sit consistently between 50 and 60. 
"It's a drop in the ocean, but it's a rather beautiful drop in the ocean."
Upstairs at the indoor centre, there is a separate area where the children – not all of them yet in schools – can play together, and another where girls can play in privacy with female coaches. Every participant is offered English lessons, and among the coaches are Afghan refugees of the past, who have seen first-hand how cricket can improve lives and recall the value of having something to enjoy in a new country where everything is alien.
"When I look back to Afghanistan, I always felt that every young child could dream of being a national cricket player because their cricketers had come from the refugee camps. That's what I want our kids to believe"

Sarah Fane
Earlier this year, Mumtaz Habib – who sought asylum in the UK in 2000 when he couldn't speak the language but is now a British diplomat and a young ambassador for the MCC Foundation – told The Cricketer how learning the game at a local club had developed in him "the confidence to be able to settle" in his new surroundings.
"We're getting to know them now, and the women say that they count down the days until they come up here," Fane adds. "It has just been totally uplifting – not just for them, but also for Lord's. For me, it's all about what cricket can do for individuals and young people at an incredibly challenging moment: refugees across the world are having a terrible time."
The hope is that their affiliations with the MCC will remain long beyond this programme. While English cricket faces its reckoning around an appalling lack of diversity across the board and allegations of systemic racism, it is also the case that plenty of positive work is taking place.
"However difficult the past has been, it's not like we're suddenly starting to do things about inclusion," says Fane. "We've been doing it for a while, and hopefully this will draw attention to it and there will be more funding for organisations like ours who really can make a difference in a quick way. It's going to take a lot of time to turn around big institutions, but for the nimble charities that are doing good work on the ground, more funding will help us to work really quickly towards those goals."
Fane only joined the MCC Foundation at the beginning of 2020, but it was first established in 1993 and supports overseas projects in Nepal and for Syrian refugees in Lebanon. Its central UK initiative is a free-to-access, nationwide programme that provides cricket to more than 3,000 state-educated young cricketers across 74 hubs.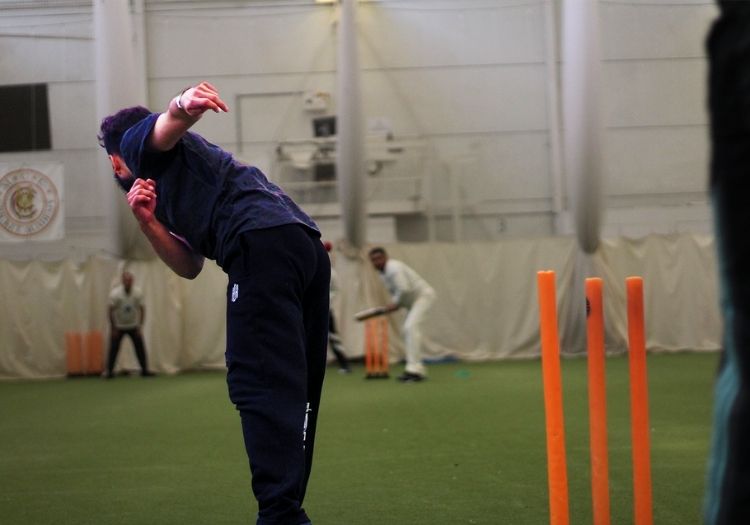 Lord's has opened its doors to Afghan refugees this autumn (Image: MCC Foundation)
Only 59 were able to run last year because of the pandemic, but there are plans for the imminent openings of 13 more, nine of which are set to be all-female. On that front, part of the five-year plan is for 50 per cent of the project's beneficiaries to be girls, while another strand of the same strategy includes an ambition to reach sites in 100 locations, "making sure we're in really relevant areas of more deprivation, attracting more underrepresented groups".
The hubs are selective and talent-focused, currently focused on children between the ages of 11 and 15, with an emphasis on being more than 'cricket for all'. One point put to ECB chief executive Tom Harrison by Clive Efford MP in the House of Commons last month was that grassroots, participation-first initiatives targeting those demographics have rarely – and that is to put it mildly – led to increased representation at elite level.
Indeed, a recent study by Tom Brown and Adam L Kelly showed those with a higher relative access to wealth to be 22.3 times more likely to make it as professional cricketers in England and Wales than their lower-access-to-wealth equivalents.
And while the ultimate goal for Fane is not explicitly to produce a generation of professional cricketers out of these hubs – though that would represent "the icing on the cake" – she is clear that the scheme must lead somewhere.
"It has to become meaningful," she says. That emphasis is the major difference from Chance to Shine, a tremendous organisation in its own right for which Fane holds enormous respect but which has a different primary objective.
"What could be better than seeing your child playing at the most famous sporting arena in the world?" 

Raza Effendi
"It's so important to have Chance to Shine doing their participation work," she stresses. "We need their participants to come onto us, but they need us to feed into. Because then we are forming that pathway. And it's incredibly important. That's why I don't think we should be ashamed of being about talent and about helping promising kids.
"I think the worst thing we can do is discourage talent. I think for those kids who are talented, promising, athletic and want to continue in cricket, then it's incredibly important to help them and to make our pyramid much more inclusive. If we don't do that, it's not going to happen. I think if we don't have that, then we're never going to change the top end.
"I think it's about fulfilling potential. If we have a kid who's really talented but they can't fulfil their potential in cricket, they're lost to cricket, cricket's lost them and they've lost the opportunity to have everything that cricket also offers them – the confidence, the support with life that I feel it gives."
Fane is big on this, the notion of cricket as a life-driver as much as a potential career for the very best. Between January and March, the hubs are operational every week for two hours' weekly coaching before matches begin in late spring. On a holistic level, the MCC Foundation has partnered with Opening Up Cricket to offer mental health support for those involved.
At the end of the London Action Plan, which was established on the back of funding from a donor and featured coaching from the likes of Mark Ramprakash, county talent-spotters were invited along. Mentors were employed to be at the end of the phone for youngsters struggling with the cost of transport and kit. Of all the barriers silently preventing the game from reaching a truly diverse audience, there are none more embarrassing and shameful.
It is the reason for the charity's arrangement with Bat for a Chance, set up by Gaffney, a 16-year-old, whose work has helped to equip more 8,000 refugees in 2021 alone.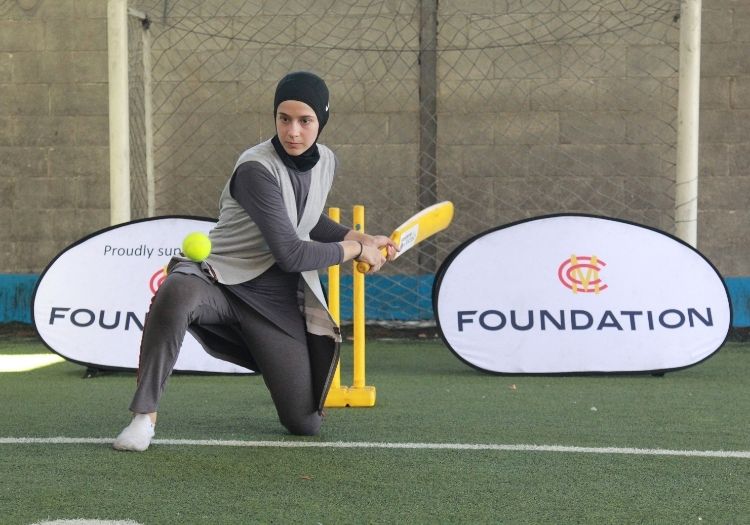 The MCC Foundation runs an overseas project in Lebanon (Image: MCC Foundation)
Fane explains: "With some of the Afghan refugees who want to come into our project, for them it's about how they can get to the hub, what bus route it is, how they can afford the bus, what about a bat, how they can afford kit, being ashamed because they don't have anything to turn up with. It's about us having a fund or Will, where we can provide all that kit for them.
"It's ridiculous how much it costs. I think there are lots of prohibitive parts – I think a lot of clubs aren't welcoming enough either. There are lots of things we can do to break down the barriers, but I think kit is definitely a barrier. Also, whatever programme you get into, there's often an entry fee, which is why the hubs are so lovely. There is absolutely no cost."
The aim, then, is straightforward: to help as many children as possible from as many backgrounds as possible to fulfil their potential. At 15, that means ensuring a pathway is in place for the game to retain them once they graduate from the programme. In effect, they are a feeder system – albeit with a 16 to 18 stream being explored as a possible addition to the current offering. The best are encouraged to push for county trials.
"It's all about how they can continue with cricket," Fane explains. That means different things for different young people of different circumstances – whether finding a club or playing street cricket. The managers at each hub are in place to help with that process of progression and self-discovery.
Some counties such as Berkshire have gone one step further already, leading their hub sessions on the foundation's behalf, with several of the coaches coming via county boards, Chance to Shine and the Wicketz scheme. In the long-term, rolling out an initiative as exhaustive and important as this can only benefit from more similar partnerships. So, that tie-up is being piloted in several areas, with an ambition to "eventually have some kind of sustainability model where we could deliver it through the counties".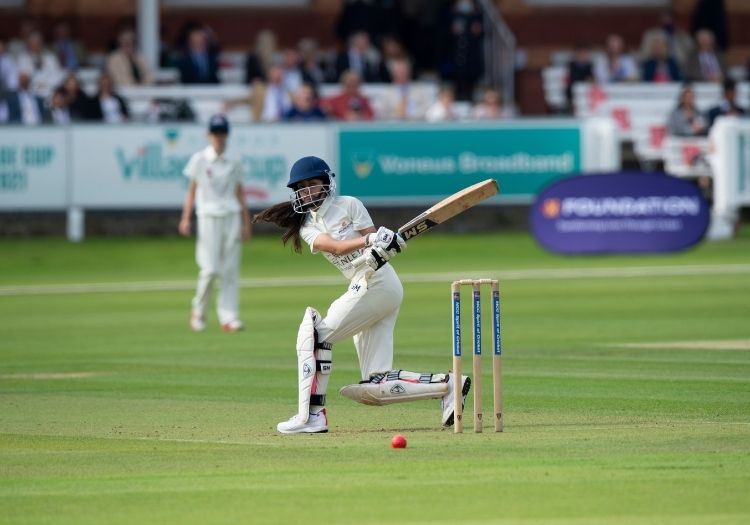 Hubs from Bradford and Cotswolds took part in the first-ever under-18 girls' match on the main square at Lord's (Image: MCC Foundation)
The inaugural Finals Day took place at Lord's in September, marking the conclusion of a 20-week tournament. Manchester beat Slough in the men's final, Bradford overcame Cotswolds in the girls' competition.
It was a significant occasion for many reasons, not least the reputation of Lord's as a hulking, intimidating bastion of tradition and exclusivity. Bradford's win marked the first-ever game on the ground's main square between two under-18 girls' teams – progress for a venue that took almost two centuries to permit women in its pavilion.
"What could be better than seeing your child playing at the most famous sporting arena in the world?" asked Raza Effendi, father of 14-year-old Imaan, part of the victorious Bradford hub, in a conversation on BBC England's Around the Wicket – Yorkshire's Asian Cricket podcast.
It makes Lord's a remarkably powerful tool, coupled with the reach of the MCC's brand and influence. 
"It's all about inspiring our young people," Fane reiterates. "When I look back to Afghanistan, I always felt that every young child could dream of being a national cricket player because their cricketers had come from the refugee camps. That's what I want our kids to believe.
"It's about coming to such an inspiring venue as Lord's at the age of 15 and playing out there. That is the most extraordinary experience that most people would give anything to have. The more kids who can progress, who other kids can identify with, the likelier we are to get more kids playing cricket. It works in all ways, really."
It was a special day, with the players' families and coaches housed at the top of the pavilion responsible for creating an often raucous atmosphere. Fane remembers even the littlest minutiae: the caterers insisted on the youngsters enjoying the same culinary experience as the pros in the same dining area. 
"It was all about how we could give them the day of their lives to inspire them forever and to make them feel included."
Please ensure all fields are completed before submitting your comment!