Brian Lara: A record-breaking innings 25 years on
PATRICK MURPHY: Bob Woolmer, a keen student of cricket history, told Dermot Reeve to let him have a crack at the record. "I said, 'Let's see how it goes.' He was so single-minded that day"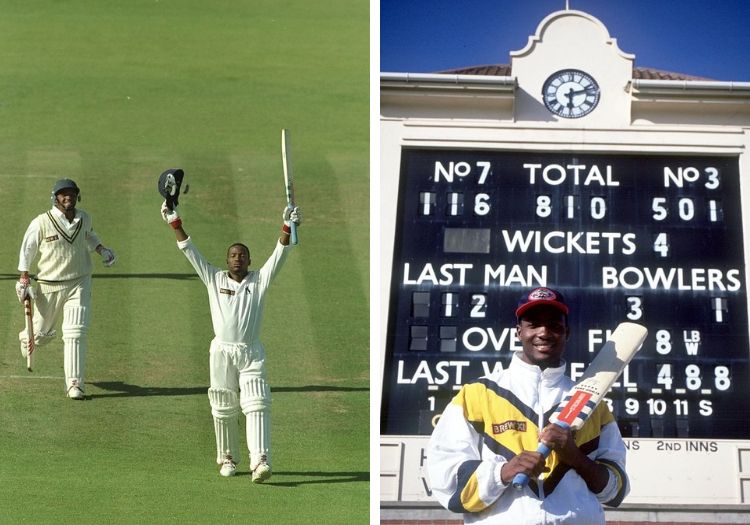 Before Brian Lara rewrote the record books, he scratched around and enjoyed several strokes of good fortune. The West Indian pace bowler Anderson Cummins had bowled enough overs at Lara in domestic cricket to believe he had spotted a weakness.
He thought Lara stepped across his stumps early on, just a fraction too much, and would be vulnerable to a leg-stump yorker. He had dismissed him that way playing for Barbados.
Cummins' first ball to Lara was deliberately short, hoping he would have a go at the bouncer. He did, and it spliced up in the air between bowler and Morris at mid-on, agonisingly short of both. When he had got shakily to 12, Cummins tried the leg-stump yorker. It worked, and Lara was bowled behind his legs. But Peter Wight, umpiring at Cummins' end, had spotted a no ball.
"Durham's players were delighted," he recalled, "until they turned around and saw me with my arm up. Then, soon after, he was dropped by the wicket-keeper. I remember thinking that might be expensive. He then murderered the bowling. It was a privilege to see batting like that."
Chris Scott's dropped catch behind the wicket when Lara was on 18 was on the monumental side of expensive. He remembers it with painful clarity. "It was a regulation edge off Simon Brown, and it went straight in and out. I'd have caught it 99 times out of 100, even though it was very windy that day.
"A few overs earlier, I'd taken a good catch diving forward to get Dominic Ostler. Simon tended to wobble the ball around after it had pitched and the wind didn't help – but no excuses. I've always been a bit of a cricket badger, who looked up to great players, and I wonder if I played the man not the ball for that nick. I froze, because of the stature of the batsman, and it just went in and out. Was I looking to throw the ball up too soon because we'd got such a great player so cheaply?"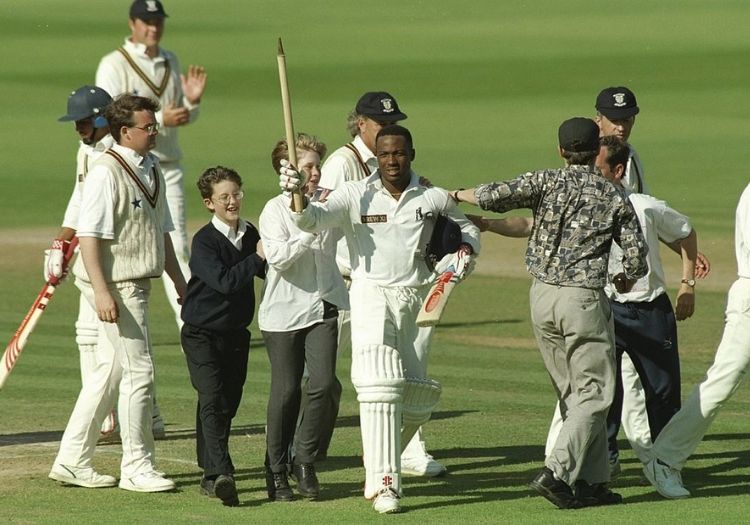 Brian Lara celebrates his mamoth 501
Then Scott wrote his name into the lexicon of immortal cricket quotes as his mistake dawned on him. "My first comment was "Oh, no!", followed by an expletive. At the end of the over, as we walked to the other end, I said to Wayne Larkins, who was alongside me at slip: 'I bet he gets a hundred now.' I thought no more of it until a couple of weeks later.
"Simon Hughes, who was commenting on a Sunday League game on TV, revealed what I had said, and the quote was all over the place after that. I regret that, especially when someone drops a catch these days and my quote gets dragged up on TV or radio.
"I really felt for Simon Brown that day, because he was bowling superbly that season and could have got into the England team if he'd achieved the rare feat of dismissing the great Lara so cheaply. He was the best bowler in the country around then but had to wait another two years for his England chance."
At least the rain on the third day eased Scott's pain. "I'd had a bad time on the Friday night after Lara got his hundred but, when it poured on the third day, I consoled myself that he wouldn't get masses more because there would probably be a declaration game. But when we only had four fit bowlers and were just playing for points, it dawned on me it was going to be a long day!"
Lara's attention to detail and hard work are often overlooked when dissecting his glorious strokeplay. At tea on the second day, after being reprieved twice, he was so dissatisfied with his batting that he headed for the nets and for throw-downs with his friend Keith Piper, looking for that elusive timing. After tea, he was outscored by Roger Twose and, although he reached 111* off 143 balls by the close, he was still uncertain in his touch.
On the Monday morning, Tim Munton drove into the ground around 8:30 and noticed with interest that Lara was already in the nets, working assiduously with Bob Woolmer. "He had a set of stumps positioned at silly mid-off. He was worried about slicing the ball and therefore hitting the stumps.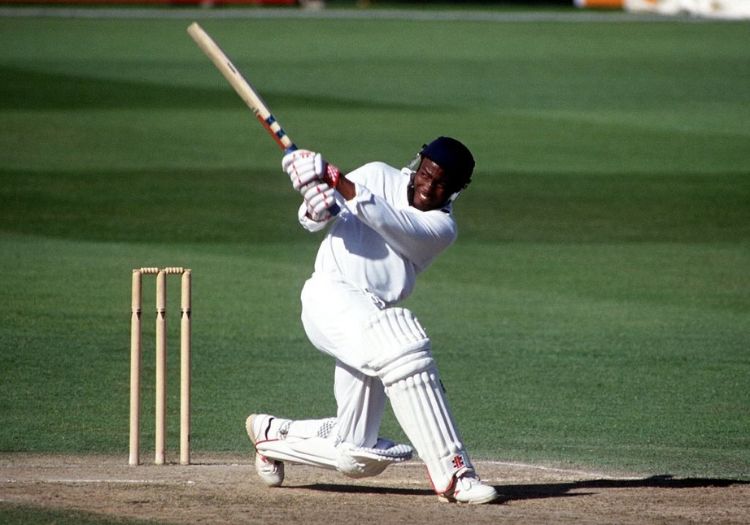 Lara's record is likely never to be beaten
"So he set himself to avoid hitting those stumps and that helped him bring his bat down straighter. On that second night, even though he'd got an unbeaten hundred, he felt he was slicing too much to third man. Not only was he an unbelievable talent, but he worked hard when he wasn't happy about his batting."
By lunchtime, Lara's timing had returned and he plundered 174 runs in the morning session. But he still wasn't entirely convinced he was at his best. He faced more throwdowns with Piper on the outfield before having a significant conversation with Woolmer, Reeve and Munton.
Lara, on 285*, asked Woolmer what was the highest first-class record – and Woolmer, of all people, had been on the ground at Karachi in 1958/9 when Hanif Mohammad scored 499. "My father was working over there, and I flew over for holidays from my prep school. Dad dropped me off at the ground where Hanif was closing in on the record, and he then went off to work.
"I didn't remember much about it. There was a big crowd, a matting wicket, a very rough outfield and a bloke getting run out. That bloke was Hanif, going for his 500th run, off the last ball of the day."
"I'm the only bowler in first-class cricket to ping someone on 497* with a bouncer. What a claim to fame!"
So, if there was one person above all others in English cricket in 1994 who knew the highest individual first-class score, it was Bob Woolmer. He asked Lara, 'Why? You're not going for that?' Lara asked if Reeve was thinking of declaring.
Reeve, conscious of the need to get the over-rate up for the season to avoid a fine, said a declaration was in his mind. Lara said he wanted to go for the record and walked away. Woolmer, a keen student of cricket history, told Reeve to let him have a crack at the record. "I said, 'Let's see how it goes.' He was so single-minded that day."
Woolmer felt there was now an inevitability about Lara establishing a new record. To be fair to Durham, no one wilted in the field, the bowlers kept running up and trying their darndest on a pitch that was now very flat, meat and drink to a player such as Lara. Trevor Penney, who made just 44 in a stand of 314, simply did what he was told by Lara.
"I ran when he told me to run, and for how many. He just told me to relax and enjoy it, we barely talked about the cricket in between overs. He had this amazing ability to switch off, then re-focus."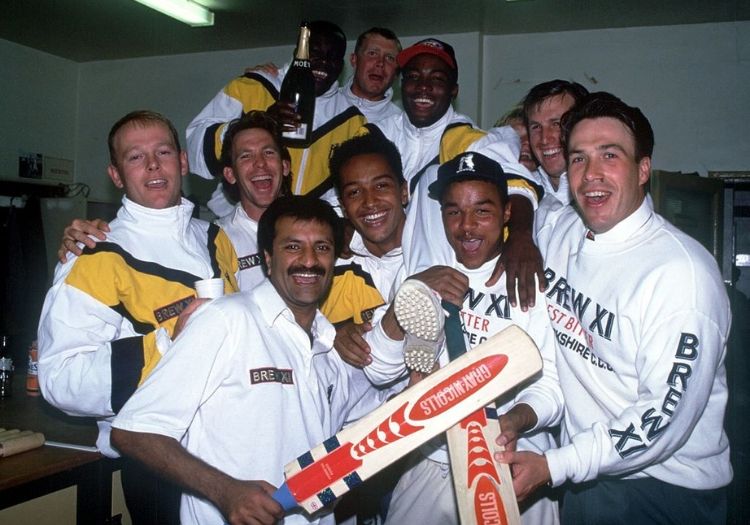 The West Indies batsman made his 501 25 years ago this week
At tea, Lara needed another 82 for the record, and his team-mates were more nervous than him. Neil Smith, next man in, recalls: "I had pad rash! An astonishing feat was in prospect, and I kept telling myself, 'Give Brian the strike, run when he says so, don't hog the strike.' I was in a proper state."
Mercifully for Smith, he was not needed. Keith Piper, Lara's trusted aide when he needed throw-downs earlier in the match, was still there, motoring to an unfussy century. Piper was to render Lara an invaluable service as the finger of history beckoned.
Lara was unaware that, if there was no prospect of an outright result in a championship match, then stumps would be pulled up half an hour early. In this instance, 5.30pm rather than six o'clock. Time was now against the little master, and Piper knew it.
John Morris began what was to prove the final over, with three dot balls. The fourth, a bouncer, clanged Lara on the helmet. "He had three swats at it before it reached him," recalls Morris. "I'm the only bowler in first-class cricket to ping someone on 497* with a bouncer. What a claim to fame!"
By now, Piper had had enough. He realised that Lara didn't know the regulations. There were only two balls left, and three runs were needed. 'I went down the pitch to see if Brian knew what I knew. I had checked with both umpires and told him there were only two balls left. He just nodded and smashed the next ball through the covers for four.'
As the celebrations started in earnest, the commercial department went into overdrive, marching Lara across to the famous Edgbaston scoreboard for historic photographs. Hundreds of commemorative scorecards were being sold within an hour of Lara's final shot.
Hanif's brother, Mushtaq Mohammad, lived in Birmingham and tried to get to the ground in time for the historic moment, but he was held up in traffic and arrived ten minutes late.
One innings had catapulted Lara into the upper echelons of sporting superstardom. Over the next few days his agent's mobile phone went into meltdown as he cut eye-watering deals. For his part, Lara said all the right things in a chaotic press conference. "The blow to my head was a surprise, but being told I needed three runs off two balls made me very nervous. I don't think I'm a great cricketer yet. I've still got a lot of cricket ahead of me, and I need to be more consistent."
Well, there's nothing more consistent in recent decades than 1,176 runs from 1,175 balls in his first seven first-class innings for Warwickshire at an average of 235, nor an aggregate of 2,689 from 24 innings so far in 1994. Nor becoming the first batsman since Don Bradman in the 1930s to hold both the Test and first-class records.
The Greatest Season by Patrick Murphy is available for £20 (post free) from Fairfield Books: www.fairfieldbooks.org.uk or 01225 335813.
Please ensure all fields are completed before submitting your comment!