A teenager's plan for cricket: We asked a 14-year-old what the sport must do to reach his generation
We've all been banging on about The Hundred and how it is or isn't going to get a new generation into cricket. But have we bothered to actually ask the kids it is theoretically targeting?
Bilal Hassan is a 14-year-old from north west London. He likes cricket but prefers football and basketball.
The Cricketer asked him to tell us what he would do if he were in charge of the game in England and Wales, with a focus on encouraging his generation to attend matches and play the sport.
Here's what he has to say...
I could probably name up to six cricketers in a minute, my friends probably three to none.
We don't have the chance to actually to learn about the game and certainly don't know anyone who plays unless we have heard it by accident.
For children and teenagers studying in school, I think that their school sport department needs to introduce sports like cricket in order to make the youth more knowledgeable about other sports as the basic ones (football, basketball) are already well known.
Students studying BTECs should have courses to do with cricket and other sports so they can compare the pros and cons of each.
I would want to see more summer or half-term clubs or holiday schools based on cricket (either paid-for or free) so teenagers who have an interest in the sport can get to play more and improve.
In my school, my PE teachers try their best to make us play different types of sports. After Easter holidays we are going to do rounders or cricket. We had externals from Lord's running clubs after school.
I think if there was a competition of some sort against other schools at least a quarter of the boys in my year would like to play. But if it was to do with going after school, I think there would be a lot fewer people going.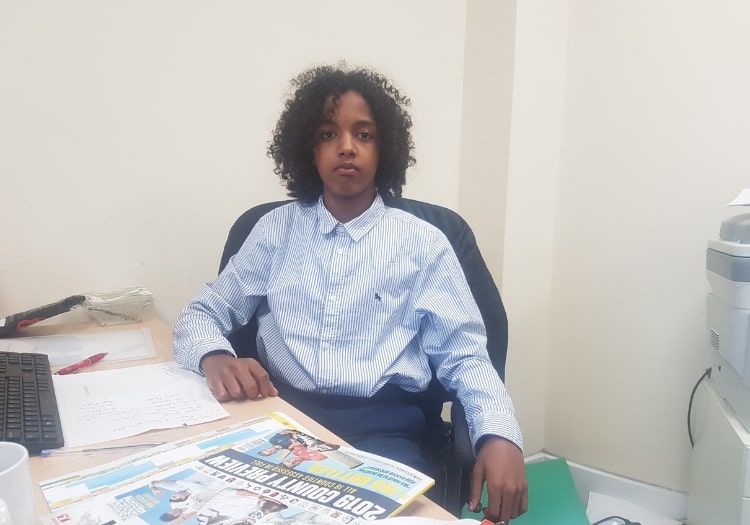 Bilal Hassan gave The Cricketer his views on the game
Outside of school, the only opportunities I know are for people who have potential in the sport. Me and one other guy in year eight were given the chance to play at Lord's for some amount of pay. I couldn't go as I had other extracurricular activities on a Friday after school but the other guy went and still goes and even though he's in year eight he's one of the best in secondary.
I think the opportunity of going somewhere special to play or meeting someone famous might get people interested. In primary me and another 15 boys and girls in the cricket team met the captain of the Australian cricket team Allan Border and it made everyone play a little more.
Cricket needs to advertise that it isn't just long hours of batting and fielding but it's a chance to improve physical and mental fitness. It also needs to show that cricket isn't necessarily just a game of physical skill, it is a game that is won with strategy.
This message could be got across through sport accounts on social media that are followed by large amounts of young people.
I think if I were to promote cricket, I would use Twitter or Snapchat as nearly everyone in my school uses Snapchat and more than half of year 10 and above, including sixth form, use Twitter.
Maybe cricket could also promote itself on game consoles or on mobile phones because I don't think teenagers watch normal TV any more.
We could have more games on cricket - maybe a free game to play on game consoles that teach the rules and have some sort of competitiveness online.
Cricket offers opportunities beyond playing including journalism, finance, management and coaching, you don't have to necessarily be a part of a cricket team if you have interest in the sport. This should send a message that cricket isn't just a sport.
It also needs to be marketed as fun for all ages. You don't see advertisements relating to cricket on youth programmes.
There are many variations in how to play the game including games that vary from 15 minutes to five days;  games that involve one batsman and games that involve a whole team. It's a great social sport that can be played how you want it to be played.
I think it needs to emphasised that it isn't only for middle-aged adults and that the sport isn't actually as boring as people make it out to be. Stories from famous cricket players on how they were introduced to cricket and why they started liking, aimed at younger people, might help.
Please ensure all fields are completed before submitting your comment!