Michael Bracewell: A Test debut over a decade in the making
SAM DALLING - INTERVIEW: Handed his Test debut at the 11th hour, Bracewell's rise has been full of ups and downs, but he's always believed he had the talent to be a Black Cap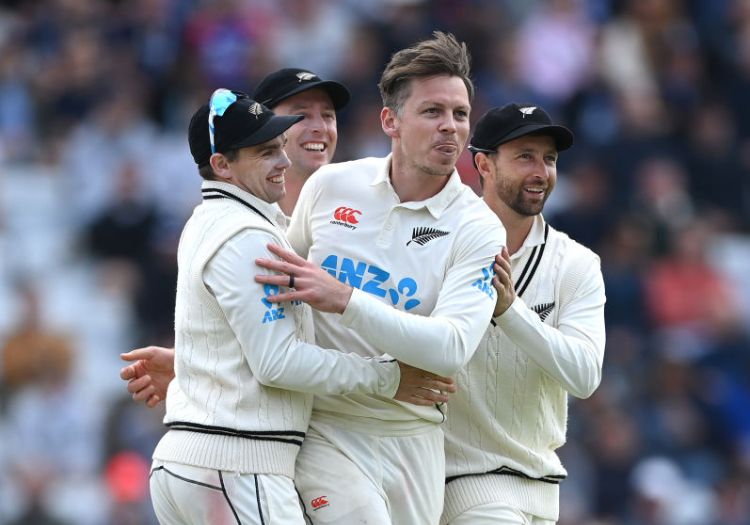 Life so often comes down to timing. Perhaps never more so than in professional sport, where the if is frequently dictated by the when. Take Michael Bracewell. At 31, he could have been forgiven for assuming a Test debut had passed him by.
But that is not how elite athletes think.
"I always believed that I could play at international level," he tells The Cricketer. "As a sportsman you have to believe in yourself. The question was more, 'Would the timing be right for me?' You're never quite sure about the timing of thing, and how it's all going to work.
"There's lots of good players that either haven't played international cricket, or haven't played the amount of international cricket that they would expect for the skills set they had. Look at a guy like Stuart MacGill; he was behind Shane Warne the whole time. If he was playing for any other country, or in any other era, he would have played stacks and stacks of international games."
Bracewell's bow came in that Trent Bridge Test. 12 months prior England, against the same opposition, had retreated rather than attempt to chase 273 in 70 overs. This time 299 was gunned down in 50. Despite defeat, Bracewell acquitted himself well, making 49 and 25, and taking 3 for 62 in the first innings.
"It's still a pretty crazy world that we are living in with the Covid environment," he begins, reflecting on a whirlwind 12 hours that saw him called in to replace Kane Williamson who contracted the virus.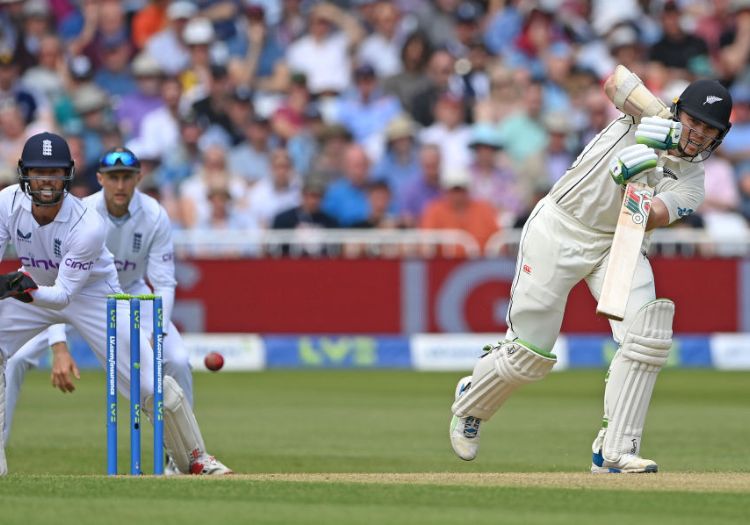 Michael Bracewell batting at Trent Bridge [Stu Forster/Getty Images]
"I found out the evening before. To go out and make my debut at Trent Bridge, a ground so enriched with cricket history was pretty special. Yes, I probably would have preferred to know and prepare a little bit better, but it was what it was. I wouldn't change it now. Looking back, it's quite a cool story to tell."
Having lined up for the national anthems, Bracewell returned to the dressing room as New Zealand batted. When Devon Conway nicked Jimmy Anderson behind 42 overs into the first innings, he was braced to enter.
Three reviews and an overnight rest later, he was still waiting: "I was padded up for a long time. Fortunately, those DRS decisions all went our way, so I didn't actually have to go out there. I think that sort of helped settle my nerves a little bit."
Then shortly before lunch on day two, Wellington Firebirds teammate Tom Blundell fell and Bracewell was up. By then, New Zealand had advanced to 405 for 5.
"It was nice to not go in when wickets were tumbling," he admits. "I was able to feed off the back of that partnership between Daryl and Tom. I was in a pretty fortunate position to be honest."
"To go out and make my debut at Trent Bridge, a ground so enriched with cricket history was pretty special"
Daryl Mitchell, a long-time opponent but infrequent teammate, was waiting in the middle: "He just said be yourself and make sure you enjoy the moment because you only get this chance once. He was awesome to bat with and was seeing the ball pretty big at that stage. He's been seeing it pretty big the whole series I think!"
Nottingham was not Bracewell's first taste of international cricket, although that too came relatively recently. In the 2021/22 Super Smash - New Zealand's domestic T20 competition - he returned 478 runs at 79.67, including a stunning unbeaten 141 off 65 balls that helped Firebirds chase 228 with a ball spare. That earned him three one-day international outings against the Netherlands.
Bracewell is both frank and philosophical in assessing his journey: "There have been plenty of ups and downs along the way, but I don't think I want to have had it any other way. I don't think I'd have been prepared had I got picked earlier. Some people are faster learners and are able to figure out their game a bit quicker than other. I've been a little bit of a slow burner."
To prove his point, in a typically understated way, Bracewell recalls his first experience of a major final. It was 2013 and his Otago side took on Wellington in the T20 showdown. A four-wicket victory earned Bracewell a winners' medal, but he drew attention to personal failure.
"I got a duck without facing a ball," he says. "So, I obviously wasn't that amazing at dealing with pressure at a young age. But I've been fortunate enough to play in quite a few T20 finals in New Zealand, and just being out there in those pressure situations, and experiencing a whole lot of different positions, helps.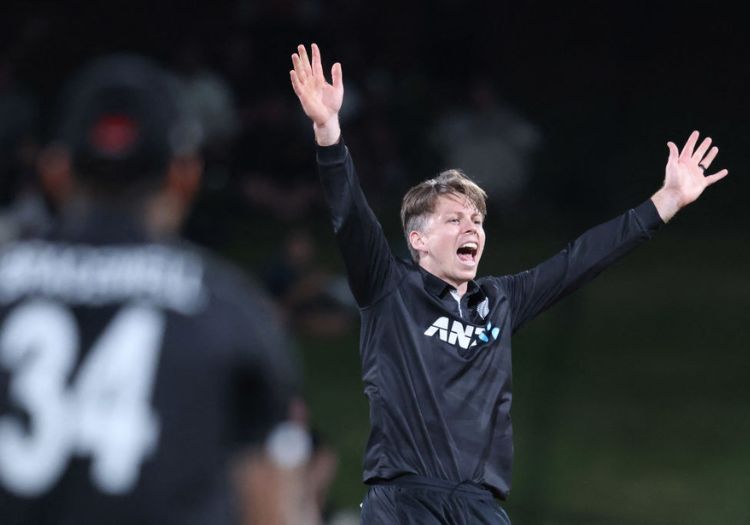 Michael Bracewell representing New Zealand against the Netherlands [Michael Bradley/Getty Images]
"So, to be able to go out on Test debut and just be able to play the way I wanted to play was pretty cool, and I think I owe that to the experiences that I've had at domestic levels. Particularly in those finals where you actually get tested a bit more and there's a bit more on the game."
Like so many sports stars in waiting, Bracewell's talents were multi-pronged. He was a fine rugby player, representing Otago district through the age-groups, but selection for a New Zealand Under-19 training camp was "sort of when the decision was made for me that cricket was going to be the path."
With his surname, his destiny was perhaps pre-determined. Cousin Doug has 118 Black Caps' wickets across the three formats, Uncle John earned 94 caps in the 1980s and Uncle Brendon played six Tests and one ODI. Dad Mark and Uncle Doug also played first-class cricket.
"The family name is a funny one," he says, noting he has never had a different surname, so has no point of comparison. "I've certainly never put any pressure on it for myself. And I've never felt any pressure, particularly from my dad, who has been the most supportive person in the world."
As a teen Bracewell spent the 2009 season with the MCC Young Cricketers playing second XI cricket. Back then he bowled gentle swingers with a decent degree of success and thrust into London's bustle, the life raft was cast aside.
"The family name is a funny one. I've certainly never put any pressure on it for myself"
"I was 18 and going from a pretty small town in New Zealand to one of the biggest cities in the world - that was pretty eye opening. But being around Lord's that summer was special. There was the 2009 Ashes and a T20 World Cup too, so we were rubbing shoulders with arguably the best players in the world, seeing how they go about their preparation and training."
He recalls the second XI circuit fondly too: "Learning to play day-in, day-out was awesome. We don't really get that in New Zealand from a young age."
That trip was sandwiched by two Under-19 World Cups, the first in Malaysia, the second on home soil alongside cousin Doug. A professional debut for Otago followed in 2011, and by late 2012 he was an all-format regular.
The 2013/14 domestic season brought 845 red-ball runs at 52.81, including four centuries (only Tom Latham outscored Bracewell that summer) plus an additional 327 white-ball runs. An New Zealand A tour to England followed, although he did not feature in the tri-series with Sri Lanka and England Lions.
The next summer was productive too - 726 first-class runs at 42.7, plus 449 in the shorter formats - but Bracewell mustered just 57 runs in four A-team knocks against Sri Lanka. And for the next few years, he stuttered in red-ball cricket.
Sometimes, painting by numbers is inadequate but Bracewell is honest in his reflections: "No, the stats do tell a bit of a story. It was interesting. As I worked on my white-ball stuff, and my one-day and T20 records improved, I went around in circles with the red-ball stuff trying to figure out the way I wanted to play the game.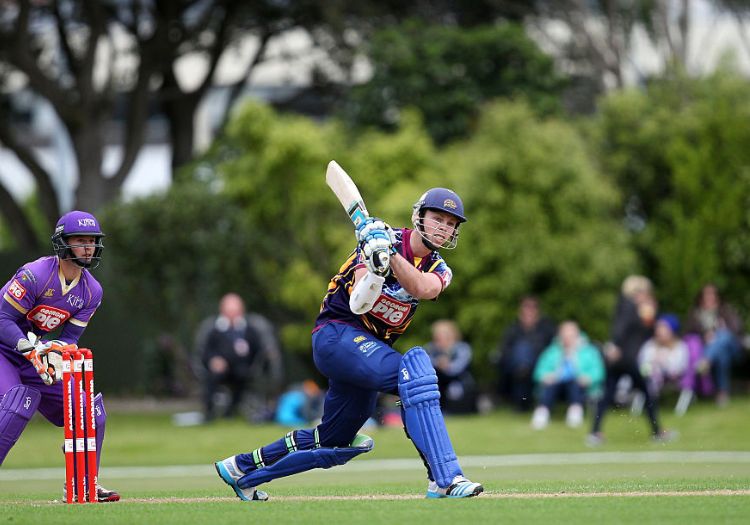 Michael Bracewell representing Otago in 2014 [Rob Jefferies/Getty Images]
"That was part of the journey for me. Trying to figure out exactly how to play the different formats, and what success looks like in each of those formats. That was obviously one piece."
Another piece was a move from Otago to Firebirds ahead of the 2017/18 domestic summer. Aware that the likes of Hamish Marshall and Michael Papps were in the twilight of their careers, Bracewell decided a fresh start would be healthy.
"It just seemed like a really good opportunity there - some older guys were coming towards the end of their careers, and there was the chance to create a cool culture with a young group of people coming through," he tells, citing Blundell and Rachin Ravindra - who was just coming into the fold - as examples. Conway also arrived that winter from South Africa, while Bracewell says that Hamish Bennett, who had switched from Canterbury 12 months prior, was influential.
The move paid dividends: 725 red-ball runs in 2020/21, which included a century against West Indies A for New Zealand's equivalents. And following Jeetan Patel's retirement, he picked up off-spin too. He had bowled plenty in the nets but little in games previously.
As skipper though, Bracewell could bring himself on when conditions suited and while initially a few eyebrows were raised, he has since taken 67 wickets. "It happened quite organically. But now I will talk about bowling with anyone who listens.
"I always believed that I could play at international level. As a sportsman you have to believe in yourself. The question was more, 'Would the timing be right for me?'"
"I do speak a little bit with Uncle John. Mark Craig too although there's a long list of people who have helped. I just try to pick up little bits from everyone while keeping it as authentic to me as I can."
The past four years have seen the Firebirds dominate the domestic scene. They claimed the Ford Trophy (50-over) in 2019, the Plunket Shield (four-day) in 2020 and back-to-back Smash titles in 2020 and 2021.
Glenn Pocknall, who had been with the club since 2010, was head coach before stepping down at the end of the 2022 season.
Bracewell describes the coach as "awesome," adding: "He guided that culture and tried to make it a really positive learning environment. He absolutely nailed that. He let the senior players work to his vision. We've got a lot to thank him for."
And success has trickled upwards. Bracewell included, the past three New Zealand Test debutants have all been Firebirds (Ravindra and Conway are the others), Blundell has established himself as a Test regular, while Finn Allen is tomorrow's star.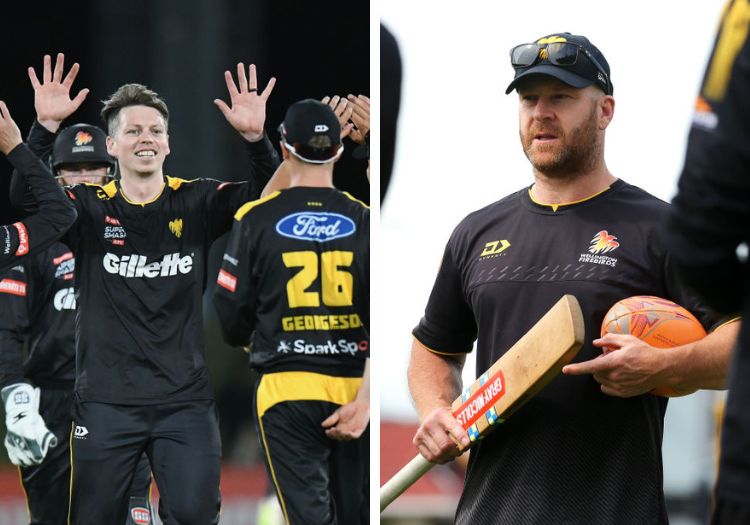 Michael Bracewell at Wellington Firebirds [Kai Schwoerer/Getty Images]; head coach Glenn Pocknall [Hagen Hopkins/Getty Images]
"As a group we're pretty keen to get better and improve. We've all tried to add our own little spice onto that culture - of not being happy just being domestic players, of really trying to be the best players in New Zealand, to play international cricket and, ultimately, to win games for New Zealand.
"That has been a few years in the making, and we are starting to feel the fruits of that now. We're a pretty tight group and get a little bit of stick in the New Zealand dressing room for hanging out together. But first and foremost, we're good mates and I think that helps drive the culture of continuous improvement.
"Hopefully we can keep that culture moving through the next phrase - it is a bit of a transition with a few of us making the Black Caps. That means we aren't around as often, so some of the younger guys will have to step up and take the lead on things."
Parallels can be drawn there with the international set-up. Ross Taylor has recently bowed out, following BJ Watling - recently appointed as Pocknall's replacement at Firebirds - in 2021. Of the 11 players involved in the last Test, only two are below 30. One - Will Young - will reach the milestone in November.
"What we've got is a really good side at the moment," he explains. "And, although I've not spent enough time with the group yet to really get my head around it, I think one of the real drivers is that guys want to leave the team in a better place than when they picked it up, whether that's culture, or driving the team to play better. It's going to be interesting.
"Losing guys like Ross and BJ is always going to leave holes; but the hope is you've created a culture that allows people to come in and perform straight away. That's the real legacy you leave behind."
Bracewell is unlike many modern international cricketers. There is little overseas experience and no franchise stints. Instead, he has reached the top by turning out for two districts: Otago and Wellington. But he is obviously completely comfortable with his journey, and quite right too.
Please ensure all fields are completed before submitting your comment!