For Reece Topley, a day to remember
NICK FRIEND AT THE AGEAS BOWL: For Topley, this has been a long time. There were moments when he didn't think days like today would come again. Given all that has happened, it was fitting perhaps that his wicket should arrive with his very last ball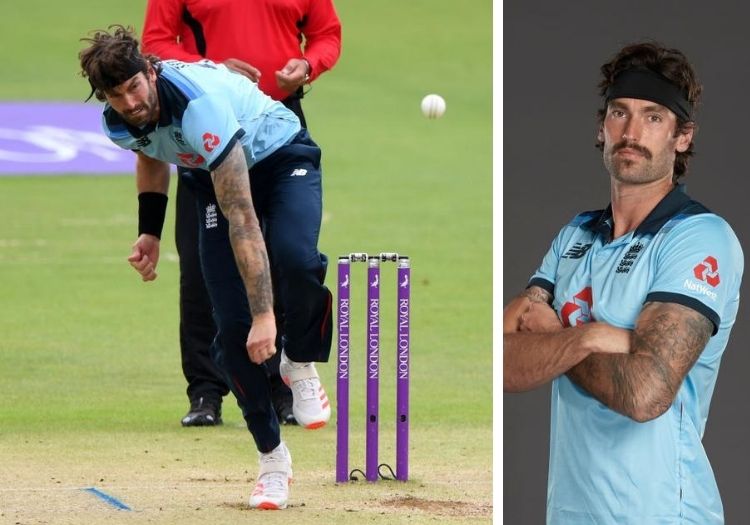 If any further context was needed around Reece Topley's return to England colours, then consider this: in his previous appearance he had opened the bowling with Stuart Broad.
Like Topley, that was Broad's most recent outing in a one-day international. Only, he has added 168 Test wickets in the four years since. Topley, meanwhile, has managed 45 first team appearances.
Not quite a sliding doors moment, but a marker of how differently two careers have been played out in the time since.
And so, despite the eerie hush filling a bio-secure Ageas Bowl, this moment must have represented a remarkable, unlikely thrill.
Because there was a time when this wasn't going to happen again. There have been 518 ODIs played worldwide since Topley lined up in Cape Town for a series decider early in 2016, 83 of which have featured England. Then, very much a team in transitional recovery following the omnishambles of the previous World Cup, Eoin Morgan was on the lookout for a left-arm seamer. Giant, broad-shouldered, quick enough, the floor was Topley's.
And then it was swept from beneath him. His last ODI wicket – Rilee Rossouw – came in that last game. Rossouw retired from international cricket more than 1,000 days ago to take up a Kolpak contract with Hampshire, where he and Topley have been county teammates. Fourteen Englishmen have made ODI debuts since – eight of them seamers. With the best will in the world, the national side had moved on. And they weren't alone.
"At the end of the day you play cricket because it should be enjoyable," Topley told The Cricketer ahead of this series. "But I had two and a half years where it wasn't, so I quit Hampshire and quit cricket with the intention of not coming back at all."
But here he is: the same man, but older, wiser, with a kind of perspective that only comes from breaking through adversity. And still only 26 – a reminder not only of how much remains in the tank if his body can behave itself, but also of how young he was when it all nearly caved in. The side he returns to is of a different stratosphere to the one he left behind: admired, feared, world champions.
There can be no greater compliment, therefore, than to say that he didn't run in like a man who has endured four stress fractures in four years. Instead, he came to the crease with a stride of intimidating confidence, looking every inch of his two-metre frame. He was driven down the ground early on, but soon found an appropriate length. Far from veering from it, he made himself at home on it, settling in like it was his to own.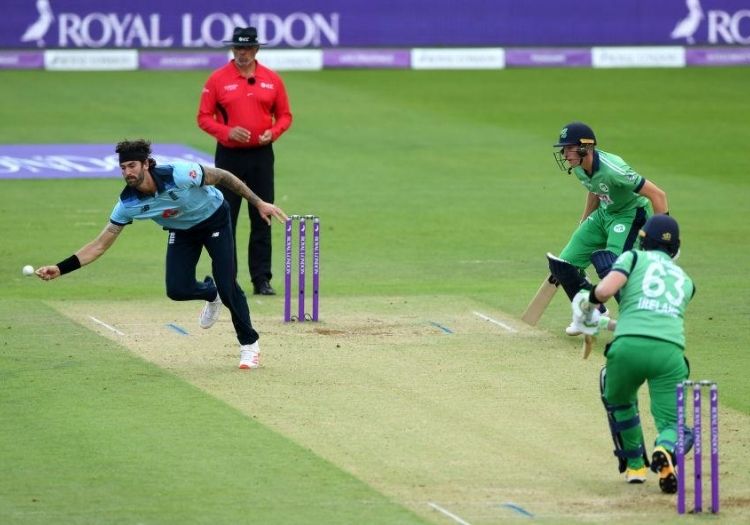 Topley bowled with good pace on his international return
Not that this should come as much surprise, mind. There is an acceptance that this opportunity has presented itself because of these unique circumstances, but Topley's returns for Sussex in 2019 were of a man returning to something like his previous self. In a dominant T20 outfit – Sussex finished top of the South Division, he took 17 wickets in 11 games.
Here, clad with a thick, dark headband stretched around his head – an unlikely cross between Gustavo Kuerten, Tom Selleck and Dodgeball's White Goodman, he went wicketless in his first spell, but provided an ideal foil to David Willey.
According to CricViz, this was only the ninth time that England had opened the bowling in an ODI with two left-armers. On each previous occasion, it had been the Willey-Topley axis. And given the respective trajectories of both men's international careers in recent years, they could be forgiven for assuming that they might not add to that figure.
While Willey challenged Ireland's batsmen on the front foot, Topley offered a more opposite threat, banging away predominantly just short of a length. He would slant the ball across the right-handers, with Willey looking to nip it back. As far as partnerships go, it was unusual and lesser spotted. But just as Ireland have struggled to pick Adil Rashid's variations, they found the going difficult against the two left-armers – similar in angle, but different in approach.
On this occasion, like on Thursday, it was Willey who reaped the reward: Gareth Delany was trapped on the crease in almost identical fashion to Lorcan Tucker two days ago, before Paul Stirling sliced to Tom Banton in the same manner as Delany in the first ODI. Ireland weren't learning, and England were gratefully accepting their gifts.
And it was fitting perhaps that when Topley finally got his wicket, it came with the very last delivery of his spell. You sense that's a compromise he'll have been prepared to accept. After 1,597 days without an international scalp, what's a few more balls?
For unrivalled coverage of the county season, subscribe to The Cricketer and receive four issues for £15
Please ensure all fields are completed before submitting your comment!