Edgbaston to turn #BlueforBob during England-India Test
Launched last year, the Bob Willis Fund has raised over £500,000 to support better detection and diagnosis of prostate cancer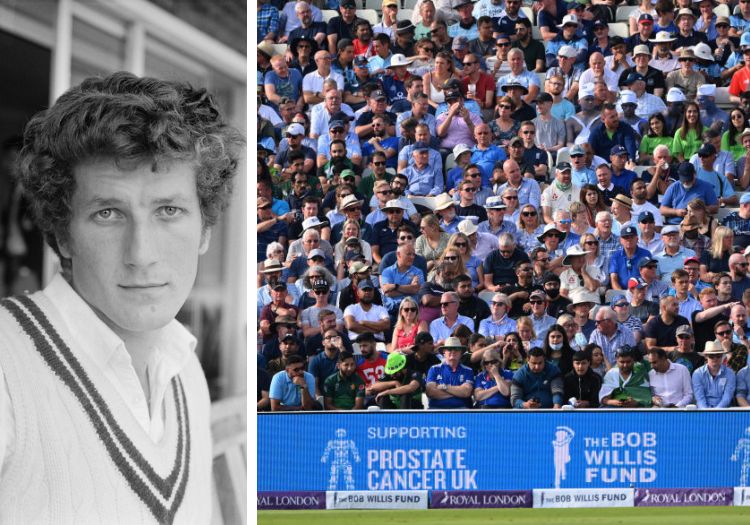 Edgbaston will turn #BlueforBob on Saturday, July 2 – the second day of England's Test against India – to raise awareness and funds for prostate cancer.
Since its launch last year, the Bob Willis Fund, which was set up in memory of the former England bowler, has raised over £500,000 to support better detection and diagnosis of the disease.
Prostate cancer is the No.1 diagnosed male cancer in the UK, with one in eight men diagnosed in their lifetime. This rises to one in four in Black men and more than 11,500 men die from prostate cancer every year – the equivalent of one man every 45 minutes.
Ros Eales, professor of oncogenetics at The Institute of Cancer Research, said: "My team is decoding the complexities of cancer genetics so that we can help more men survive prostate cancer. Our funding from The Bob Willis Fund will support our development of a targeted screening programme in the UK for prostate cancer.
"We believe that if our research is a success, we could have a programme up and running in the UK within three to five years, allowing us to spot many men earlier in their disease course when their cancer is easier to treat and potentially curable.
Bob Willis [second right] with James Anderson, Ian Botham and Stuart Broad [Gareth Copley/Getty Images]
"We are particularly interested in unravelling why Black men are at greater risk of prostate cancer. Black men are twice as likely as men of European ancestry to develop prostate cancer and understanding why they have this increased risk profile will help us save lives."
Willis took 325 wickets in 90 Test appearances for England between 1971 and 1984, playing a starring role in Ashes win at Headingley in 1981, and was posthumously inducted into the ICC Cricket Hall of Fame in 2021.
He passed away in December 2019 having been diagnosed with prostate cancer three years earlier.
Two of Willis' former teammates – Geoff Miller and Allan Lamb – have since been affected by the same illness.
Willis' wife, Lauren Clark, said: "The pioneering research that Ros is undertaking will hopefully mean better screening programmes for prostate cancer allowing for earlier detection and better chance of survival.
"We need to crush those statistics of one man every 45 minutes dying from prostate cancer and ensure that Bob's legacy continues to save lives by supporting crucial research like Ros's."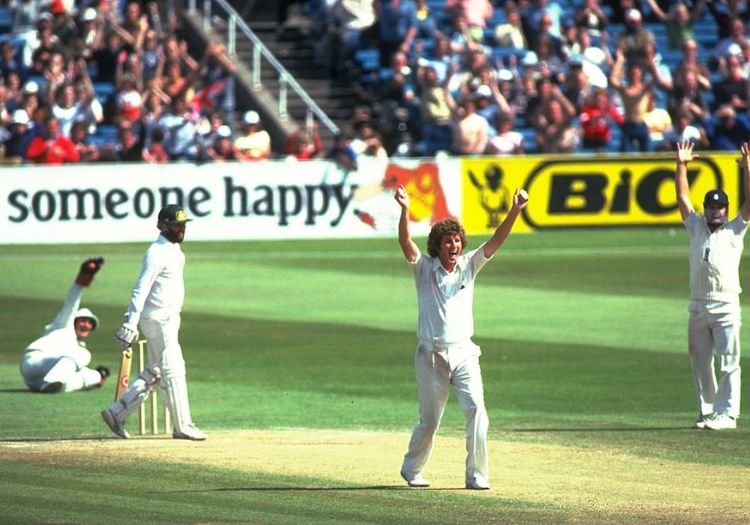 Bob Willis celebrating one of his 325 Test wickets [Adrian Murrell/Getty Images]
Prostate Cancer UK director of research, Dr Matthew Hobb, added: "We're extremely grateful that the Bob Willis Fund continues to support key Prostate Cancer UK research projects. Research is the only way we will understand more about prostate cancer and improve how we diagnose and treat the disease.
"Prostate Cancer UK funds a whole portfolio of brilliant research and, two of those projects – both focused on improving how we diagnose prostate cancer - were selected by the Bob Willis Fund for support
"We desperately need better tests to diagnose prostate cancer. Tests that find more cancers earlier. Tests that could have found Bob's cancer before it became incurable. Donations around #BlueForBob Day will allow the Bob Willis Fund to continue supporting Prostate Cancer UK to deliver the research that will get us those tests and will reduce the number of men dying from prostate cancer."
Those in attendance at Edgbaston on day two are encouraged to wear blue in order to support the cause.
Donations can be made at bobwillisfund.org/donate.
Please ensure all fields are completed before submitting your comment!