Will Rhodes: Warwickshire's captain-in-waiting
NICK FRIEND: As you listen to Rhodes - still just 25, it's hard not to buy into the vision he is building for his team. He was announced as Jeetan Patel's replacement as captain over the winter, but now - like everyone else - faces a waiting game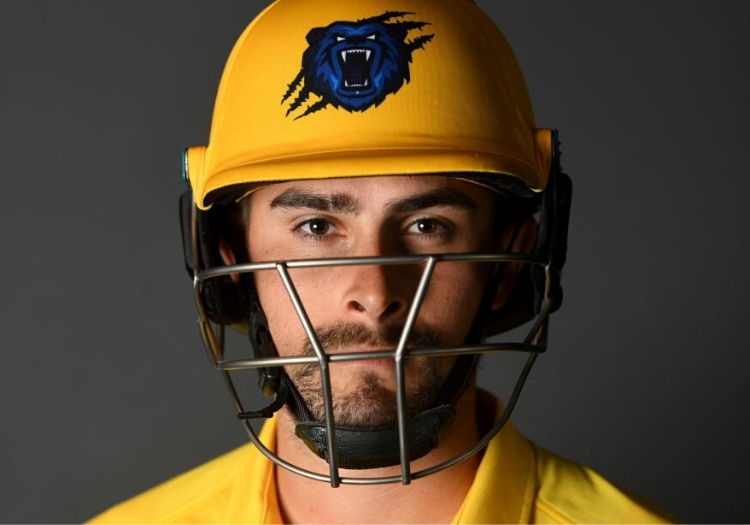 Will Rhodes doesn't quite feel like Warwickshire's captain yet. This was a campaign he has looked forward to like no other ever since receiving a call from Paul Farbrace at the end of a challenging season for the county.
Jeetan Patel was to step down from the role, so would Rhodes – Nottingham-born, but bred in the Yorkshire village of Cottingham – fancy stepping into the boots worn previously by one of county cricket's great overseas stalwarts?
There was surprise, certainly. He was just 24 years old at the time that the phone rang – 15 years Patel's junior, with Farbrace's voice at its other end. The pair go way back – beyond their respective arrivals at Edgbaston and back to a previous existence at Yorkshire. Rhodes was a teenager and Farbrace the county's second team coach. By the age of 17, he was his skipper.
Almost a decade on, the partnership has been reunited in the guise of Warwickshire's new club captain and sport director.
"I think at this stage of my career, it would have been silly of me to turn it down," Rhodes tells The Cricketer. "I'm always up for a new challenge and this certainly presents probably the biggest one of my career."
The task has been complicated by the indefinite delay to the season's start, leaving an element of limbo to Rhodes' own sense of authority. He spent both his winter and then a prematurely curtailed pre-season training camp in Spain planning for what has since become an intangible unknown.
He has done this before, of course – not only under Farbrace, but also with an England Under-19 side that included Ben Duckett, Joe Clarke, Ryan Higgins and Ed Barnard, among others.
The difference this time is Rhodes himself: older, wiser, a more mature head on still young shoulders. He speaks with a steely unflappability and is intrigued to find out what kind of captain he has become.
"I haven't done it for four or five years," he explains. "My personality has probably changed a little bit in that time; I used to be a bit more of an extroverted captain – a bit of a shouter and a loud presence on the field, but I think now I'll probably be a bit more the other way – a bit more intrinsic and think about the game a lot more.
"But there is always a time and a place to go with your gut. There will definitely be a bit of learning on the job.
"I think everyone in the squad knows my character – I've been around for two years now, so everyone knows me as a person. That probably helps, but it's just a waiting game now."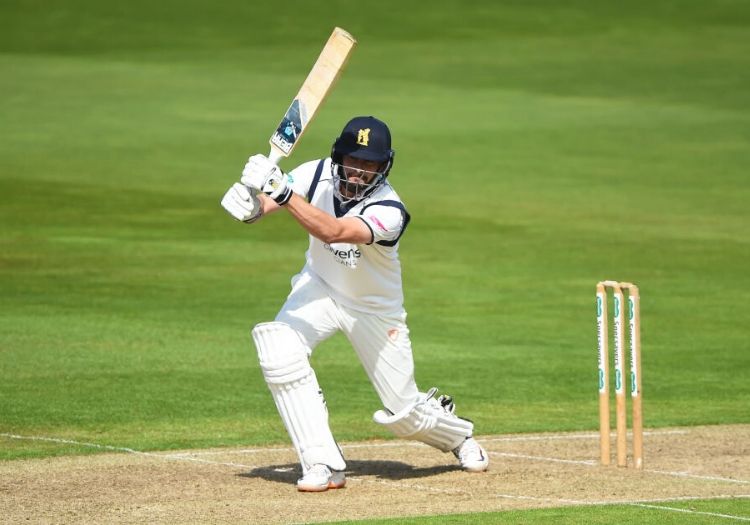 Will Rhodes scored 770 County Championship runs in 2019
He will be aided by a dressing room full of knowhow; as well as Patel and Tim Ambrose, Ian Bell is in the final year of his contract and turns 38 today but is keen to continue playing.
"I've certainly learnt a lot from Jeets' last two years' captaincy," he says. "He's played at all levels and been very successful. I'd be silly not to utilise him on the field.
"It's certainly not a bad thing to have people like that in your side because their wealth of knowledge is definitely something that I'll be tapping into along the way. You want to use their experience – between them, they'll have been in every sort of situation that we'll come across."
Apart from this one, possibly. The extent of Rhodes' opportunity to stamp his early authority has come in the form of an inter-squad exercise at the coastal haven of La Manga. It gave him time to chat with his batsmen and talk through plans, but little else. "You probably only really [feel like a captain] by playing games out in the middle back in England," he considers. How long before that happens is anyone's guess, but that decision will be governed by the development of matters far more significant than cricket.
When the game does resume, however, Rhodes recognises that leadership will be different to what it was in the early age-group escapades – even more so for an allrounder in the most wholesome sense of the term.
There are few – in today's game, at least – who can lay claim to a role as all-encompassing as his own: Luis Reece, perhaps, at Derbyshire is one example on the current county scene of a seam-bowling opening batsman. Shane Watson, for a substantial period of his international career with Australia, was another.
Add captaining into the mix and it represents quite a task – "a huge challenge," Rhodes estimates with an unflustered chuckle.
"But it's something that I was ready to take on; with all the injuries we had last year, my bowling workloads went through the roof. It was unfortunate for the other guys, but I had the opportunity to get those overs in, which was brilliant.
"It will be a little bit more mentally tiring captaining the side as well but that's all part and parcel of cricket. You have to work for your living and however you do it, you have to get through it.
"Four-day cricket can be a very lonely place if you get out first ball, especially when you're opening the innings and not bowling.
"You can wait two and a half days to get another bat, so it's all about staying in the game – whether that's with the bat, ball or captaining. Luckily for me, I'll always be in the game – it will be very demanding but that was one of the decisions I made when I got offered it."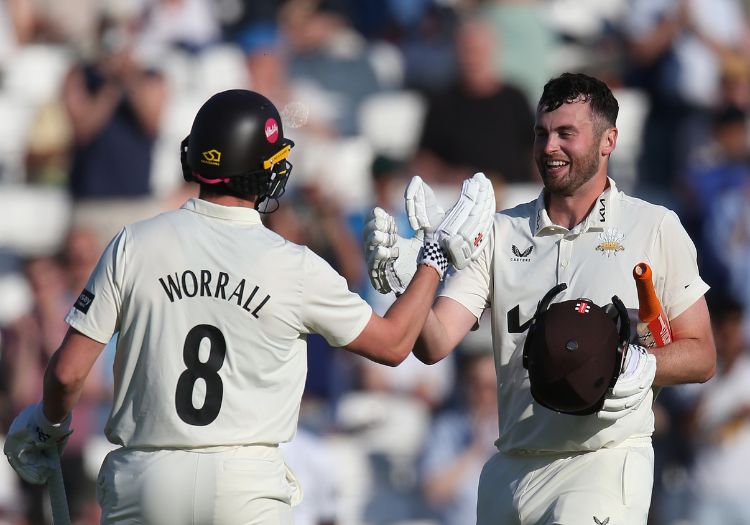 Dom Sibley's efforts in 2019 earned him an England place
Ryan Sidebottom, Olly Stone and Liam Norwell all missed substantial periods of the season, pushing Rhodes into greater action than might otherwise have been first planned for. He bowled 149.1 overs in the County Championship – more than he ever had done before, and he has spent much of his winter looking to improve further. "A good team has always got four good seamers in every attack," he adds, "so it's about me working on my game to get myself into that quartet."
As you listen to Rhodes reflect on the development of his own game and of his hopes for a Warwickshire side in the image of its captain, it's hard not to be impressed and harder still not to buy into the vision he is building for his team.
He points to the example set by the club's treble-winning side of 1994 – winners of the County Championship, the Sunday League and the Benson and Hedges Cup. Brian Lara scored 2,066 runs under the captaincy of Dermot Reeve and the stewardship of Bob Woolmer.
Last year was the 25th anniversary of that achievement, a group still feted to this day around Edgbaston – theirs remains an unprecedented feat.
That, for Rhodes, is what success looks like. He admits that he has thrown himself into the club's history in his two years involved, with a club event in 2019 giving him the opportunity to chew the fat with players from different eras.
"I think it's about leaving our mark," he reflects. "I think as a team, you want to be remembered in history by people 25 or 30 years down the line. I want our young players to kick on and hopefully make some more England internationals. It would be brilliant to say you've captained these guys.
"Everywhere you look in Edgbaston, there's always a picture of a title-winning team or a cup-winning side. If that doesn't give you inspiration to go out there and try to win some trophies, then I don't know what will.
"The trophies hopefully would come with it, but winning a trophy in this day and age is such hard work. There are 17 other counties vying for the same thing. It's not so much the trophies as the bringing through of academy graduates into England players. That would be really pleasing."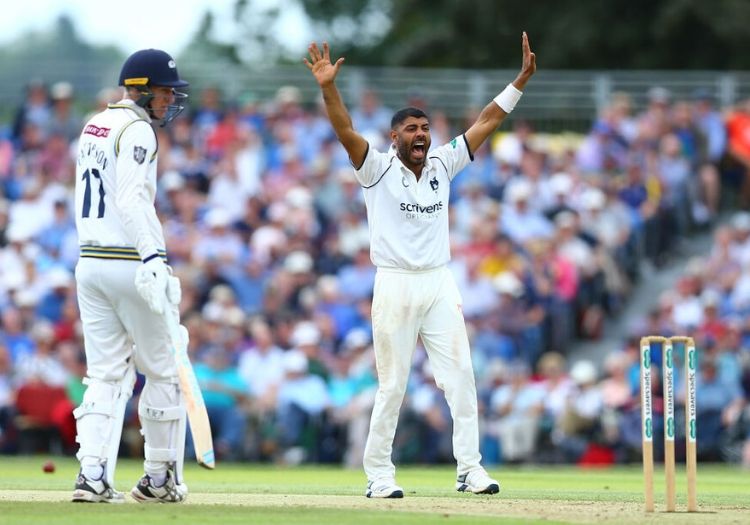 Jeetan Patel is due to retire at the end of this season
Rob Yates, Dan Mousley, Matt Lamb and Liam Banks have all shown their potential with the bat, while Sam Hain – still only 24 – has become a guarantor of consistent runs. With the ball, George Garrett and Henry Brookes both offer two more highly regarded options. Brookes especially – not 21 until August – is sharp, ambitious and, last season, a veteran of 11 first-class games.
Dom Sibley has set the benchmark; 51 days younger than Hain, the former Surrey opener is now a fully-fledged England cricketer, his century against South Africa in Cape Town affording him some medium-term security and, in doing so, laying out to his Warwickshire colleagues what is possible.
He and Rhodes enjoyed the most successful opening partnership in county cricket in 2019; they put on 1,103 runs while batting in tandem, almost doubling the next best effort on the domestic scene.
While Rhodes recorded 770 runs to sit alongside the 15 County Championship wickets he took, Sibley churned out 1,324, facing 3,024 deliveries in the process – more than 1,000 more than anyone else in the top division.
"Everyone talks about opening the batting being the toughest place to bat, so anyone that scores nearly 1,400 runs in the Championship can certainly play and deserves an opportunity at a higher level," he says of his new vice-captain.
"He's very down to earth. We don't actually say very much to each other in the middle apart from the natural things that batsmen do say. We like to keep things fairly calm out there and not get too flustered."
He returns to Patel, a taker of 473 first-class wickets for the county and a bowler – across all three formats – of 33,016 balls. He had already confirmed before the coronavirus outbreak caught hold of the nation that this would be the last campaign of his playing career.
The New Zealander has been a resident of the Edgbaston turf far longer than Rhodes, who has only the utmost respect for his predecessor.
"He bowls all day, he gives everything in the field," he explains. "That's the sort of attitude you want from your overseas player. You want them to stand up and be a matchwinner, and Jeets has done that – not just in the two years that I've been at the club, but in the last decade.
"This season is about him, I guess, and about his retirement and what he's done for the Bears. We want to get out on the field and send him off in a good manner."
To remind ourselves of happier times we're offering a £20.19 subscription to celebrate England's World Cup win once again. Click here to claim
Please ensure all fields are completed before submitting your comment!