We want even more people to be watching cricket: Stephen Lyle explains the BBC's plans for cricket
Cricket is coming back to the BBC and JAMES COYNE sat down for a chat with the executive charged with leading this return and overseeing how their coverage will be shaped...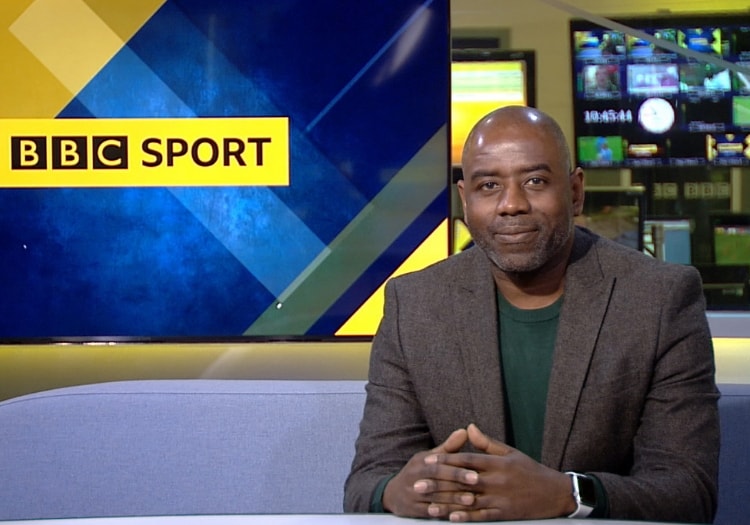 In 2020, live cricket will return to BBC TV for the first time since the 1999 World Cup final. The BBC are said to be paying just £13m a year for 100 hours of cricket coverage – including live coverage of two England men's T20 internationals; one England women's T20I; and 10 and eight matches from The Hundred respectively.
Highlights of all England men's and women's games also return to the BBC, plus digital clips of England and domestic games shown live on Sky, who have retained the bulk of the coverage from 2020–24.
In preparation, the BBC recently appointed Stephen Lyle, previously head of sport at Channel 4, as their lead executive for TV coverage and IPlayer commissioning. James Coyne met him at MediaCity in Salford a few weeks into his role.
This is a return to the BBC for you…
"Yes. After the 2014 Football World Cup, I left the BBC and went to Channel 4 as sport commissioning editor and subsequently head of sport. I had about four and a half years away, then was lured back by cricket. The plan [at Channel 4] was to try to broaden the sport portfolio. It was busy. Formula One came on the street when we were there. When I went there it was the start of a Paralympic cycle, so it was good fun."
Do you have a background with cricket?
"I've always loved cricket. My parents were both from Jamaica, and when I was a kid the West Indies were the best team in the world. It was a massive event every time West Indies came over to tour England. They talked and played cricket all the time.
"I have three older brothers and the four of us all played football and cricket. It was a simpler time – like all young kids growing up I idolised all the players and tried to bowl like one of the tall West Indian fast bowlers, though I didn't have the height or the speed!
"I grew up in Luton. I went to Lealands School, and we didn't have many cricketers, but the school put together a composite XI of the best players in each year to try to get a side out. We used to go up Bedford-way to play those big cricketing schools, like Bedford Modern. I don't remember winning those games but we did compete!"
"I've always loved cricket. My parents were both from Jamaica, and when I was a kid the West Indies were the best team in the world."
Cricket is coming back to the BBC in several ways… do you anticipate the England coverage being more analytical and data-driven than The Hundred?
"All these things are being mapped out at the moment. You say 'cricket is coming back to the BBC' but one of the things I've found coming back to the BBC is the rich involvement in cricket in 5 Live and TMS and also online with the clip rights we already have. There already is a rich cricketing offer – this is just adding to that.
"I think there will be slight differences in tone in the coverage of some of the events – the 100-ball event has got to have a different tone and feel to – I don't want to use the term conventional cricket… With regards to the highlights, I want those shows to be just that – shows, entertainment in their own right. But they have to get the narrative right, editorially around a day's play – whether that's a one-day or a Test match. There will be some differences."
Presumably there will be a presence of 'crossover stars' from popular culture – radio-DJs, comedians and the like. Can you tell us who they might be?
"It's all being worked out at the moment. But personally I think that kind of model works in TV. I don't conform to the view that if you're going to produce football coverage that every member of that coverage has to be steeped in football right back to their great-great-grandfathers. I feel the same in other sports coverage. In F1 I oversaw it at Channel 4 and we had crossover coverage."
The BBC Sport highlights clips agreements with both ECB and ICC have already made cricket more visible again…
"The clips are wonderful – another way to follow a day's play. I think if you look at the BBC's online services, I think the live text is great. Clips run concurrently with that service and the other journalism around it."
Do you think there lessons that cricket coverage can learn from other sports?
"As a general rule, coverage of sport has got to be entertaining. You can't just simply rely on the athletes on the pitch to provide all the entertainment. That's why we need to be able to package it in an entertaining way for the audience.
"There's always room for education – sometimes I'm watching sport and need educating on the details on the game. The more you know about something, the more you can engage in it, and that will be part of our approach with cricket."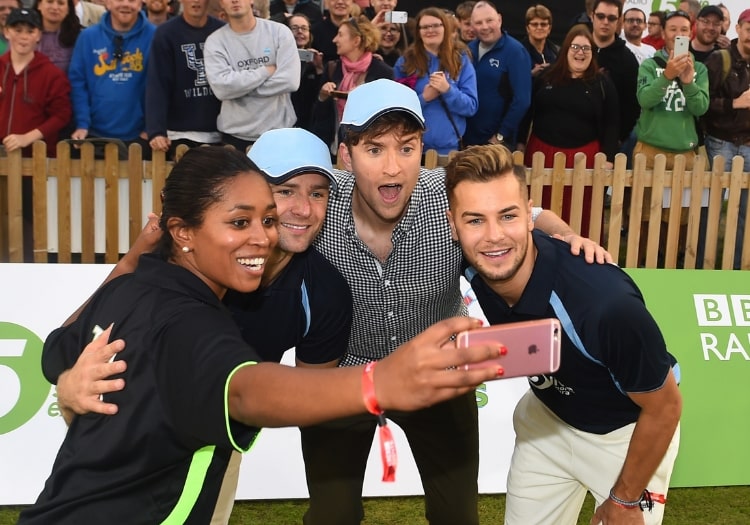 BBC Radio 1 DJ Greg James (second from right) could be a presenter for the Hundred
So do you anticipate cricket tutorials for newcomers to cricket, especially in coverage of The Hundred?
"The great thing about sports coverage in 2019, as opposed to 30 years ago, is that you don't always have to do it within the actual television programme. There are so many platforms within the BBC armoury that we can do these things through. When we come to constructing the running order and the structure, it might be that they fit in, or that we use some of our other platforms to encourage people to be more interactive. There will be that element – it's just where we put it."
Fitting coverage of The Hundred in from 6.30pm to 9pm is going to be a challenge, isn't it?
"It is going to be a challenge. There's no doubt that there will be elements of the 100-ball that will look different to current cricket. You'd expect me to say this as a television person, but to condense a great game of cricket into an even shorter timespan is, I suppose, the holy grail for TV people. And this is an attempt at that.
"Yes, there will be changes. But one of the great things about cricket is its ability to adapt. I can't think of another sport that adapts better to new formats – think of all the new formats over the last three or four decades. It's always changing and adapting. So that doesn't worry me too much. Yes, it's going to be a little faster, it will end a bit quicker – at the end of the day a game of cricket will break out. It will be top-class players displaying their skills, and creating a really entertaining watch."
But shouldn't it just be T20, not 100 balls?
"I think personally, 100 balls… if you're watching a T20 match, once you get past the second or third over we all start thinking about balls anyway. You start thinking about, say, 95 from 75 balls. My personal opinion is that I don't think we're asking cricket fans and the broader audience that we're hoping will get involved to do too much.
"Yes, it's a fourth format – but it's still a cricket match. I was at the same trials you were, and it was a cricket match. There's a few tweaks to the format, but they're mainly about time, and I don't have a problem with it.
"I think what happens is the ECB did some consultations – it happens in TV and I'm sure it happens in what you do. Someone has an idea and then someone else turns round and says 'have you thought about this?' and it evolves in time, and I think that's what's happened with this competition."
"To condense a great game of cricket into an even shorter timespan is, I suppose, the holy grail for TV people."
Will the ECB largely leave the BBC to your own devices with this coverage?
"No, I don't think anyone's ever going to say 'you go ahead and do what you do!' The collaboration is going to be very close. I've not long started with the BBC and I've already had three meetings with the ECB. So we need to work really closely for everyone to achieve the objectives.
"All of our objectives boil down to the same thing – we want even more people to be watching cricket than they are. So we need to work closely – the broadcasters too –the more collaboration the better. Wherever I've worked, the closer the collaboration with the governing body and the print media, the better all-round product you get. I've always found that the case."
Ali Martin of The Guardian has suggested that from the next rights deal onwards the idea of showing a Lord's Test each summer – almost a festival of cricket as Wimbledon is for tennis – live on free-to-air TV… Is that a good idea?
"I can't really see beyond what we are doing over the next five years. All of the energy at the moment is making the absolute best of the rights package we have for those five years. I guess really what you're asking is 'can you see Test matches being back on the BBC?' Possibly. I don't know. Test match cricket, as a game… everybody I've met within the BBC loves Test cricket. But looking into a crystal ball, I couldn't tell you. TMS is part of the cricket family and TMS has built itself on Test cricket. It's in the name."
Is there any sense that even just Ashes Tests could one day return to the 'crown jewels' of listed events?
"That sort of thing would depend on the strategy of Sky or BT Sport, or even Amazon or whoever. It's a really competitive sports broadcasting market."
You also have a role with IPlayer. Does that mean lots of cricket spin-off documentaries ?
"Possibly. It's a great platform and a growing platform. In BBC Sport we really want to grow it. Cricket is one of the great properties we have. There will be a role for cricket on IPlayer and vice versa. If you look at the BBC track record, it has a heritage of support programming around sporting properties."
"All of our objectives boil down to the same thing – we want even more people to be watching cricket than they are."
Do you think cricket has suffered from an image problem over the recent decades?
"Yeah, there's no point me sitting here and denying there is an image problem among some people with cricket, especially young people. We'd be mad to deny it. Youngsters in my own family frustrate me with remarks they make about cricket.
"The traditional cricket fan is incredibly well served by the coverage of cricket, but we are trying to attract the biggest possible audience for cricket. One of the ways is to break down some of the incorrect stereotypes around cricket. Hopefully we can come up with coverage that does that.
"Cricket is a hugely exciting game – it has these great visceral elements to it… there's a huge amount of athleticism required to play cricket to a high level, incredible instincts, skills and reaction times. But it can also be very aggressive and sometimes quite brutal. I don't think that's always brought across in the image of cricket. They're there in the coverage at the moment, but I think we need to accentuate them even more to break down some of those barriers. And why not?"
On the subject of cricket's wider place in society, is it not a worry that Jos Buttler can walk to the shops and no one knows who he is?
"It's one of those things that everyone uses as a measure – can such and such walk down the street and be recognised? I don't want us to get too rose-tinted spectacles about that, because the sporting landscape has changed so much.
"We may never get back to a time when our cricketers are known as much as they were in the 1980s. Other sports and other forms of entertainment are exposed now to an extent that they weren't then. But I do think cricket will have a broader and wider platform than it does now. And that can only be a good thing."
A lot of people, including then ECB-chairman Giles Clarke, were upset that the BBC paid £200m for F1 coverage in 2008 instead of using that money for cricket. "How many people play F1?" he said… Was F1 deemed as more important?
"I don't know if it was 'more important'. But what I can say is that when the ECB launched its tender for this particular set of rights from 2020, I can say that Channel 4 put a very serious bid in for those rights. A huge amount of energy at Channel 4 went into this set of cricket rights. And I know that in the wider TV broadcasting environment there was huge excitement and everybody wanted to jump in and get involved. It wasn't just the BBC.
"I think that for those people who worry about the place cricket has compared it to Formula One or other sports, it's just worth knowing that – when that tender came up, people were interested. We were all talking to the ECB about broadcasting live cricket. Fortunately for the BBC, the ECB were happy to go into a partnership with us and Sky."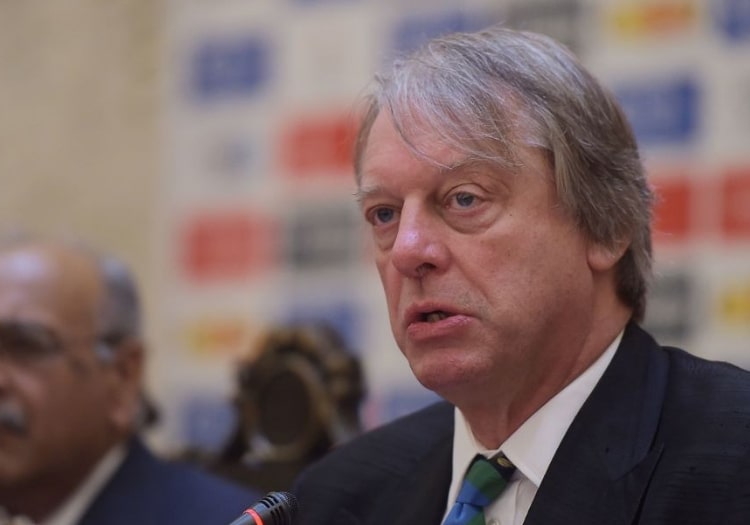 Giles Glarke
What has changed this time?
"The ECB were looking for a free-to-air broadcaster this time around. And they did put that message out there, and that was greeted with a lot of excitement by other broadcasters. We all know each other, and we all knew what was coming down the line.
"The promise of a new shorter format competition would certainly have been attractive to free-to-air broadcasters, but I'm not sure that was the main reason about being more interested this time. Broadcasters have always been interested in cricket, you only have to look at the success the last time live cricket was on free-to-air. But previous rights auctions have probably been seen as geared towards pay TV and therefore prohibitive. This time around there was a real sense that cricket wanted a free-to-air partner."
Some have said that the BBC were lukewarm towards showing county cricket on TV… is it the new team identities of The Hundred that's done it here?
"The new team identities is interesting. It is something new that broadcasters can get excited about and there is no doubt that people in the UK are incredibly attached to their cities. However, from experience, county identity remains really strong [in cricket]. It's one of the elements on which we wait to see but, yes it does help generate ideas and excitement around something new."
Women's cricket is obviously a bit attraction now compared to 1999…
"It's probably the biggest growth area in the sport. The national team are a world champion team, and they are excellent at all formats.
"The Kia Super League continues to grow and evolve and is only going to get bigger. The standard of the players is great, and I'm looking forward to a time when the Nat Scivers and Heather Knights, if we do our job really well, could become among the best-known sportspeople in the UK. That's a place where I hope to get to in women's cricket.
"The talent and the ability and the organisational structure around women's cricket is all there, and it's great that it's part of this contract."
Your elder brother, Robbie Lyle, is something of a new media sensation with AFTV… is there anything you'll be able to learn from the way he engages fans in football – even if cricket is less tribal?
"As broadcasters we're learning all the time. If I go home and chat to my brother about some interesting content ideas, and they might work for cricket, I'd be mad not to give it a go.
"What those guys are really good at doing is reaching young audiences – there's something about the way it's presented and the platforms they use that gives them this youthful profile. The BBC and cricket would like some of that. Those broadcasters on those platforms… there's something they are doing with the audiences we'd all like to have a piece of. My brother really loves cricket, by the way!"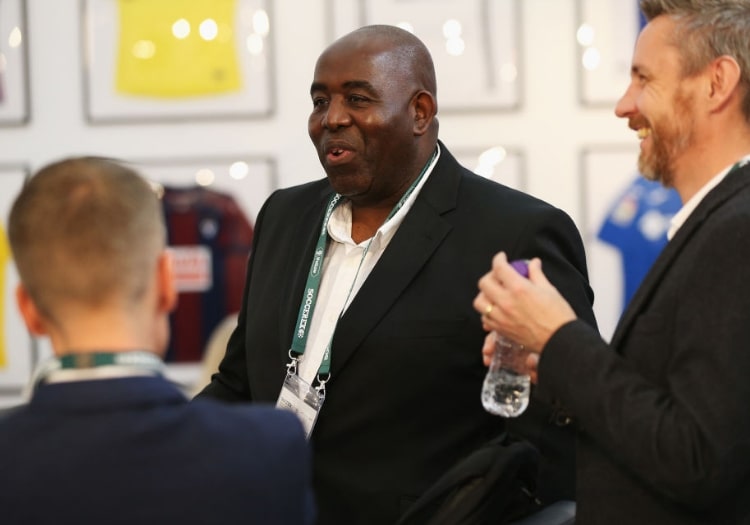 Robbie Lyle, Stephen's brother
You're of Jamaican heritage, and it's been great to see West Indies do so well against England… But the ECB reckon less than 1.5 per cent of recreational cricketers in England and Wales are black or mixed race. What's happened?
"It's a really interesting question. First of all I would say with the whole role model thing, with the West Indies not having been a good side – and no disrespect to the current team because they have some really good players – but they've had problems at board level and it's not been great, all following on from a period when they dominated. That's had an impact on young black kids picking up a bat and ball. You'd see them on TV and the newspaper and gave you the belief you could do the same.
"That's bound to be an explanation, but it isn't the only explanation. When there were African-Caribbean cricketers, how many of them were actually born in England? Not many [seven of the 17 England players were born here]. That would suggest it's something more. I'm absolutely convinced that if you had an England side which was diverse, then that would lead to more kids picking up a bat.
"It is a riddle. There's clearly nothing wrong with the game. Is it a problem with the way it's perceived and promoted? Clearly people of Caribbean heritage love the game, because just look at the history.
"I went to a state school and even back then it was hard to play cricket. We had to go out of our way to play, and that is a story I hear all the time. Young athletic kids, boys and girls, will always do what they enjoy.
"A lot of the time they start because they see someone else doing it. I see it with my daughters – they're a classic example. All they want to do is play netball, because the England netball team has done so well [winning 2018 Commonwealth Games gold in an amazing finish]. An amazing set of role models winning things, a very diverse team too… They just want to play netball now.
"I'm a big believer that the profile of those top athletes does have a big impact on the next generation, and that's a lesson for our coverage going forward."
This is a full version of an article published in the March edition of The Cricketer - the home of the best cricket analysis and commentary, covering the international, county, women's and amateur game
To subscribe for just £44.99 per year, click here
Please ensure all fields are completed before submitting your comment!