Craig Overton and the decision to stick or twist
SAM DALLING: Overton passed 300 first class wickets at Wantage Road a fortnight ago. Milestones don't really interest him though. The equation is uncomplex; take wickets and win trophies with Somerset; establish himself as an England regular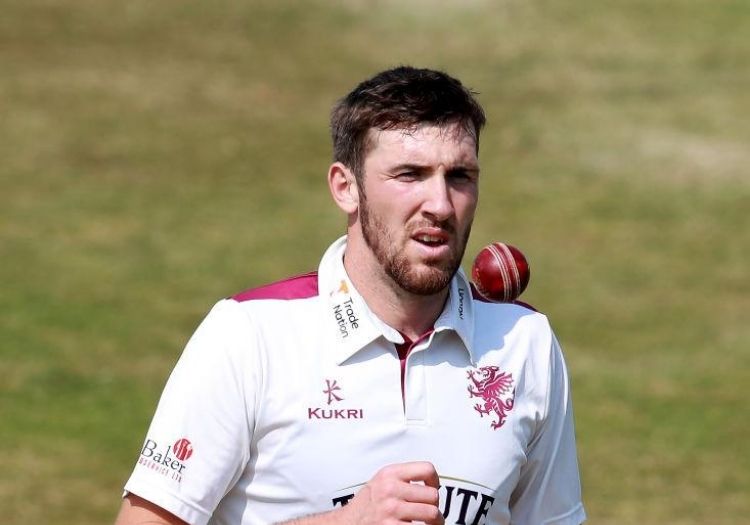 White noise is an inevitable and often unwelcome, but part of life in the professional game. Everyone has their two pence worth, whether it be opinion, fact or complete make believe.
Understandably there was plenty of "will he, won't he" surrounding Craig Overton's Somerset future during the past month or so. But throughout, the man that matters retained complete clarity of thought.
"For me it wasn't about anything other than making sure I had the best opportunity to play as many games for England as possible."
It was that simple. Time was running out on his previous deal. With the clock ticking, the 26-year-old was faced with a choice: stick or twist. The grass isn't always greener but then again, by definition, sometimes it is.
There were other offers on the table. That's no secret nor is it any great surprise, given we are talking about an England international approaching his prime.
Twin Jamie had already decided to try his luck elsewhere. That only served to add to the conjecture. Taunton held its breath. The club couldn't afford to lose the other Overton.
In the end, it was much ado about nothing. Pen was put to paper on a deal that keeps Overton in the West Country until at least 2023. Everyone involved with the club let out a collective sigh of relief.
As and when social distancing permits, head coach Jason Kerr is owed a cider or three.
"When I first came into the academy, Jason was in charge. I sound old but its 10 years I've been working with him now.
"He knows my action inside out. That's a massive thing as a bowler. It was probably the biggest thing in me staying," Overton tells The Cricketer.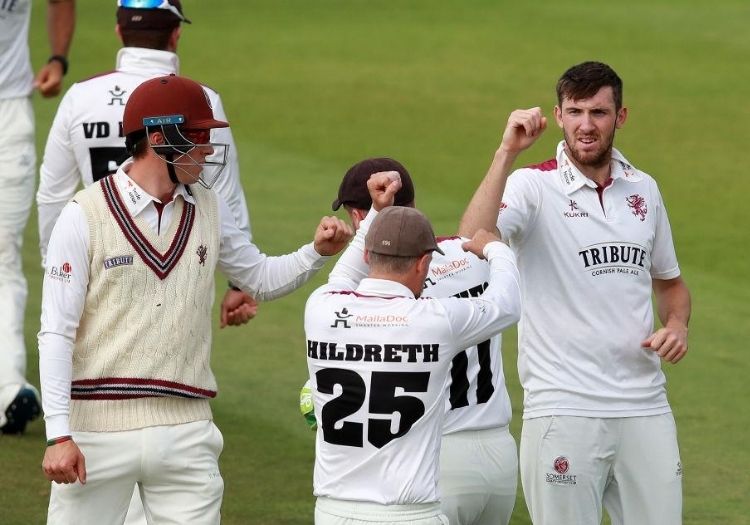 Overton has taken 306 first-class wickets
"You can be so finely tuned that if something small is slightly wrong, it can throw everything out, so it's crucial to have a coach that you can trust and who knows what they're looking out for.
"The other day at Northants in the second innings something wasn't quite right in the first spell and he spotted it straight away. We had a chat at tea. I then went back out and ok I didn't get a wicket, but it felt better."
Somerset's recent success also helped. Last year they secured the Royal London One-Day Cup, breaking a 15-season trophy drought, while everyone knows the tale of how they were pipped to the post by Essex in a thrilling County Championship title race.
This season they've come out of the blocks flying in the Bob Willis Trophy. They hammered Glamorgan and Northants in the opening two rounds and were set to sweep aside Warwickshire on Tuesday before rain intervened.
On top of the twins, they boast amongst their ranks the experienced Jack Brooks, a blossoming Josh Davey, skipper Tom Abell, Lewis Gregory, a proven performer who harbours test aspirations of his own, as well as spinners Jack Leach and Dom Bess.
A winning formula? Overton thinks so. "We all want to win the Championship. It won't happen this year because it's a different trophy but next year, even with the minus 12 points, I still feel like we'll be pushing and hopefully winning it.
"The core of the side is coming into its peak years, we've got a few youngsters coming through and we've got experience in Hildy (James Hildreth), Brooksy and Davos (Steve Davies); that's what you always need to be competing for trophies.
"The thing that's always been good about this group that we've all generally bowled well together. If you look at the sides that have won the championship, they all had good bowling groups.
"You need to take 20 wickets to win games and win championships and that's what we've got at the minute."
Overton passed 300 first class wickets at Wantage Road a fortnight ago – not too shabby for a man in his mid-20s.
Milestones don't really interest him though. The equation is uncomplex; take wickets for Somerset; win trophies with Somerset; establish himself as an England regular.
To date he's enjoyed four test outings but while his returns have been decent – nine wickets and a top score of 41* – that breakthrough, career defining performance has yet to be unleashed.
Having tasted the amber nectar of Test cricket, he wants more. There's an issue though. While his relentless accuracy and ability to move the ball through the air bag him scores of wickets in the county game, there's a notion he needs to work the speed gun if he's to trouble the best in the world.
"The games that I played I felt like I did okay. I would like to have done better but everyone feels like that. You'd always like to get five-for as a bowler, but it doesn't always work out that way.
"I spoke to Ed Smith after the Ashes to try and figure out a way of getting into the England side and staying there. He was happy with my consistency – hitting an area and not going for runs. It was about adding that little bit of pace but still having that consistency."
In a bid to address this, Overton spent the winter tweaking his action; running in a little harder and loading the bowling arm a little later. Those in the know feel he's put on a yard. Already, the hard work is paying dividends.
Having starred for the Lions on February's tour of Australia, he's arguably the in-form paceman in the country right now. His brother might have a word or two to say on that topic, but with three rounds of the Bob Willis Trophy done and dusted, he's picked up 14 wickets at 12 apiece. Promising signs but Overton isn't putting too much pressure on himself. He'll just keep on keeping on.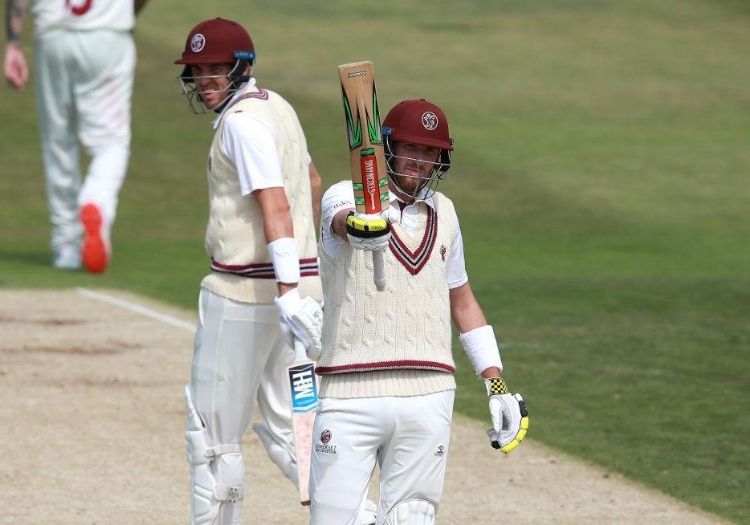 He signed a new contract with Somerset last week
"They've said to me go back to Somerset and take wickets and we'll go from there," he says. "I know what I've got to push my claim to get back into the side. I'm not really putting too much pressure on it. I think if you worry about it too much you don't generally perform.
"Obviously I want to perform but I don't get too downbeat if I have a bad game. It's frustrating but it's not the end of the world. There's always another chance to play cricket and win a game for your side.
"I'm about making sure I'm in the best position to keep affecting the game, whether with the bat, the ball or the field. The rest will take care of itself."
The modern game demands players with more than one string to their bow. Handily, Overton can wield the willow and he's working hard to add a few more runs to his game.
His only first-class hundred came way back in 2016 and it's been five years since he notched up more than one half-century in a season since. Those are numbers that can be improved. Fortunately, the Somerset dressing room contains the perfect mentor.
While Jack Brooks better known for his exploits with ball in hand, he has been invaluable at No.11 over the past few weeks, never more so that on the opening day when his side were floundering before he bludgeoned 72 in a 107-run last wicket stand with Steve Davies.
Grinning, Overton adds: "He seems to be in a bit of form at the minute. "We've discussed whether to push him up the order, but I think he's a proper No.11. He's a nice man to come in there because he can whack you 20 or 30 quite quickly. That just changes the dynamic of the game and puts us on the front foot again.
"Those two partnerships that we've had with him at the end have actually probably swung the game in our favor so hopefully he can keep doing that.
"I think he's quite happy coming in and doing that role. He's perfected and he keeps reminding us that he's got a first class hundred. He's keeping us on our toes, that's for sure!"
If Overton needed a benchmark for what might be possible, he needn't look far. Chris Woakes is very much the man of the moment.
There was a time when the England allrounder was in a similar state of limbo to Overton; an outstanding performer on the domestic scene but on the outside looking when it came to the international side.
Occasionally he was invited to the party, but more as a plus one than someone whose name is on the guestlist.
The pair are both primarily bowlers who bat a bit and Woakes too was told he needed to gain a bit of zip. Away he went to do just that. The result? A World Cup winner's medal and a regular slot in test side.
But while Overton is desperate to replicate the Warwickshire man's on-field success, he's less keen on copying his teammate's post lockdown image.
"He pulls off the long hair very well to be fair" he laughs. "There is a few of them who seem to be enjoying it too much.
"I was allowed out the bubble and the next day I'd had it cut. I think I prefer the short hair and a little bit of stubble. I can't deal with too much hair it just gets in the way.
"It's probably just about okay in Test cricket but once the T20 starts and the batters are trying to whack it back and you can't see it, that becomes a bit of an issue!"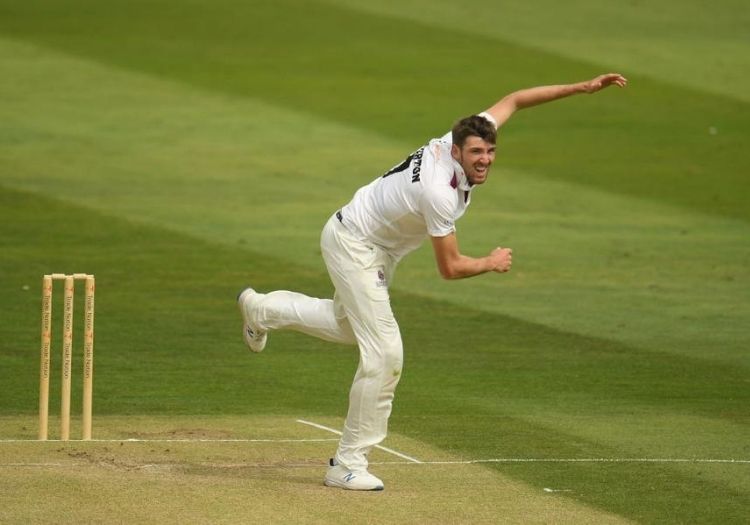 Overton has spent his entire professional career with Somerset
It's difficult to mention one Overton without the other at the moment. Twins are a miracle of biology. Born together and often inseparable. The Overtons are no different.  
Hailing from Barnstable, the pair spent their formative years playing club cricket at North Devon's picturesque Instow home before moving onto the Somerset staff.
It seems a lifetime ago they debuted while juggling their A-Level exams. Since then, it has been a constant game of one-upmanship and that will never stop.
It just might feel different once Jamie has departed for the bright lights of London in search of his own international recognition.
Overton is fully supportive of his brother's decision and believes their lifelong healthy competition may go to another level.
"It's going to be weird playing against him," he adds. "We've always gone one step ahead of each other and it's what drive us. I played for Devon first but then he played for West of England first.
"He wanted more opportunities to have more chance of getting into that England side. If he keeps bowling like his is now, he won't be too far away. He's bowling quickly and swinging it. We can both be quite feisty on the pitch anyway so I think it might get quite heated.
"It's just part of being a professional that you have to play against people you are really close to.  You've got to put it all aside, give everything to the cause and hopefully get one up on them.  Once the day is done, I think we'll be fine again."
Come this time next week it will be time to pack away the whites for a bit and turn attention to the T20 Blast.
For a while, there was hope that fans might be allowed through the turnstiles, but the ECB confirmed this week that the doors will remain shut for the group stages at least.
It's a big miss for Somerset who draw full houses week-in, week-out in the competition and get good numbers through the gate for the Championship.
Technology has come on leaps and bounds in the past few years and the county is a leading light in terms of its fan engagement.
Their new and improved streaming service is manned by their award-winning social media team and drew hundreds of thousands of views in their only home game so far. 
And Overton has paid homage to all the club's digital gurus although admits that he can't wait to see the members in person once again.
"It just shows with the numbers like the amount of people that want to watch us play cricket. It would be nice to have someone in watching us but there's bigger things going on at the minute – we've got to make sure everyone is safe and well.
"The way that the club – Ben (Warren) and Spencer (Bishop) – have gone about it shows how much passion there is for the game in the South West.
"Once coronavirus passes, they will be able to come back and enjoy sitting in the stands and watching us play cricket again.
"I think we could potentially sellout in the championship match – that's how much support we get and its massive for us as players."
For unrivalled coverage of the county season, subscribe to The Cricketer and receive four issues for £15
Please ensure all fields are completed before submitting your comment!