Championship Chinwag: Payne's perfect week, Overton's audition and the Manchester weather
JAMES COYNE, ELIZABETH BOTCHERBY and SAM DALLING reflect on events on and off the field during the fifth round of County Championship matches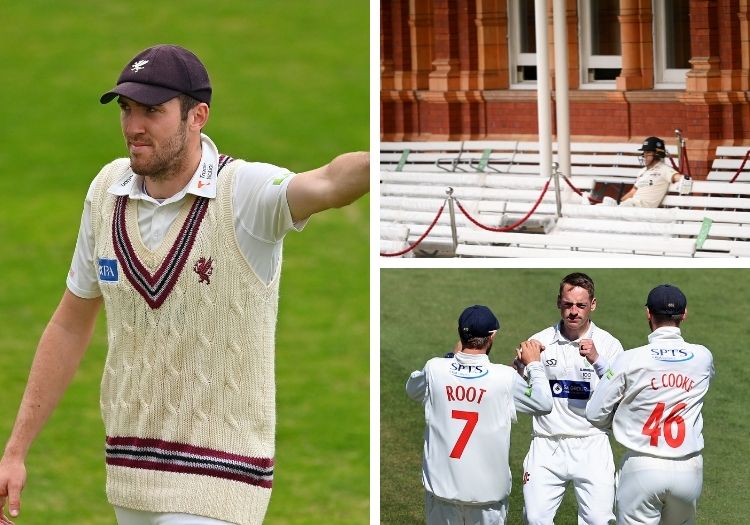 David Payne's perfect fortnight
County cricket is brimming with unsung heroes, and David Payne is one such man. Since making his professional bow in 2009, all bar one of his 523 professional wickets have come in Gloucestershire colours, but before Saturday he never had a 10-wicket match haul.
No finer place to do it then than at Lord's:​ his career-best 11 for 87 match figures (5 for 31 and 6 for 56) from a ball shy of 36 overs helped the Glosters to a fourth win from five in the County Championship. All that in front of the TV cameras too. At the halfway mark of the initial group stages, Ian Harvey's charges sit proudly atop Group Two: could they dare to dream of a maiden crown? A long way to go, but they surely now they have to be taken as serious contenders?
For Payne it was the perfect way to cap a fantastic fortnight, with his first born – a baby girl – entering the world last week. Few would begrudge him the well-earned beer he enjoyed upon arriving home on Saturday evening. SD
Streaming comes good after IPL suspension
Speaking of those TV cameras, what a feather in the cap for Middlesex. County cricket's live streaming has improved exponentially in the past 12 months, and Seaxes can count themselves as market leaders. They are one of only a handful of counties to take the plunge of producing their own visual copy, and thus far the only to do it with all its bells and whistles for red-ball cricket.
The result? Well, when the IPL was postponed and Sky had gaps to plug, they decided to give Lord's a call. Middlesex had provided the live stream for last year's Bob Willis Trophy final, and they delivered again this week. There was no big entourage though: barring one additional camera and a quartet of well-known ringers, it was business as usual for "in-housers" Adam Collins and Matt Floyd.
A Sky Sports subscription does not come cheap and a premium product must be delivered. It was therefore a risk for the producers, but they got exactly what they sought.
And that was, in no small part, due to the hard work behind the scenes of Steve Fletcher, Lucie Johnson and Oli Francis. The trio were all sighted scuttling around the temporary media centre in the Tavern Stand throughout, and their exploits will have helped convince the broadcaster to add Glamorgan v Yorkshire and the Roses derby to their schedule over the next few weeks (the London derby 2.0 was already pencilled in).
First-class cricket is dead? No, halcyon days could be ahead given the right steer.
Remember too though that the BBC continue to provide unwaveringly excellent ball-by-ball commentary, with a soothing balance of one commentator per side. Few know more about their club's travails than the Beeb's orators. For example, Kevin Hand is into his 17th season covering Middlesex, while Mark Church has been doing the gig for Surrey even longer. They too must be protected.  County cricket's audience is out there in all different auspices and needs reaching. A nice little cricket app dedicated to commentary would be delightful. 
If this is the future, I want more… SD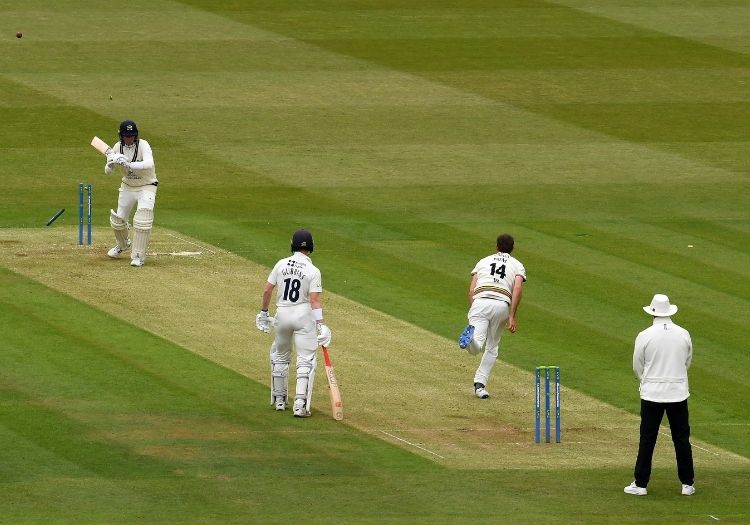 The Sky cameras were at Lord's to see David Payne remove Peter Handscomb's off-stump
Overton for England?
If Frankenstein were looking to recreate his monster in a hurry, a post-pandemic Craig Overton would save him a lot of work. Once more 'Goober' led from the front, collecting match figures of 7 for 82 from 51 overs as Somerset kept up the pressure on table-topping Gloucestershire.
A whopping 40 of Overton's overs came in Hampshire's second dig, as the hosts stoically tried to keep Somerset at bay. They might have succeeded too, if it hadn't been for Overton: he knocked over the top five by himself. As if that wasn't enough, he made a sensibly aggressive 93-ball 74 in his side's only innings.
Since the start of the Bob Willis Trophy Overton's red-ball numbers are cricketing eye-candy: 459 runs at 32.78 (with four fifties); 62 wickets at 13.7 (with five five-wicket hauls) and 13 catches, largely at slip.
If England really do intend to pick on form, there is little option but to give him a fifth Test cap. Anyone and everyone who has borne witness to him in the last 12 months agrees that he has noticeably improved, and put on a yard, since his last game in the 2019 Ashes. Overton also remains the only Englishman to have the Test scalps of Steve Smith, David Warner and Marnus Labuschagne to his name, although admittedly Jimmy Anderson had never bowled to the latter before Lancashire's game last week.
Overton does though need a new left big toenail: that fell victim to his mammoth second innings effort. If Frankenstein is reading… SD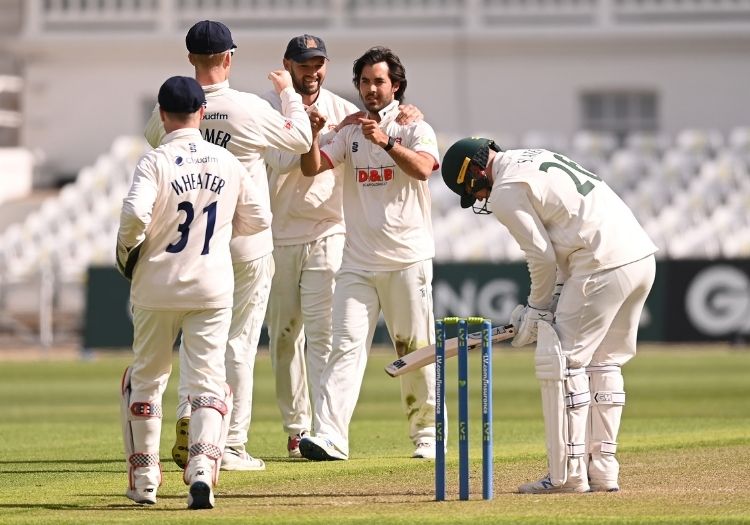 Shane Snater was a bright spark for Essex in their second straight defeat
Snater enters the conversation
Much has been made of the end of the Kolpak cricketer. The loophole closed with Brexit, meaning all county players (mainly South Africans and Zimbabweans, but also some West Indians) who were on the status had to either qualify as a homegrown player or win an official overseas contract for the 2021 season.
Simon Harmer is probably the most illustrious example – the main reason why Essex have been champions in three out of the last four years.
For those non-overseas players seeking a route to one of the 18 counties, you now have to be able to access a UK or EU passport or visa to qualify – and a Dutch passport is perhaps the most popular recourse for many southern Africans.
It won't please those who would like to see more cricketers raised in the English system filling our county teams – but the rules are the rules, and the best certainly do raise the standard. In reality, over the last few years the factor of the 'passport player' had rather overtaken the diminishing number of Kolpaks.
Shane Snater took advantage of his Dutch grandparents to make the move from Harare to Holland in 2016, playing in Dutch club cricket for Rood en Wit, and earning an immediate call-up to a Netherlands Development XI which came to play two games at Colchester.
After 5 for 58 against Essex 2nd XI, he was pulled to one side by Ryan ten Doeschate – another southern African who has played county cricket due to his Dutch heritage – and said: "Mate, we'd love to get you over."
A short-term deal followed, and Snater found himself bowling against his cousin, Jason Roy (born in Durban, South Africa), in the Royal London Cup in 2018. The England one-day opener smashed the last ball of his first over into the Tom Pearce Stand at Chelmsford, so Snater was probably quietly relieved when Neil Wagner got him out before he could cause more damage.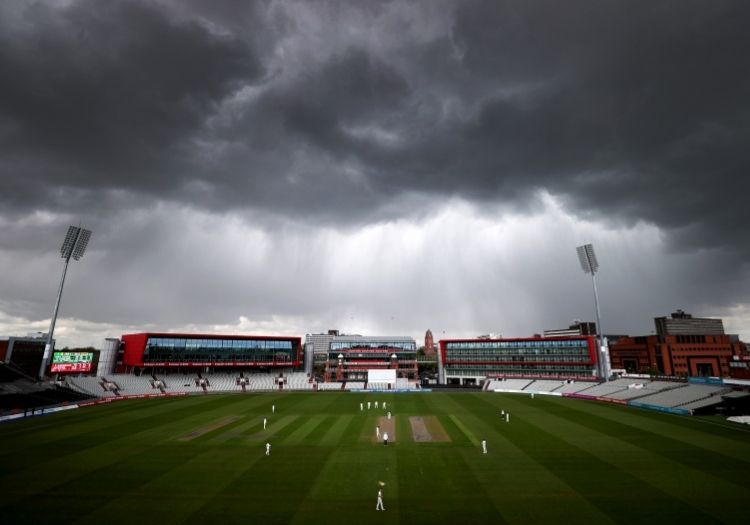 Last week's weather created quite an image at Emirates Old Trafford
"It was a bit weird out there," admitted Snater, who is five years Roy's junior. "It was a decent contest at the beginning, but I guess he's going to walk away with the upper hand. Hopefully in the next game, who knows?
"I wouldn't say it's a family rivalry. It was the first time I'd played against him. He's always been someone I've looked up to, like boys do growing up. He's always the one who's done well in the family."
Snater, 25, is a stocky and bustling swing bowler, and has mainly figured in white-ball cricket so far for Essex. But he has climbed the pecking order this Championship season, and found himself in the XI when Essex rested Jamie Porter at Worcester and Sam Cook at Trent Bridge.
Indeed, while Porter was struggling to threaten the batsmen in fairly helpful conditions on day two in Nottingham, Snater consistently did get the ball to move, to the extent that he picked up a career-best 7 for 98 in the first innings, most of them caught behind the wicket, though he could not stop Steven Mullaney building Nottinghamshire's decisive lead.
Now Essex, who have lost two of their first five Championship games, have little room for error if they are to make the top two in their group and keep their tag of the country's strongest team. And the debate about who partners Harmer from now on has to take into account Shane Snater. JC
O's everyhwere...
'Name the three players with three o's in their surname to have played for England' – one of my mum and dad's favourite trivia questions. It's actually four these days, with Chelsea's Callum Hudson-Odoi joining Peter Osgood, Ian Storey-Moore, and Tony Woodcock on the list after making his debut against Czech Republic in March 2019. I'm yet to break this to them.
But what's this got to do with cricket? Well, in scouring the scorecard from Lancashire's County Championship match against Glamorgan, I noticed not one, not two, but five names with a double o: Glamorgan trio Joe Cooke, Chris Cooke (unrelated), and Billy Root, and Lancashire seamers Luke Wood and Saqib Mahmood. And that's without counting umpire Nick Cook! 
Earlier in the season when Glamorgan faced Yorkshire, there were four double o's present – Billy Root, Chris Cooke (Glamorgan), Joe Root and Harry Brook (Yorkshire) – but the Lancashire match has me wondering, what's the best County Championship team you could make from players with a double o in their surname? A double-o eleven, if you will.   
Possibly Sir Alastair Cook (Essex), Joe Cooke, Billy Root (both Glamorgan), Joe Root, Harry Brook (both Yorks), Chris Cooke (wk, Glamorgan), Luke Wood (Lancs), Henry Brookes (Warks), Dominic Goodman (Gloucs), Saqib Mahmood (Lancs), Mark Wood (Durham)? A bit light on spinners but otherwise, not bad. Something to ponder. EB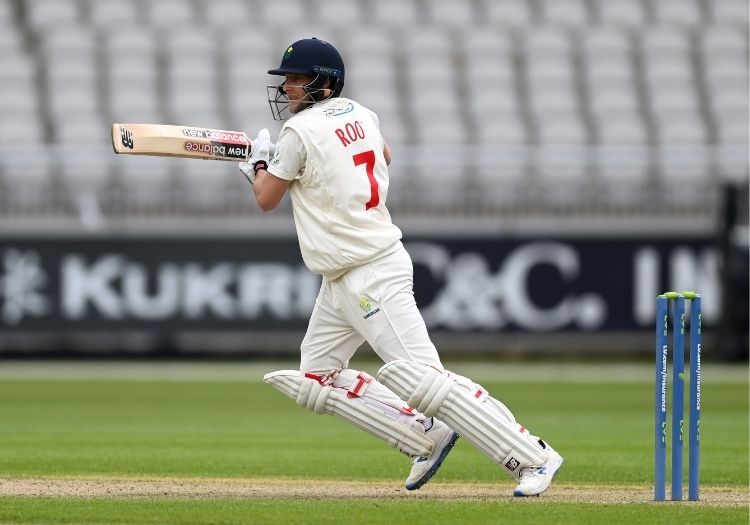 Billy Root - one fifth of the double-o brigade
Why does the bad weather follow me?
Just as Ajax fans feel a connection to Bob Marley's Three Little Birds and Everton fans to the theme from Z Cars, supporters of Manchester Storm – the north west's premier ice hockey team – live and die by the 1992 Crowded House classic, Weather with You.  
Unfortunately, the chorus line 'always take the weather with you' is so ingrained in my psyche I fear it's beginning to impact the County Championship matches I cover.
Dodging the weather for Lancashire versus Northamptonshire at Emirates Old Trafford – call it beginner's luck – I attended day one of both Yorkshire v Northants and Lancashire v Glamorgan and witnessed downpours, hail, and chilly temperatures – the afternoon sessions of both almost entirely written off.
Looking at the forecast for day two of the latter with dread, I was pleased to see wall to wall sunshine promised and began my walk from Firswood tram stop to the stadium with the Manchester skyline perfectly visible on the horizon. However, as soon as I spied the floodlights, hail began to fall – sunshine over the stadium, a comic book rain cloud over my head: the Joe Btfsplk of the press box.
The weather cleared before play began but I couldn't help but wonder what meteorological disaster awaited us later in the day. In future, I will endeavour to inform the relevant captains when I am attending in case it changes their plans for the match. EB
Subscribe today and receive The Cricketer's centenary issue – six issues for £19.21. Click here
Please ensure all fields are completed before submitting your comment!