Jack Leaning prevails on a day where there was something for everyone
JAMES COYNE AT WANTAGE ROAD: Northamptonshire took on Kent where young and old had good reason to be thrilled on the opening day of the new County Championship season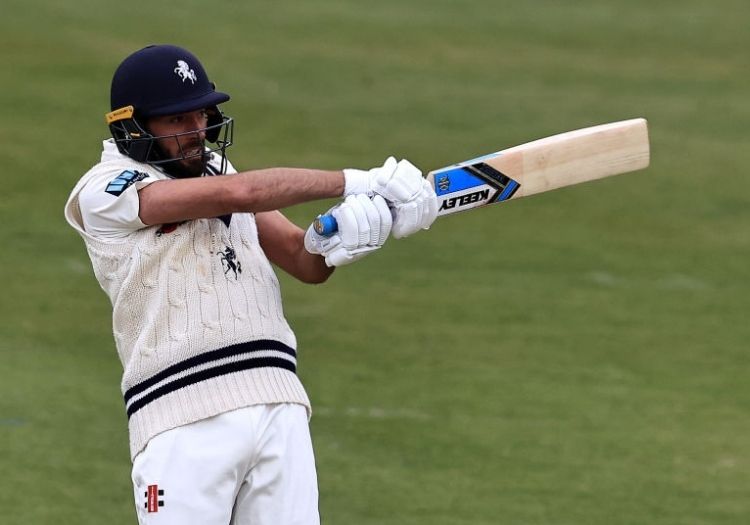 It was a day for young blood – with impressively poised half-centuries from Kent's two keeper-batsmen Jordan Cox and Ollie Robinson – and something of a celebration of old bones – with 40-year-old Gareth Berg bowling at 44-year-old Darren Stevens at one stage. But perhaps the most pivotal hand was played by someone in the crucial middle juncture of his career.
Jack Leaning, 27 and in his second year at Kent after moving down from Yorkshire, might not be assured of a place in Kent's line-up were the club captain Sam Billings not away at the IPL, yet it was his 79 which tilted the balance of their opening County Championship game in their favour at 309 for 7.
Leaning's partnerships of 89 with Cox and 98 with Robinson knocked the stuffing out of Northamptonshire at Wantage Road, though he was frustrated at nicking behind the eminently medium pace of Emilio Gay when a century seemed there for the taking.
Leaning said: "I just looked to play a bit too fine with that ball. If I had it again I probably would have just patted it back. I was properly in and trying to force it a bit too much. But these things happen sometimes, and if someone had said at the start of the day that I'd get 80 I'd have snapped their hand off.
"Myself, Coxy and Robbo are all a bit disappointed not to go on and score a hundred.
"In terms of Robbo I think that's the best I've ever seen anyone strike the ball from ball one. Whether he was defending or attacking, everything was hitting the middle of the bat. He looks in some serious touch.
"As for Coxy, to come through those early wickets and play like that shows a lot of character. We've got two gems there - 100 per cent."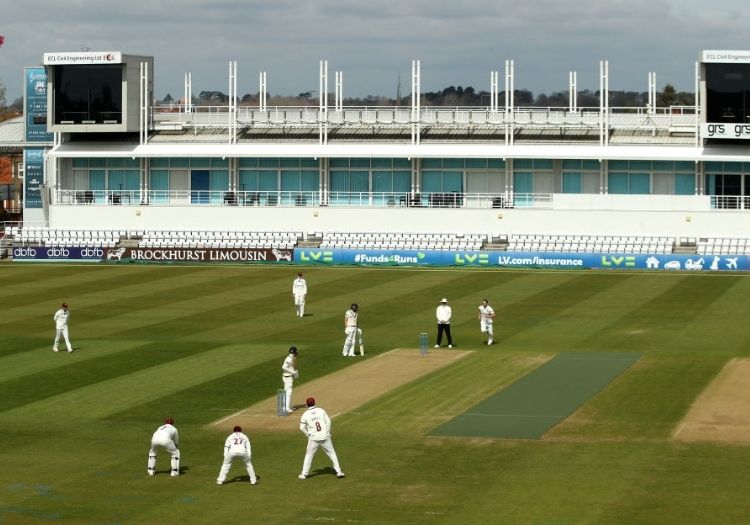 Like all grounds around the country, Wantage Road was closed off to fans
But Leaning is himself the kind of all-round cricketer likely to play an important role in these first eight rounds of the County Championship season, certainly if counties remain reluctant to pick frontline spinners in their XIs while the pitches don't assist spin.
It may seem a bit curmudgeonly, on a day when cricket lovers worldwide were celebrating the timely start of a full County Championship season during a pandemic, but the selections of the two teams here do betray some of the issues English first-class cricket has in developing spin bowling.
Make no mistake, this was as far removed as you can get in April from the green top lottery so commonly associated with the two-divisional era.
Leaning himself confirmed the pitch was "a really good one". The strip was pleasantly straw-coloured and easy-paced – especially considering the home club were tweeting photos of it under a covering of snow two days ago – and yet even with such a good batting track, neither county felt they could select a specialist spinner. The presence of them in other XIs across the Championship programme did not go unnoticed, though.
As it was, by 3.30pm Northants were almost paying homage to subcontinental Test cricket, with just one slip left in place and two short midwickets stationed to block Leaning's commanding flicks off his pads.
Rob Keogh, the hosts' off-spinner, bowled 12 wicketless overs for 52 from the Lynn Wilson End. Had Simon Kerrigan been selected today, he would have done a lot of bowling – and he might have been more threatening.
And it wasn't just the home side. Hamidullah Qadri did not make the Kent squad and Marcus O'Riordan failed to make the cut from the 13 – meaning the visitors went in with no fewer than five seam-bowling options. Similar to Keogh, Leaning looks set to fill in with his off-spin if it comes to it.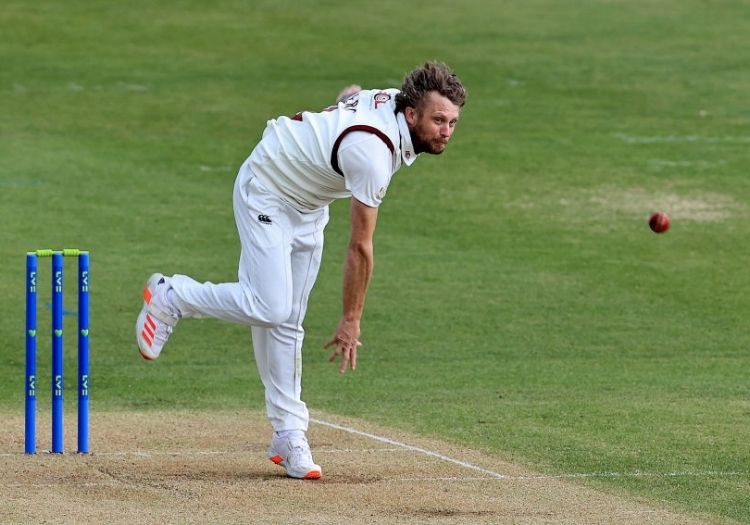 Forty-year-old Gareth Berg was Northamptonshire's primary threat
He said: "Hopefully I won't have to – because we have five seamers and they could take all the poles!
"But I might well have to do some bowling at some point tomorrow. I think you have to adjust your expectations as a spinner. You're probably not going to run through a team at this time of year. But you have to try to keep it tight, let the seamers rest and try to pick up wickets if you can."
As expected, the bowling side made the early running with the new ball as Kent were reduced to 38 for 3 on a sunnier, warmer morning than was forecast.
When Ben Sanderson, who thrives as much as anyone in swinging conditions, pinned Daniel Bell-Drummond lbw, it hastened the chance to look at Kent's two most recent Test batsmen, Zak Crawley and Joe Denly.
They didn't last long, though, as they ran into Berg, who was busy reminding everyone that Stevens is not the only 40-something all-rounder still prospering in county cricket.
Crawley had just survived a leggy shout for lbw when he failed to move his feet to a ball moving beautifully on his off-stump which he nicked through to Adam Rossington. In the next over Berg brought one back off the seam to bowl Denly. Berg was sitting on two wicket maidens and had gone past the outside edge several times in a very tidy spell.
He continued to be Northants' most accurate bowler through the course of the day – a bit like Stevens tends to be, come to think of it.
Berg confirmed after play that, with Stevens about to turn 45 at the end of this month, there was quite a bit of fun had out on the field trying to tot up their combined ages.
Though installed as the new Italy head coach, his county might end up seeing more of him than they thought this year if his international commitments are not able to go ahead on continental Europe due to Covid-19 restrictions.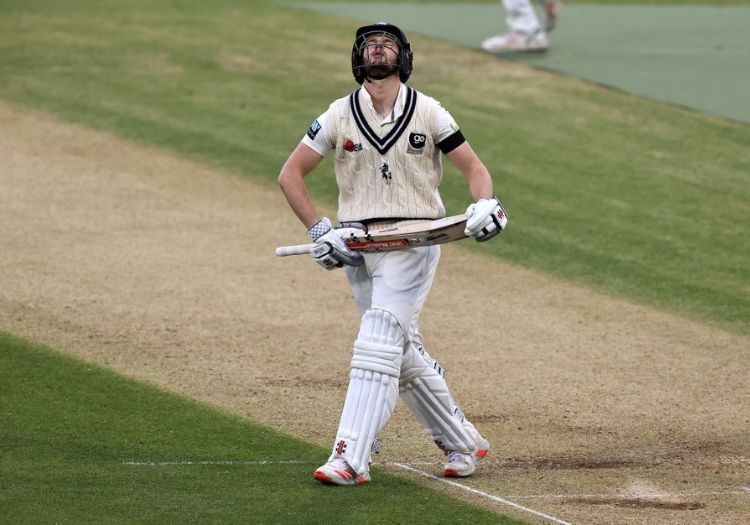 Ollie Robinson fell 16 runs short of his century
Once the swing and seam died down, the innings ran quickly away from Rossington's side, whose attack looked a bit one-note and lacking in a genuinely express option. Rossington was soon despatching his fielders to all corners in a vain attempt to staunch the flow.
Cox stayed patient at the other end, but he and Leaning began to score at will – cutting anything short and guiding anything fuller through backward point. In among it, there were some beautifully crisp punches through the covers and through midwicket.
Even when the clouds filled in over Northampton, prompting the floodlights to be turned on at 2.45pm, the ball still refused to dart around.
It took a blindingly good catch by Gay out on the deep square leg boundary to remove Cox – else the bowling side might have been staring at a reprise of the Kent club-record 423-run stand made by Cox and Leaning against Sussex last season (and it would have been more that day, had first innings not been capped at 120 overs in the Bob Willis Trophy).
Northants were completely under the cosh when Gay was thrown the ball to get them through to the second new ball.
And he was as surprised as anyone when Leaning nicked a back-foot shot off his third ball to Rossington, standing up, to give the 20-year-old his maiden first-class wicket – but then cynics might say this is the kind of thing liable to happen when teams leave out frontline spinners.
By the close, with Stevens ominously set on 34 not out – against the county he almost joined as a coach in 2019 before Kent offered him yet another contract – the visitors had built an enviable position, and Northants had some work to do.
Subscribe today and receive The Cricketer's centenary issue – six issues for £19.21. Click here
Please ensure all fields are completed before submitting your comment!