BACA celebrates 10 years of cricketing opportunities
The cricket programme at the Falmer school has been running for a decade now, and has recently expanded to take in years seven, eight and nine (it already ran from 10 to 13); this year 75 of its 900 pupils are participating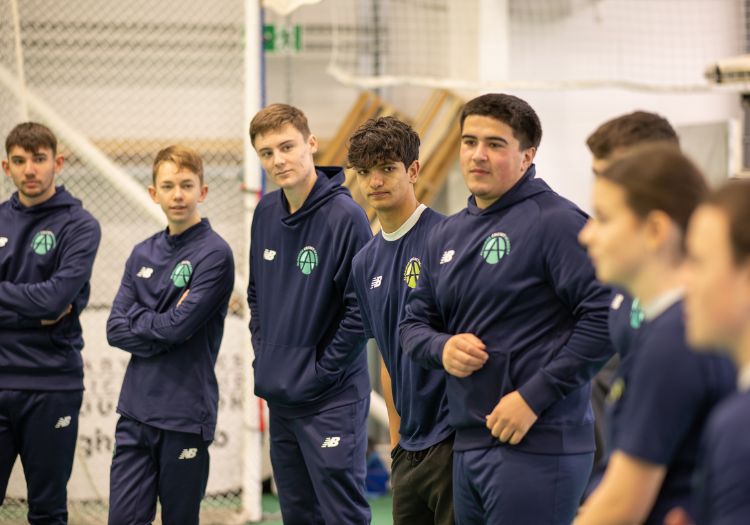 Baca sounds like beacon, which is appropriate: the Brighton Aldridge Community Academy stands out as a shining model of what can be done for state school cricket in this country.
Pioneered by a local man, Sir Rod Aldridge, it could and should be adopted by the other counties in the UK, with its excellence emitting light throughout the regions.
The cricket programme at the Falmer school has been running for a decade now, and has recently expanded to take in years seven, eight and nine (it already ran from 10 to 13); this year 75 of its 900 pupils are participating.
Tara Norris (Sussex, Southern Brave, Delhi Capitals and USA), Will Sheffield (Sussex) and Liam O'Brien (England physical disability team) have all graduated to greater things on the field; but the school is also proud that the programme has inspired others into jobs in professional sport; and, just as importantly, it has boosted the pupils' regular studies.
The Cricketer and Darren Stevens tested out this year's new bats in the impressive indoor school, and Shane Warne and Jofra Archer have visited in the recent past. There is also talk of some more exciting visitors. Steve Smith's short-term signing by Sussex has been criticised, but hopefully the Australian will make the short hop along the coast for a visit; and the headmaster is also friends with Chris Woakes.
The school is near Falmer station, a short ride from Brighton. The immediate area is a real hub of sport and academia – the universities of Sussex and Brighton have campuses in sight, and Brighton & Hove Albion Football Club is a Mohammad Rizwan six hit away.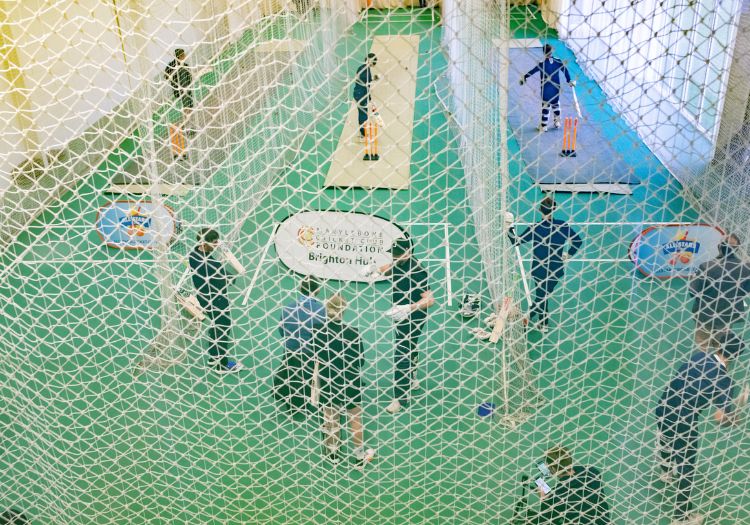 BACA students get access to superb cricket facilities [Paul Carroll]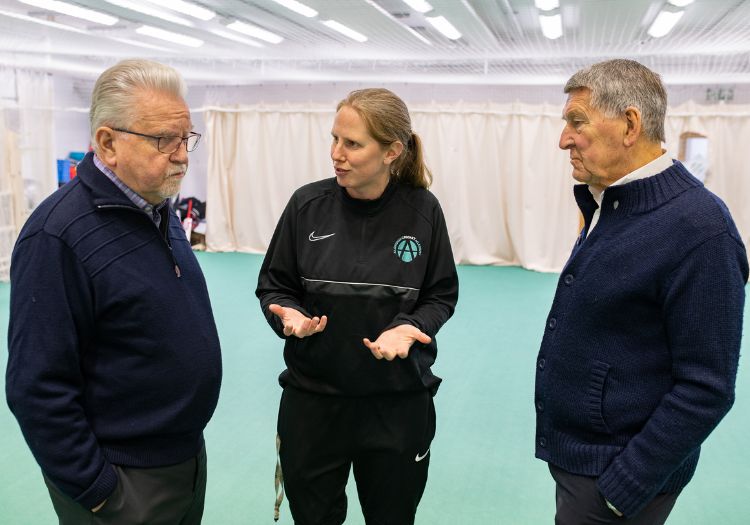 Rod Aldridge, BACA director of cricket Alexia Walker and David Bowden, the chair of the BACA management committee [Paul Carroll]
The school has come a long way in the last 10 years. The outdoor pitch is now looked after by Sussex CCC ground managers; a hybrid wicket has been installed (half paid for by Southern Vipers), and before Christmas saw the installation of 90 solar panels aiming to make the centre cost and carbon-neutral.
Alexia Walker is a former Sussex and England A allrounder, and is now the director of cricket at BACA. "We're pleased with the progress we have made, but there is a lot more still to do," she told The Cricketer. "It's wonderful to see pupils go on and play professional cricket, but equally they have been inspired to go into other jobs in sport, like strength and conditioning coaches, and teaching. It's also uplifting to see youngsters' confidence increase thanks to cricket. One of our pupils, Frankie Cripps, went on a joint Sussex/Kent tour to South Africa, and was transformed. As (former Sussex chair) Jim May said: 'Why doesn't every county do this?' It's a no-brainer.
"Shane Warne came here and stayed for three hours a few months before his awfully sad death. He worked with 13 spinners, seven of whom were leggies; when Jofra Archer came nothing was too much trouble for him; and there are growing links with Brighton and Hove Albion FC to enrich the students' experience. Could Steve Smith come and visit? That would be great.
"Last summer we took some pupils from years seven, eight and nine to Hove to watch some Championship cricket, and then they came back to watch the school game versus MCC game – we were one of only two state schools to beat MCC last year – so that was a special day.
"The hybrid pitch will be game-changing for us. I've seen them being thread and it's fascinating; I also dream that we have hybrid grass nets. We have also forged a new link with New Zealand. A couple of our lads have gone to Christchurch, and a couple of Kiwis will come here this summer to from The Willows CC, and will be based at Arundel Castle. They will also do some charitable work and travelling. All these things together will help us keep uncovering talent."
Of course Alexia is a great champion of the girls' and women's game. She was inspired by Graham Dilley, the former England pace bowler who coached her at Loughborough. "He was amazing, and always treated women's cricket equally to the men's game," she said.
The school's new principal, Jack Davies, is equally proud of what's been happening. "It's hugely positive – cricket is a great vehicle for development. No one on the programme is underachieving. It shows how powerful cricket is," he said.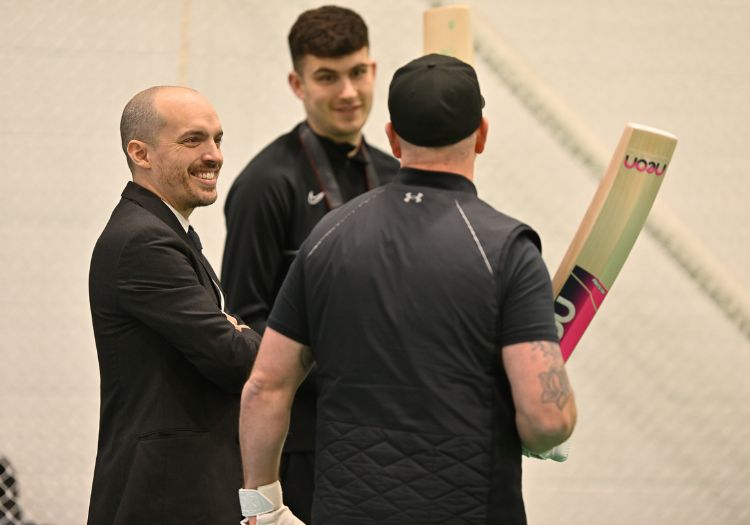 BACA principal Jack Davies chats with Darren Stevens at The Cricketer's testing day [Paul Carroll]
"We have a superb facility here, and we have to ensure the right coaching is in place, and that the students can access it… this is not just an elitist programme. On a summer's day where you have a training session in the morning, then a 1st XI match, with everyone watching, you might have 1,000 youngsters involved playing or spectating. Alexia and the coaches Georgia Adams (Sussex, Southern Vipers and Southern Brave) and Yasir Arafat (ex-Sussex and Kent among other counties) are doing a great job.
"We're proud to be in the top 100 in The Cricketer's Schools Guide. There are a number of state schools in it, but my aim is to be No.1. A dream is to have all the top state schools in a competition together. Last year we beat Ardingly College, and now we'd love to beat Hurstpierpoint and Brighton colleges."
Davies grew up as friends with Woakes, and he said: "I hope Chris can come down, but I'd also love to see Steve Smith here and netting, so the youngster can see how he approaches his game with his famous drills. It would also be wonderful if Cheteshwar Pujara could also come and give us a masterclass."
The last word goes to Aldridge, without whom none of this would be possible. The founder of the FTSE 100 company Capita watched Stevens net with the pupils and said: "We have two academies in Sussex – here, and at Portslade, where I attended as a young man. This is all so great – I have always believed that cricket gives you resilience and leadership. Enrichment comes through activities like sport. It gives you skill for life: teamwork, determination and passion. It's all gone very well… but we still have a lot of work to do."
Cricket at Baca – 10 not out… but hunkering down for a long innings.
Please ensure all fields are completed before submitting your comment!