Ashes Chronicles - Part 11: England win Melbourne thriller but Australia exact revenge on Ian Botham in 1982/83
HUW TURBERVILL: There was an expectation England would do do well after the previous Ashes, with Botham in the side, and (vice-captain) David Gower and Allan Lamb. But Willis was getting older, and Beefy was no longer sylph-like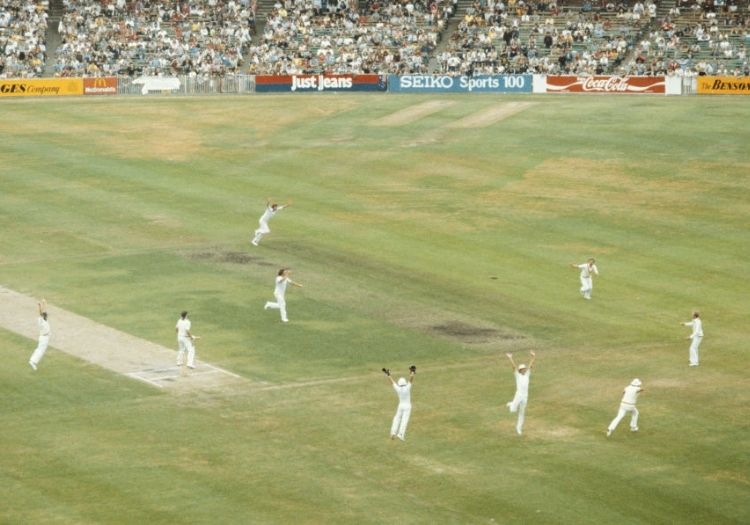 "Don't ever let anyone tell you Test cricket is dead – one-day matches are marvellous fun but in terms of satisfaction – for player and for spectator – comparing them with Tests is like comparing take-away chicken with a banquet."
Ian Botham was enthralled after the thrilling fourth Test of the 1982/83 Ashes, although his words quoted above could have been uttered today, 38 years later, as a plea for the five-day game to survive in the face of Twenty20's expansion.
That Test cricket still endures is because it has the tendency to produce closely fought, wildly fluctuating games like the one at Melbourne, where England, led by Bob Willis, squeezed home to keep alive their dreams of retaining the Ashes.
Fittingly it was the 250th Test between Australia and England, and Wisden said it "ranked among the best ever".
England were two down going to the MCG, and a low-scoring contest reached its conclusion on the fifth morning after both sides had endured sleepless nights. More than 18,000 spectators were admitted free of charge to see if Australia's final pairing, Allan Border and Jeff Thomson, could eke out the 37 runs needed.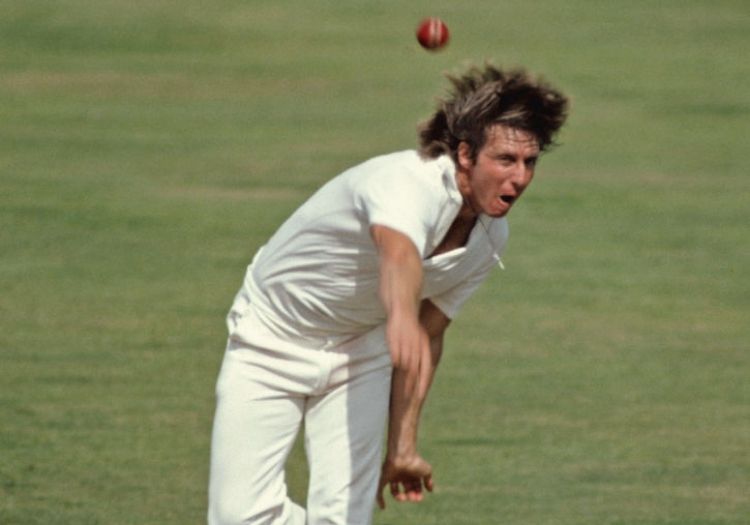 Jeff Thomson, pictured bowling in 1980, was batting alongside Allan Border at the MCG
A bugler played The Last Post as the hosts nudged and nurdled closer, although the duo declined 29 comfortable singles in the 70 minutes they were together. Willis's tactics were also criticised, and not all his players agreed with the decision to give Border singles in an effort to expose Thomson. Border had not had a prolific series by his own high standards, and Thomson was playing assuredly.
Drinks were taken with 14 needed. "Most of us felt so drained it was a struggle to get a glass to our lips," said Botham.
Like Edgbaston in 2005, the match went to the wire – four to win, three to tie. "It was becoming pretty desperate," Geoff Miller told me. "We kept bowling straight balls at Thommo, and he kept smacking them."
Geoff Cook was at short-leg. He said: "It was surreal. They were gradually getting nearer and nearer. We all agreed, 'Give the ball to Botham for one last surge'."
Willis told Botham: "Two runs to play with", as he instructed him to bowl the 18th over of the morning. "I was scared stiff for about the first time on a cricket pitch," wrote Botham. "If I didn't try to tempt [Thomson] and give myself a hope of a catch behind, he would almost certainly content himself just with defending a straight delivery.
"It was wider than I wanted, Jeff sensed it was there to hit, but his decisiveness seemed to fail him and a shot which had started out as a slash fell away into an unconvincing stab. It seemed that at the last second his nerve wavered."
Thomson's feet were locked in the crease and he played away from his body; he tried to pull the bat away, but a thick edge went straight to Chris Tavaré at second slip.
"Two or three had fallen short of the slip cordon," said Miller, who was standing at first slip, "so a couple of overs before the end, Bob Taylor said, 'Look, if we drop it, fair enough, but we need to go up closer to make sure it carries'' He went up a bit, Tav went up a bit, and I just went up a fraction."
The edge duly came. But the ball flew out of Tavaré's hands, like he was playing a game of Hot Potato. Thankfully for the tourists, it popped up gently to the alert Miller, who shifted to take the catch at knee height (header photo), giving Botham his 100th Test wicket against Australia. "It went over Tav's shoulder and dropped perfectly for me," said Miller. "I didn't even have to dive."
"Thomson came in and played a few slogs, and suddenly Border, being a master at farming the bowling, nearly got them there," said Tavaré. "He was in a spell where you thought he'd never get out. The big change was that what we got the new ball and Botham got the edge. We all stood close because it was a low wicket. It all happened too quickly, I knew the ball had gone up and I knew Miller would catch it. It was a relief."
Back in the dressing room, Botham pulled out a big cigar and asked: "OK – so who can take pressure"" He later wrote: "We were supposed to be second-rate, we were reckoned to be gutless… but we'd proved we were no pushovers."
Derek Pringle was on his first senior tour, and remembers how nervous he felt. "It was a real arse-nipper – it looked as if we'd win easily," he told me. "We just thought it was a matter of getting Thommo out. There had been some question marks about giving Border a single, as he'd not had a great series up until then. The match was pretty well-attended, and I was at third man, so I copped a lot of stick. 'Where do you keep your savings, under the soap?' they would shout. Just before we took the final wicket, I was getting lots of stick because it looked as if we were about to lose the series. The final ball looked a bit of a long-hop, but some say it was an outswinger. I started to run in off the boundary thinking I might have to catch it. As Miller caught it, I did something that I was not very proud of. I flicked a double V-sign at my critics, and was reprimanded by [tour manager] Doug Insole. Beefy hurtled off and I remember going over to hug him and he knocked me over."
Derek Pringle, pictured playing for Essex
The only closer Test previously was the tie between Australia and West Indies at Brisbane in 1960/61, while Australia had beaten England by the same margin – three runs – at Old Trafford in 1902.
"It was a thrilling moment," said Miller, "but what we had to take into consideration was that we were still 2-1 down and had to win the last Test at Sydney."
It all ended in glorious anti-climax, however. The tourists could not manage a second successive win, with a draw giving Australia the series. Considering how thrillingly England had held on to the Ashes at home in 1981, inspired by the brilliance of Botham and the captaincy of Mike Brearley, this was a great comedown. Yet they arrived with enormous hope.
"We were optimistic after 1981," said Miller. "We had some good players, but so had they – Australia were starting to build up a strong unit."
Cook was one of three inexperienced openers drafted in to cover for the notable top-order absentees, Graham Gooch, Geoffrey Boycott and Dennis Amiss, who had gone on the rebel tour to South Africa in the spring of 1982. "I was delighted, although I had not been playing well for Northamptonshire," he told me. "I had made a couple of fifties for England the summer before, but had then been left out, which didn't do much for my confidence. Australia were gaining strength: Dennis Lillee was back, Geoff Lawson was an emerging talent and their batting was good. But it was our absence of top-order experience that cost us."
Pringle told me: "There was an expectation we'd do well after the previous Ashes, with Botham in the side, and (vice-captain) David Gower and Allan Lamb. But Willis was getting older, and Beefy was no longer sylph-like. The press were revving me up as 'the next Botham', but that didn't worry me. The West Indies were the team you really wanted to beat because they were the best in the world, but it was still a great challenge to contest the Ashes in Australia."
England left London on October 3 on a Qantas QF2 flight to Brisbane, and Brearley came to the airport to wish them luck. It was a nice touch, but maybe they should have taken him with them – perhaps as a non-playing captain, like in golf's Ryder Cup, or as a coach.
The Australians were not in trepidation of the tourists' arrival, and Kim Hughes, the vice-captain, described England as 'Ian Botham and 10 others''
Botham also recalls what he described as the 'goading of the Poms' on television commercials, a campaign he branded "laughable and puerile". He took comfort from the presence of his wife and family, who were stationed in Sydney for the tour.
England started poorly, losing their opening match to Queensland by 171 runs, with centuries from Australia captain Greg Chappell and South African-born Kepler Wessels, who was poised to make a dramatic entrance to Test cricket, giving them a taste of things to come.
They also lost 16 of their 19 wickets against Western Australia to Test duo Lillee and Terry Alderman, before they sneaked home by one wicket.
"Bob Willis was a great morale-booster and dressing-room lecturer," said Botham, "but he was beginning to show the odd worry line."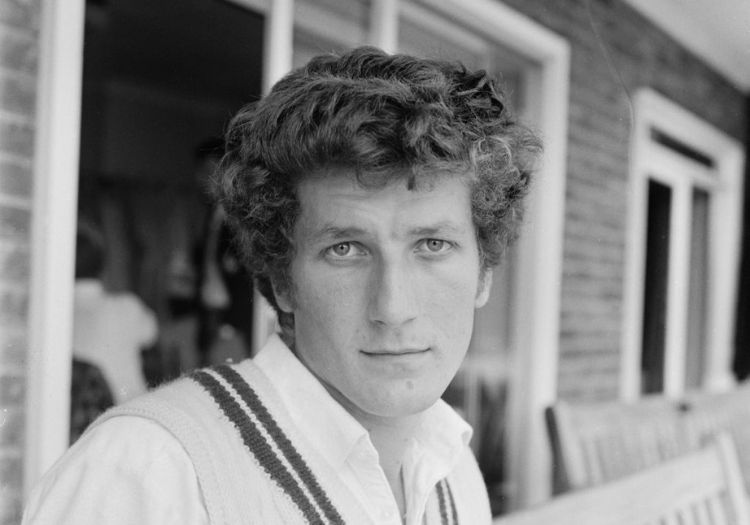 England captain Bob Willis
For once, the Test series did not begin in Brisbane but in Perth, and Botham had some advice for his team-mates, telling them not to react if Lillee started to 'play up'. The venue was where the Australian paceman had clashed with Javed Miandad the winter before and it visibly motivated him – as did the aluminium bat incident there against England three years earlier.
England started the series soundly enough, however, in a drawn match best remembered for a terrible injury suffered by Alderman. It was the second day and he had bowled 43 overs when he rugby-tackled a pitch invader and dislocated his shoulder.
"There had been a lot of talk about ex-pats going to the Test who still had allegiances with England," Pringle said. "It was during the drinks interval, and the invader tried to pinch Terry's sunhat, but he was a bit clumsy, and he clipped his head. I was keen on photography, and while all the official snappers were focusing down the pitch, I had my biggest lens on it, and captured the moment. Lillee also waded in, and I wondered if his knee also smashed into his shoulder. Alderman seemed in more agony after that."
Botham said the invaders had come from near a white caravan selling beer. One fan who approached Alderman was carrying a Union Jack, and the bowler punched him away; then another tapped him on the shoulder.
Fighting broke out on the terraces, and, while police stepped in, Chappell took his team off the field, even though Willis and the umpires wanted to stay on. "It was a very bad situation, but the cardinal rule is that players must not get involved with spectators," said Insole. Botham said the fighting was "a sickening and disgusting episode" fuelled by alcohol.
The players went off for 14 minutes and there were 26 arrests. "It was sad," said Cook, "even if you have to question the wisdom of him [Alderman] doing it." The incident ended his season.
Tavaré ground out 89 from 337 balls in England's 411 ("Boot him out," said Keith Miller), but Australia secured a small first-innings lead with Chappell hitting 117. Randall was annoyed that he had missed a century in the first innings with 78 ("I missed it, didn't I? I missed out," he said); but he made up for it with 115 in the second as England set the hosts 346 to win in 33 overs; they batted out time, ending on 73 for 2.
"There were some very good performances and some very moderate ones. Randall was the difference between a draw and an Australian victory," said Willis.
"I do find people teasing me rather boring, that's why I don't do interviews these days, so this is unusual!" Tavaré told me many years later. "I find it frustrating. Some people hated my approach. On the other hand cricket was different then. The draw was a possibility. Cricket was played as a much longer game."
"Perth was tough to bowl at," said Pringle. "If you bowled a decent line and length, the locals knew that they could just leave it and it would go over the top of the stumps. If you were forced to pitch up, however, they would just punch it past you, and anything short would be futile, as they are good cutters and pullers.
"Randall also did well against Western Australia, scoring 92 in the second innings. He was a good cutter and puller, and as the Australian fast bowlers were a bit macho, they kept bowling short at him.
"Lillee and Rod Marsh sledged him every ball. That appealed to him – he liked company in the middle. Keith Fletcher told us to ignore him when Essex faced Nottinghamshire and he hated that. I roomed with him a lot. I remember him waking me up, and moaning, 'I can't sleep'. Then he'd always say to me, 'Cup of tea, youth?'."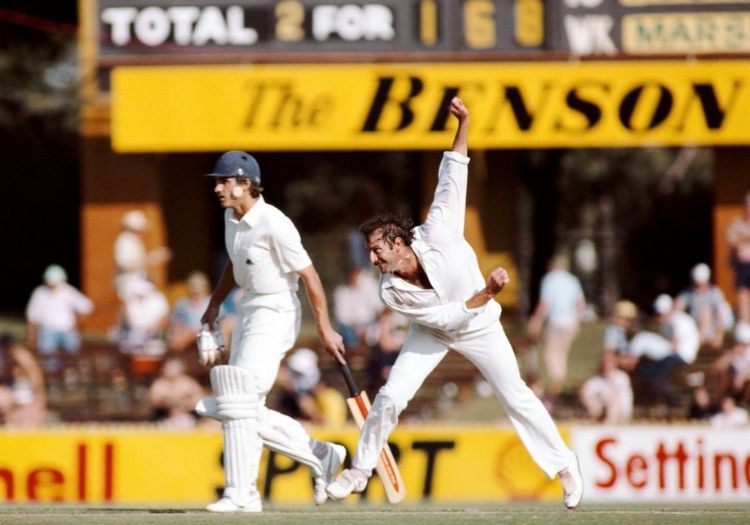 Dennis Lillee (right) and Chris Tavere (left) at the WACA
Lillee had taken six wickets at Perth, but England received a boost when he was ruled out of the second Test at Brisbane after having a knee operation in a Sydney hospital. He met reporters in Brisbane's Park Royal hotel and fumed: "To be told that you are finished has bugged me a heap. I'm sick and tired of it. Why don't people believe me when I say I want to carry on."
The whippy Carl Rackemann, from Queensland, came in for his debut, with Thomson replacing Alderman, to bowl alongside Lawson. "Australia will have three men who can bowl quickly, but they don't move the ball around as much as Lillee," predicted Willis, perhaps a little unwisely. Not only did Australia win by seven wickets, but Lawson became the first bowler to take 11 wickets in a Brisbane Test. To rub salt in, he had taken a university examination the day before the Test started. Wessels, the South African-born batsman, was called up, controversially, for his debut. He had played for Queensland since 1979, as well as running a newsagents (and had also spent five seasons with Sussex). He scored 162. He would play 24 Tests before becoming South Africa's first captain after their readmission to the international game.
England were sorry to see Graeme Wood go, with Botham remarking that he was "known to have the odd rush of blood to the head", while Wessels had "remarkable concentration". How right he was.
"There were lots of questions being asked about his selection," said Miller. "It was certainly not their normal policy. He was a very solid player, dour and organised."
Willis fought hard to keep England in the contest, taking 5 for 66 in the fierst innings. "He was in one of his super-charged moods when he won't hear of failure," said Botham. He "seemed reluctant to talk to anyone in the team".
Marsh took an Ashes record of six catches in the innings (and a joint record nine in the match), to pass 300 in Tests, while Australia took a record 19 catches in the match. Thomson took the remaining wickets, although he was at the centre of a row when umpire Robin Bailhache warned him for intimidatory bowling.
An unimpressed Chappell said: "Please, what are your guidelines for short-pitched bowling? It helps everybody if the system is clarified." After the Test, Bailhache retired.
The crowd had some fun at England's expense, sneaking a pig into the ground and releasing it on to the pitch. It had 'Botham' written on one side and 'Hemmings' (after England off-spinner Eddie) on the other.
Now trailing in the series, Willis made a big mistake in allowing Australia first use of a good pitch for the third Test at Adelaide that started nine days later. He had not learned from Peter May, in 1958/59, and Mike Denness, in 1974/75, who made the same mistake at the same ground, and the hosts took advantage again, winning by eight wickets.
Botham was one of the senior players who persuaded Willis to bowl. "My own experience of Adelaide suggested that any life in the wicket would be in the opening session and as we were behind in the series I reckoned we had to attack," he said. The local papers dubbed Willis 'Father Christmas', although Botham believed Chappell was going to ask England to bat.
"Willis was talked out of batting by the batsmen," said Pringle. "They didn't fancy batting against Lawson." Botham wrote: "There was an arrogance about Chappell's approach which I felt he was injecting into the rest of the team, something I've seen before, notably in the West Indies; and I began to worry that the Australians were edging ahead of us in self-belief."
Pringle recalled fretting in this Test: "I turned to Miller and said, 'When am I going to get a wicket, and if I am, when? And how?' Then AB [Border] nicked one, and I dismissed Marsh in the same way too. It was a very flat pitch. On the tour we had to attend about three cocktail parties a week and I talked to Alec Bedser [on yet another Ashes tour]. He was still a selector. "You can't run up and just bowl here, you have to hold the ball across the seam," he advised me. "The pavilion was side-on there, and I remember marvelling at how quickly Lawson was getting it through. He was magnificent."
Botham spent the rest day with Chappell, Marsh and Lillee on a helicopter trip to the winery at Yalumba, in the Barossa Valley.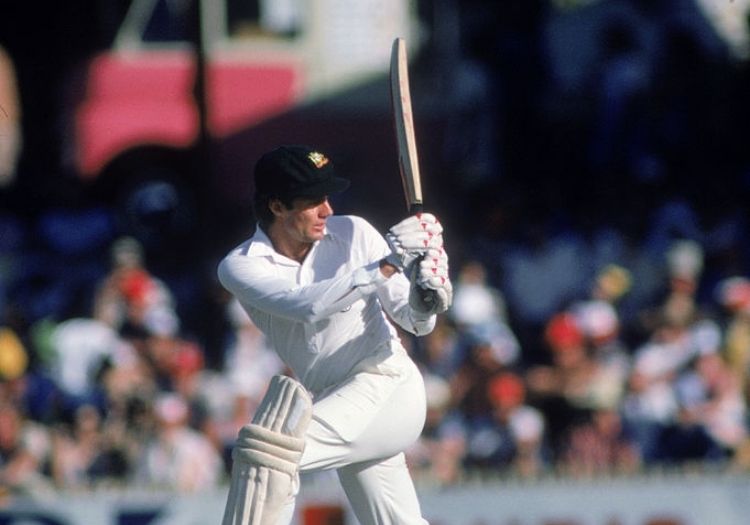 Australia captain Greg Chappell
He went swimming, but was annoyed to have his photo taken. "Some people seem to be obsessed by my weight," he remarked. But the rest did little to help, as Australia won by eight wickets to go 2-0 up. "We played really poorly at Adelaide," said Miller.
England regrouped in Tasmania, knowing that a win at Melbourne would still give them a chance of retaining the Ashes.
England beat Tasmania in a three-day game by six wickets, but lost the one-day game against them at Launceston. They also suffered some collateral damage, Michael Holding bowling a ball that ripped into Randall's face, forcing him to miss the Test.
The tourists returned to the mainland for Christmas, with Robin Jackman in charge of nominating costumes for the traditional party. Willis went as Napoleon, although England hoped the MCG Test was not going to be their Waterloo.
"John Lever and I created the Christmas Club in Pakistan a few winters before," said Miller. "We wanted to make sure people were together at Christmas rather than being billeted out to different places."
England made 284 the next day, with Tavaré top-scoring with 89. He had become a target for the Australian wags by now and when he took a three to third man, a banner read: 'Hey Tavaré, what's the rush?' Lamb faced considerably fewer balls for his 83, although he only hit 13 fours to Tavaré's 15. Hughes then made a pretty stolid 66 as Australia surpassed England's total by only three runs.
England reached 294 in their second innings, Graeme Fowler making 65, with the remarkably consistent Lawson finishing with figures of 4 for 66. Gower was the victim of a bad decision, being given out caught behind, and England feared it might be costly.
As revealed earlier, though, the hosts came up just short, making 288, with Border running out of partners on 62. Norman Cowans finally came good, taking 6 for 77, while substitute fielder Ian Gould, the Sussex wicketkeeper, was involved in a key moment, catching Chappell for two (he made a duck in the first innings). Gould had been "one of the characters of the tour who had kept spirits high," wrote Botham, who said the catch was 'the high spot of the tour'.
For the first time in a Test, a huge video scoreboard was in operation at the MCG, although not everyone was universally thrilled with the innovation, Willis remarking that when he wanted to know the score, sometimes he would instead be looking at a car or meat pie.
"We had a celebration, but we didn't go completely crackers, in the knowledge there was another game to play," said Miller.
Willis tried to put pressure on Australia again before the series finale, saying: "We have seen Australia collapse under pressure before and if we can get them in that situation again, I'm sure we can win this Test."
Chappell was having none of it, though, and snapped back: "We've been the better side in this series – they have been the ones who have folded more times than us."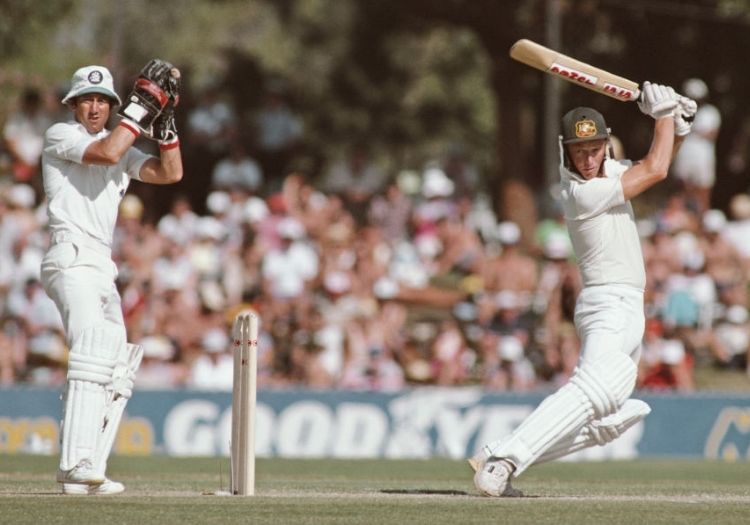 Australia's Kim Hughes (batting) was the leading run-scorer
England's preparations for the final Test were disrupted by an unhelpful story in an Australian newspaper about an alleged altercation between a player from either side in Pier One Tavern in Sydney on New Year's Eve. The Sun then named the players as Rodney Hogg and Botham. "I was staggered; apart from wishing Hogg a Happy New Year before midnight, I hadn't seen him all evening," said Botham, who, at the time, wrote a column for that newspaper. "I didn't appreciate the publicity – it put a cloud over my mental build-up to this final Test."
England's hopes of squaring the series appeared dashed when they could manage only 237 in reply to Australia's 314. However, they felt there was still a chance if they could restrict the hosts to a lead of under 300. Instead, they made 382 and all hope had vanished.
England had gone into the match with two spinners because the SCG traditionally favours slow bowlers. Miller bowled 49.3 overs and Hemmings 47 in the second innings, but they took only three wickets each, while Botham and Willis sent down only 10 overs each, despite the former taking four wickets in the first innings. "Some of the thinking was a bit regimented" said Pringle. "We had played the second spinner, so we had to bowl him a lot, that sort of thing. Fletcher had been captain in India the winter before, but he was sacked by chairman of selectors Peter May because of England's slow over-rates on that tour, and because he used his bat to cuff the stumps at Bangalore."
Botham said: "Neither Hemmings nor Miller could dominate batting of such quality – they both bowled too short."
Miller admitted: "Eddie and I did all the bowling, but I think we did too much. The seamers should have bowled more. It was turning a fraction, but they played us well although we felt we had Hughes caught bat-pad by Cook off my bowling when he was in single figures." He went on to score 137.
Australia still thought there was a danger England could get close to their target of 460, and Hughes warned his team not to underestimate Botham. Instead it was an extraordinary innings of 95 from nightwatchman Hemmings, who had gone in at No.3, that helped to 314 for 7 and a draw.
"Australia never really deserved victory in that Test for their rather negative approach," said Botham, but he praised Chappell's leadership in the series as "substantial" and his batting as "stunning".
The match, series and Ashes won, Chappell unveiled a silver cup which had been given to him by an Australian fan. It was said to contain the ashes of one of the bails used in the match – a protest at the continuing decision to keep the actual urn under lock and key at Lord's, a situation that remains to this day. "Who said the Ashes never come back to Australia?" said Chappell, but the idea did not catch on.
Willis had put so much into the campaign, his fourth and final one in Australia, and he was bitterly disappointed. "The spirit in the changing room was always good, but tactically I would question him," said Miller. "That's not a big statement, though, because a lot of people were not as sharp as Brearley as captain."
Botham, writing in 1983, said: "When Bob was appointed the selectors knew that they weren't getting a master tactician like Brearley, so I feel no one should be disappointed on that score. Bob's greatest triumph on a long and difficult tour was that he kept the party in harmony even when results weren't good."
Botham was fined £200 for inadvertently revealing England's unhappiness with a number of umpiring decisions when the team had agreed to hide their frustrations. "It was so bad at times," he said, "that you felt we had to get 14 wickets of their wickets and they had to get only seven of ours." However, Pringle said: "The better side won 2-1 – there was no great shame in that. The Kookaburra ball also didn't swing so much for us. Willis bowled pretty well, taking 18 wickets at 28 apiece, but Beefy took 18 at 40."
Hughes, David Hookes, Chappell, Wessels and Border all averaged between 43 and 67, while England had only three batsmen average 40-plus – Randall, Gower and Lamb. Lawson was also easily the bowler of the series, taking 34 wickets at 20 apiece. Thomson took 22 wickets at a measly 18, while offie Bruce Yardley also took 22, albeit at an average of 36.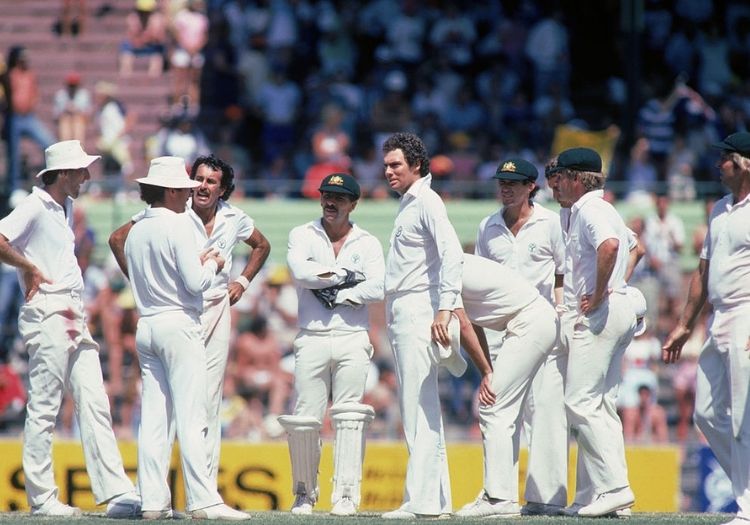 Australia's team during the fifth Test
"We were just short of a little experience and did not have the same unity that we had in India," said Cook. "Being in India forges team spirit, but in Australia there is more to do, so you break off from each other, and families come out for longer periods.
"You find out a lot about yourself in Australia. I was not particularly confident, although the lessons I learnt benefited me. The huge stadiums, and playing in front of massive crowds that could become very aggressive – it was quite daunting. You could either feel 10 foot or two foot tall – it was self-evident which one I felt."
Pringle retains good memories of the tour, but remembers it becoming pretty wild at times. "Beefy took me and Foxy Fowler under his wing, which Willis despaired about a bit. Beefy went slightly off the rails, went quite wild with Chris 'Crash' Lander of the Daily Mirror, and photographer Graham Morris. They would drink big jugs of whisky and ice cream. I'd just left university. I was a simple beer man, I'd tried a bit of wine, but drinking those came as a bit of a shock.
"Because we lost, The Sun started talking about the off-field stuff a bit. There was a team meeting about imposing a midnight curfew, but the one who spoke out most vociferously was Randall, which is ironic, as he was certainly not one of the offenders, but he said, 'Nobody's telling me when to go to bed'. There were lots of distractions on the tour. The winter of 1985/86 in the West Indies became known as the 'Sex, drugs and Rock 'n' Roll' tour, but this one was pretty wild…"
"I found touring hard," said Tavaré. "All the tours I went on, we were 1-0 down and that made it hard. It's not often that sides come back and win from then."
England had to pick themselves up in time for the one-day triangular World Series, however, which had been expanded to a mammoth 15 games in first round.
The marketing lessons from the Kerry Packer experience had not been forgotten, and Botham recalled a television promotion that featured Nugget, an Australian bushman. 'There's more than one way to dong a whingeing Pom,' it said. 'You can hide their wallet under the soap... or whip their socks off 'em at cricket. And that's exactly what Australia's going to do to England in the big Benson & Hedges World Series Cup. Flaming hell, it's going to be the hottest cricket in a hundred summers.' Botham suggested Lord's should "take a closer look at Packer's marketing techniques". They did not.
The campaign did not go well for England, despite three hundreds from Gower against New Zealand. They won just four of their 10 matches, and failed to qualify for the finals, in which Australia beat New Zealand 2-0.
"I played at one at Melbourne," said Pringle. "There were 85,000 at the MCG; we batted, scored 213, which we thought was pretty good. People believe pinch-hitting is a relatively modern innovation, but openers John Dyson and Border smashed it everywhere [making 54 each]. You wouldn't believe the noise! You felt the percussive elements in your guts. The Coliseum is not as big, but it must have felt like that. I couldn't think straight. I certainly couldn't hear Willis trying to change the field.
"We didn't make the final and Willis was upset. We were told to have a week off (before we went to New Zealand for an ODI series). Gower went to the Hayman Islands to have a look at the Great Barrier Reef. Cook, Fowler and I paid 10 dollars to stay in a wooden hut in the Blue Mountains of New South Wales; we wandered round the forests – we could have got lost or eaten! Most people just stayed in the same hotels they had been in all winter, though – it was pretty unimaginative!"
Gower said: "I learned to scuba-dive and swim with fish off the reef. I can almost say that I was glad we hadn't made it to the finals."
The one-day failure provided an unsatisfactory end to an unsatisfactory tour of Australia, with Botham declaring: "I still feel that I owe the Australians a big performance or two."
And lo and behold it arrived at Brisbane four winters later.
Our coverage of the Ashes is brought to you in association with Cricket 22.
RELATED STORIES
Ashes Chronicles - Part 1: The hastily arranged tour of 1946/47
Ashes Chronicles – Part 2: Bedser carries struggling England as Close has a nightmare in 1950/51
Ashes Chronicles – Part 3: Typhoon Tyson blows Australia away in 1954/55
Ashes Chronicles – Part 4: England find series a drag in 1958/59
Ashes Chronicles – Part 5: Illy blasts 'The Sussex Tour' – 1962/63
Ashes Chronicles – Part 6: Air travel spooks England in 1965/66
Ashes Chronicles – Part 7: Illingworth shows bottle at Sydney in 1970/71
Ashes Chronicles - Part 8: Denness encounters Lillee-Thomson firestorm in 1974/75
Ashes Chronicles - Part 9: Packer defections allow Brearley to call the shots in 1978/79
Ashes Chronicles - Part 10: England forced into swift return to face Lillee's heavy metal
Please ensure all fields are completed before submitting your comment!