Benny Howell: I just want to play cricket in 2021
The Gloucestershire all-rounder on his 13-month absence from the game, playing in the Big Bash and hopes for this season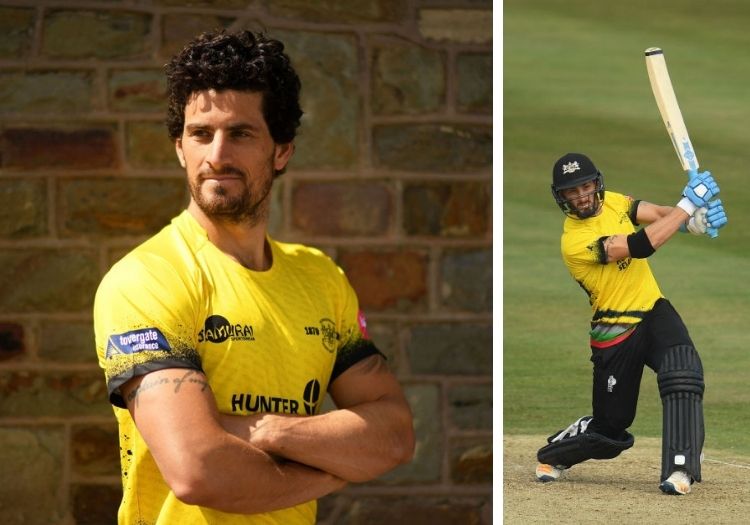 In mid-August 2019, Benny Howell tore his right hamstring eight centimetres from the bone during a Vitality Blast match against Surrey. The Gloucestershire all-rounder left the Oval in physical and emotional pain; his season was over and with it, his ticket to play for Melbourne Renegades in the Big Bash.
However, what he didn't know is he would be away from competitive action for thirteen months. A season-ending injury escalating into every sportsman's worst nightmare.
"Normally it's three to six months [out] depending on how well you recover," Howell reflects. "I thought I was going really well after three months, I was back to almost full sprinting speed, and suddenly I had a regression and couldn't move my leg for a while.
"The tendon was aggravated so my hamstring muscle wasn't activating when I was doing my rehab so when they scanned me, it wasn't getting stronger even though I was doing things with the physio that made it look like I was coming back to full fitness.
"The physio was amazed. My other muscles were taking over so even though my hamstring wasn't working, I was getting up to full speed by overworking everything else. [My other muscles] then started to become incredibly sore after three months and the fact my hamstring wasn't better wasn't a good sign."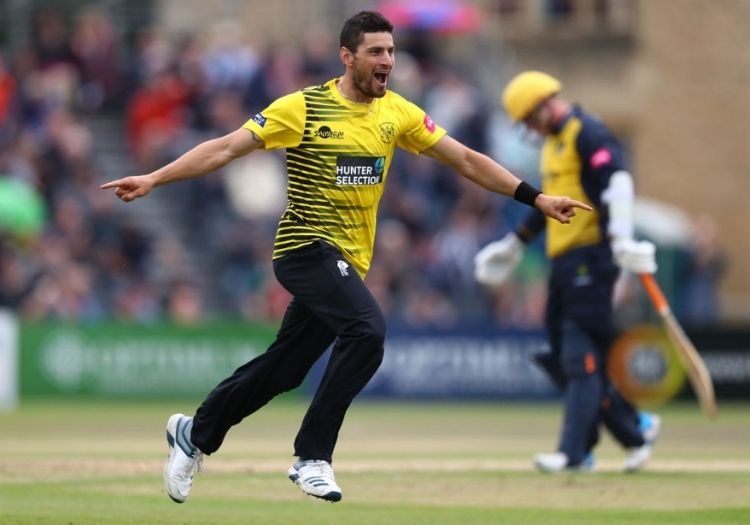 Howell celebrates dismissing Dan Douthwaite in the 2019 T20 Blast, one of his 116 wickets in the competition to date
With hamstring tears near the tendon, recovery is slowed by the poor blood supply to the muscle. Requiring a new strategy, blood plasma from Howell's arm was injected into his hamstring to encourage the muscle to activate and the results were promising – until he suffered another setback nine months into his rehab.
"I thought I was ready to go and tore a tendon in my left calf, probably because I'd been overusing my left leg," he remembers. "I was out for another two or three months and missed the first half of the season."
During his struggle with injury, the country went in lockdown. As someone who's been open about his battles with ADHD, being deprived of cricket and the ability to find solace in physical activity was tough. However, he relished the opportunity to spend more time with his two-year old son and found new avenues for expression through writing.
"I was distracted by my son," Howell says. "My wife works from home, so I was looking after him most days and with the nice weather, I was outside with him letting him run round and be a kid. It was a blessing in disguise not having to go and train because I could spend more time with him. I loved that.
"I got into writing too – I did a few articles for The Telegraph and one or two for The Cricketer. That helped me reflect naturally and get my thoughts down on paper. It's something I might pursue when my career's done or even during it, but we'll see how that goes."
However, despite the distractions, the cricket ball-sized hole in his life remained. "I missed cricket a lot. Even when I'm not training, I love going to the local nets or the park and doing something cricket related," Howell continues. "I bring my bag of balls along and work on random deliveries, it's something I love to do.
"That was the hardest part, the physical side. I'm a very active person, I don't like to sit still. I'm always trying to find ways to physically exert myself and get a sweat on, and when my hamstring wasn't working it was quite hard to do that. It was one of those things where I'd just tick it off day by day. It was tough but writing and getting my thoughts down put things in perspective."
Fortunately, his return to cricket, unlike the end of Covid restrictions, wasn't too far away. On September 13, Howell pulled on Gloucestershire yellow, dusted off his bat and dispatched eight balls over the boundary on his way to an unbeaten 49 off 18 deliveries against Somerset. Dismissing Lewis Gregory in the reverse innings: the icing on the cake.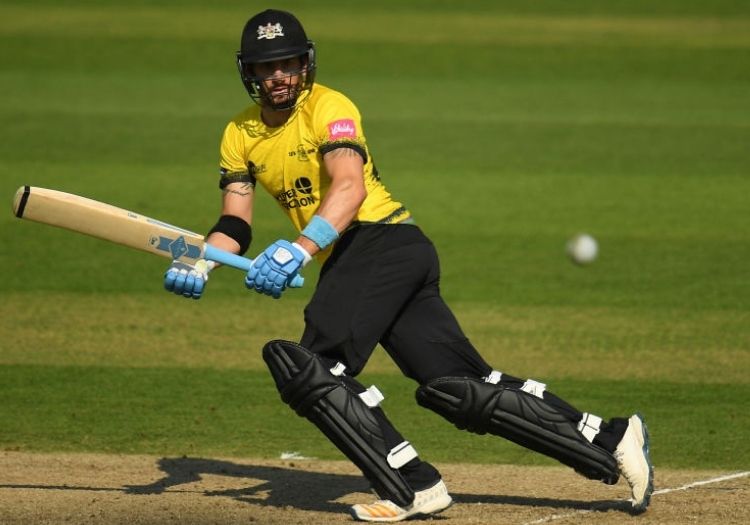 Benny Howell wielding his Woodstock wand for Gloucestershire on his way to 49 not out against Somerset in his first match back from injury
Over the next three matches, he scored 26 runs and took five wickets, including a player of the match-winning 3-16 against Northhamptonshire in the quarter-finals, to help Gloucestershire reached Finals Day for the first time since 2007. Rain reduced their semi-final against Surrey to 11-overs per side and despite contributing a 12-ball 21 to Gloucestershire's 73-run total, it was too small of a target to defend.
But for Howell, just returning to the middle against Somerset was a victory in itself. "Normally I get nervous before a game, but I couldn't wait, I was just eager to get out there," he admits. "It was different having no crowds, but I didn't care, I just wanted to play the game.
"To beat Somerset and do well with the bat was great. But just being back with the team who I hadn't been around for a year was amazing, it's the camaraderie with the team you miss as well as the competitive nature of matches."
Five matches back from injury, Howell was hungry for more and relocated to Melbourne to play club cricket for Buckley Ridges CC with Gloucestershire opener, Ian Cockbain. And it was a good decision too, as his former team mate Michael Klinger – the head coach of Melbourne Renegades – made an exciting offer: two matches in the Big Bash as cover for quarantining internationals Mohammad Nabi and Noor Ahmad.
"I missed cricket a lot. Even when I'm not training, I love going to the local nets or the park and doing something cricket related. I bring my bag of balls along and work on random deliveries, it's something I love to do"
Trading Buckley blue for Renegades red, Howell made his debut against Perth Scorchers, taking a mid-wicket catch to dismiss Josh Inglis and conceding an economical 14 runs from his three overs to open his BBL account with a win. The following day Sydney Sixers skittled the Melbourne side for 60 – the first of three sub-100 scores recorded by Renegades in BBL 10 – and Howell's 48-hour Big Bash whirlwind was over: "They needed me for two games and then pretty much lost every game after that!" he quips.
The plan was for him to return to the squad when play moved to Melbourne but given the side's position in the tournament, Klinger opted to give his young guns a run out – a decision Howell completely supports.
"Given they were out of the competition, they decided to play their local youngsters and I can see why," he says. "It would have been nice to play more but I'm grateful to have played two games. It was nice to play for Renegades, I had all the kit, and I was part of the squad. It was a very strange experience with the Covid procedures, but it was great."
The strategy wasn't entirely flawed; Renegades won three of their final six matches and youngsters Jake Fraser-McGurk, Zak Evans, MacKenzie Harvey and Peter Hatzoglou all enjoyed moments in the headlines. However, from his position as a spectator, Howell believes inexperience, and pursuit of Bash Boost points, harmed Renegades.
"The first time we got bowled out against Sixers, we were chasing the 10-over point because we were so far behind," he says, honestly. "We could have trudged to 150, 160 and it would've been a different story, but the Bash Boost point contributed to the low scores as we were going for it in ten and when you do that, you lose wickets.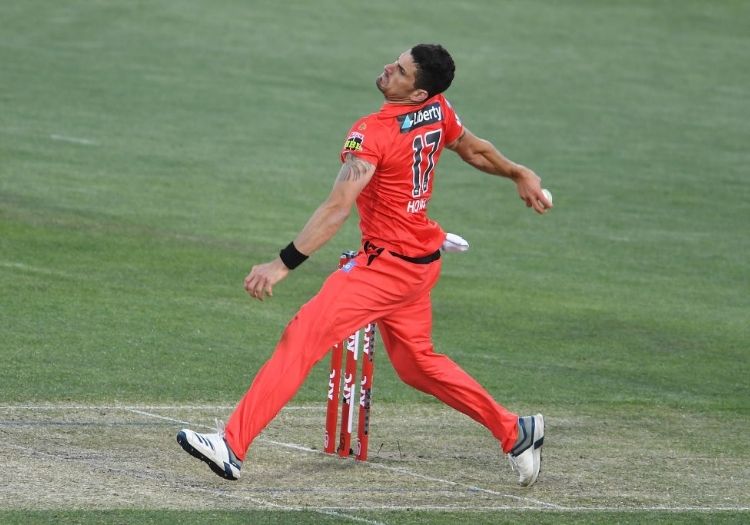 Howell bowls for Melbourne Renegades against Sydney Sixers
"There were some matches we lost which I feel we could have won and that was due to a lack of experience in personnel, in terms of bowling mostly. A couple of the middle-order batters , too, were young, exciting players but not as experienced as the Sixers or Scorchers.
"Injuries didn't help either, so they didn't really get the rub of the green."
On the subject of the Bash Boost point, Howell has mixed feelings about the tournament's new rules: "I like the two over Power Surge. I bowled an over [in a match] and a couple in practice and they're bloody hard to bowl in because the ball's not doing anything, and you've got two set batters and only two men allowed out. It was tough and tactically there's a lot to talk about.
"I'm not sure the 10-over point [Bash Boost] will come in much and I'm not convinced about the super sub [X-Factor] either. But the power surge is something to be looked at, it changed the dynamics of the game.
"But I'm not sure we'll see them in the Blast, they're already upsetting a few people with The Hundred!" he adds, cheekily.
Howell has another couple of weeks with in Australia with Buckley, for whom he scored an 18-ball 41 at the end of January, before returning to England ahead of the 2021 season. With Gloucestershire, his targets are ambitious – a return to Finals Day and developing their reputation as a red-ball side – but his personal goal is far simpler.
"For me personally, I just want to play in 2021," he says. "For the team, we want to get to Finals Day in the Blast, that would be great. Ideally to win it, or to get to the final and give ourselves a good chance of winning.
"On paper, our name is not like Surrey or Notts, but we back ourselves in T20 to beat any team. We should get credit now because we've reached a lot of quarter-finals and now Finals Day.
"And we want to prove ourselves as a four-day side which is something we haven't done yet, even though we got promoted in 2019. This year is a different competition, but the boys are working really hard and we can show we're bigger than a lot of people give us credit for."
Howell, himself, has played a huge role in Gloucestershire's white-ball resurgence. Over the last five season's he's taken 74 wickets and bowled with an economy of 6.95 in 50 Blast appearances. His 116 career wickets places him 19th on the all-time list for the tournament and from the top 25 wicket-takers, only Jeetan Patel can better his 7.08 career economy.
It's these stats which saw him drafted by Birmingham Phoenix for the inaugural edition of The Hundred, a competition Howell – unlike certain factions within the cricket community – is looking forward to.
"It's very exciting [to be involved]" he enthuses. "It'll be interesting with the different rules but for me, it's like a T20; it's the same skills.
"Hopefully, we'll be able to get crowds in by then but the way they're saying they're going to market it and get it on terrestrial TV is great. Time will tell but my thoughts are it'll be a really exciting competition."
Calling Edgbaston home over the summer holidays, Howell and Gloucestershire team mate Miles Hammond will be part of a star-studded squad which includes England internationals Moeen Ali, Chris Woakes, Dom Sibley and Liam Livingstone, New Zealand captain Kane Williamson, and Australia and Melbourne Stars spinner Adam Zampa.
VISIT THE HUNDRED HUB
And it's the latter who Howell, a self-described fast-spinner with an array of balls in his arsenal, is most excited to team up with.
"I can't wait [to play with Zampa]!" he says. "He looks like an interesting character, he's probably right up my street. He likes his coffee and stuff, and he's got all these little quirks. I like that so it'll be cool to chat to him.
"I've been working on a lot of leg spins in Australia at the minute, so it'll be cool to talk to him about how he goes about it. I'm definitely excited about that."
And, if they can put aside their Melbourne rivalry, Howell and Zampa could be the standout duo this summer.
This article was written in association with Woodstock Cricket. For more information about equipment or sponsorship, visit www.woodstockcricket.co.uk
Please ensure all fields are completed before submitting your comment!