WORLD CUP MOMENTS No.23: South Africa misery continues after DLS blunder
Four years on from the most disastrous of World Cup exits, the demons returned in a rain-affected tie with Sri Lanka in Durban in 2003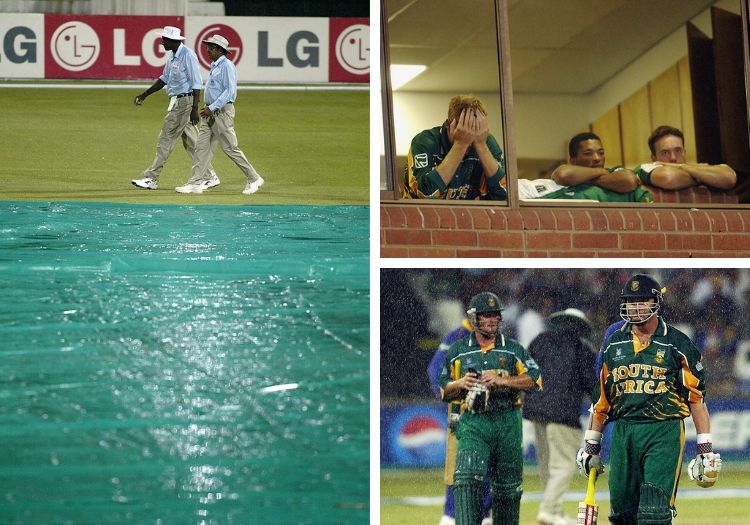 "He who hesitates is lost," was how Bob Woolmer described South Africa's demise at Edgbaston in 1999, when Allan Donald failed to set-off on what should have been match-clinched a run against Australia. The seamer and many of his teammates were left in tears following the near-miss, knowing a maiden World Cup final place had slipped through their grasp.
In 1992, rain had left the Proteas requiring 22 from one ball in their laughable semi-final against England when they were scythed down by the rain rule. To calamitously miss out on one World Cup final could be considered to be unfortunate, two complacent, but three and you wonder whether the Rainbow Nation have been cursed, and are destined to never grace cricket's greatest showcase. Granted, this particular failure would come at the first hurdle, but it was no less humiliating.
Having avoided holders Australia, India and Pakistan in the pool stage, the platform was laid for South Africa to re-write the history books and win a world title on home soil - just like their rugby-playing compatriots had done to such acclaim eight years earlier.
Wins over Kenya, Bangladesh and Canada were punctuated by defeat to surprise-package New Zealand on Duckworth-Lewis - a system which would come back to haunt them when they faced Sri Lanka in what was a virtual qualifier for the Super Six stage.
Incompleted matches had already dominated much of the tournament thus far, with political issues and inclement weather contributing to a stop-start event. Therefore, such variables meant being a flexible team able to play to a unique situation was critical. It was a trait South Africa failed to exude.
Sri Lanka had already secured a Super Six place and could play with a degree of freedom, and that showed as they put on 268 for 9 from their 50 overs. Marvan Atapattu soared to a fine 124 from 129 balls, with Aravinda de Silva's half-century rubbing salt in the wound.
Match-ending rain had been predicted for much of the game but with neither team sure about its timing it was vital they remained grounded. South Africa were reduced to 149 for 5 thanks to Sanath Jayasuriya and De Silva, leaving their target as a distant dream. However, Mark Boucher and captain Shaun Pollock sparked a revival and put on 63 for the sixth wicket before the latter was run-out by Muttiah Muralitharan.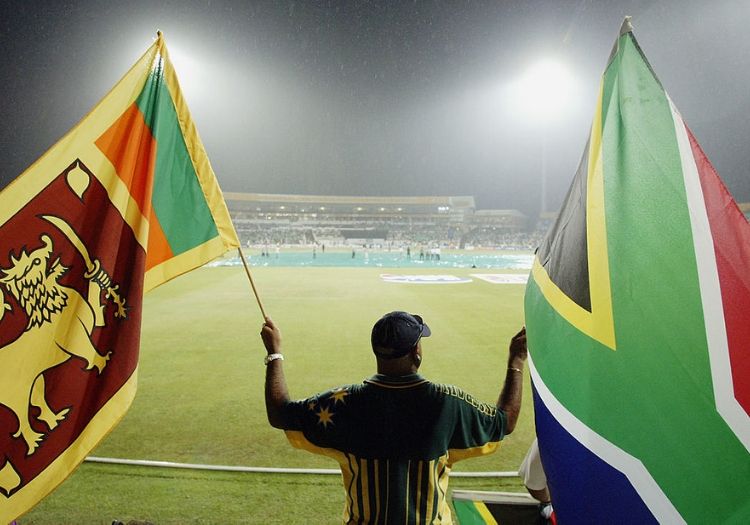 South Africa's fanbase bore witness to another World Cup calamity
Hope was ebbing away but Boucher brought it back with spectacular innings, striking Murali down the ground for a mountainous six over deep midwicket. The massive blow took South Africa to 229 for 6, and just a run short of the DLS target after 45 overs, with one ball still to come. By now, the rain had been tumbling for some time and was becoming persistent as Murali prepared to bowl the final delivery of the over, and surely of the match.
Boucher had already been told that 229 would be enough to secure the much-needed win, meaning they dare not lose another wicket before the end of the 45th over. South Africa were aware of the miscommunication and even tried to get Nicky Boje onto the field to make the batsman aware that another single was required. But when Steve Bucknor ushered him away, South Africa's fate was sealed. A clip to mid-off from Boucher naturally followed and there was no run. clipped the ball to mid-off and there was no run.
The approach confused those in the commentary box, who were even second-guessing the DLS cribsheet. It very quickly emerged that as the heavens continued to open, South Africa had got their maths wrong and contributed to their exit from their own World Cup.
Pollock's disappointment was palpable
The sight of Pollock in the dressing room in various stages of despair is another that lives in the annals of South Africa's cricketing history. The glum faces could easily have been lifted directly from Birmingham four years ago and dropped into Kingsmead. It had happened again.
Having been part of the match which triggered the implementation of DLS, there was some wicked irony to South Africa then not implementing the system effectively. Though blame was never actually attributed to any individual, Pollock was relieved of the captaincy less than a fortnight after the game and replaced by Graeme Smith while coach Eric Simons was retained for another year.
Despite being provided with the wrong information, some felt that Boucher was guilty of not assessing the situation himself even if he was not as well-placed as those in the dressing room. DLS even came under-fire as South Africa attempted to remove themselves from another disaster.
But there was little doubting that once again South Africa had contributed to their own downfall. They would merely be spectators when Australia beat India in the final in Johannesburg. Granted, they may not have been good enough to match the Baggie Green that day but the sad thing remains that they didn't even have the chance to try.
Our coverage of the ICC Cricket World Cup 2019 is brought to you in association with Cricket 19, the official video game of the Ashes. Pre-order your copy now at Amazon.co.uk
Please ensure all fields are completed before submitting your comment!