WORLD CUP MOMENTS NO.15: Martin Crowe enters Hall of Fame
As Kane Williamson drilled one final maximum over the ropes to secure the most thrilling of victories, it was - perhaps - the most fitting tribute that a country could have paid to Crowe, its greatest ever batsman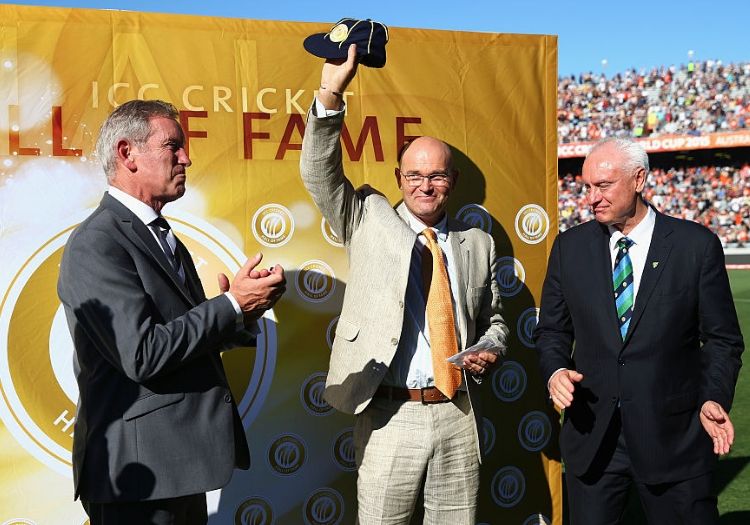 Martin Crowe: a great of the game. Dignified, well-respected, a giant of New Zealand cricket.
By the end of February 2015, the former Black Caps skipper had already long-since indicated that the lymphoma he had fought so bravely would mean his days were numbered.
Thus, as he was presented to the Eden Park crowd at the midway point of one of the greatest games in World Cup history, it was absolutely certain to become a moment observed by everyone, forgotten by nobody.
Dressed in his beige suit, he appeared on the same hallowed turf upon which he had made his international debut in 1982 to become a fully-fledged member of the ICC's Hall of Fame. There can have been few more deserving, and even fewer whose coronations came with such poignancy.
New Zealand had just bowled Australia out for 151. Barely a couple of hours later, Australia would take out nine of Brendon McCullum's daredevil lineup. Mitchell Starc was a man possessed, but Kane Williamson was the calmest mind in a stadium permanently confined to the edge of its seat.
And as Williamson - the heir to McCullum's throne - thwacked one final maximum over the ropes to secure the most thrilling of victories, it was - perhaps - the most fitting tribute that a country could have paid to Crowe, its greatest ever batsman.
If McCullum's handing of the baton to Williamson was a moment of physical change - the responsibility of captaining a nation being passed onto new shoulders, then Williamson's knock was worth something less tangible, but equally significant.
It was an innings in the mould of Crowe and his 4,704 runs. The New Zealand side of 2015 was, too, one in the mould of the great man - innovative, different, aggressive. Dipak Patel had opened the bowling in Crowe's 1992 World Cup side with his off-spin, a novel concept now routinely utilised. He was a creative like McCullum was a creative, but an elegant stroke-maker like Williamson is an elegant stroke-maker.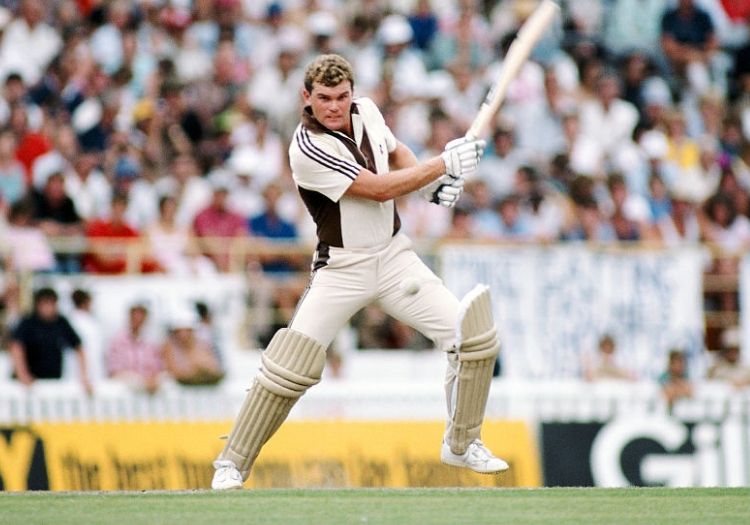 Crowe scored 5,444 runs in Test cricket at an average of 45.36.
And like so many New Zealanders - not least in that class of 2015, Crowe was deeply humble; a man grateful for what the game of cricket gave him rather than expecting thanks for all that he gave the game.
"Since I was eight years old, I was always reading and hearing about the great players who inspired the world over," Crowe recalled on his induction. "In that, I have to thank my father Dave, for his mentoring and encouragement to my brother Jeff and I to play a game that he said of all sports 'mirrored life itself'.
"I loved the story of how an English coach had told Dad that he would never a make Test cricketer. Thirty years later, he was able to nudge the same coach and reply, "You were right, I never made a Test cricketer, I made two!"
His brother, Jeff, would go on to become an ICC match referee. Martin, meanwhile, followed Sir Richard Hadlee and Debbie Hockley as New Zealand's third ever entrant into the Hall of Fame.
"Thank you to the ICC, and the voting members," he added. "Thank you to every teammate, coach and manager - you made it a wonderful journey. Mostly, thank you to all the fans and supporters across the world, especially here in New Zealand, who came to watch and cheer.
"It's so fitting that this induction should be at Eden Park, a home where I made my international debut back in 1982, and where my parents came to watch for nearly 40 years together.
"I'm deeply moved, and will remember this day for the rest of my life."
So too will those who were there to witness it.
Our coverage of the ICC Cricket World Cup 2019 is brought to you in association with Cricket 19, the official video game of the Ashes. Pre-order your copy now at Amazon.co.uk
Please ensure all fields are completed before submitting your comment!