WORLD CUP MOMENTS - NO.48: 1975, Prudential Cup and how The Cricketer played a part
JAMES COYNE: One of the landmark moments in the sport's history saw England play host to the first ICC showcase in which the West Indies and Australia contested the final at Lord's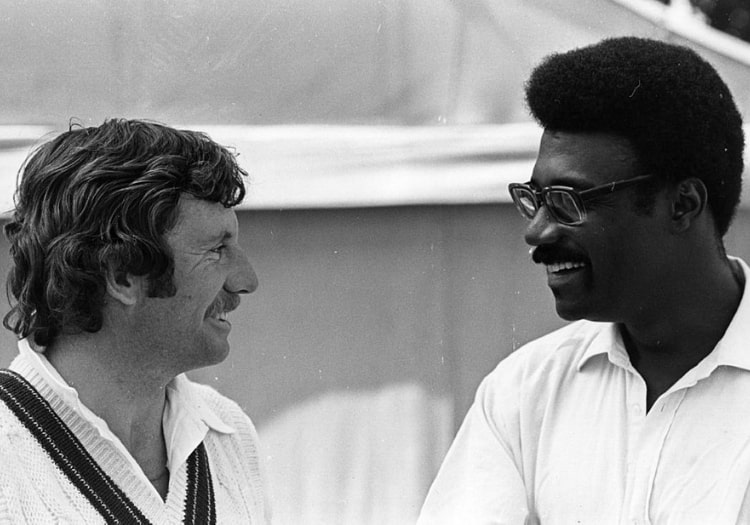 The great Tony Cozier later regarded as hyperbole his judgement that the first World Cup was "perhaps the boldest and most ambitious innovation the game has known since the legislation of overarm bowling".
But it was unquestionably an innovation which changed the sport, perhaps in ways even the astute Cozier could not have foreseen. Set aside the playing side of it; the entire finances of world cricket have been built on the four-year World Cup cycle and how much it earns in broadcasting rights.
In 1975, most of the participating countries had yet to play regular domestic one-day competitions outside of club cricket; List A status did not yet exist. And how it showed in the case of India, for whom Sunil Gavaskar batted the entire innings of 60 overs for 36 not out against England on the opening day. One disgusted supporter ran on and threw his sandwiches at Gavaskar's feet. Hard to credit that eight years later India's World Cup triumph would go on to revolutionise the sport in one-day cricket's favour.
The Cricketer can claim some part in this revolution. On a train journey in 1969, Ben Brocklehurst, the former Somerset captain who had just acquired this magazine, came up with the idea of 'The Cricketer World Cup' to bring in much-needed funds to English cricket; in 1970 the counties lost a collective £156,000 – at a time when they were much smaller financial operations.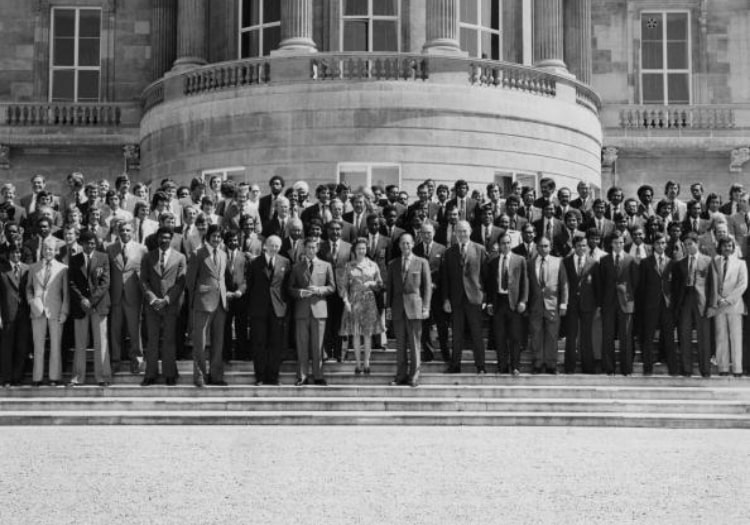 Queen Elizabeth II and Prince Philip pictured with a selection of stars of the tournament
Mark Baldwin, for his book The History of the Cricket World Cup, managed to persuade a reluctant Brocklehurst to open up his personal files. They revealed that he had secured a promised £50,000 sponsorship from Wills cigarettes of Bristol, and projected profits of £60,000 for the Test & County Cricket Board.
Brocklehurst gained the backing of The Cricketer's editorial director EW Swanton, MCC treasurer Gubby Allen and Don Bradman, not just the greatest-ever batsmen, but a key mover and shaker in the Australian board. The first one-day international at the MCG in 1970/71 – hastily-arranged after a washed-out Test – only hardened Brocklehurst's convictions.
But Brocklehurst's dream got held up in various TCCB committees – and his idea was shelved. Brocklehurst was flabbergasted to receive a reply from the TCCB stating: "We did not feel that such a prestigious event should be subject to commercial sponsorship in the direct sense." Which just goes to show what a different world cricket inhabited before the Packer Revolution and the wider economic shift towards deregulation of the markets.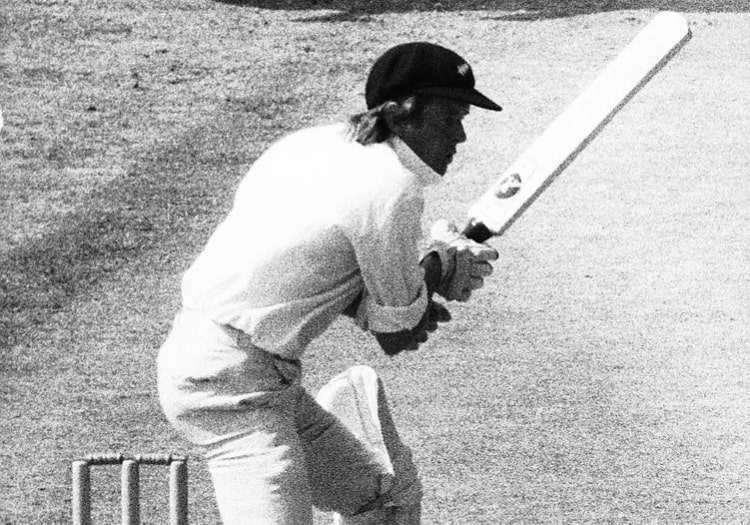 New Zealand's Glenn Turner was the top run-scorer during the tournament
But The Cricketer's young assistant editor, Christopher Martin-Jenkins, was among those who believed a World Cup to be inevitable. And finally the authorities got their act together for 1975.
This was cricket before the Packer flood: white clothing; not a helmet or an armguard in sight; caps or white floppies that make Rick McCosker or Roy Fredericks look like gardeners; careful starts; no field restrictions at all (just look at the field set by India during much of Dennis Amiss' landmark first World Cup century); and very individual techniques (Asif Masood's bizarre shuffle at the start of his run-up was famously likened by John Arlott to "Groucho Marx chasing a pretty waitress").
But – judging by the high levels of security at stadiums these days, and the consequent shock when a spectator gets past the stewards – I would wager it is the inevitable pitch invasions of the 1970s that Generations Y and Z would find most jarring.
Of the legendary West Indies fearsome foursome, only Andy Roberts had come through; otherwise they relied more on the medium-fast of Bernard Julien, Vanburn Holder and Keith Boyce; even the dibbly-dobblies of Clive Lloyd. But their XI for the final all had experience of limited-overs county cricket before 1975 – which would prove crucial.
Astonishing to think that just five days before their opening game the West Indies captain was playing for Lancashire against Derbyshire at Buxton… or at least he would have been were it not snowing. Flaming June, eh? But the World Cup went on to be blessed by gorgeous sunshine.
The tournament was an ambitious but brief affair – much closer in structure (three group games each, followed by semi-finals) to the modern-day Champions Trophy. All the eight teams came by invitation: the six competing Test countries (South Africa were out in the cold); plus two Associate nations. A round of group games and the semi-finals were played simultaneously – TV executives would not stand for that now.
Don Pringle, Derek's father and a landscape gardener by trade, was among the East Africa squad (the best from Kenya, Uganda and Tanzania), who were predictably outclassed. Indeed, other associate nations were upset that Sri Lanka and East Africa had been invited on the nod, and pushed for a qualifying competition – which became known as the ICC Trophy – ahead of the next World Cup in 1979. (Tragically, Pringle died in a car crash later in 1975, on his way home from taking six wickets in a Nairobi club game.)
The total attendance was 158,000, which seems pitiful now, but the competition was able to make a profit due to title sponsorship from Prudential Assurance, who stumped up £155,000 – and covered every player or official in case of accidental injury or death, which was no laughing matter when Jeff Thomson was bowling at the shell-shocked Sri Lankans.
They got to that figure after the TCCB's public relations officer, Raman Subba Row, had extracted a rival bid of £100,000 from Castrol oil. The proceeds were split 10 per cent to England, 7.5 per cent to the other countries and the rest to the ICC, with some set aside for the Associates. Crucially, it had made some money.
Lloyd's accountant, Gordon Andrews, was so confident West Indies would beat Pakistan in a crunch group game that he bet money on it, and had brought a crate of pale ale up to the dressing-room in preparation.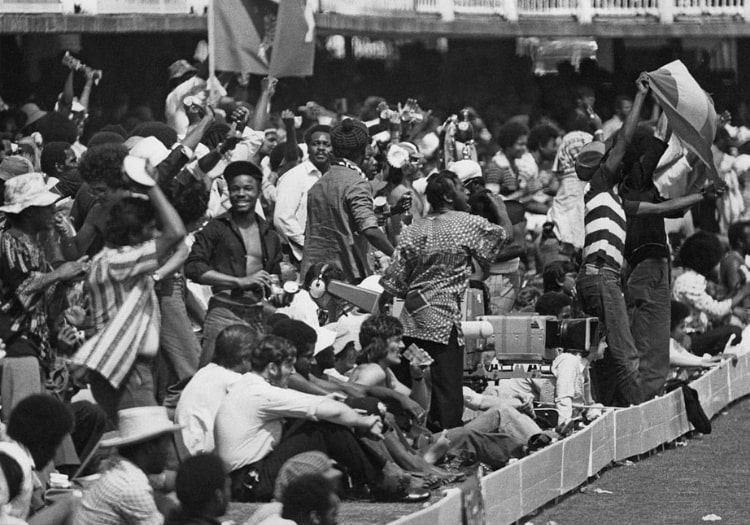 West Indies fans celebrate victory over Australia
When West Indies needed 64 with just the last pair, Deryck Murray and Roberts, at the crease – those odds lengthened to 66-1. These were the days of vociferous West Indian crowds in England, and the stands at Edgbaston were jumping – until they stormed the pitch when Roberts sneaked the winning single off Wasim Raja's bowling.
Lloyd was so nervous that he went through 12 bottles of ale over the last hour's denouement. Pakistan's legendary reputation for fouling up run-chases was earned that day.
The final between West Indies and Australia was one of the best in the competition's history. The climax was suitably held up when the mainly West Indies-supporting crowd hurtled on, thinking that Dennis Lillee had been caught at extra cover; only to find that Holder had overstepped.
When, shortly afterwards, Thomson was run out by an underarm throw from wicketkeeper Murray as he tried to scramble back for his ground, Murray grabbed the stumps and could not get off quick enough.
"And I've never seen cricketers move so quickly, the charge of the brigade over," said Jim Laker on BBC TV commentary. When they finally threaded their way through to the sanctuary of the pavilion dressing-room, the jubilant West Indians might have realised they were part of something revolutionary.
Please ensure all fields are completed before submitting your comment!