Trescothick and Overton team up to create cricketing collector's item at Trent Bridge
For the first time since 1958, according to Australian statistician Adam Morehouse, a fielder and bowler produced the exact same method of dismissal for all three parts of a hat-trick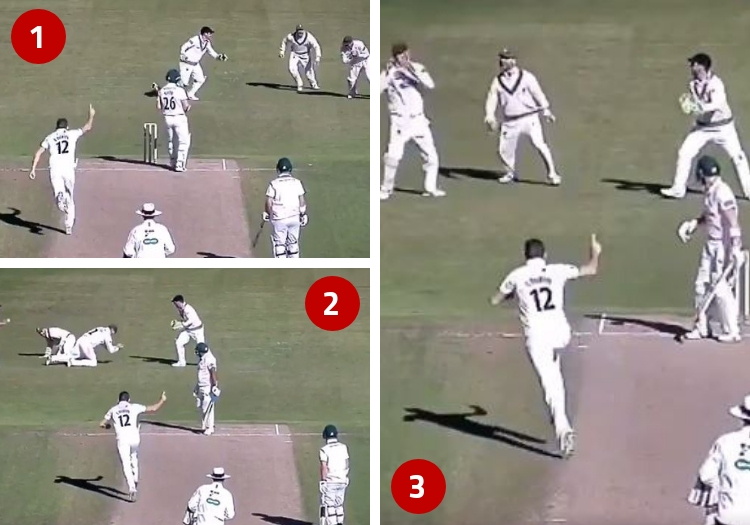 Craig Overton took an unusual hat-trick at Trent Bridge
c Trescothick b C Overton
c Trescothick b C Overton
c Trescothick b C Overton
There was a moment of history on the third morning of Somerset's clash with Nottinghamshire at Trent Bridge as a visiting duo combined to create a cricketing collector's item.
For the first time since 1958, according to Australian statistician Adam Morehouse, a fielder and bowler produced the exact same method of dismissal for all three parts of a hat-trick. And, according to Test Match Special's Andrew Samson, it was the first first-class instance involving a non-wicketkeeper since 1914.
Marcus Trescotchick, standing at second slip, owned the pair of safe hands. Craig Overton, the England international seamer, was on the money with the ball.
Firstly, Ben Slater was squared up, looking to play the ball into the leg side, and his thick outside edge nestled in the hands of Trescothick.
Then, Samit Patel was sent on his way first ball, caught halfway between front foot and back and leaving the 42-year-old with a regulation take, moving on his knees to his left.
Finally, it was the turn of Rikki Wessels, who got a leaping delivery first up and only managed to loop a simple chance to Trescothick, who made the grab above his head.
The catcher-fielder treble has not happened for 60 years, since George Dawkes took a trio of chances off the bowling of Les Jackson for Derbyshire against Worcestershire in 1958.
Back then, the unfortunate batsmen at Kidderminster were RG Broadbent, R Morris and DB Pearson.
When it comes to members of the fielding side not donning a pair of gloves, the archives have to be trawled for 104 years before the instance involving GJ Thompson and SG Smith for Northamptonshire against Warwickshire.
To add to the drama, Overton's hat-trick was Somerset's second in less than 24 hours, after captain Tom Abell ripped through the Notts tail in their first innings on Tuesday. There has not been an instance of two bowlers from the same team claiming a hat-trick in the same first-class match since Dean Headley and Martin McCague managed the feat for Kent against Hampshire at Cantebury in 1996.
And it was not a bad way for Trescothick to celebrate signing up for his 27th season of county cricket either.