Sub fielders in The Hundred appeal to Gurney: 'I can bowl my overs, then put my feet up'
Notts Outlaws seamer Harry Gurney is only 31, so should certainly be around in two years' time when the ECB's new short-form tournament starts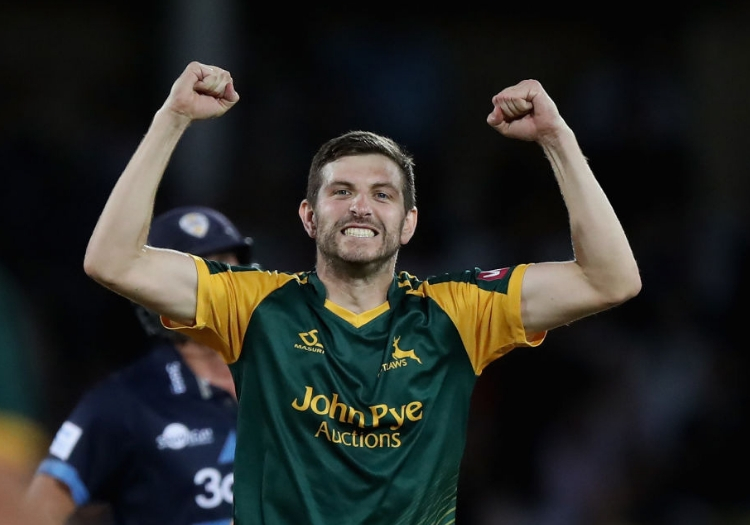 Notts Outlaws seamer Harry Gurney
The Hundred has had a mixed reception to say the least, but Nottinghamshire's Harry Gurney is a potential fan.
The fast bowler - a former England international - has not been put off the ECB's latest brainchild despite widespread criticism since it was first proposed back in April.
"It is great that the ECB are doing a city-based tournament," he told The Cricketer. "I did not like the idea of a 10-ball over at the end of the innings, but 10 balls at each end, two times five, is better. It all seems to make sense.
"I heard a rumour about specialist fielders coming on. I am all over that. I can bowl my overs, then put my feet up!"
Gurney is only 31, so should certainly be around in two years' time when the ECB's new short-form tournament starts.
Gurney is not fazed by the idea of The Hundred
He took 20 wickets in this summer's Vitality Blast – the ninth highest haul – at 19.35, and at an excellent economy rate of 7.63.
His Notts team-mate this summer, the Australian Dan Christian, described the left-arm quick as "the best death bowler in the world" in an interview, and this was picked up by Nasser Hussain on Sky. "That is a nice accolade," Gurney said. "For anyone to even mention it, even in jest – it's flattering."
Gurney, who played 10 ODIs and two T201s for England, has enjoyed seeing fellow Southpaw Sam Curran's progress this summer. "I have been delighted to see Sam's emergence. He's done very well. It's not just because he's a fellow left-armer like me. He's an exciting talent. It is really thrilling to see a young cricketer burst onto the scene like that."
Gurney has just opened his second pub with his business partner, Notts team-mate Stuart Broad. The pub is called the Tap and Run. It comes two years after they opened the Three Crowns, as part of their Cat and Wickets Company.
The Tap and Run is in Upper Broughton, a six hit from the cricket club, and about 10 miles from Trent Bridge. Gurney says he recommends the chicken liver parfait…