Australia's pursuit of 'elite honesty' leaves us all scratching our heads
SAM MORSHEAD: What does "elite honesty" actually mean? Is it a Cub Scout badge? A shade of paint? A state of mind achievable only within the Church of Scientology?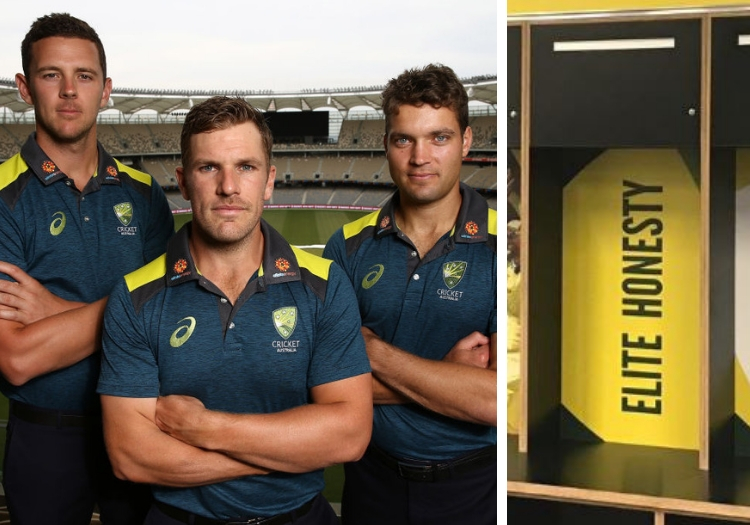 You've got to hand it to Australia, they know how to get the cricket world talking.
Whether it be scrapping in stairwells, squabbling over pay rises or treating a day-three ball like a year 11 woodwork project, the Aussies have a remarkable knack of making themselves the centre of attention.
Now, we are told, the famously aggressive, combustive, stand-off-ish Antipodeans are reformed.
One good spanking from The Ethics Centre and the whole ethos around the Baggy Green has changed.
The drunk uncle with the ASBO collection has swapped his string vest for a well-pressed suit and is teaching orphans how to read, or so we are led to believe.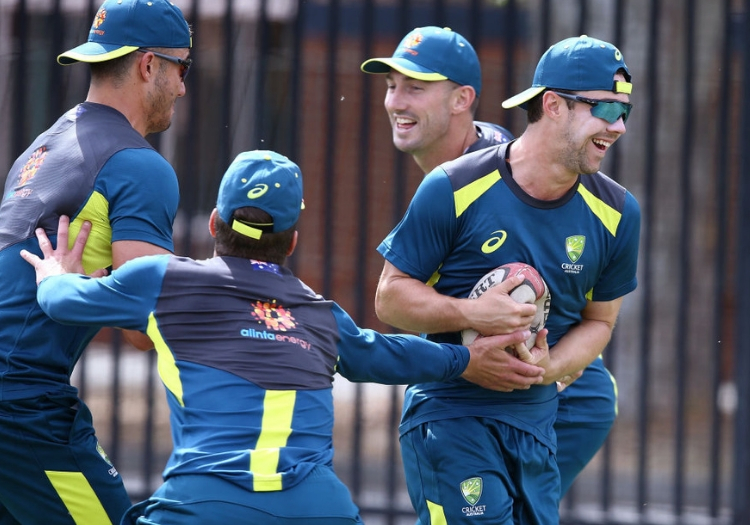 Australia's ODI squad in training
Of course, no one can turn their lives around that quickly and all this highly publicised about-face from Australia has served to do is highlight just how lost the men's game, its leaders and perhaps most significantly its marketers have become over the course of the past year.
Which brings us onto "elite honesty".
The catchphrase, plastered in giant letters on the walls of the Optus Stadium changing room ahead of the one-day international series against South Africa, unwittingly sums the whole circus up.
It is grand, superficial nonsense.
Because, really, what does "elite honesty" actually mean?
Is it a Cub Scout badge? A shade of paint? A state of mind achievable only within the Church of Scientology?
They might as well have had the words 'generous kettle' printed in 1,000-point above the lockers.
If this is what passes for inspirational rhetoric, we might as well hand over motto-making duties to the Microsoft Word Paperclip.
And if this is what passes for a lesson learned from the Longstaff Review, it would suggest that those in charge at Cricket Australia were sitting at the back with earphones in, chuckling at the word 'Osama'.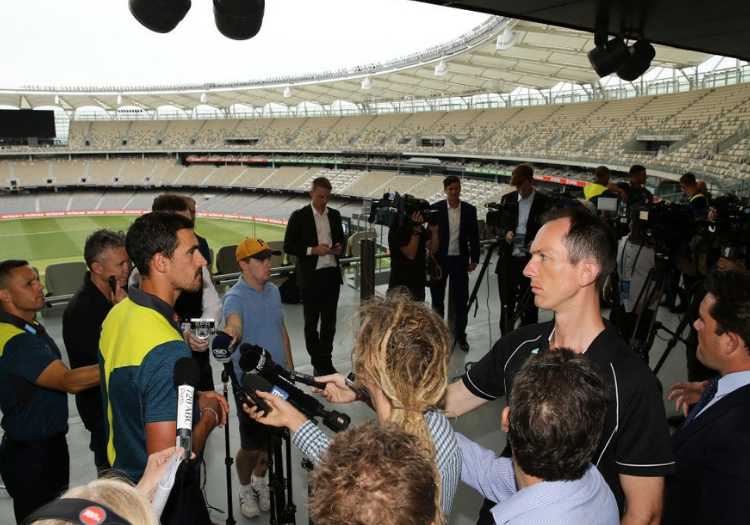 Mitchell Starc faces the media
A lie is a lie, fellas. You're either honest or you're not. No need for bluster and bravado, just play the game without insulting anyone or brazenly cheating in front of an international audience and that will do just fine for most people.
In my quest to understand the meaning of the phrase, I gave it to friends and family minus all context and asked them to define it.
"The rare occasion where the elite are honest with you," said one.
"Being more honest than the average person," suggested another.
"Honesty that is right out of the top drawer… being as truthful as Jesus or Buddha or whatever," posited a third.
Perhaps my old English teacher would be able to give me a hint.
"Maybe it's that they are lucky to be where they are and therefore they should be candid," he shrugged.
"Someone in marketing has come up with that after loads of different meetings and they've got confused and forgotten what they were originally trying to say," said a friend in public relations.
Another, a journalist, suggested that "it doesn't seem like an expression you would necessarily associate with Australian cricket, although I guess that may be why they feel the need to have it up in their dressing room".
So… no consensus. Except that the Aussies' latest wallpaper is total hokum.