Women's match to kick off The Hundred, with lessons learned around staging of doubleheaders
Beth Barrett-Wild, head of the women's competition, explained that doubleheaders will be presented as matchdays, with an emphasis on providing equal billing to both games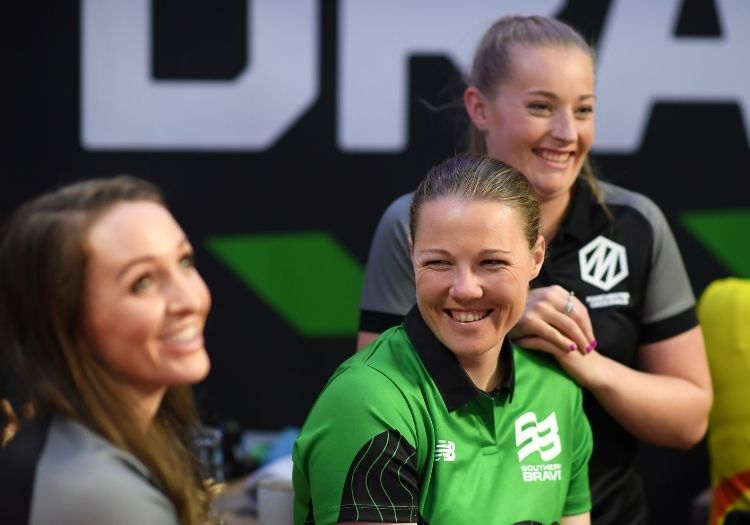 The opportunity to play at Test venues in The Hundred will be key in showcasing the quality of the women's game, believes Kate Cross, who described the standard of pitches as "the biggest thing for women's cricket".
The England seamer was speaking as it was revealed that the ECB's new competition will begin with a women's fixture – the first time that a major UK team sporting event has launched men's and women's tournaments alongside one another, with a women's match headlining on the opening day.
Oval Invincibles will face Manchester Originals at the Kia Oval on July 21, with the equivalent men's game taking place the next day. Thereafter, every matchday will include men's and women's doubleheaders, involving the same two teams in both matches.
Prior to the coronavirus pandemic, the women's tournament had been set to take place across 20 venues, before complexities caused by Covid-19 forced a rethink. Now, games will be played at the Kia Oval, Lord's, Sophia Gardens, Edgbaston, Trent Bridge, Headingley, Emirates Old Trafford and the Ageas Bowl – in line with the men's competition.
"It's so important for us," said Cross. "If you put us on slow pitches, then you're going to get a slow game, and that's not what people want to see. If you put us on faster, better wickets, you're going to see more runs and more wickets.
"It's not even necessarily just the pitches – it's the quality of the ground, us being able to get our fielding right and also having that kind of atmosphere with the crowd as well, which I think is really important. So, it's top of my list when it comes to 'how to do you make women's cricket better?' Put us on better pitches and instantly you'll see a better product.
"It's the biggest thing for women's cricket, genuinely, that I kind of say every year. I feel like we're playing our county cricket and we're playing at club venues where you've got three volunteers making a pitch for us on a Saturday afternoon."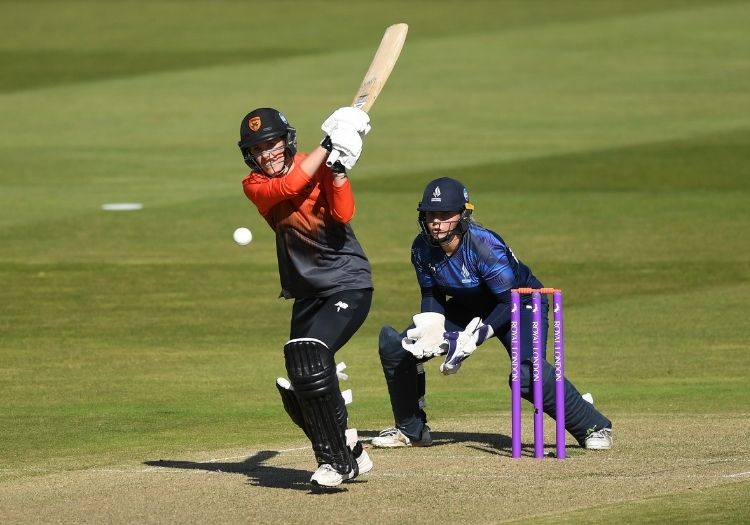 Georgia Adams was the leading run-scorer in the Heyhoe Flint Trophy, aided by playing on far better surfaces than in the past
The shortened season in 2020 provided a snapshot of Cross' point, with regulations around the return of elite sport after lockdown meaning that fixtures were primarily staged at major venues. As a result, runs were plentiful: there were six centuries in the Rachael Heyhoe Flint Trophy, while Georgia Adams topped the run-scoring charts with 500 in just seven innings.
"For me, that was the biggest thing that came out of 2020," added Cross, whose two appearances for Thunder came at Edgbaston and Trent Bridge, a far cry from some of the grounds during her early Lancashire days.
In the past, the notion of doubleheaders has also been questioned. Beth Barrett-Wild, head of the women's side of The Hundred and a former player for Essex, admitted it was "sometimes a bit of a dirty word" – women's matches would often be shunted alongside men's fixtures as little more than a token gesture.
"I remember the dark old days, prior to me joining the ECB, as a young girl going to watch, the women's match wasn't even included on the ticket," added Barrett-Wild. "It really was an afterthought, done as a cost-saver and out of convenience."
Cross recalled one evening at Edgbaston in 2016, when she faced Birmingham Bears in the NatWest Women's T20 in the second half of a doubleheader after Warwickshire's men had beaten Leicestershire. "We got the drunken leftovers who were then just shouting abuse at us, so, in that sense, it didn't work," she said.
"But when you get it advertised properly as a matchday, I think it's going to be different. A lot of the time when we play as women before the men, other than in international cricket, you have different teams playing. But if you've got the Manchester Originals and the Oval Invincibles and they're both playing on that same day – men and women – then you've got your allegiances."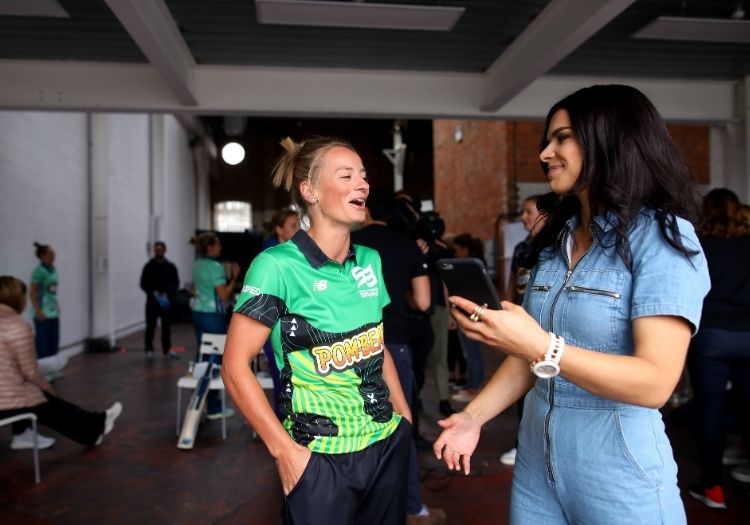 The Hundred was due to begin in 2020 until the coronavirus pandemic forced a delay
Barrett-Wild added: "I think the way that we're positioning The Hundred is it is a matchday, and it will be Manchester Originals' matchday at Emirates Old Trafford, and you'll get to see the women and the men on the same day, in the same venue, play for the same teams, play for the same prize money.
"I think every communication that we have from now will signpost that. It will be very clear that you're buying a ticket to watch the women which starts at 3.30pm and then the men that starts at 6pm.
"We'll position it as a big day out, there's going to be lots going on, so all of the little gremlins that we've learnt from double-headers about the gap between the matches and keeping people entertained, we've learned from that, and we've got an opportunity now to really do it properly and brilliantly."
For the first time in domestic women's cricket in the UK, it also means that every game will be televised on Sky Sports, with BBC broadcasting up to eight fixtures, including the curtain-raiser and the final.
"That visibility is crucial," she explained. "I think the opportunity for me to know that I can turn up on a match day, and that they can watch women's and men's cricket at the same time, with the same wrap around in terms of event presentation, and the same level of fireworks and the same level of whatever else is going to be going on around the game is really important, because it's how we're really presenting those two matches to the same scale.
"I think that's ultimately what it comes down to. It's like, how do we normalise cricket as a sport for women and girls as much as it is for men and boys? I think that's where The Hundred is different. I think it has that gender balance at its core. Everything we're doing is through that gender balance lens.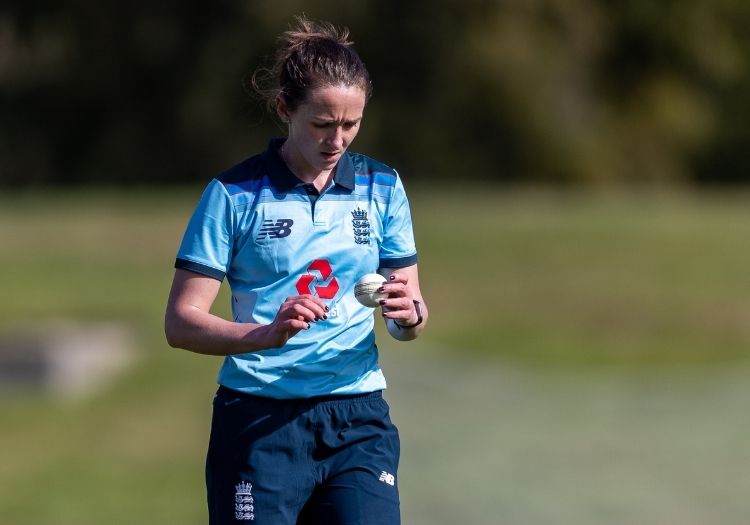 Kate Cross is currently in New Zealand as part of England's white-ball squad
"Launching the competition from the very start for men and women is really significant. What normally happens is a competition gets launched for the men and then four or five years later, once it's established, a women's element is bolted onto it.
"Whereas what we have done with The Hundred, it's a competition by design for both genders. And that's really, really important about what The Hundred is all about. I think it is about throwing cricket's doors open to everyone, it is about engaging with a wider audience, so trying to open our arms really and make it relevant to as many people as possible. And I think having the women's comp within that is absolutely crucial. The Hundred doesn't work without the women's game."
From Cross' perspective, the addition of the competition to an already busy summer schedule represents a fundamental shift for the women's game.
It has already been announced that the Rachael Heyhoe Flint Trophy will return alongside a new T20 tournament as part of the ECB's domestic revamp. England are also due to host both South Africa and New Zealand for multiformat series.
"Historically you've just had the build-up to the summer of the county season and then it dropped off when the best players left and went to play international cricket," Cross said.
"I've said it before and I'll say it again: we want to play more cricket. It's always the case with the women's game. Our ratio of training to playing is so drastically wrong. I'm still part of a product of that. I played two games of cricket last year – five altogether, but three of them I was in my training kit with Lisa [Keightley] as my umpire.
"That competitive edge, which is why I get out of bed in the morning to play cricket, I've not been able to fulfil for 15 months now. So, we need to play cricket. The men take it for granted that they get the opportunity to do that day in, day out in their county environments and hopefully now we'll be getting the same opportunity as female cricketers as well which is absolutely the right way to go."
Please ensure all fields are completed before submitting your comment!