England win opening ODI at the Oval despite late Australian rally
SAM MORSHEAD AT THE KIA OVAL: New coach, new captain, new approach to the game, new pre-match handshake ritual but the same story for Australia… undone by England in the 50-over arena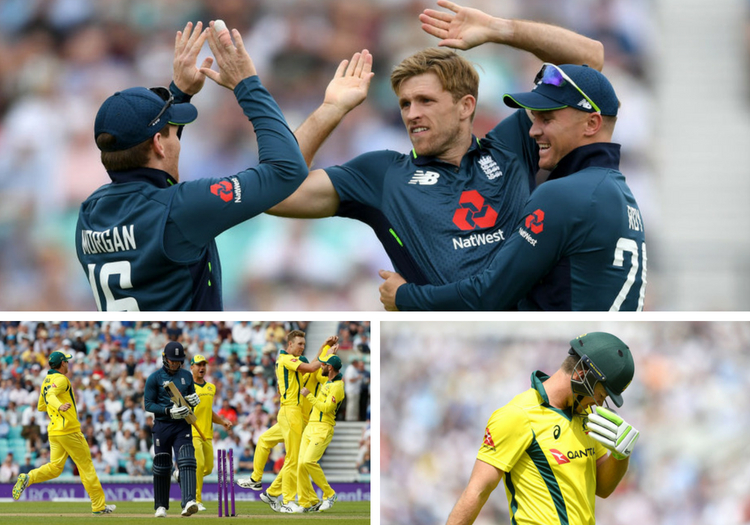 England beat Australia by three wickets at the Kia Oval
Kia Oval: Australia 214, England 218-7 - England won by three wickets
New coach, new captain, new approach to the game, new pre-match handshake ritual but the same story for Australia… undone by England in the 50-over arena.
The tourists arrived for this mini tour keen to show that, on the field of play at least, they had moved on from the scandal of Cape Town.
Minus many of what any reasonable commentator would call their first-choice stars, with the pace trio of Pat Cummins, Mitchell Starc and Josh Hazlewood joining the banned Steve Smith and David Warner on the sidelines, Australia knew they faced a tricky proposition against the team ranked No.1 in the world by the ICC, defeat by Scotland notwithstanding.
But there was talk of a fresh start, nonetheless, and an opportunity for a new clutch of players to push England hard. And, in the end, push England hard they did. But the outcome remained the same.
With the bat, Australia folded from the top down, choking on a middle-overs cocktail of spin from Moeen Ali and Adil Rashid, and offering England wickets far too easily, far too frequently.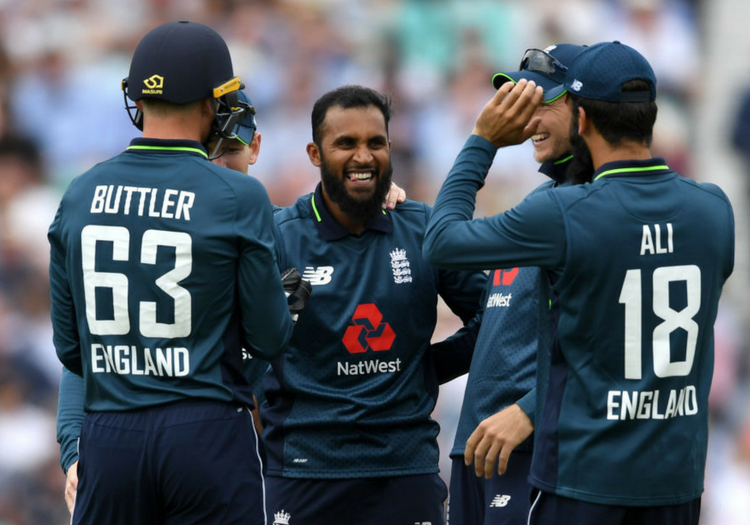 Adil Rashid celebrates an Australian wicket
Only Glenn Maxwell made an impression of note - without his 62, the Aussies would have been staring down the possibility of defeat before the lights were switched on in south London.
England bowled well on a true and even pitch to restrict their guests to 214 and, though there was a brief hiccup when Jason Roy, Jonny Bairstow and Alex Hales all departed before the score had ticked past 40, the chase looked to be quickly becoming a formality.
Eoin Morgan and Joe Root each made half-centuries, accelerating the run rate as they did so, but the Aussies rallied.
England lost three wickets for 10 runs and, though they got home with three to spare and with six overs in hand, it was far from a comfortable ride.
With the ball and in the field, the visitors should be encouraged. However, if they are to challenge this England side in this 13-day, five-match series, more must come from the batsmen
Having won the toss, Australia's new-look top order immediately found themselves in trouble, with Travis Head - so fluent in compiling a warm-up century at Lord's over the weekend - flashing at a wide outswinger from David Willey. Bairstow took a comfortable catch at first slip.
Aaron Finch and Shaun Marsh briefly rebuilt but, once the trial by spin began, the tourists quick discovered their defence to be really rather flimsy.
Finch took aim over extra cover and only succeeded in thick-edging Moeen Ali to Mark Wood at fly slip before Marsh missed a delivery from the same bowler which straightened.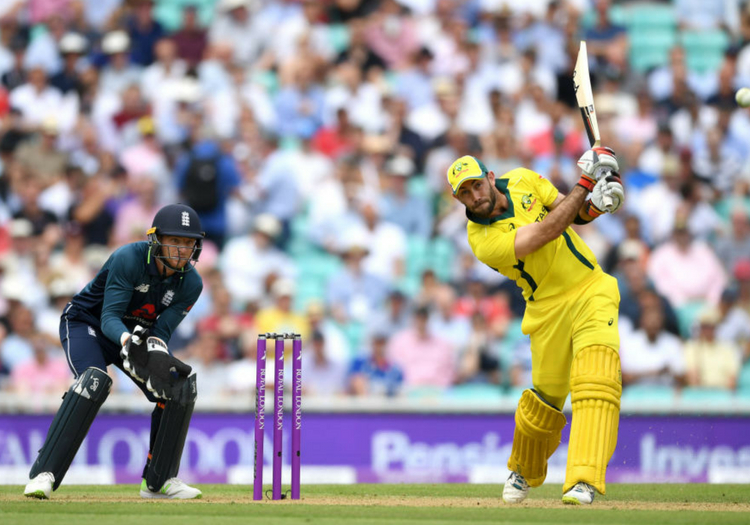 Glenn Maxwell made 62 for Australia
When captain Tim Paine flopped a reverse paddle sweep to Wood - the third time he has been dismissed playing that shot from just 14 attempts in one-day internationals - Australia were 70 for four and scrambling.
At 90 for five, after Marcus Stoinis got a thin edge to a duff long-hop from Adil Rashid, they looked well and truly stuffed.
In Maxwell and Ashton Agar, however, the Aussies found a pairing that provided at least a smidgen of respectability to their total. Maxwell, taking confidence from the belief shown in him by the new regime, batted calmly and intelligently in putting together his first ODI half-century in 11 innings.
While the Victoria allrounder bounced along at roughly a run a ball, his colleague Agar was much more contemplative, introverted, keeping Maxwell company.
The two advanced the score to 174 before Maxwell plugged a nine iron straight down the throat of Bairstow, running around the boundary at backward square leg. Bairstow's point to the stands in celebration betrayed the sense of relief around the Oval that the partnership had been ended. Australia, now, would have to hope for a minor miracle to reach 250.
That miracle never came.
Agar was plumb lbw to Rashid, attempting to hoik the cricket ball towards Elephant & Castle, Root was gifted two catches at mid-off by Michael Neser and Kane Richardson, and the innings was over when Tye was snaffled by Buttler, diving forwards off the bowling of Plunkett.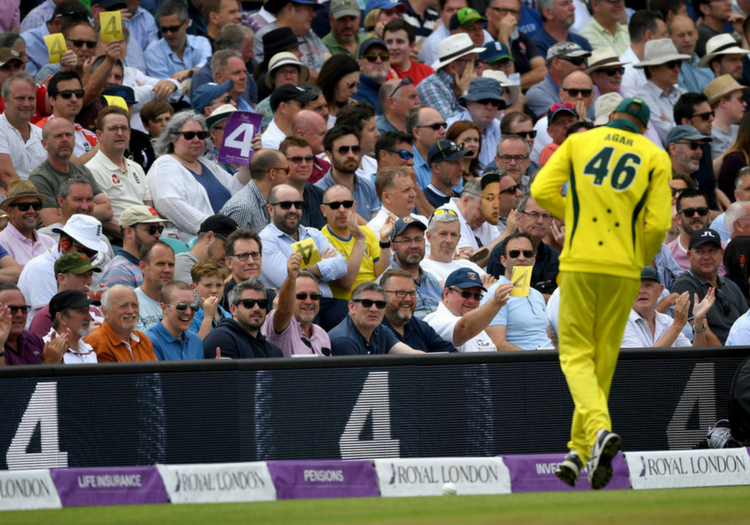 Fans waved sandpaper to celebate boundaries at the Oval
Billy Stanlake gave Australia the perfect start in the field, bowling Jason Roy via an inside edge second ball of the innings.
Alex Hales soon followed, trapped lbw playing across the line to give Michael Neser his first international wicket, before Bairstow slapped a fizzing pull to Head at deep backward square leg.
England were 38 for three and teetering but, between them, Root and Morgan steadied the boat. Morgan's best ODI score since last year's Champions Trophy was made in 360-degree fashion, while Root punched through the offside off the back foot like only he can.
With just 62 required for the win and an abundance of overs remaining, the game seemed a foregone conclusion. Australia, though, still had a burst in them.
Morgan nicked off to Tye, a curious cameo from Jos Buttler ended with a dreadful misjudgement of the same bowler's knuckleball - chipping a catch to mid-on moments after being dropped - and then Root found Paine's gloves off the excellent Stanlake.
England had lost three wickets for 10 runs in three overs and the game had a very different complexion, as a hushed nervousness swept over the Oval.
Willey and Moeen made sure there was no collapse, though, putting on 34 for the seventh wicket. Moeen hacked Neser to Darcy Short in the deep but England's batting was long enough to see them through and Willey won the game with a straight six.
NOW READ