Runs galore as Sussex edge Leicestershire in Quarantine Cup thriller to leave Mills declaring he won't be beaten
After a week in which two players in the tournament have been bowled out for single-digit scores, the big-hitting jamboree provided mighty entertainment, with Luke Wright particularly impressing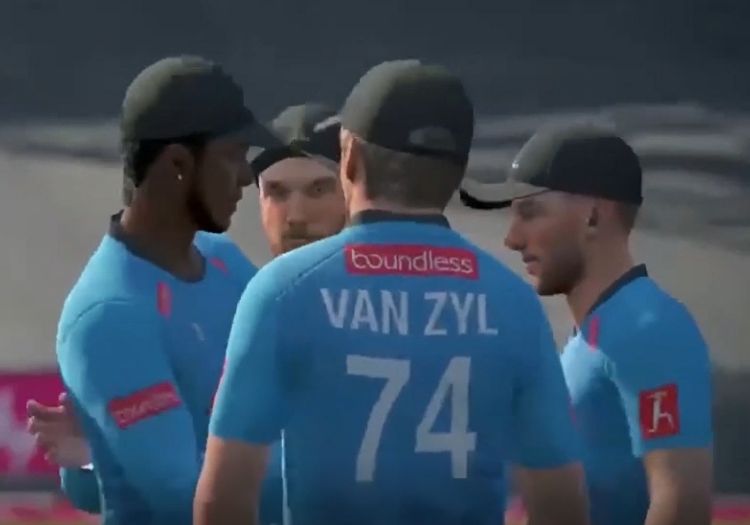 Quarantine Cup: Watch all the matches on demand!
Durban: Sussex 72-3, Leicestershire 69-4 - Sussex won by 3 runs
A run fest in the South African sunshine ended in dramatic fashion as Sussex all but confirmed their qualification for the last four of the Quarantine Cup.
Tymal Mills led the Sharks to a three-run triumph in Durban, posting a competition record 72 for 3 before just about hanging on as Hassan Azad and Leicestershire made an admirable attempt at chasing down such a formidable total.
After a week in which two players in the tournament have been bowled out for single-digit scores, the big-hitting jamboree provided mighty entertainment, with Luke Wright particularly impressing.
Wright cracked 38 in 12 balls to help Sussex better their own previous best in the Quarantine Cup, and Mills - who afterwards said his team "do not look like being beaten" in this year's competition - can now look forward to a semi-final clash. Though theoretically they can be caught, it would require several results to work against them, including defeat by Glamorgan, as well as two other sides overhauling their enormous lead in boundary countback.
For Mills' fiancee, it means another week of having to watch him in action.
For Azad and Leicestershire, despite their massive to contribution to this game, the jig is almost up in the Quarantine Cup.
Leicestershire made an early breakthrough when the dangerous Phil Salt was caught at mid-off by Harry Dearden off Calum Parkinson, and when Ravi Bopara's time at the crease was ended by the same combination with the final delivery of the first over, Sussex were in some trouble at 8 for 2.
With Mills behind the controls, however, there has always been the chance of something spectacular, and any Foxes fans who prematurely began dreaming of victory - if indeed there are any who dream of victory in a virtual five overs per side format - were quickly brought crashing back to earth.
Luke Wright, who had been surprisingly quiet in the tournament to this point, suddenly point his voice with a series of enormous sixes in the shadow of what looked like a relocated Table Mountain.
Wright hadn't even faced a ball by the time Sussex had lost their first two wickets, and the Sharks' innings had already run a third of its course, but he soon made up for lost time.
The opener cracked his first delivery from Dieter Klein over midwicket for six before tucking into Colin Ackermann.
The spinner was dispatched down the ground first ball, delighting the surprisingly large number of Sussex fans in the crowd at Durban, before back-foot cutting a reasonable length delivery 110 metres over backward point.
From the fourth ball of the over, Wright lofted another giant six, this time over cover, and then cleared the sightscreen from the fifth.
Ackermann's single over cost 26 runs. Yikes.
Wright was eventually dismissed, caught on the boundary's edge by Ackermann off Tom Taylor, but his lusty 38 from 12 balls had set the tone. Sussex were on for a whopping total.
Mills once again sent himself in ahead of much more established batsmen in the Sharks' line-up, and promptly missed his first ball several feet,
Thankfully for his teammates, he did not begin the final over on strike. Instead, Van Zyl crushed Gavin Griffiths back over his head for six.
Mills hooked a simple catch into the hands of deep backward square leg, only for the fielder in the deep to spill the chance, before Van Zyl finished off the innings with a gloriously driven four to leave Leicestershire needing a Quarantine Cup record score for victory.
The Foxes began their reply with intent, as Mark Cosgrove and Janneman Malan took 14 from Rashid Khan's opening over, before Malan crashed Mills for a gigantic six over wide mid-on from the first delivery of the second.
Cosgrove was fortunate to be given not out to a hooping Mills yorker which cracked him on the big toe as he strangely attempted to cut the ball off the back foot, with replays showing impact to be partially in line with leg stump, but Sussex soon had their breakthrough as Malan chipped the seamer to Wright at mid-off.
When Cosgrove then dollied up a return catch to Will Beer's first delivery, leaving Leicestershire 24 for 2, the result only appeared to be heading one way.
But the Foxes weren't done.
Ackermann cracked three successive sixes off Beer, who tested the elasticity of the cliche "madness is doing the same thing over and over again, and expecting different results" by throwing down a series of half-volleys outside off stump, and with two overs remaining Leicestershire needed 30.
A gorgeous aerial straight drive off Jofra Archer saw Arron Lilley bring the required runs down to 24 from 10, and though Ackermann was run out by a fantastic piece of work by Ben Brown, Harry Dearden picked up the baton to keep the game alive.
Dearden showed zero respect for Archer by pummeling the Wisden Cricketer of the Year over midwicket for six from his first ball, and then gave Chris Jordan similar treatment to reduce the target to nine from four.
It proved to be just out of Leicestershire's reach. Lilley lobbed a catch to Archer at mid-on, and Dearden was unable to clear the ropes needing six from the final delivery, leaving his side three runs short.
"The boys are looking unstoppable," Mills said. "The confidence is really high in the dressing room and I can't see us being beaten at all in this tournament.
"It's a good opportunity now to give a run-out to the guys who haven't had the gametime.
"Give credit where it's due, Hassan played some really good strokes, put the boys under pressure and was undeserving of losing. On another day, he'd have come out on top."
Azad said: "I can't lie to you, it was a tough dressing room to walk back into at the end of the game. I thought we played some really good cricket, we came really close but it just got away from us at the end.
"We felt like we were in the game going into the final over. Harry Dearden hit those sixes to bring us right back in and giving us a really good chance of coming away with a win, but it wasn't to be."
To remind ourselves of happier times, The Cricketer is offering a £20.19 subscription to celebrate England's World Cup victory. Click here to claim!
Quarantine Cup
|
News
|
Please ensure all fields are completed before submitting your comment!