Nottinghamshire's batting fails to inspire as Gloucestershire and Hankins make winning start in Quarantine Cup
George Hankins comprehensively came out on top, as Tom Moores' pre-tournament assertion that he was without weakness on Cricket19 proved to be full of more holes than the PGA tour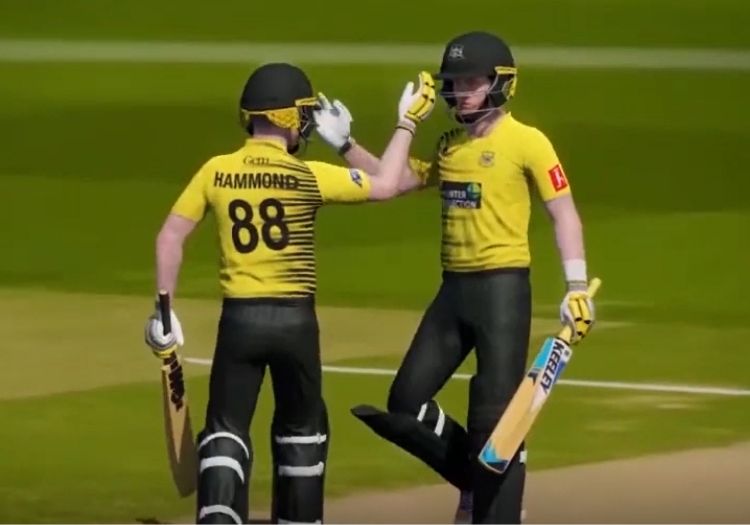 Quarantine Cup: Watch every game so far on demand
The Oval: Nottinghamshire 28, Gloucestershire 31-2 - Gloucestershire won by 3 wickets
George Hankins stole the bragging rights over close friend Tom Moores as Gloucestershire romped to victory over Nottinghamshire in the two sides' first Quarantine Cup outings.
A sun-drenched digital Oval was the setting for the clash on Thursday evening, as two former schoolmates did battle for pandemic bragging rights.
And it was Hankins who comprehensively came out on top, as Moores' pre-tournament assertion that he was without weakness on Cricket19 proved to be full of more holes than the PGA tour.
Having lost the toss, and been inserted by Gloucestershire, Notts looked immediately fragile with the bat.
David Payne, who opened up with a delivery which missed the strip entirely, quickly found a reasonable line and length, and the seamer should have had a wicket with his second legal delivery, only for Matt Taylor at mid-on to drop the chance off Ben Slater.
Taylor did not seem to care a jot about his mistake, but thankfully for both him and for Gloucestershire he made up for his mistake soon after.
Joe Clarke flopped his first ball to midwicket, gifting Taylor a simple catch.
Moores sent himself in at No.3 and promptly attempted an audacious helicopter shot to the first delivery he faced from Jerome Taylor.
A gigantic six, slapped straight down the ground, soon followed but it did not appear as if Moores had complete control of what was happening with his batsmen out in the middle.
When he subsequently tried to pull a leg stump yorker off the back foot, it was not entirely surprising to see his leg stump cartwheeling backwards.
With Slater also gone, Notts found themselves a miserable 13 for 3. Ben Duckett did not seem to be too bothered by the situation and looked to clear the fence at mid-on from his first delivery. With Moores at the controls, however, his timing was entirely off. 13 for 4.
Qais Ahmad managed to get through the third over of a five-over contest conceding just two runs, and such was Gloucestershire's position of authority, Hankins opted to throw himself the ball.
Alex Hales responded by pumping four through wide mid-off, while Samit Patel found the fence at midwicket, as Nottinghamshire stumbled to 28 before Benny Howell used one of his 57 varieties to see for Patel - caught at mid-on from the final ball of a quite underwhelming innings.
Miles Hammond hooked Luke Fletcher for six as Gloucestershire' chase got off to an emphatic start, but the opener was soon dismissed, caught by a backtracking Hales at mid-off.
The curious decision to send Cheteshwar Pujara and his ODI strike rate of 39.23 into bat at No.3 in a five overs per side contest backfired heavily when the Indian - presumably turning out for the county for free after his contract was nulled recently - missed a cover drive by a handful of feet and was adjudged lbw to Harry Gurney.
For a moment, perhaps, Notts sensed an opportunity. The window was not open for long, however.
Hammond rolled his wrists over a legside half-volley to find the square leg boundary and Gurney - presumably delighting in playing in an even shorter version of the game - could not make further inroads into the Gloucestershire line-up.
Patel was brought into the attack and was summarily smashed down the ground for six by Ryan Higgins, and when four balls later he was given similar treatment by Hammond it was very much game over, Notts tasting victory with more than two overs to spare.
Moores accepted that he was well below the standard he had set for himself.
"I'm disappointed," he said. "Things didn't go to plan from the word go. The wrong team ran out onto the pitch, it was all a shambles from the start. I'll have to go back to the drawing board."
On the absence of Stuart Broad from his starting XI, Moores said: "Blame the manager. Broady… I tried to get him in but I think he was late, he didn't turn up so someone else ran out instead of him.
"I had to make do. He'll definitely be in the next game. He was my star bowler as well. It's a poor decision. On the whole, the tactics I went for just weren't right.
"I'll come back stronger."
Hankins, meanwhile, revelled in his win over his fellow Old Millfieldian.
"It feels pretty good," he said.
"Tom obviously found it a little bit more difficult than I did.
"I will definitely be giving him a call later on to see how he's feeling post-match and see if he has any thoughts about it."
To remind ourselves of happier times The Cricketer is offering a £20.19 subscription to celebrate England's World Cup win once again. Click here to take advantage!
Quarantine Cup
|
News
|
Please ensure all fields are completed before submitting your comment!