BARNEY RONAY: Have you noticed how much of T20 cricket rests on what is essentially mediocrity?
Pat Brown bowled 12 balls during the second T20 international in Wellington, five of which were hit for four or six. This was mainly the work of Colin de Grandhomme, who picked Brown's changes of pace out of the hand, as international batsmen probably will, battering those clever little cutters and change-ups over midwicket like a man swatting apples with a polo mallet.
Brown's day wasn't a total loss. When England batted he ended up one run short of his highest career score as a professional cricketer: he made 4 not out.
Happily he did bounce back at the Saxton Oval in Nelson three days later. Martin Guptill was caught trying to hit him back into the Victorian age. Brown still went at 10 an over. But there were signs he might yet assert that highly specific talent – bowling at different speeds with the same action – that has marked him out across two years of domestic T20.
Nobody knows for sure how this will work out. Least of all Brown himself, who at the time of writing had bowled a total of 1,767 deliveries in professional cricket and had never played in New Zealand before, or indeed in Australia, where he will head next to fill a Melbourne Stars berth left by the absence of Dale Steyn, the greatest fast bowler of his generation. Which should all be fine. Which will probably all be fine. Perhaps.
On the other hand, here's a thought. Have you noticed how much of T20 cricket rests on what is essentially mediocrity? Or in Brown's case on an obviously shallow set of skills, the ability to do one thing well, and not much else. Being a limited cricketer is by no means a limiting factor here. Acquiring a reputation for a dizzyingly complex set of skills: this isn't a complex business.
It's not a fashionable thing to point this out. Such is the ongoing culture war around white ball versus red ball it has become impossible to critique the inanities – and there are many – of short-form cricket, without being accused of siding with the forces of sherry-stained conservatism, to be saying, yes, this is all an act of Visigoth vandalism and the BCCI should hand cricket back to the Lord's museum for safe keeping.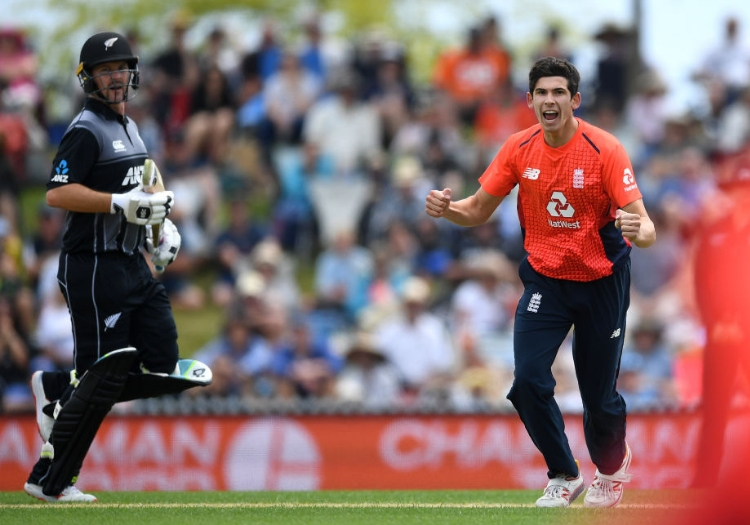 England's Pat Brown bowls against New Zealand
White-ball zealots have responded in kind. As a point of opposition a fun, earnest cod-science of neologisms and jazzed-up stats has been winched into place, an attempt to pretend that T20 is in fact a hugely complex business. Just in ways you can't, like, see dude.
At times it is hard to avoid the feeling that the level of intellect here, the depth and range of analysis, far outstrips the complexity of the form. Shortly after that same T20I in Wellington highly intelligent people were talking about Sam Curran's dibbly dobbly spell of 2 for 20-odd as though it was a masterpiece of high-spec craft and cunning.
Whereas in reality there is what club cricketers might call a whole lot of filth flying around in these games. This is nothing new. Mediocre players have always been one of the joys of the sport. The difference in T20 is that limited, often quite boring cricketers are lionised as game-changers, masterminds, deep thinkers; not to mention paid huge amounts of money simply for doing one thing quite well.
Mitchell Santner, for example, who averages 43 as a bowler in first-class cricket, and would in a previous age have been a canny, scruffy cult-favourite New Zealander, is presented to us by The Hundred draft as a superstar of the world's summer game. Sunil Narine, mystery chucker and slogger of poor bowling, is being paid £125,000 of English cricket's limited funds to act as a star allrounder for the Oval Invincibles.
The unavoidable truth behind this eyewash is that white-ball cricket is simply shallower, simpler and easier. What Brown does is very simple, but often effective against limited opponents. And yet we hear him portrayed as a kind of self-made seer, a Zuckerberg type, a rain man of the cutter and the knuckleball, often by people whose livelihood is invested in pretending this fun, simple form of entertainment can actually repay endless forced analysis.
You worry for him a little: led, football-style, into premature cult-stardom by the excitability of the TV commentators, the gurgling and crowing every time some county No.9 misses an off-break in the late-August slog. With this in mind it is impossible not to back Brown, to hope he can find new skills to succeed, to prove that there is indeed a hidden complexity to this simple game; and to conclude that if he falls as quickly as he has risen the failure will not be his alone.
Subscribe to The Cricketer this Christmas and receive a £20 John Lewis voucher or Alastair Cook's autobiography. Claim your free gift here