A Test debut is tantalisingly within the grasp of Sussex seamer Ollie Robinson but he is staying focused, he tells HUW TURBERVILL
We've all watched Rocky, right? It's the uplifting tale of how a little-known Philadelphia boxer is given a shot at the big time and takes it, becoming world champion. What's that got to do with Sussex seamer Ollie Robinson, you might wonder?
Robinson was at Yorkshire for a year from 2013–14, but did not have his contract renewed. The coach at the time was Jason Gillespie, who said he had a few problems, including 'timekeeping'.
Robinson joined Sussex, and who was to turn up as coach, but Gillespie. As Robinson says: "It's a small world."
This was similar to the relationship between Rocky Balboa and his veteran coach Mickey Goldmill – the latter initially rejected coaching him, but was won over by his talent.
Actually Robinson explains that the truth is rather more prosaic than that, though.
"We always got on well, it was just the wrong time for me at Yorkshire," he says. "It was nice to see Dizzy come to Sussex, and he's been great for my development.
"To be honest I was burning the candle at both ends. I was playing cricket and as soon as the game was over I was driving back to Kent to see friends and family, sometimes just for a day at a time. I was only 18, and I didn't enjoy being away from home. If it happened again now I'd be fine but I was young."
Robinson started strongly at Sussex in 2015, taking 46 first-class wickets at 24.71. He then had two frustrating years, but the last three seasons, including this Covid-truncated one, have been a revelation, and he was called into England's bio-bubble this summer.
Born in Margate, Robinson attended The King's School Canterbury at 13. He had a trial at Hampshire but suffered an injury. He then went to Warwickshire, where he scored 90-odd and took a three-for against Yorkshire who were impressed, signing him on a one-year deal. He says he learnt a lot from being around Tim Bresnan, Steve Patterson and Adil Rashid, but singles out Ryan Sidebottom as being particularly helpful.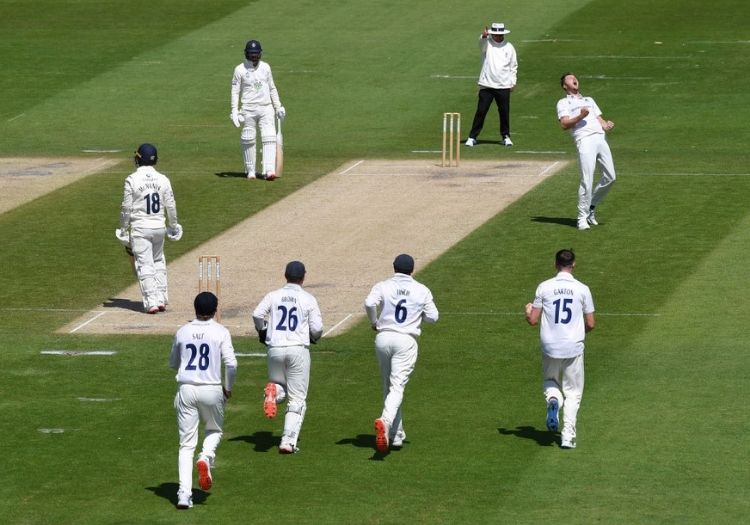 "Mark Robinson [no relation] then offered me some first-team opportunities at Sussex. I made my debut against Durham and scored a century [110, and took 4 for 71 in the first innings] and I haven't looked back since."
Actually 2016 and 2017 were frustrating seasons [he took 19 first-class wickets in each]. He also endured surgery on his calves, for deep compartment syndrome.
"It took me a while to break through. I did well in the IIs but couldn't persuade [then head coach] Mark Davis to pick me. Dizzy's arrival was refreshing. We went from one extreme to the other. Davis was regimented, while Dizzy is relaxed and laidback. He does not do a lot of technical stuff, he says: 'Go and perform!' and 'Put on a show!'"
It has worked for Robinson, who took 81 first-class wickets in 2018, 64 in 2019, and this summer 14 at 12.50 in the Bob Willis Trophy.
International recognition came last winter, when he was picked for the England Lions in Australia. They encountered two slow pitches in the warm-ups – surely those dastardly Aussies were not stitching us up? He found the surface at the Melbourne Cricket Ground more to his liking, however, taking 3 for 66 and 4 for 81 in a nine-wicket win.
"Those initial pitches were soft and unprepared, the ball was not going through with any great pace, but the MCG was harder and bouncier. We had a strong team and it was nice to bowl in tandem with Craig Overton [who took 2 for 34 and 4 for 67]. It was hard work out there, but we built pressure together."
He also got to play with the other Ollie Robinson, the Kent wicketkeeper/batsman. "It was confusing in one match as we had a batsman c Ollie Robinson b Ollie Robinson. Somebody on Twitter asked why the scoreboard did not say 'caught and bowled'."
His Lions campaign led to his call-up to the enlarged senior squad this summer. "Lockdown was a bit of a blow to my progress, but I was delighted to go to the England bio-bubble. It took a week to get used to it. At the time it sounded like death! But just being with the England lads for such a long period of time was definitely a good experience, and it was such an amazing feeling to be selected for England. It should stand me in good stead if I get the nod in the future. I feel I will be a lot more relaxed going into the environment now, knowing the lads and seeing how things work.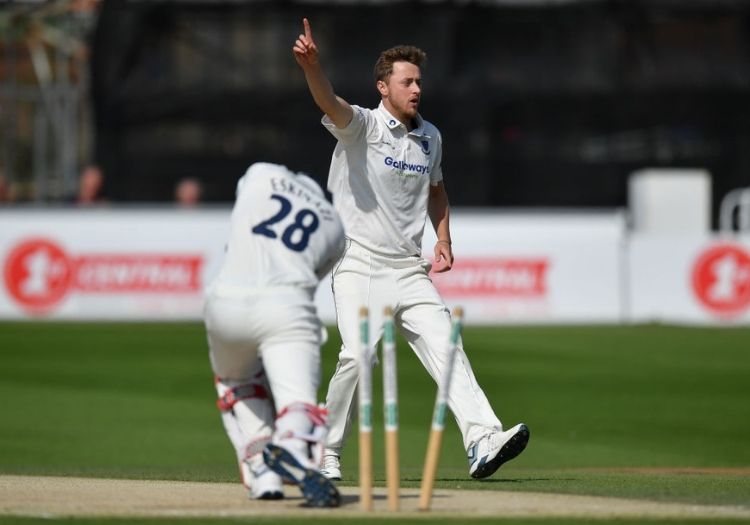 "We had consoles or cards in the evening, and there was a games room with pool and table tennis. There were so many of us, so there were always people around. It wasn't too bad to be honest, just a big group of lads hanging about.
"I tried to always be in a net with James Anderson or Stuart Broad: to watch how they go about it. Jimmy was really good with me, helping me develop a better outswinger, showing me the different grips, which was really interesting. I'm trying to be that sort of bowler of course. It was also nice to have a familiar face in Jofra [Archer] there.
"Of course I dream of going to Australia next winter. That is what they are looking at for me. They have said I have 12 months to get fit, and to come out and show what I can do next summer."
With Archer and Chris Jordan on England white-ball duty, Robinson has also been playing in the Sussex Blast campaign. "These T20 games have come around thick and fast after we had not done a lot this summer – it took us a bit longer to nail our skills – but it's just nice to get some cricket."
When Robinson arrived at Sussex he had a reputation as a death bowler. "Dizzy said at Yorkshire that we needed two or three overs at the death from someone, so there was my chance. Now at Sussex we have a lot of bowlers who are good at that, so it can be tough to bowl where I want to bowl, and get the chance, but I'm working hard on it."
Robinson is confident that four-day success can also return for Sussex. "Last year we lost four on the bounce and it killed our season. We lost parts of games at key times. We have almost been there the last couple of years. It's been nice to see the youngsters coming through in the Bob Willis Trophy this year, and hopefully we can build on that next season and get promoted."
He is also working hard on his batting, looking for another century. "When you don't have much time in the middle it's easy to let it slip; but in the last year to 18 months I have got my batting back and hopefully it won't be too long before I can get some bigger scores in Championship cricket, and that would help my case with England."
His stepfather is Paul Farbrace, the former England assistant coach who is now Warwickshire's sport director. "He is someone I go to. I send videos to him, bounce ideas off him, and give him a call if I am struggling with something. My dad Ian is there too. He was a good league cricketer in Thanet and Margate, and now plays for England Over-50s."
It could be a quiet winter for Robinson with Covid still around, as his Sussex team-mates wait to hear who the new coach will be – a decision is unlikely before Christmas. He lives 'within 500 metres' of Archer and Jordan in Hove, though, so will not be lonely. Perhaps they will spend their winter pounding the streets of Brighton together and punching sides of beef as they aim for Australia… just like Rocky.
This article was published in the October edition of The Cricketer - the home of the best cricket analysis and commentary, covering the international, county, women's and amateur game
For unrivalled coverage of the county season, subscribe to The Cricketer and receive 3 issues for £5