Hayter has been a ghost-writer to the greats in newspapers and books for 30 years. Here are some of his best tales from chronicling the thoughts of Sir Ian Botham, Phil Tufnell, Marcus Trescothick and James Anderson...
Ghosting means something completely different to youngsters these days, but I have made a livelihood from it. Ghost-writing, that is.
Well not just ghost-writing. Of course I have been a sports reporter for nearly 40 years as well, but I have enjoyed working with many of cricket's greats, past and present, tidying up their thoughts into readable, but still recognisable I hope, prose.
I used to write about all sports, when working for Hayters, the sports reporters' agency set up by my father, Reg, who was editor of The Cricketer in the mid-1970s. I also enjoyed stints as football correspondent of the Observer, and editor of the Crystal Palace matchday magazine. One of the highlights of my early career was covering the World Darts final at the Fairfield Halls, Croydon, in the glory days of Eric Bristow, Bobby George and Jocky Wilson. What's not to like?
The cricket started in earnest with reports from county matches for the Independent, and then, in 1989, I became cricket correspondent of the Mail on Sunday, a role that lasted for 25 years. Since then I've been writing for The Cricket Paper since issue No.1, in 2012.
I never intended to focus purely on cricket, but the accident lasted 30 years. I have had ridiculous luck; travelled the world, met great people and managed to make a career from something I love. It was hard to persuade some people that what I did was a job and not a lottery win, but finally, aged 60, I am toying with the thought of hanging up my reporter's notebook. A life on stage beckons – after several years of amateur and professional productions, including playing King Rat, Falstaff, Fagin and Nobby The Naughty Panda, I'm about to play Henry II in Becket, the part played in the film version by Peter O'Toole, to whom I bear an uncanny resemblance.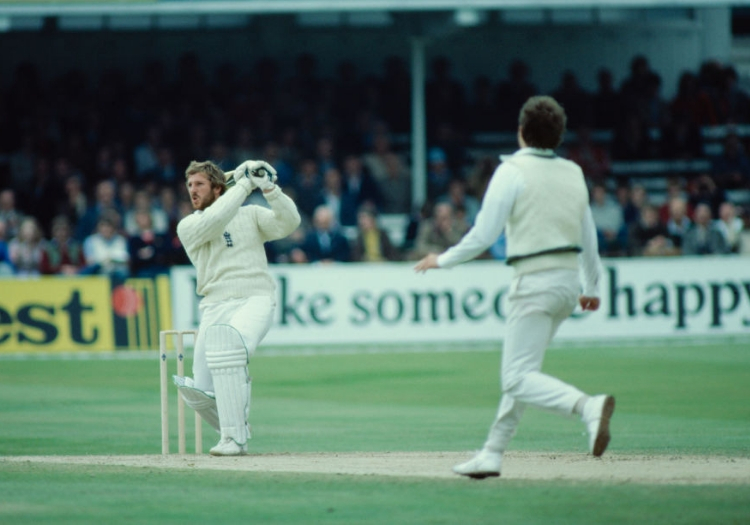 Sir Ian Botham in action
There are so many happy memories of ghosting cricketers though – ones who have made thousands of Test runs and taken thousands of Test wickets, for newspapers and books. The list includes Jimmy Anderson, Sir Ian Botham, Sir Viv Richards, David Gower, Dennis Lillee, Bob Woolmer, Marcus Trescothick, Graham Thorpe, Phil Tufnell, Imran Khan and even Javed Miandad. It also includes England's entire Ashes-winning teams of 2005 and 2009.
The hardest aspect of it is to find the voice of your subject. If it doesn't sound like the person you are ghosting, it doesn't succeed…
Sir Ian Botham
He was the easiest voice to find. You would throw in one or two exclamation marks where they shouldn't be, call somebody a name or two, and be funny and short‑tempered at the same time.
He was also the hardest to write for, however, because, with the best will in the world, he has a terrible memory.
I helped him with his first autobiography, Don't Tell Kath, in 1994 and a lot of things went wrong with that book. My father – who set up the deal – died as I was writing it, so I had to look after Hayter's for a time, and continue with my Mail on Sunday job.
I'd always got on well with him but hadn't realised what a challenging interview Beefy was, because he was reluctant to talk about himself and the great things he had done. For him life was always about the future not the past. I thought it would have been a breeze: Headingley and Old Trafford 1981; the build-up to those Tests; losing the captaincy; Mike Brearley coming back. But it wasn't.
Not that he didn't want to be helpful, but he really didn't think anything of the things that he'd done. I asked him if there had been banter between him and Lillee, or Allan Border, and what was going on in his mind. "I smashed it, it came off!" was his reply. He couldn't remember any shots, he couldn't describe the mood of the Australians – "I was just having a slog!" Applying wine was a help and a hindrance…
Somehow he persuaded the publishers to fly him out to the West Indies where I was on tour for the Mail on Sunday.
Viv organised a chalet in Antigua. The trouble was I was in Trinidad, where Curtly Ambrose had just bowled England out for 46. So I flew to Antigua to spend a week on the book. When I got there a taxi took me to my chalet on Monday morning at 9.15am, and the first cork popped 10 minutes later. We'd managed seven and a half minutes' work.
Much of the rest of the week remains a complete blur. We travelled around the island with Viv, we went to every bar, we played golf. Repeat.
England's next match was in Grenada. I planned to travel there on the Friday to resume my duties for the paper. Viv said, "No problem, I have booked you on a flight at 2.15pm on Friday". "But first of all," Beefy said, "we're going on a fishing trip." "OK," I agreed cautiously, "but I cannot take the mickey out of the Mail on Sunday."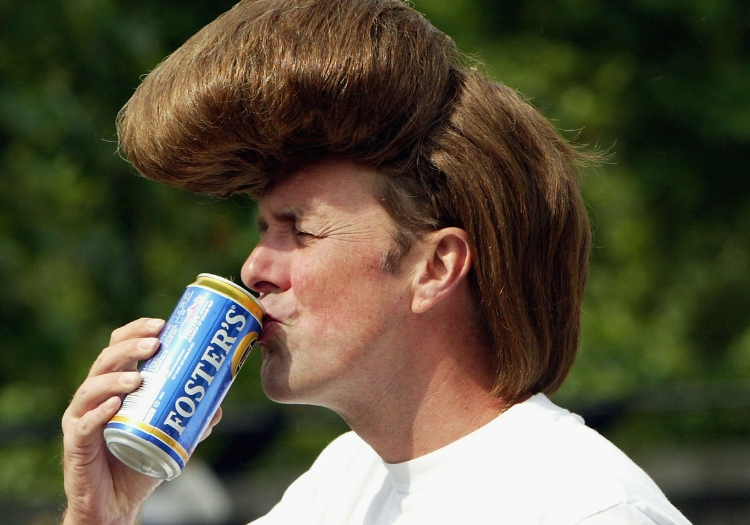 Beefy and Tuffers liked their beers
There was no actual fishing on the trip and come midday when I was due to be taken ashore and then to the airport, Viv said, "You're not going anywhere", put the engine on and went further out to sea. A plane went over, and Viv said, "That's your flight!" "No," I said, "that's my career!"
Viv said "Calm down, we'll get you there tomorrow". He takes me to the airport at 6am and gets two people removed from the plane. Meanwhile I am wondering what I am going to say to my wife, and if I am going to have to sell the house.
I have an interview lined up with Robin Smith about the devastation wrought on England by Hurricane Curtly in Port-of-Spain, so I send my deadly rival/great mate David Norrie, from the News of the World, with a list of questions. I arrive at the press box at 4pm, about 9pm UK time, right on deadline. I haven't seen the quotes yet, but I adlibbed an intro to the copy taker then read them out word for word. A short while later the sports editor rings back: "Great interview!"
The book publishers next send me off to Alderney, where Beefy had a house. John Arlott was also there of course, describing the islands as "2,000 alcoholics clinging to a rock".
It is mayhem, with hardly any sleep, and no work done at all. The fog then comes in, meaning no flights out. I have had three days on the grape so am gasping, and then I have to tell the publicist what a productive week I'd had. It was a miracle the book ever came out. The headline above the first review read: 'Alas, poor Ghost.'
We also did The Botham Report. England were at a low ebb, they had just lost to Zimbabwe in the one-dayers in 1996/97, and this was Beefy's 10-point rescue plan. We lined up the usual suspects to take a few potshots, then in the second half of the book it was time for the 10 points. And we got about halfway through point one. Beefy passionately supported two divisions, with promotion and relegation. "Fine. What's point two?" Pause….
Somehow, between us, we got our heads together and found something that was passable.
After the book was published I took a call from a high-ranking official at the TCCB. "It's brilliant," they said, "a fantastic blueprint for English cricket." They wanted Beefy to present his 10-point plan to
the county committees. "It's possible," I said, " but I wouldn't recommend it. I'm not entirely sure he knows what's in it."
Phil Tufnell
Ghosting Tuffers was easier – I saw all his England career, and we immediately got on well. I had played cricket with young Angus Fraser at Stanmore, so he introduced me. Gus would tell me some hair-raising tales about Tuffers, and I soon found out for myself what a riot he was and what a good bloke to have a drink with.
I knew what was going on with all the early scrapes – I was involved in one or two of them myself. So it was an easy book to write – I just filled in all the gaps.
In India in 1992/93 he was in a disastrous state. He was not looking after himself. He'd just broken up with the mother of his daughter, and he was missing them. It was New Year's Eve, the first night in the Taj Hotel in Delhi, and I was called down from my room. Somebody had been buying him margaritas, and he was in a shocking state. He'd ordered the pianist to play something more cheerful, and the manager wanted to turf him out of the hotel. I persuaded him not to do this.
I said he was under stress at home, I made up he was on medication, and somebody had spiked his drink. We went back to the room, and I pulled out my litre of duty-free Bushmills Irish Whiskey. We drank about three-quarters of it. My plan was to get him so drunk he'd pass out, and eventually at 4am I took him back to his room. The next day he had no recollection of events, but we'd bonded, and from then on I'd occasionally intervene on his behalf. I never betrayed his confidence. It's been pleasing to see him succeed after his playing career ended.
Marcus Trescothick's book helped a lot of people
Marcus Trescothick
I'd ghosted his column for the Mail on Sunday, and worked with him for that Ashes 2005 book. I didn't know what was happening to him in India in early 2006 however. There were all kind of rumours about why he'd gone home. He battled his illness for another year and still is battling, but eventually had to retire from international cricket.
He said, "Let's do the book". I said, "Yes, but you have to go all the way on this. It's so important, such a taboo subject." The first half was about his cricket, the second about his struggles, and we went through it forensically. He was an Ashes winner, then crashed to earth, and no one knew why. It opened the subject of mental health up to people who were going through it and those who didn't understand. It was an interesting and rewarding experience doing that book with him, a privilege.
If I could do it again I would have kept the cricket to a minimum, and just dealt with his depression and anxiety. The book won the William Hill Sports Book of the Year, and head of the judging panel was Hugh McIlvanney, regarded as the best sports journalist of them all. That pleased me: he understood what we were doing. If the book just helped one person, and allowed another to understand what that person was going through, that was terrific. We still get letters about it. I remember one from a man whose wife read the extracts in the Mail on Sunday. She'd put the paper down and said, "My goodness, that's me!" She'd struggled for years without seeking help. The husband told us the book probably saved her life. How can you not feel humbled by that?
James Anderson
I was ghosting Jimmy's column for the Mail on Sunday, and it was the Headingley Test against South Africa in 2012.
Kevin Pietersen had just played that fantastic, heavenly innings on a Saturday, which was great for me because my report virtually wrote itself, and I thought it would make a great column for Jimmy.
When I saw him though I soon realised something was up. He just refused to talk about KP's innings. However much I nudged him, he said nothing. I said to Jimmy, "We have to talk about it, my sports editor will take some persuading that this is not worth your thought". "I want to talk about James Taylor," Jimmy said. "Without him we wouldn't have got those runs."
It didn't take long for some of the back-story to come out. There remains a lot of it untold. Takes me back to the Beefy days!
This article was published in the February edition of The Cricketer - the home of the best cricket analysis and commentary, covering the international, county, women's and amateur game
To subscribe for just £44.99 per year, click here