Isabelle Westbury urges us to follow de Leede. Tim de Leede, the Dutchman who owns a cricket shop, that is...
Isabelle Westbury played a single ODI for the Netherlands in 2005 while her family lived there during her teenage years. Having stumbled upon the cricket club at the bottom of her garden she quickly put her classical Dutch education, spent on the hockey pitches of The Hague, to good use. She prefers that no one seeks out her international statistics.
He may have a perfect international record against Sachin Tendulkar and be prone to dismissing Sri Lanka captains with one-handed leaps, but it matters little.
Tim de Leede Sports, a specialist cricket shop located in the sleepy suburbs of The Hague, is as much a reminder of the Dutch allrounder as anything lining the scorebook. After all, many who were introduced to cricket in the Netherlands would have bought their first bat there.
To Dutch cricket it is a shop as famous as the corner shop to which Margaret Thatcher owes so much. Still, Tim de Leede is a pretty niche pick for a first cricketing idol.
Followers of cricket tend to be a peculiar bunch. For more than a decade we worshipped a plump Australian with questionable highlights and even more questionable off-field habits.
An earlier generation paid homage to a man who looked more like a bank clerk walking to the wicket than an Ashes saviour. Our idols, like us, can be a bit odd. It is fitting therefore that soon after I had been introduced to the sport, my favourite cricketer was a man with an ODI average of precisely nought against India, but verging on the Bradmanesque against England.
A burly figure, broad smile and a foray into English county cricket which amounted to a few outings in various 2nd XIs, de Leede looked more like a shopkeeper than an international cricketer. And, professionally at least, that is what he was. These were the days before domestic franchises offered an opportunity and a pay cheque to anyone outside the Test nations.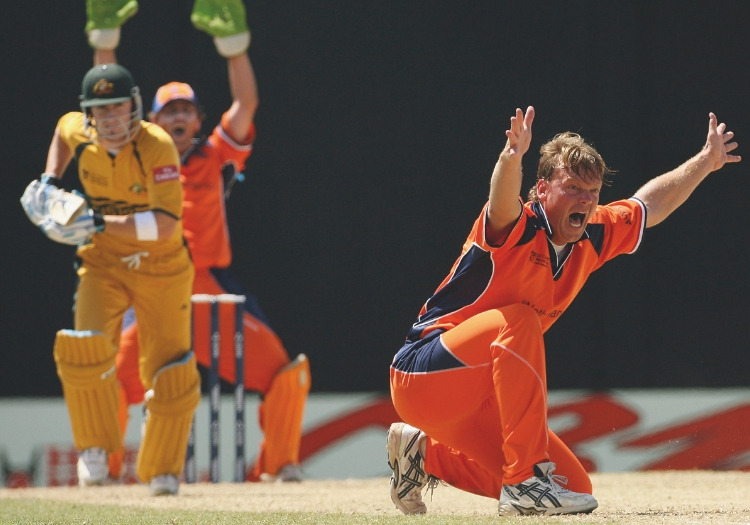 Who knows how de Leede might have fared today. As is the right of all Dutchmen, reared on Friesian cows' milk, de Leede had a towering frame, a decent hockey slap to square-leg and a tendency to swing from the hip come what may.
Seller of cricket wares by day, destroyer of international cricketing giants in his spare time (OK, slight hyperbole), the powerful allrounder was the embodiment of Dutch amateur cricket in the noughties when the nation was scrapping to compete in an increasingly professional world. Remarkable then that, with the restrictions that amateurism brought, de Leede played against a total of 33 international sides, including all 10 Test nations. Someone else, it appears, was manning the counter.
De Leede grew up playing on the bouncy coconut matting rolled out onto football pitches as soon as the national sport takes a brief summer break. He was a decidedly large fish in a small pond but, even within the cosy Dutch scene, he didn't play for one of the top teams. The Topklasse, the country's highest division, was historically dominated by prestigious old clubs, such as HBS and The Royal Hague CC in The Hague, Amsterdam's VRA or Rotterdam's VOC. If English cricket is sometimes seen as dominated by the upper echelons of a mustard trouser-wearing, cashmere jumper-draping society – it has nothing on Dutch cricket. You need to fit in and there are interviews to make sure of it.
In Joseph O'Neill's novel Netherland, the Dutch narrator, Hans van den Broek, gives an accurate portrayal of the cricket club membership process: "I joined HBS at the age of seven, anxiously attending the membership interview with my mother. I was not sure what these encounters were designed to accomplish. When the meeting was over the members of the committee all solemnly shook my hand and said, 'Welcome to HBS'. I was thrilled... too young to realise they'd all known my father, who had been a member of the club for nearly 40 years."
Like most participants in this minority sport, de Leede was from a cricketing family but his father Frans, an English teacher, did not introduce him to one of the venerable old clubs. Voorburg CC, on the outskirts of The Hague, was very much an outside bet. By the time VCC, led by de Leede, won its first national title in 2002, HCC had won it 47 times.
However de Leede, charming and vivacious, overcame any prejudice with reasonable ease. Of the 29 matches he played for the Netherlands which were classed as ODIs, he captained in 13.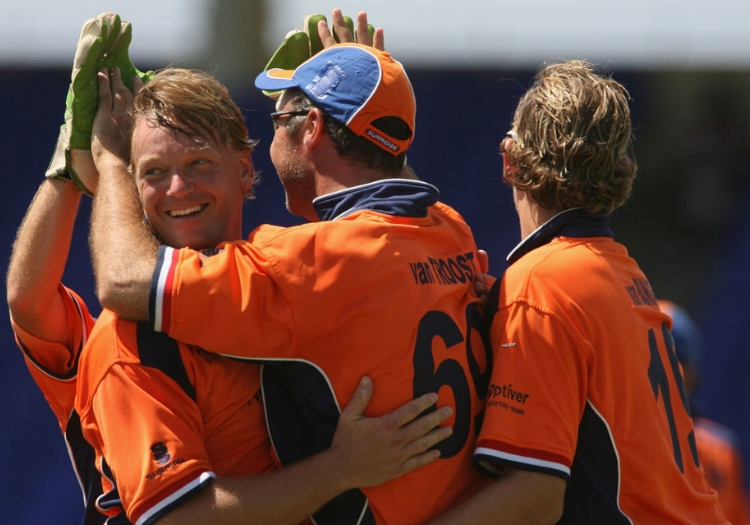 As was the norm for Associate nations, de Leede dealt mainly in tournament cricket. In a scathing preview of the 2003 World Cup, The Guardian wrote of the bounding allrounder: "Coaching manuals will all agree: for heaven's sake don't follow de Leede. Timotheus Bernardus Maria de Leede, that is, whose one-day batting average of just over 20 is let down by a failure to take any wickets, ever, with his medium-pace bowling."
Perhaps it was inevitable then that de Leede would proceed to get out Inzamam-ul-Haq, Matthew Hayden and Tendulkar, the latter in a blistering 4 for 35 against India, earning him the man of the match accolade in a 68-run loss.
On both occasions they met, Tendulkar succumbed to de Leede's medium pace. True to his allrounder tag however, it was with the bat that de Leede excelled against England. In the same match that Jimmy Anderson made his World Cup debut, de Leede freed his arms outside off as he bludgeoned an unbeaten 58 off 96 balls (this was 2003, after all). Like the Netherlands' T20 record against this particular opponent, the Dutchman has a penchant for English bowling, averaging 99 across his mighty two innings against England. De Leede never played a T20 international.
De Leede retired in 2007 and 11 years later his son Bas, also a VCC player, made his Netherlands debut.
Despite the quirky statistics however, this is not a homage to a cricketing genius. De Leede, the shopkeeper, the optimist, would tell you as much himself. It is no coincidence, after all, that "Tim de Leede is bowled by South Africa's Justin Kemp" and "Tim de Leede fails to take a catch off Adam Gilchrist" caption the two pictures which open his entry in one well-known statistics archive.
But he played in an era of Dutch cricket of which we were all enamoured with its vibrant orange kit, its positivity and the sheer inherent joy that only amateur sport can bring. De Leede might not have been your quintessential cricket superstar, but he was mine.
This article was published in the Summer edition of The Cricketer - the home of the best cricket analysis and commentary, covering the international, county, women's and amateur game
You can subscribe to The Cricketer HERE