It was a woeful 2019 season for Nottinghamshire, but captain Steven Mullaney and coach Peter Moores are determined to put things right, they tell Paul Edwards...
When Nottinghamshire were relegated from Division One last September some supporters and even one or two pundits were quick to suggest candidates for the chop. The chorus grew louder when Steven Mullaney's team lost a Vitality Blast semi-final they had seemed certain to win and finished the County Championship campaign without a victory and 64 points behind next-to-bottom Warwickshire. The needles of les tricoteuses clacked loudly and the critics filled the tumbrils. "Everyone must go! Off with their heads!"
Well there were no decapitations at Trent Bridge last autumn but there was plenty of pain as the hierarchy sought to make sense of a year in which Nottinghamshire's Championship cricket was nowhere near good enough and two white-ball semi-finals were seen by some as little better than par for the course. Rather than leaving their posts, though, the head coach, Peter Moores, and skipper, Mullaney, led the inquest and neither man has avoided tough conclusions.
"There's no getting away from how bad our red-ball season was," said Mullaney. "The bottom line is that the players weren't good enough. We didn't score enough runs and we didn't take enough wickets. Joe Clarke and Alex Hales had really tough years off the field and I don't know if they affected us on the field but they were added distractions that didn't help.
"There wasn't one fall-out within the dressing room but everyone needed those five or six weeks [at the end of the campaign] to get away from each other and reflect. Neither Peter Moores nor I went on holiday immediately after the season and that's not because we're cooped up in this Notts bubble but because that's how much it meant to us."
The members at Trent Bridge might respond that it meant a great deal to them as well, but Mullaney understands that. His oft-quoted comment from last summer – "If you cut us in half we'd be green and gold" – was an attempt to reassure the spectators who throng the pavilion and the Radcliffe Road End during four-day games that the players cared as much as they did, even if their performances did not seem to reflect that concern. Last season was by far the worst of Mullaney's professional career and things were made worse by a knee injury which ruled the captain out of the Championship game against Yorkshire and every T20 game except that semi-final.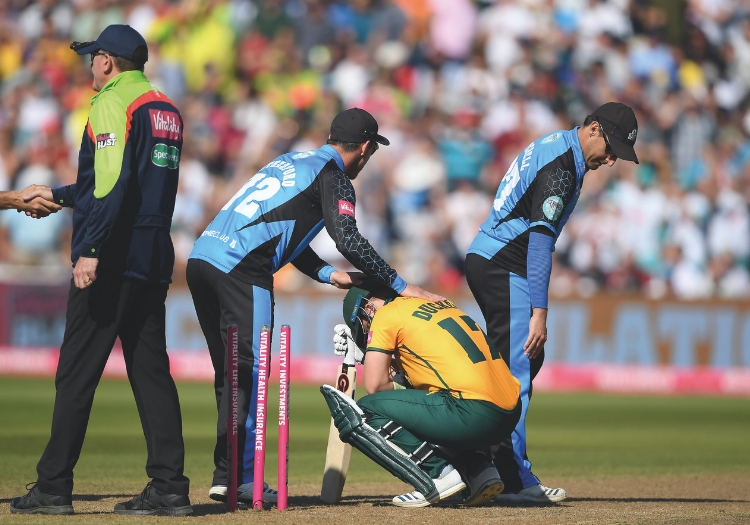 Ben Duckett is inconsolable after missing Wayne Parnell's last ball
"I tore a cartilage against Kent and also had to have a cyst removed from a kneecap," he said. "When I slowed down after running it felt like someone was stabbing me in the knee. I had an operation after playing three four-day games with the injury.
"I couldn't bowl and really I shouldn't have played those matches, but that's an example of me saying how much red-ball cricket means to me. It would have been very easy for me to say I'll miss the Championship games and miss only five T20s but I chose not to do that. Red-ball cricket was 100 per cent my priority."
To label Mullaney's view 'old school' would be to underestimate the importance attached to first-class cricket, even by those younger players whom, one might think, would have most to gain from the game's shortest forms.
But the skipper's approach also reflects an understanding of the membership at Trent Bridge and it is not surprising that Mullaney has sought to adopt a more inclusive approach which emphasises to Nottinghamshire's raft of new signings how much the club matters to the supporters and the back-room staff at Trent Bridge.
"I came here in 2010 on a bit of a whim," he recalled. "I was a Lancashire lad who wasn't really sure where his cricket was going. I got this opportunity and thought I'll give it a crack for a couple of years but it didn't take me long to love it down here. Then we won the Championship in my first season and it helps when you're winning.
"Now you can't make someone love the club overnight. But you can do certain things which make them realise what it means to me or to the other people who work here and we've begun that process.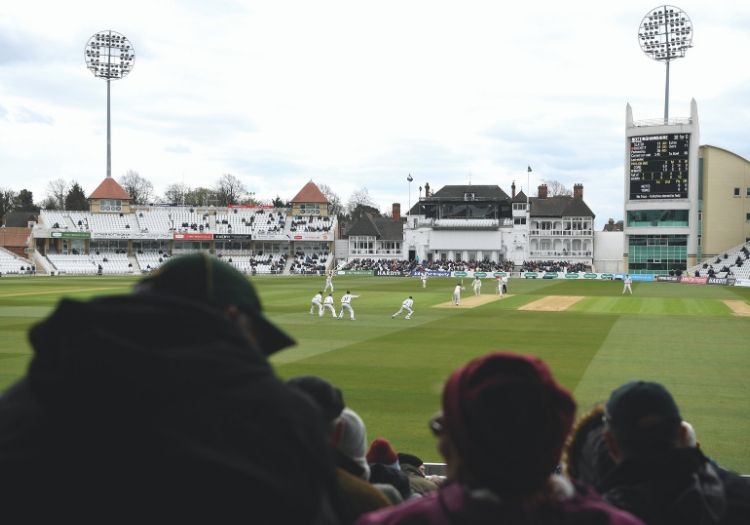 The view from the Radcliffe Road End
"With reference to last year it's hard to love something when you're hurting so much but I think we need to realise how much red-ball cricket counts for people round here and how much this club means to those who work here but may not be playing in a game, people like supporters, gatemen, office-staff. We've been making sure we treat everyone with the same respect. You speak to a gateman just as you might speak to Peter Moores. It won't help you win a game but it creates a culture of respect."
The critics will point out that Notts' need to integrate new players would have been considerably lessened had they not made so many signings last autumn, but Moores would counter that the recruitment of Ben Duckett, Clarke, Ben Slater and Zak Chappell was necessary simply to plug the gaps in a staff that has lost something like 16 cricketers over the past three seasons.
"We signed good young players who last year didn't come up to the mark and some of the player reviews of our red-ball season were harsh," said Moores, who signed a new two-year deal in October.
"There's a lot of financial gain that goes with white-ball cricket but there's a lot of status that goes with red-ball cricket and the fabric of a club is in red-ball and we know our responsibilities there. My style as a coach is to empower the players to go out and play but that becomes quite difficult when you are losing because people play a little bit in survival mode and try to ensure that they are OK.
"You get worn down over a season. You get more out of a team when it has learned its own rhythm but it can take a while to achieve that. Winning games early in the season helps a lot in that and a team learns its own toughness. We need to learn to become resilient as a group but the proof will be in how we play this year.
"You don't improve as a player overnight but I think the second season will be easier for the new players at the club like Ben Slater, Ben Duckett and Joe Clarke.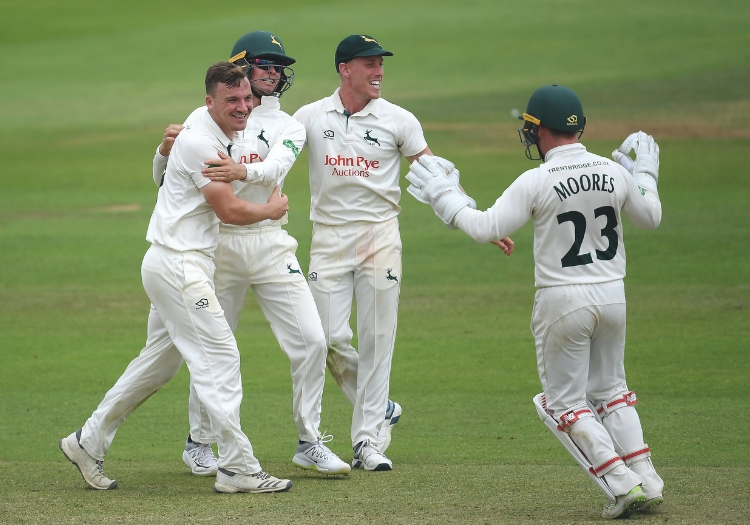 Left-arm spinner Liam Patterson-White came into the side in September
"In England you certainly can't chase the ball; you have to play it late. At times as a batting group we could be criticised for being impatient and wanting to force it. Desmond Haynes was my coach at Sussex and he said to me that in England in April you had to be prepared to score ugly runs."
Not even his sternest critic would accuse Haseeb Hameed of scoring ugly runs but the problem for the former Lancashire opener in the past three seasons was that there was nothing like enough of them.
Yet both Moores and Mullaney have great faith in the 23-year-old's ability and Notts' signing of him remains one of the most intriguing of the close season. The hope is that he will rediscover the form that saw him play three Test matches before he was 20.
"We've shown our passion for red-ball cricket by signing someone like Haseeb," said Moores. "He's a really good player and a really good lad. He's a student of the game and he wants to master it.
"All our younger players are very passionate about their cricket and want to talk about it. That doesn't always come across but you only have to watch them over coffee in the morning to see it's true. Because of the challenge of the red-ball game it's the most satisfying to play well. Scoring a first-class hundred is still one of the great feelings."
Moores and Mullaney hope their top-order batsmen will experience many such moments in 2020. Should they do so, some of the most fervent supporters in the land will relish the revival in Nottinghamshire's fortunes. But like almost all the county's plans for the coming season, proof will not be forthcoming until April.
"I feel in a miles better way about my game and the way we're going because I can see the potential for this team," said Mullaney. "But it's easy saying that or putting it on paper.
"We will get judged when the Championship season starts and that's been our main focus. We're hurting in an embarrassed way but the truth is that we will be judged on what we do from April 12 to September 25. The aim is to make our supporters and the club proud of us again."
This article was published in the February edition of The Cricketer - the home of the best cricket analysis and commentary, covering the international, county, women's and amateur game
To subscribe for just £44.99 per year, click here