Tim Robinson, Kevin Cooper, Mick Newell, Paul Johnson and Andy Pick recall the wickets and runs of the great Richard Hadlee at Nottinghamshire
In May 1978, a 26-year-old Richard Hadlee arrived in Nottinghamshire for his first taste of the County Championship. By the time he departed Trent Bridge 10 seasons later, he had put together a record that gives him a claim as county cricket's greatest ever overseas player, incredibly topping the Championship bowling averages in seven of the nine seasons in which he qualified, including the last six. Five former team-mates share their recollections.
Tim Robinson (opening batsman): He came in under a bit of a cloud. The club had sacked Clive Rice for joining World Series Cricket and signed Hadlee instead. Then they realised they couldn't sack Clive so we ended up with both. It was a bit of a strange situation.
Kevin Cooper (seamer): The winter Clive was with WSC was the first ever world indoor cricket tournament and Richard came over with New Zealand to play in it. Our chief executive at the time shot down to London and signed him, but then Notts realised they didn't have a leg to stand on with Ricey so had to reinstate him.
Mick Newell (batsman): When you think about Richard you have to think about him and Clive Rice as a pair. What they brought to Nottingham was a winning mentality that just wasn't there in the '70s, as well as Richard being certainly the best bowler I've ever seen in county cricket.
Paul Johnson (batsman): In the early days, he used to do a silly little click with his heels at the start of his run-up. I don't know where it was, but he tripped over his flares once. The next season Ricey said: "There's no way you're going to have a long international career running as far as you do." So early-season the pair of them reduced his run-up by a third.
Cooper: There was a big outcry in New Zealand because he was their main quick bowler and they all saw him coming off this long run and steaming in. But he got better, his control got better and it prolonged his career. And he didn't really lose any pace from it.
Nottingham is a city with a famous legend associated with green, and the Hadlee era was one of Trent Bridge greentops…
Johnson: We used to call it 'the green trampoline'. When Notts won the Championship in 1981, they won every home toss except one, and in that game Roger Tolchard [of Leicestershire] batted first.
Cooper: Ricey wanted to play positive cricket. He spoke to Ron Allsopp and asked for quicker pitches with a bit of grass on to help the seamers, but with bounce for batsmen. It took Ron about three games to find the right length of grass. If he got it too long, the ball just skidded. At times, the opposition turned up and said: 'We can't play on that'. Our batsmen did too. Ricey just said: 'Get out there and get on with it'.
Johnson: It was doctored, but we had a genius in Ron who could do it, who Ricey thought of as the 12th man and part of the team. But we also used to bowl two yards fuller than the opposition. They'd see it bounce and seam and get carried away.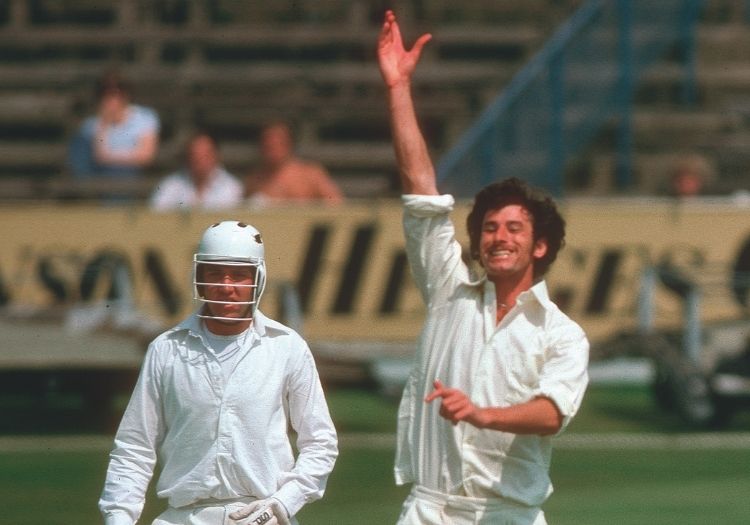 Richard Hadlee takes a wicket against Warwickshire in 1978
Cooper: In the deciding game of 1981, when Eddie Hemmings took wickets against Glamorgan, Ron had shaved both ends past the four-foot mark, so you'd got brown-green-brown. Malcolm Nash stood looking at the wicket and said: "It's not fair." Me and Bruce French were there and said: "What's not fair?" He said: "These brown bits." We said: "Don't worry about them, worry about the green bits!"
By the mid-'80s, Hadlee was top of the world Test bowling rankings and, for newcomers, a potentially daunting, slightly detached presence in the Notts dressing room.
Robinson: You couldn't really call him a team man in respect of training. He was very much an individual. He knew what he had to do in order to get the best out of himself. And Ricey left it up to him. He was very blinkered, and a lot of it was for himself, but everybody benefited. If Richard was playing in the game, he wouldn't bowl at you in the nets, that is for sure!
Newell: His only fitness was six laps of the ground and a few press-ups.
Johnson: He did what he needed to do for him. At times, we thought it was selfish but looking back at it now it made perfect sense.
Andy Pick (opening bowler): Walking into the dressing room on day one was a fairly terrifying experience, seeing all these people who six months earlier I'd been reading about in the newspaper. I wouldn't say Richard was particularly welcoming, but his job wasn't really to make a young lad feel comfortable. His job wasn't a coach. He was a player. We wanted him to take wickets and make runs.
Johnson: He taught me how to play backgammon – a young teenager who wasn't going to tell him to stuff off – basically so that he had someone to play with every time there was a break in play.
Cooper: We didn't talk that much about bowling off the pitch, the craft. On the pitch, you might share ideas about field settings, but it was very different then. There were no coaches. You were self-reliant.
Pick: He would never take it upon himself to deliver a bollocking. He never showed that level of interest in other people's games. He wasn't captain; he wasn't manager. He just expected everybody to do their job.
With most of the greats playing county cricket in the 1980s, Notts' players had front-row seats for some heavyweight duels.
'I'd look at the ball at the end of the first over and it would be in immaculate condition. He would get six out of six landing on the seam'
Johnson: We were playing backgammon one April and I asked him how his winter was and he just looked at me with those snarly eyes and grunted. He'd played a five-Test series in West Indies and said they basically just tried to kill him and he might as well have batted in shorts and flip-flops for the amount of balls that were below waist height. During that season, whenever we played against the West Indies bowlers scattered around the county circuit, he picked them off one by one. To a frightening degree. He worked Malcolm Marshall over and we're all going, 'What are you doing?!'
Pick: His performance level was so high all the time. He wasn't an effort bowler. He had a beautiful action, put the ball in the right area 99 times out of 100, and there were certain players who were out almost before they came in. He could bowl fast if he wanted to but pretty much every ball he bowled was asking the batsman questions.
Robinson: You couldn't expect him to bowl flat out all the time, obviously. But Ricey would use him sparingly and throw him the ball when he thought he would do maximum damage.
Pick: The worst thing about it for me was playing at Trent Bridge, where we had one of the first scoreboards that put full individual bowling figures up. I opened the bowling with him for three years. You'd look up at the board after 10 overs, and Richard would be 5 overs, 3 maidens, two for 7 and I'd be maybe 0 for 28 off 5.
Hadlee almost helped Notts to a second Championship in 1984, becoming the first man for 17 years to do the double of 1,000 runs and 100 wickets.
Newell: He had taped into the lid of his coffin a plan of how he was going to do it: 60 wickets at Trent Bridge and 40 away; 400 runs at Trent Bridge and 600 away. He was incredibly driven.
Robinson: He had a piece of cardboard with 12 statements on it: what he'd done and what he was going to do, but the common denominator was that they were all about himself.
He averaged 51.26 with the bat in 1984, then 32.88, 55.3 and 53.75 over his last three seasons as he blossomed into a truly great allrounder.
Robinson: It wasn't until later on when everybody started wearing helmets that he became a real force with the bat.
Newell: I suspect he played with a bit more freedom in those final years, because he batted at No.7 and he probably thought the games at Trent Bridge were not going to last three days. If you bowled in at him, it was quite difficult for him to score, but he still scythed it away through the offside very well.
[~~INLINEIMG4~~]
Hadlee and Clive Rice win the 1987 NatWest Trophy
Johnson: He would score heavily against sides without a great deal of pace. Coming in at No.6 or 7, into people's second and third spells, he would be really dangerous. Devastating at times, particularly against spin and medium pace. Anything pitched up he used to give it one hell of a whack.
In 1987, his final year, Hadlee again scored 1,000 Championship runs, along with 97 wickets at 11.89 as Notts came close to winning a treble. They finished second in the Sunday League, but landed the Championship and NatWest Trophy, Hadlee signing off with a man-of-the-match performance against Northamptonshire, slaying the ghosts of Lord's final defeats in 1982 and '85.
Newell: In 1987, Richard and Clive drove us forward, which was great when we were playing well but there was quite a lot of criticism of the rest of the team when we didn't play so well. But in general you had these two fantastic cricketers in your dressing room and you wanted to win their respect.
Johnson: We cocked up the Sunday League at Moreton-in-the-Marsh against Gloucestershire. It was rain affected and Ricey was adamant we should play. There were a few of us who were against it. We needed three to win and Andy Pick swung and missed at three of the last four balls. Richard was at the other end and he was furious, which for Picky was really heartbreaking.
Newell: The NatWest final was played over two days. We played on the Saturday and at the close were something like 50 for 4, dead and buried, chasing 229. Bizarrely, we had to drive back to Nottingham for a Sunday League game, which was rained off, then drive back to London on the Sunday night to finish the final on the Monday. Bruce French and Richard played really well, then we drove back to Nottingham and celebrated in the pub just over the Trent Bridge with the trophy sat on the table with us.
By any measure, it had been a stellar county career.
Johnson: Richard Hadlee was the Rolls Royce of bowlers, the best bowler I've ever seen in county cricket. He very rarely chirped anyone. He just let the ball do the talking for him. Ken Palmer once said to me: "That Richard Hadlee, he doesn't appeal unless it's out."
Newell: His skill with the ball was way above anything I've ever seen.
Robinson: I used to field in the covers and I'd look at the ball at the end of the first over and it would be in immaculate condition. He would get six out of six landing on the seam.
Cooper: There were many times when Richard was unplayable. He'd got the ball on a piece of string. He just did what he wanted and batsmen couldn't handle him. We stood there in awe at times. It was an absolute pleasure and a privilege to play alongside him.
This article was published in the October edition of The Cricketer - the home of the best cricket analysis and commentary, covering the international, county, women's and amateur game
For unrivalled coverage of the county season, subscribe to The Cricketer and receive 3 issues for £5