HUW TURBERVILL: Thirty years after tackling the Australians in a home Ashes series, Jack Russell is preparing for the challenge again – but this time he is painting them
Thirty years after tackling the Australians in a home Ashes series, Jack Russell is preparing for the challenge again – but this time he is painting them.
The former England wicketkeeper always had safe hands, which is why Yorkshire chief executive Mark Arthur asked him to paint this summer's Headingley Test, to mark the club opening their new Emerald Stand. Russell then decided to do all five matches.
"The last time I painted an Ashes series was in 2005, so I thought it was about time I did another one," he told The Cricketer. "Two years ago I painted The Oval's 100th Test – I did the first ball of the match – Morne Morkel to Alastair Cook – and that worked well, so I thought I would do it again for each Test this time."
We better keep our fingers crossed that none of the first balls replicate Steve Harmison's in 2006/07, when it flew to second slip; and Russell also jokes that he will have to dictate choice of ends for the first over…
"I like to be accurate about the recording of a particular moment in time. I always paint the weather on the day. I am trying to get you there in the moment. That is why I have to go on the day. I have painted most of the county grounds, and been to some places where the ground does not even exist anymore – but I still want to get the feel of the place. Cameras are great but they don't always give you the correct colour, or perspective…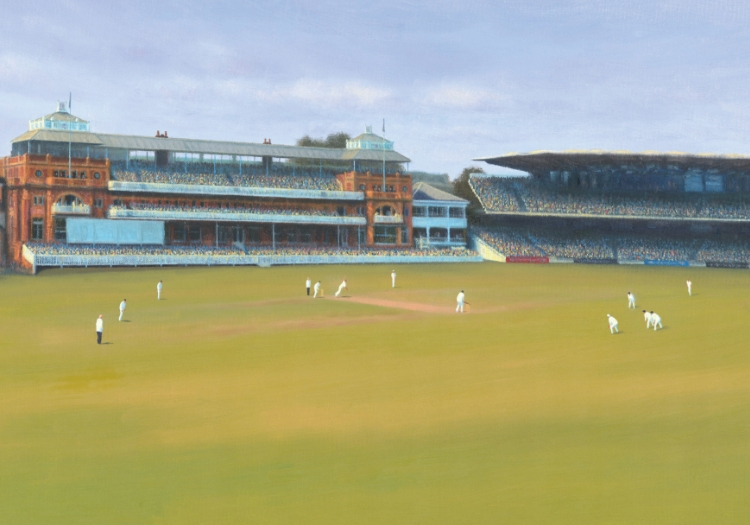 Jack Russell's painting of Lord's
"They often stick me next to the cameraman in grounds, but I like to find slightly different angles. It is the Ashes though, so the atmosphere is always different. At Edgbaston [where the first Test is] – I did the West Indies day/night Test in 2017. I am not sure where I will go this time, although if I am brave enough to set up in front of the Hollies Stand remains to be seen."
The second Test is at Lord's, the third at Headingley, and the fourth is at Old Trafford – which inspires a memory – and perhaps explains his trepidation about the Hollies. "I was put on the boundary there once, and had 5,000 people telling me how to paint. That was an interesting day! When you are in the middle you don't get any of that banter, but this time it was, 'that's the wrong blue!' or, 'that cloud has gone now!'
"At The Oval [fifth Test] I painted Kevin Pietersen getting his hundred in 2005. I was up in the OCS Stand, but I took some photos and made some sketches of him in front of the gasholder, which I love. It had a massive 'Go England' banner on it which was brilliant for the painting.
"These ones will be 36 by 24 inches, and it will take me all winter to complete them… although I will have Christmas Eve off."
Russell, 55, is as dedicated to his art as he was to his wicketkeeping. "I am never happier than when I am painting," he says, "although whether I am relaxed depends on how the picture is going!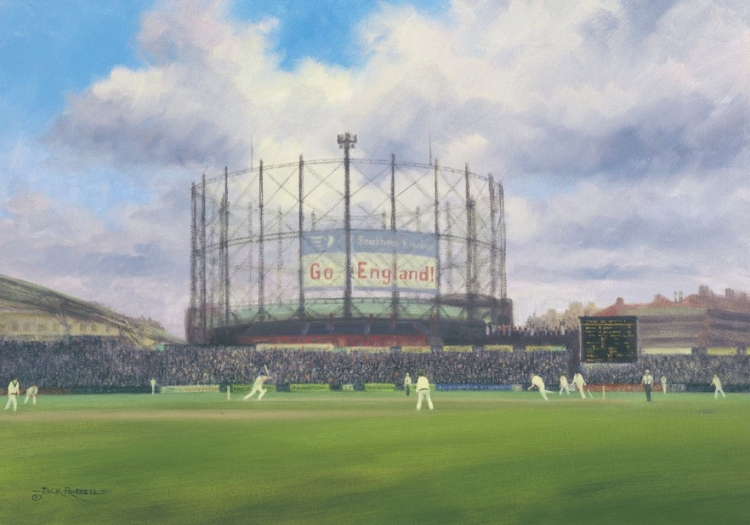 The Oval in 2005
"Time seems to fly faster as you get older. I need 150 years to get anywhere near to being a decent painter, or to get to the bottom of the subject. Like cricket, you never crack it. There's so much I want to do. I cannot stand being unproductive, and it's nice to leave something behind. When people want my pictures on their walls, that is the ultimate accolade."
Russell played in two Ashes series, and both resulted in stinging defeats.
"I played in the six Tests at home in 1989. We used 29 players! It was pretty chaotic, and unnerving. You could not get any team thing going. The day we lost the Ashes [following defeat in the fourth Test] the rebel tour to South Africa was announced. I didn't have a clue that it was in the offing. There were two dressing rooms at Old Trafford and it was all done in the backroom. I wasn't asked and I wouldn't have gone if I had been. I was really cheesed off that the news broke the day I scored my century [128 not out]. Losing the Ashes was such a choker anyway, and I didn't celebrate my hundred for a few days.
"In those days you had two bad Tests and you were out, your career could be over. It felt like your career depended on every ball. That was quite a shackle, although Darren Gough was different, he did not treat it as such. But it stopped most people being free. It is different now, when you get five or six Tests, or a series… or Eoin Morgan saying, 'Just go for it!' Graham Gooch did change that culture a bit. He would say, 'See you in two weeks', and tell the selectors that was the team he was having."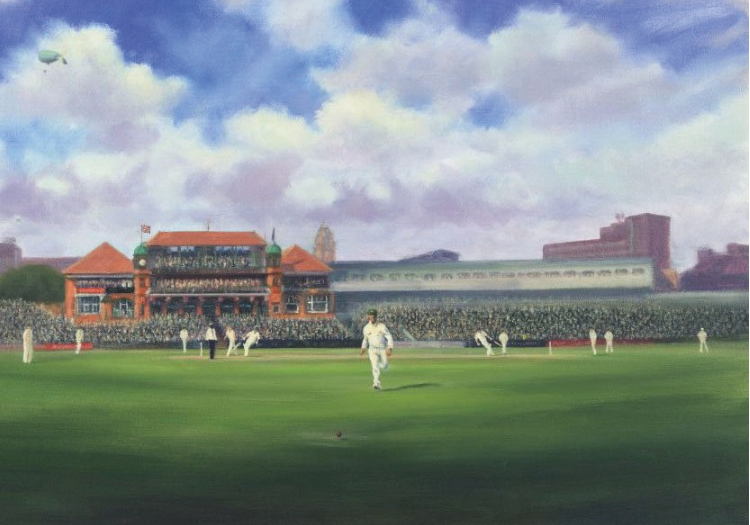 Old Trafford
England lost that series 4-0, and then he played in the 3-0 defeat – under Gooch – in Australia in 1990/91. Russell was selected for the first three Tests, but was then dropped for the first time from any team in his life.
"Angus Fraser had bowled so many overs at Melbourne, and they weren't sure on his fitness. They did not want to leave him out though, so Daffy [Phil DeFreitas] came in at Adelaide and they gave the gloves to Alec Stewart.
"The silver lining for me was that I had the chance to meet Sir Donald Bradman. It was a darkened room in the pavilion as he didn't like a fuss made, but it was the greatest 15 minutes of my life."
It was a troubled campaign though.
"Goochie got bitten by a spider. I went to see him in hospital. His skin was purple. Allan Lamb scored a hundred in a tour match and ran home to the hotel only to pull his calf. He hadn't been running for weeks. I don't know why he did it. He missed the second and third Tests. It was a disaster."
Russell hopes that this Ashes campaign, with his easel, is considerably easier.
This article was published in the May edition of The Cricketer - the home of the best cricket analysis and commentary, covering the international, county, women's and amateur game