NICK FRIEND chats with England spinner Sophie Ecclestone, the world's top‑ranked T20I bowler, about her rapid rise, life at the top and a frustrating end to the T20 World Cup
Sophie Ecclestone is the best bowler in the world.
A rhythmical trot towards the crease followed by a break into a hop, skip and a jump; it all happens with a languid, effortless ease, dripping in oodles of classy melody.
It was only half a decade ago that she would joke around with her friends, treating cricket as little more than a social event – a game she loved but never necessarily believed might lead to the whirlwind that has since transpired. Five years on, she has not simply become a mainstay of Heather Knight's England side, but a central figure.
A daughter of Cheshire and of Alvanley Cricket Club, where she grew up alongside the boys as the only girl, it has been a rapid rise, all tinged with a startling inevitability.
"I do think it's crazy how quickly it's gone," she tells The Cricketer. "I think I was about 14 or 15 and I was still playing just for fun, really. At 16, I got picked up for the development squad and at 17 I made my debut.
"It's just something that I love doing. I'm quite lucky and privileged to be able to do something that I love every day. Being able to play cricket for a living and to be able to say I'm a professional cricketer is quite crazy. I know my family can't believe what I've done.
"Now, I play the odd game at Alvanley for the first XI with my brother. Some of the boys used to say: 'Oh, you'll play for England when you're older.' And I'd just go: 'Whatever, no I won't – I just play it for fun.' And now I'm playing for my profession. It's my job."
She points to Robin Fisher, the former Cheshire bowler and a stalwart of her club, as a major early influence. But the rest, as they say, is history.
By the ICC's latest batch of rankings, Ecclestone is the world's top-ranked T20I bowler. Her figures across the recent T20 World Cup in Australia were outrageous, without peer. She bowled 15.1 overs across England's four games, taking eight wickets at a cost of just 49 runs – an average of 6.12, an economy rate of 3.23. Others took more wickets, but none were as consistently frugal.
It is a dream come true, the realisation of a long-held ambition – "I was overwhelmed by it all," she admits. Accolades won't change her, you sense. More than just pride, however, there remains a lingering frustration at how her competition ended – doused in avoidable farce, with the Sydney rain knocking England out courtesy of a second-place finish in the group phase and the lack of a semi-final reserve day.
"It was awful how we went out," she says, allowing herself a wry retrospective chuckle. "We'd worked for six months up until that T20 World Cup and after all the build-up, we got knocked out by rain. It's just annoying to look back on when you've done all that work for basically nothing really."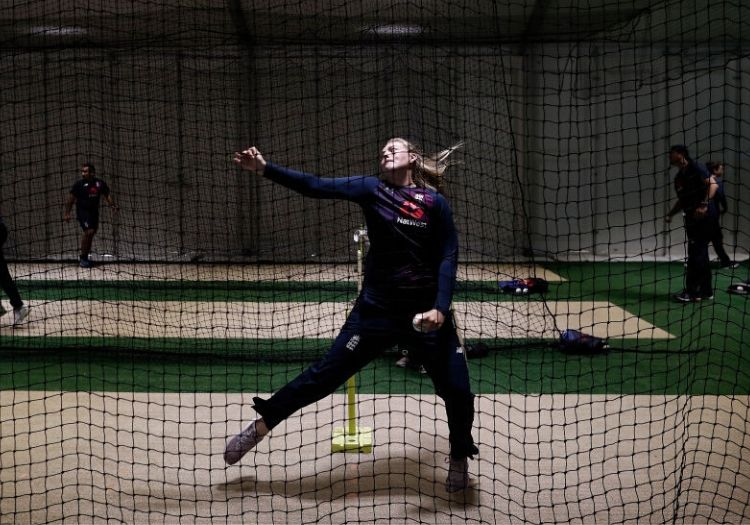 In the SCG nets
Their irritation was only magnified when conditions cleared up sufficiently for Australia and South Africa to play out the second semi-final later in the evening, albeit in a shortened format.
"We were all prepared to play," Ecclestone adds, reminiscing of a bleak afternoon sat on the balcony of the SCG pavilion staring in anguish as a grim, grey scene unfolded. "The spinners got together to look at our plans. We were set out to play and we were all ready to play. But obviously when the day came, we were just watching the rain fall and it just wasn't stopping at all. It was not ideal.
"There were definitely some expletives among the team when it came up that [the second semi-final] was starting. It was really disappointing for us not to get a game and they did. Hopefully, that never happens again and there's a reserve day."
By the time the final came, Ecclestone had reunited with her boyfriend who had flown over. The pair visited family friends, "staying well away from the final".
There is a recognition too, though, that England never quite got going as they would have liked to. Terrific individual performances never translated into the complete display that she believes was still to come.
Nat Sciver and Heather Knight would both have been worthy recipients of the player of the tournament award ultimately won by Beth Mooney, while Ecclestone and Sarah Glenn formed a formidable partnership through the middle overs that has the potential to dominate for a significant period of time.
The pair have a combined age of just 41; Glenn only emerged on the international scene in December when England faced Pakistan in Malaysia, satisfying a desperate thirst for a leg-spinner that spanned the duration of Mark Robinson's tenure in charge.
Ahead of her debut, Glenn told The Cricketer: "Me and Sophie get on really well – we're quite similar really. We're similar ages and we've gone through similar things. Coming into this environment, it has been a bit challenging.
"But if I have been unsure about something, I've kind of gone to Sophie – it's quite nice, just with the age, she's been really helpful with me in terms of settling me into the group, as well as a few of the seniors as well."
It is a quirk of Ecclestone's existence in this side now that, despite her own youthfulness, she finds herself as a veteran of 60 international appearances. With the retirement of Laura Marsh and the emergence too of Mady Villiers, she is very much English cricket's senior spinner, even if that is not quite how she views her position.
"I don't see it as a senior spinner role," she insists. "We just get on really well; it's nice to have people my age in the team – having songs on the playlist that you don't get moaned at for was the main one!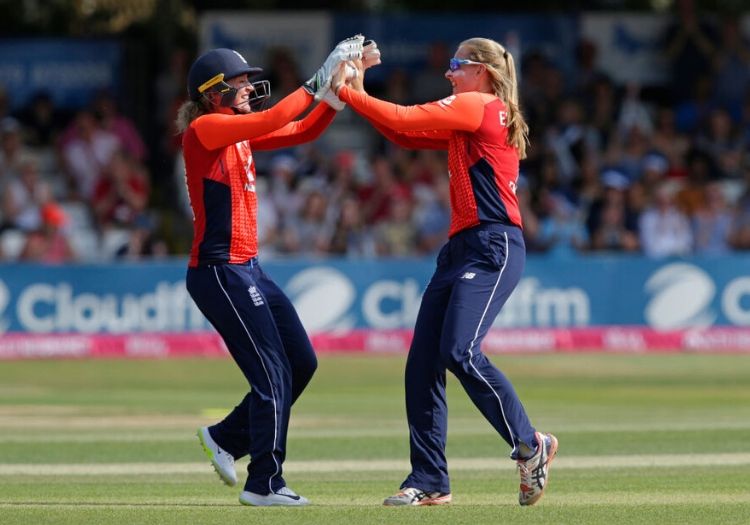 Ecclestone celebrates with Sarah Taylor
"It's quite weird now because a couple of years ago I was the really young one. I was looking up to Katherine Brunt and Sarah Taylor at that time – there were quite a few older people than me and I was quite young.
"I had looked up to them and then suddenly I was part of the team. And now that Mady and Glenny are coming in, I just want to make it as easy as possible for them to come into the squad.
"Everyone is really close. It genuinely is like a family. People say that it is like a sisterhood, really. We're there for each other – when you're on tour as well, everyone spends so much time with each other that you just have to get on."
Ecclestone reserves special praise for Brunt, now 34 years old but still charging in as the leader of the seam attack. She cannot go on forever, of course, and the sight one day of an England side without her will take some getting used to.
"It's a scary thought," Ecclestone acknowledges. "On the field, she's a big character and off the field she is as well. To know that she won't be there, I'll miss her definitely.
"Katherine always says to me how lucky I am. She didn't get paid when she was younger. It's quite nice to have someone like that to keep you grounded.
"She has been quite a massive figure for me. I think she knows quite how much I appreciate her. She's an amazing person with a heart of gold. I think the way she plays for England – she wears her heart on her sleeve. I think I look up to that and the way she plays; she's still going now and is still as good as she ever has been. To have that sort of figure in the team – I think when she does eventually retire, it will be a big loss to us."
What becomes of this summer, quite frankly, nobody truly knows. Series are due at some stage against both India and South Africa, as well as next year's World Cup in New Zealand to prepare for, while Lisa Keightley was looking forward to a first summer in charge.
"Obviously, you've got the football season as well," stresses Ecclestone, a big Everton fan. She arrived home from Australia excited for the Merseyside derby on March 16 – a game that, like so many others, has been postponed for the foreseeable future.
"I literally came home for a week, was seeing everyone and going out for tea and then that was it.
"I think all the girls were really excited for this year, with Lisa coming in. I've never had a new coach before, so it was all quite new to me.
"And now we don't get to see any of the girls. We have no idea what's going to happen because of everything that's going on."
This article was published in the June edition of The Cricketer - the home of the best cricket analysis and commentary, covering the international, county, women's and amateur game
Save 30% when you subscribe to The Cricketer's print & digital bundle. £35 for 12 issues