SPECIAL REPORT - SAM MORSHEAD: It has been little more than a year since ACE set up in Bristol, following a successful launch in London, and already it is having a similar effect in the south west
"Sometimes it takes the right person to see the right talent," says Theo Gordon, the lead coach of the ACE Programme in Bristol.
He is talking about the potential of a young bowler who, after several years of trying, has finally got his chance in the Gloucestershire pathway following a year in ACE's care - but he could be referring to many, many others up and down the country.
It has been little more than a year since ACE set up in Bristol, following a successful launch in London, and already it is having a similar effect in the south west.
This year, nine Bristol graduates have been accepted onto talent pathways at three counties in the region: six with Gloucestershire, two at Wiltshire, and one at Somerset. Robbie Joseph, meanwhile, has moved from coaching on the programme onto Gloucestershire's senior staff and is now in charge of the bowlers at the County Ground.
And that, Gordon says, is proof the project is on the right course.
"What we've been able to achieve is unreal, and it shows there is talent out there," he says. "We just have to reach and grab it, and make them feel like they do belong in the system."
A local boy with a Bristol twang, Gordon spent his early years in Jamaica before moving to the UK when he turned school age. He learned to love cricket through Bristol West Indians - one of the most famous club sides in the country, and became involved in ACE in its early days, when he volunteered at The Oval.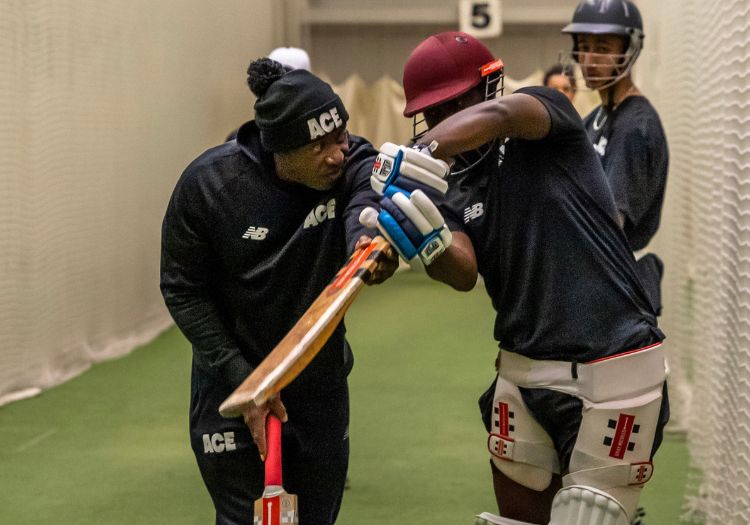 The ACE Programme has been active in Bristol for 15 months [supplied/Gloucestershire Cricket]
In late 2021, he took on responsibilities for extending the programme into the south west. And over the subsequent 14 months, he and his small team have taken the sport back into sections of the community to whom cricket had become less and less relevant. 
"Within the community, we've created that curiosity and kids are learning about the game," he says.
That curiosity has now spread well beyond Bristol, with ACE's academy sessions attracting young players from much further afield.
Three Cardiff University students make the trek across the Severn by train each Saturday night, while there are others who come from Wiltshire, Stroud and Somerset - each an hour or so each way by car. 
Mark Thorburn is in charge of Gloucestershire's talent pathway. He has only been in the role since October, but speaks eloquently on the challenges facing young players when it comes to getting recognised, and the challenges facing coaches in extending the opportunity to be discovered to as many would-be cricketers as possible.
"We would hope that, within the club structure and the network we have with the Gloucestershire Cricket Foundation and the club game, if the talent is there we're going to discover it," he says.
"But we are aware of some of the barriers which exist when it comes to people feeling comfortable, or making cricket a game for everyone.
"Clearly, the ACE programme wouldn't exist if it hadn't been identified that something like that would give people the additional support, confidence and infrastructure to get into the game.
"The fact that some of these players are travelling distances to come to Bristol shows the importance of and need for the programme, as perhaps they don't have options locally."
A key element of the Gloucestershire pathway is the nomination of talented young players by local clubs for a trial at the county. It is a trusted method, which has helped Gloucestershire unearth many fine players down the years - and they are by no means the only first-class setup to employ such a process.
Yet, what the increasing impact of programmes such as ACE and the South Asian Cricket Academy has shown is the club route does not necessarily highlight young cricketers of diverse backgrounds.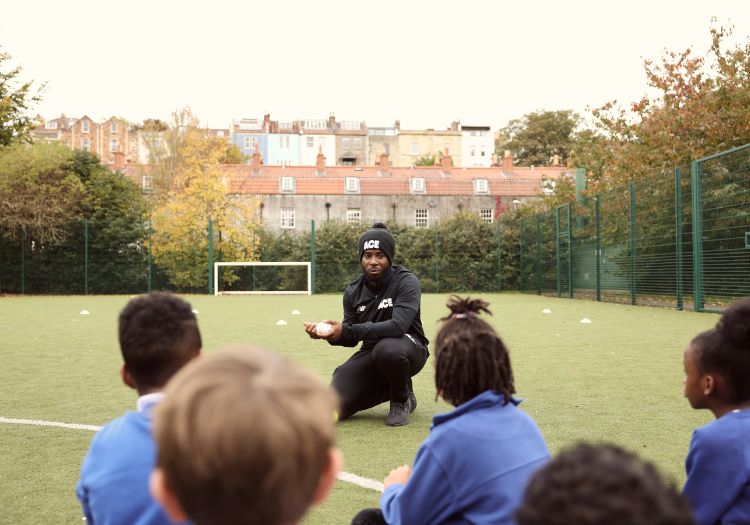 ACE offers an entry route into cricket for players from diverse backgrounds [supplied/Gloucestershire Cricket]
"We'd like to think that anyone would be happy to walk into their local club and give it a go, but in reality sometimes you need other ways so people can identify with someone else to give them that route in," Thorburn says.
ACE delivers two community hubs in Bristol - and are planning on launching a third in late February. They also go into as many as six schools each term. Both these avenues give the programme more scope to highlight cricketing ability in children who otherwise did not know they had it, or did not have an outlet to express it. 
There are further seeds of success within those community hubs, in the transition of two young players into the ACE academy in Bristol over the past six months. 
"As diverse as Bristol is, counties don't reflect the diversity levels of their cities," Gordon says. "Why I don't know. It could be they haven't reached out to the community in the right way, it could be it's hard to communicate or not knowing the right people to contact, but the county should reflect its diversity level of its city.
"Things are changing, and it's good to be a part of that."
Sometimes, Gordon points out, even when the cricketers do get to trial, things don't go their way.
He cites the example of Jamal Khawaja, a prodigious fast bowler of whom plenty is expected within the ACE programme.
Khawaja is 15 and has been in the trials on several occasions, but only this year has he been accepted onto the Gloucestershire pathway. 
"Sometimes it takes the right person to see the right talent," Gordon says. "He's tall, he's everything you want a seam bowler to be. It was confusing to me how a coach cannot see how this tall kid who's really good at what he does. As a coach, he's my dream."
Which brings us onto the very process of selection, especially of children as young as nine or 10.
"It's something we are always looking to define more clearly: for coaches, parents and players," Thorburn says. "It's something that's ongoing and is something that is pretty high on my to-do list here - to make it as transparent as possible."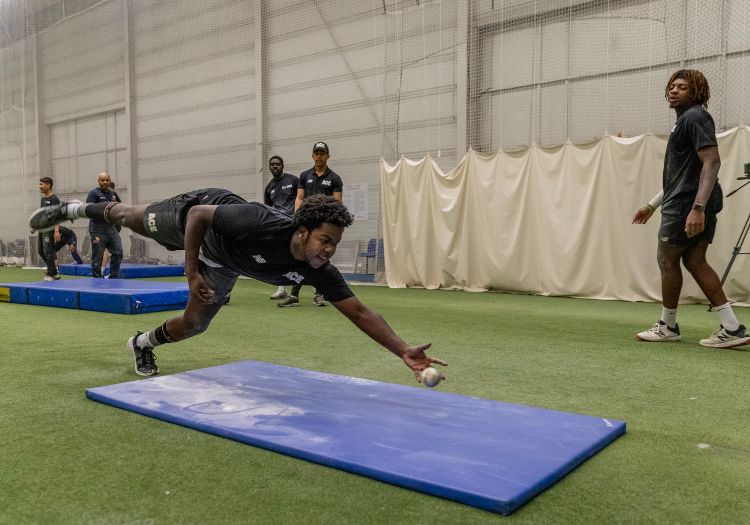 Nine Bristol ACE graduates have been taken into county pathways this year [supplied/Gloucestershire Cricket]
The Cricketer asks Thorburn if the selection process needs to evolve and adapt to cater for more diverse young players. 
"We all hope that process is fair and equitable but, because of maybe a lack of clarity, people can be reticent about how you might get into the trials, how you might nominate a player, or how you might contact a county club to be identified as a potential age-group cricketers," he says.
"We do have to move with that, and there are some interesting initiatives that other clubs are adopting to help broaden the lens of your talent pool."
Thorburn picks out the example of Warwickshire, who accept video footage of potential additions to their under-13 to under-18 boys' squads, as part of a new talent ID programme. 
In 2021, the county also held open trials, as Yorkshire have done in recent seasons. 
"As a game, we need to consider all avenues to ensure we're not missing out on talented cricketers from a range of backgrounds," Thorburn says.
"Obviously ACE serves as a means to do that, but it shouldn't stop there, by any stretch. We need to make sure there aren't any barriers."
One of the many barriers that continues to prevent the progress of young players is the cost of entering into a county pathway. 
Gloucestershire have a mantra that no child should be priced out of making it onto their age-group squads, for which the typical cost per player is on average £250 per season. In practice, this extends to the option for parents to make use of a fund specifically dedicated to underwriting some or all of the expense, while the boys' pathway received a grant of £11,100 from the ECB over the winter - which has been used to cut the cost of the winter training programme by a third compared to 2022, and will pay for free outdoor sessions once the weather allows.
"The ambition will always be to make it zero cost to parents, but that is quite a challenge without some significant financial backing," Thorburn says.
He also raises the point that the requirement of the club to be asked for financial support through that dedicated fund presents an emotive challenge for parents and guardians.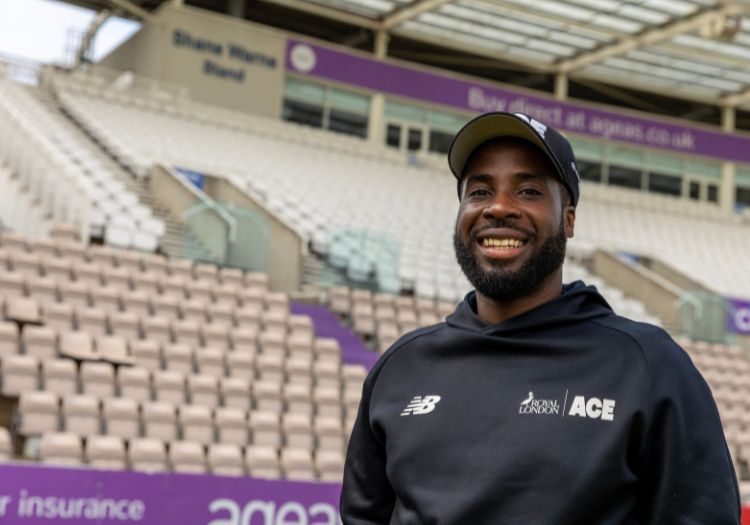 Theo Gordon is the lead coach for ACE in Bristol [supplied/Gloucestershire Cricket]
"As a parent myself, you think 'will that have an impact on my child being selected, how will they view my child, how might it impact their journey through the pathway'. These are issues people worry about, and we need to ensure we are really clear with our communication around that. We want to try to break down any barrier to people having access to fulfilling their talent."
For those nine talented individuals to break into the county pathways from the Bristol academy this year, the journey has just begun.
And the connection between ACE and its graduates does not stop now. They will still attend weekly sessions in Bristol, and retain the coaching support provided by Gordon and his fellow coaches. 
And in 12 months comes the acid test.
"Eight of the 10 who are in the pathway are new to the setups, our main goal is to keep them there," Gordon says. "That'll be the win, surviving the whole season in county age groups, performing well, and making sure they're there next year.
"They're not perfect yet, but they have the skills. Keeping them within the academy and giving them the extra resource will allow them to stay on top of their games, and it's good for the other players to look up to them."
---
Related Topics