GEORGE DOBELL: A New Zealand-born double-act at the helm of the red-ball team is an exciting prospect, but problems almost certainly go deeper than simply appointing a group of charismatic leaders can resolve
It probably shouldn't be a surprise that a managing director with almost no experience has appointed a coach with almost no experience. 
For that is where we are: Rob Key, the new MD of the men's teams despite having never held such a role at domestic level, has appointed Brendon McCullum, who has never coached a first-class team, as Test coach. Oh, and the new captain, Ben Stokes, has led in just one first-class game. This really does feel like a brave new world.
None of that is meant to suggest these decisions are necessarily wrong. Taking a conventional route has led England to the bottom of the World Test Championship table and seen them win one of their most recent 18 Tests. If they want different results, maybe it's right they try a different approach?
The game has changed rapidly in recent years and we have long since had to abandon the assumptions we took for granted. This is certainly bold.
It would be hard to overstate the influence of McCullum on world cricket over the last decade. While his New Zealand side were not quite able to secure the global trophy they probably deserved – not under his watch, anyway; you could certainly argue he laid the foundations that led to Kane Williamson's team lifting the World Test Championship in 2021 - they did play with a style that left a lasting impression.
They were bold. And they were selfless, too. There was no place for anyone wilting under pressure or playing for their own average. They played thrilling, exuberant cricket which took the sport, especially at ODI level, to a new dimension. More than that, they did it with a smile and generosity of spirit that proved you could play tough, ruthless cricket and not be a prat.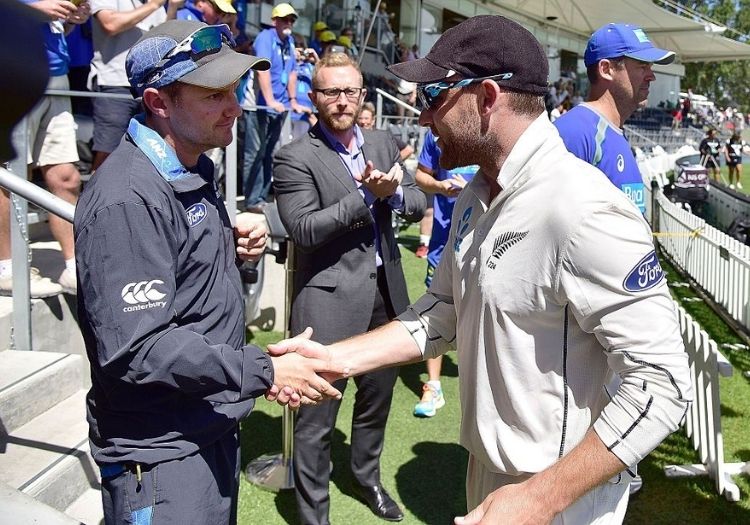 McCullum and then head coach Mike Hesson turned around New Zealand's fortunes (Marty Melville/Getty Images)
McCullum led from the front in every way. Of course, he set the tone with the bat. But even just to watch him in the field, where his commitment bordered on the insane, was a thrill. Physically brave and relentlessly committed, this was a man who you felt his teammates would follow through the jaws of Hell.
Nowhere was McCullum's influence felt more obviously than in England. Eoin Morgan, who had just taken over the England ODI captaincy ahead of the 2015 World Cup, could do little other than watch on admiringly as New Zealand showed how it should be done in that tournament. When they came up against each other, New Zealand won with depressing ease. The chasm between the sides was clear.
But once back in England, Morgan wasted no time revolutionising English cricket in the image of McCullum's New Zealand. Within weeks, they had scored 400 in an ODI and had embarked on a journey that was, in time, to take them to the 2019 World Cup. He has never made any secret of the influence McCullum played.
Also watching on was Ben Stokes, who returned to the England teams at the start of the home summer of 2015 (he had been left out of the World Cup squad). Like McCullum, he is New Zealand born, steeped in both rugby and Maori culture and the sort of character who inspires teammates and supporters alike. It promises to be an exciting double-act.
"The fear is Stokes and McCullum, for all their enthusiasm, will become frustrated by matters beyond their control. The problems in England cricket almost certainly go deeper than simply appointing a trio of charismatic leaders can resolve."
You could overplay the aggression theme, though.
For while both Stokes and McCullum have a reputation for outrageous hitting (nobody has hit more Test sixes than McCullum but Stokes is coming up hard on the rails of that record), both have also demonstrated the ability to battle it out when required.
As well as making the quickest century in Test history, McCullum made a triple-century at Test level, for goodness sake, while some of Stokes' best innings – not least his Headingley miracle – contained extended periods of obdurate defence. Their Test regime won't be as unsophisticated as simply sending players out to smash it.
Whether all this translates to coaching success remains to be seen. McCullum certainly has leadership qualities. And he will certainly command the respect of his players and colleagues.
Whether he can improve the performance of struggling players, settle upon a team which maximises the talent available and find a way for him, and his players, to remain fresh despite a self-defeating schedule is anyone's guess. There is no data on which to judge anyone of them in their current roles.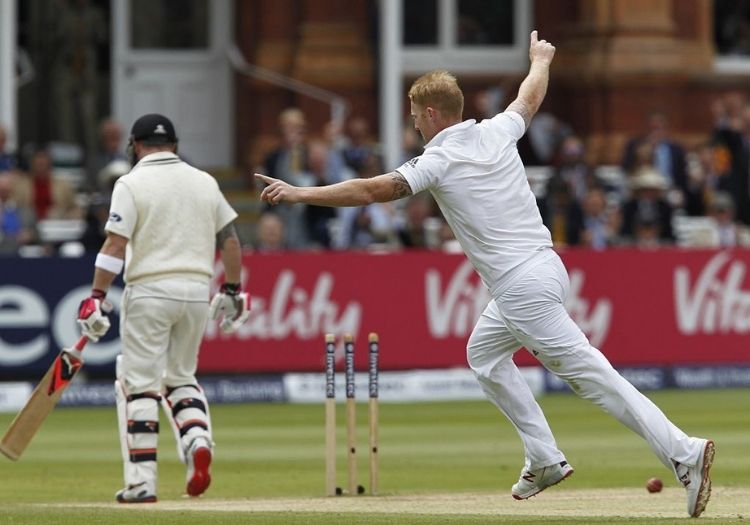 Stokes bowling McCullum at Lord's in 2015 (Ian Kington/Getty Images)
Perhaps that's unfair. McCullum has enjoyed some success as a T20 coach. He led Kolkata Knight Riders to the final of last year's IPL (albeit with a dramatic recovery in the latter stages of the competition) and Trinbago Knight Riders to the CPL title in 2020.
Until a few weeks ago, he had seemed happy with such part-time roles and training horses at home in New Zealand. It seems he has now resigned his IPL role to take up an altogether more time-consuming challenge. It is a typically fearless move.
The fear is Stokes and McCullum, for all their enthusiasm, will become frustrated by matters beyond their control. The problems in England cricket almost certainly go deeper than simply appointing a trio of charismatic leaders can resolve. They can't conjure up fast bowlers or spinners; they can't cut the relentless international schedule or reorganise the imperfect domestic one.
They are, like Chris Silverwood and Joe Root and Ashley Giles before them, victims of circumstance. If you put Frankie Dettori on a donkey or Lewis Hamilton in a lawnmower, even they will struggle. The appointment feels like something of a Hail-Mary pass.
But, if nothing else, it should be a lot of fun. And, ultimately, that is the point of all this, isn't it? Key has done well to secure the services of such an inspirational and in-demand leader. And if a Stokes-McCullum combination can't turn the fortunes of this ailing side, it may well be that nobody can.
---
Related Topics