A remarkable day for Pakistan, for whom Shaheen Shah Afridi set the tone
NICK FRIEND: If Rohit succumbed to a wondrous, gold-plated yorker, Rahul was dumfounded by an absolute masterpiece – a delivery so close to perfection that to be bowled by it might just have been the best-case scenario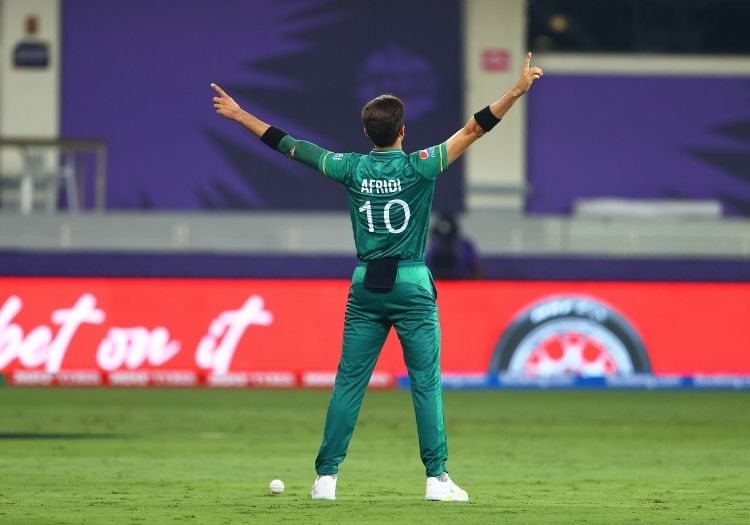 A game of this magnitude deserved a start of that magnitude. A stage of this magnitude deserved a spell of that magnitude. Enter, Shaheen Shah Afridi.
Without access to the Indian Premier League, without a T20 World Cup since he burst onto the international stage in 2018, without ever having faced India in a T20I, this - the biggest cricket match on earth – was his time.
In a format where the new ball only really exists for as long as your skillset allows, he is king. It swings, but not for long, so you'd better use it wisely.
Rohit Sharma knew what was coming, KL Rahul knew what was coming. But neither could prevent the inevitable: no one has more powerplay wickets in the last three years, nobody has bowled fuller more often than him in the same timeframe. "To be honest," he told Cricbuzz last year, "I just work on the in-swinging yorker. It's not my aim to bowl in and out. I want to bowl it full and hit the toe."
It's an open secret, just like it was an open secret that Usain Bolt would beat you over 100 metres, and just like Rohit and Rahul are an open secret: widely renowned as the best of their kind, both roundly accepted as impossible to stop. But it's one thing knowing what's about to happen and another entirely to prevent it.
Rohit was hopping back to the dugout no sooner than he had arrived, a powerless victim of precisely what Shaheen had promised to produce. And Rahul was castled not long afterwards. If Rohit succumbed to a wondrous, gold-plated yorker, Rahul was dumfounded by an absolute masterpiece – a delivery so close to perfection that to be bowled by it might just have been the best-case scenario.
To do anything else with it would have required a wider bat and, even then, a fair bit of fortune. "I don't care what nick you're in," gasped Nasser Hussain on commentary, offering a better defence than anything Rahul could muster. "I don't care how many runs you've got, you ain't playing that."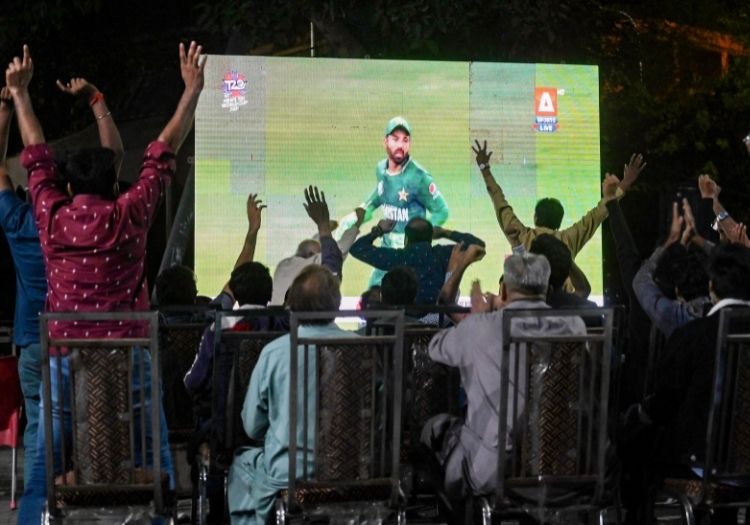 In Lahore, Pakistan supporters take in an evening's history
There were shades of Mohammad Amir at his very best, like when he tore through India's top order in the 2016 Asia Cup and in the 2017 final of the Champions Trophy. At their best, there is little in this great sport more watchable than a left-arm seamer at the top of his game.
Everyone wants one these days – in the same way that everyone wants a leg-spinner – but Afridi is the genre's gold standard. As a minimum, they are a point of difference, a modicum of variety. But Afridi's gift is in being so much more: tall, quick, unerring, dripping in aura. Even if he was a right-armer, he would be a special talent.
Arms aloft, the trademark celebration exhibits the sheer wingspan of his genius. To think that Middlesex have signed him to bowl in the County Championship's second tier – and at Lord's too – where his toe-crushing yorkers won't even need the assistance of the famous slope. A whole heap of batters on England's domestic circuit will be communicating this evening.

He bowled three overs in a row at the top of the match, more perhaps than he might normally get through, one fewer most certainly than the neutral might have pined for. It was to Babar Azam's credit that he forced his head to rule a heart that was no doubt pumping, no doubt desperate to keep his trump card bowling all day, no doubt keen to bottle up an atmosphere that – even to a television audience – was at boiling point.
Only once, when Virat Kohli waited deep in his crease to swat him over long on, did anyone dare attempt to assert their dominance. That was a truly remarkable shot in an innings that defied much belief; Pakistan were mostly so good that 57 off 49 deliveries was no criticism of his strike rate but rather a nod to his staying power.
He tracked Afridi on a couple of occasions in seeking to negate his late swing, fending off his threat with a composure that offered a disservice to the menace of what was being thrown at him.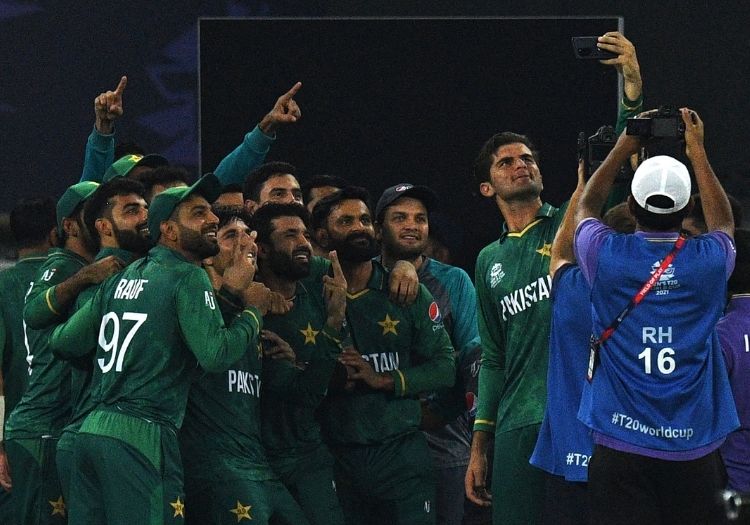 Shaheen Shah Afridi set up a terrific win for Pakistan
His terrific vigil – if such a thing is possible in a game as fast-moving as this – was only ever going to be ended by the brilliance of Afridi, who has far more to his bow than a yorker.
He got Kohli with a slower-ball bouncer, the ball after hurrying Hardik Pandya with a bouncer that was anything but slow. The only blot on Afridi's copybook was what followed: 10 runs in one ball, all told. An untimely no ball and then a major brainfart as he magicked a single bye into five with an errant, foolish shy at the stumps. At that point, WinViz crowned India as favourites to win a game that Pakistan had never previously won at a global tournament.
That didn't last long. History was made, and Pakistan were flawless from the moment that Shaheen Shah Afridi stepped into his stride.
Our coverage of the T20 World Cup is brought to you in association with Dafabet India. For more on Dafabet and to place a bet, click here
RELATED STORIES
Imperious Pakistan produce perfect display to beat India
Please ensure all fields are completed before submitting your comment!