WORLD CUP MOMENTS - NO.44: A nation cruelly denied by a flawed rule
HUW TURBERVILL: Long before Mssrs Duckworth and Lewis had devised their system, the world of cricket struggled to work out a definite formula for finding the winners of a match in the event of a rain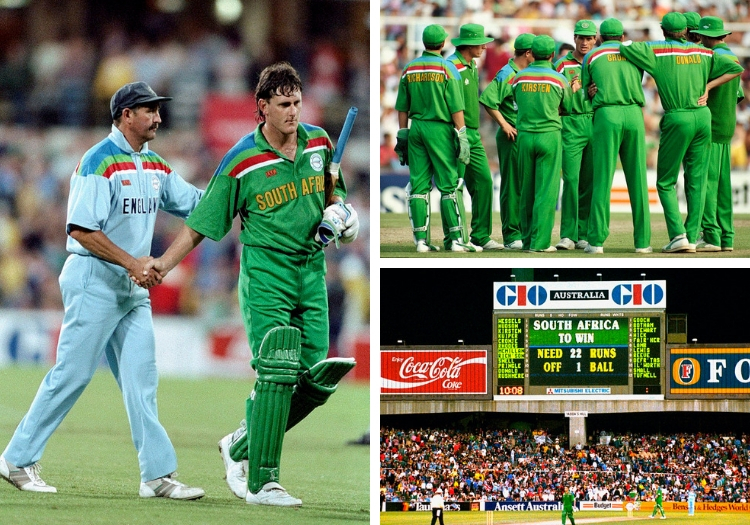 It was one of the most infamous incidents in Cricket World Cup history. A nation cruelly denied by a flawed rule. South Africa have suffered several sorry fates in the competition. This was the first – back in 1992.
Long before Mssrs Duckworth and Lewis had devised their system, the world of cricket struggled to work out a definite formula for finding the winners of a match in the event of a rain.
The old way of doing things was to calculate the run-rate of the first innings and then deduct that for each over lost by the team chasing. The new formula used at the 1992 World Cup was devised by a committee that included Richie Benaud. This tournament saw its one and only airing. Because of the perceived injustice of South Africa's fate, it was not to be seen again.
Essentially the team batting second, in the event of rain, would have their target reduced by deducting the least productive overs of their opponents in the first innings of the match. Even now it seems to lack a certain logic… for instance, England batted out two maidens. So when South Africa lost time for two overs, no runs were taken off their target… Hmmm.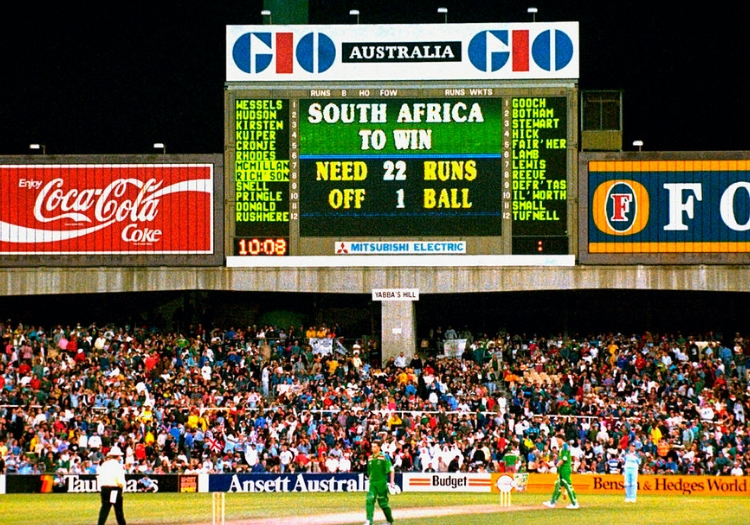 "At that time even the umpires were battling to work it out"
In Mark Baldwin's History of The Cricket World Cup, he explains: "The all-powerful demands of television meant that the match had to be competed, according to the rules, on that day. England had already fallen foul of [the rule] themselves – ironically in their group game against the South Africans – when an interruption of nine overs led to their target being reduced by a mere 11 runs. A brilliant 75 not out from Neil Fairbrother, however, plus the fact that they still had a reasonable number of overs left when the recalculation was made, enabled England to win that game against the odds."
In the semi-final at the Sydney Cricket Ground, South Africa captain Kepler Wessels decided to bowl. "Kepler, not too worried about the rain?" asked Ian Chappell after the toss. "Yeah it is a calculated risk, but if it rains we are bowling and it is not too bad. The problem comes if you are batting tonight and it rains, but that is a risk we are prepared to take." Oops – that is exactly what happened.
England made 252 for 6. Graeme Hick survived an early lbw shout off Meryck Pringle that had Wessels shaking his head in disbelief. Hick cashed in, making 83 from 90 balls. Dermot Reeve also had some fun against his old Warwickshire team-mate Allan Donald at the end of the 45-over innings (five were lost to rain), clubbing an unbeaten 25 from 14 balls. There was some criticism for South Africa about their slow over-rate though, and they were fined – so maybe they brought it on themselves a little bit.
"Because of the perceived injustice of South Africa's fate, it was not to be seen again"
Phil DeFreitas bowled a beautiful leg-cutter to remove Peter Kirsten (well worth a revisit on YouTube specifically for that) but Andrew Hudson (46) and Jonty Rhodes (43) kept the South Africans on track.
They needed what looked a gettable 22 from 13 balls (they were 232 for 6 off 42.5). Brian McMillan (21) and Dave Richardson (13) looked well set.
The ball was becoming wet though. Allan Lamb told The Guardian that he persuaded captain Graham Gooch to appeal to the umpires about the conditions.
The rain kept the players off for 12 minutes. When they came back on, that equivalent of the least-productive over of England's innings was lost. South Africa now needed 22 from seven balls. Then, farcically, by the time the players were ready, the other one was lopped off and South Africa, agonisingly, now needed 21 from one ball. "Somehow I don't think that is possible," said David Gower on commentary in his usual deadpan style. "A disappointing end to a great semi-final," said Bill Lawry with typical understatement.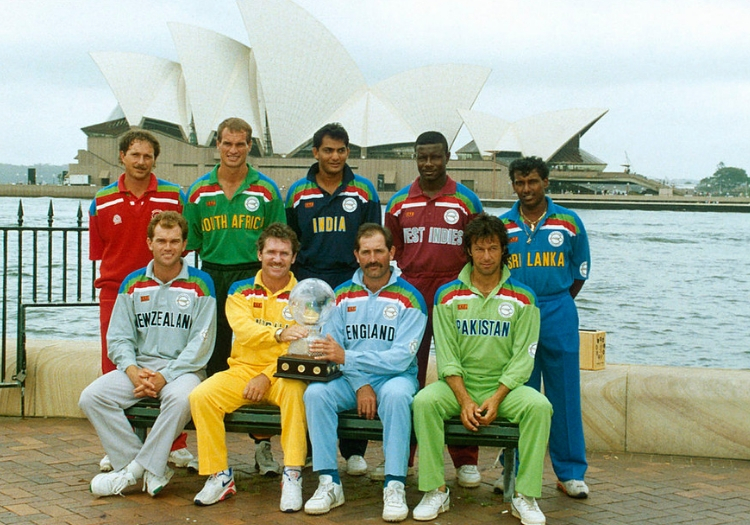 The skippers
The batsmen appeared to need persuading to resume their futile pursuit. McMillan then pushed Chris Lewis' delivery for a single to midwicket in one of the biggest anti-climaxes of them all.
"None of us could work out what they needed and the scoreboard actually got it wrong, showing 22," said Lamb. "At that time even the umpires were battling to work it out. It was a very unfair way to do it. For them to have lost two overs and then be left needing more than 20 off one ball was shocking."
The incident put a dampener – ahem – on the entire tournament. "Yes, television had at last become a player in World Cup cricket – and not just for the good of the game," wrote Baldwin.
The England players felt a mixture of delight at making the final, and embarrassment at the circumstances.
The South Africans felt fury and dignity. They held their noses and managed a lap of honour, which was laudable in the circumstances.
Please ensure all fields are completed before submitting your comment!