Women's County Cricket Day was a credit to its organisers... it's up to the rest of us to follow suit
SAM MORSHEAD: It was a reminder to everyone involved in our sport that if a handful of motivated enthusiasts can make such a significant impression in a short space of time, we really ought to be doing much, much better ourselves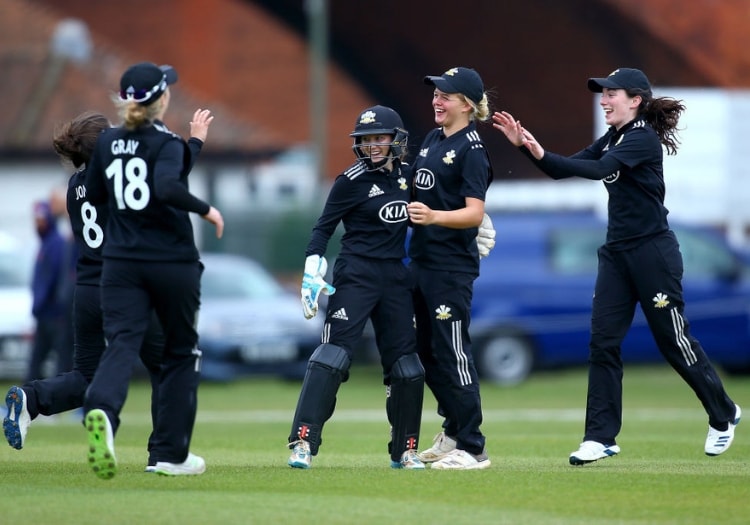 Have you noticed how, in today's society, the art of the argument has been largely lost?
Where once a subject might have been debated - wholeheartedly and heatedly, certainly, but debated nonetheless - there is now a tendency to abandon the pursuit of others' minds.
Discussion, so important in the broadening of all of our horizons, is too easily replaced by put-me-downs.
Instead of listening, learning and trying to win others over, we spend far too long congratulating ourselves on our own opinions. We are right and they are wrong, and that's how it will always be.
Groupthink is gospel, the loudest voices trounce the most empathetic.
And since when has that ever changed anyone's mind?
So it is always refreshing when an alternative approach is offered.
Which brings me to the recent Women's County Cricket Day.
The brainchild of a selection of bloggers and genuine fans of the domestic women's cricket scene, the event took place on Monday - with lovers of the sport encouraged to watch their county in action when there was little men's action on the calendar.
Essentially, the message the project spread was just common sense.
Of course women's county cricket is deserving of much more coverage; of course we should all be working towards a point in time when the female game in England and Wales has equality of opportunity to the men; of course the media should be much more supportive; of course the counties should do more to promote their women's teams; of course the ECB should make the female sport more accessible to fans.
Yet those simple ideas have continued to be overlooked, and when the status quo is as stagnant as it was it needs someone to pull out the defibrillator and jolt us all into action.
That is exactly what Richard Clark, Raf Nicholson, Syd Egan, Martin Davies and Don Miles have done, to their immense credit.
A cottage project, developed in their own time, for want of neither money nor personal credit, Women's County Cricket Day simultaneously reminded cricket's stakeholders of their responsibilities for the female game and substantially increased the exposure of a competition which had hitherto been hidden in the shadows of summer.
Those not insubstantial achievements were managed not through ranting and moaning, and complaining to each other within an echo chamber, but by showing others that yes, more can be done. Yes, it should be done. And by the way, this is how.
It was proactive and constructive, a reminder to everyone involved in our sport that if a handful of motivated enthusiasts can make such a significant impression in a short space of time, using little more than a network of Twitter handles and a burning desire to see the game grow - we really ought to be doing much, much better ourselves.
Certainly, as the editor of a website run in the UK and visited primarily by a UK audience, it alerted me to the very clear editorial failure of paying little more than lip service to the major domestic 50-over competition for women on our patch.
"Women's County Cricket Day did not drive crowds of hundreds through the gates across the Championship on Bank Holiday Monday, but it did awaken an encouraging response among clubs and journalists"
Yes, I can point fingers at limited resources and commercial imperatives but the Women's County Cricket Day project made it very clear to me that doing so would simply be making excuses.
It is with thanks to Nicholson and Egan, and the tireless enthusiasm of Clark, that we are upping our women's county output as a result, syndicating CricketHer's pioneering coverage and trying, in our own small way, to amplify a side of the game which has struggled for a platform and voice for too long.
Women's County Cricket Day did not drive crowds of hundreds through the gates across the Championship on Bank Holiday Monday, but it did awaken an encouraging response among clubs and journalists.
The event itself received column inches and social media acknowledgement from the BBC, The Guardian and Wisden in addition to The Cricketer, while the counties have been excellent in giving pride of place to their women's teams.
Organisers spoke glowingly of the way in which many clubs engaged with the project - there were one or two exceptions, but that can be expected from over-worked and under-resourced cricket boards - and indications are that the approach will continue beyond this one-off event.
A small step, perhaps, but one that has taken a mighty leap to reach.
Please ensure all fields are completed before submitting your comment!