Unperturbed Poonam Yadav runs through Australia to inspire India on opening day
Women's T20 World Cup Performance of the Day: The 28-year-old might have been denied a hat-trick but she has already produced one of the displays of the tournament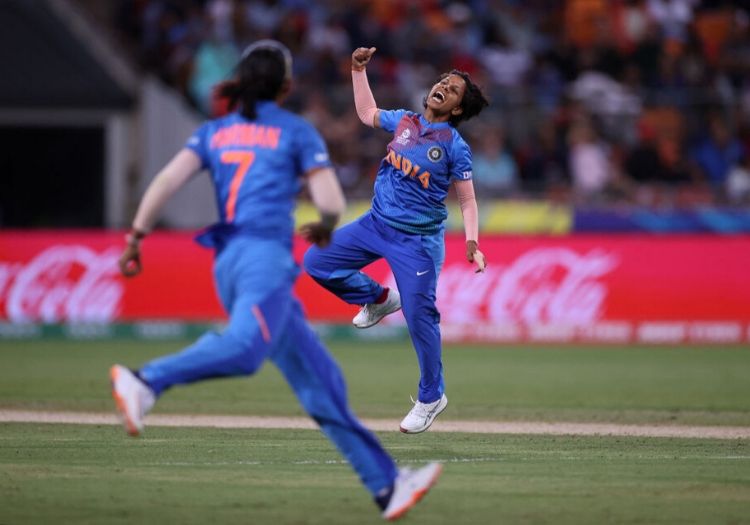 It's another darting googly. Jess Jonassen pushes at the ball hopefully. Wicket-keeper Taniya Bhatia goes near-full length, getting two hands to the ball. But she shells it. Another wicket is gone; a hat-trick lost to history. What would have been a five-for is a distant dream.
Yet, you would never have known it. Bhatia is briefly consoled by her teammates, most of which are merely the surrounding fielders. Poonam Yadav is already at the end of her run-up, having briefly leapt into the air, preparing for the final delivery of the over. At the post-match media set-piece, her words are not about what could have been, but what was. There is barely any recognition of the near-miss.
Sportswomen generally possess more humility than their male counterparts. That isn't because they don't care as much - there are dozens of examples of individuals who have broken the moral code - but women keep their counsel far better and prevent allowing the occasion to rule their emotions.
Australia were only five down when Yadav was denied the most perfect of hat-tricks. Rachael Haynes and Ellyse Perry were already in her back pocket when Jonassen popped a catch up for Bhatia. But there was still a job to be done, and India knew it.
Perhaps Yadav's build-up to this competition was key to her reaction. You would have to go back until November 20 for the last time she bowled a ball in anger. A hand injury meant that until the opening game she had played only one match in any format in three months.
For a player whose experience of T20 cricket in Australia didn't extend beyond two games in January 2016, missing the pre-tournament tri-series against the hosts and England was also a bitter blow.
The 28-year-old found herself at home at the Sydney Showground where a slow pitch - a leveller in a tournament such as this where so many of the opponents are alien to the traditional conditions - helped bamboozle the favourites.
She had the best team in the world all over the place. The benign nature of the surface and Yadav's relentless googlies were a combination the defending champions had little or no answer for. The lack of pace on show meant even Perry looked hapless, coming down the wicket after seeing the ball loop above her eye line.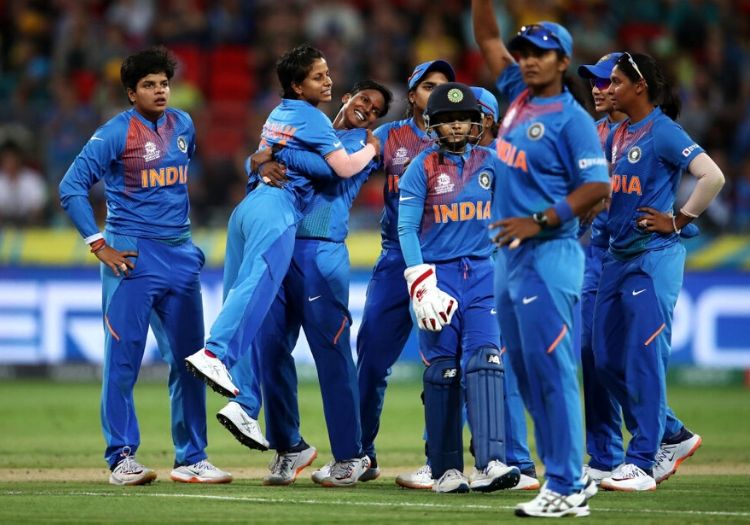 India kicked off their World Cup campaign in ideal fashion
Returning to Yadav's failure to carve her name in cricketing history, a deeper look into her international career highlights her lack of fortune when it comes to grabbing three on the bounce.
"This is the third time I'm missing a hat-trick, but thanks to my physio and team-mates I've recovered," she said at the post-match presentation of her player-of-the-match award. "Hopefully, I get a hat-trick in the future."
This might be the third time in World Cups Yadav has been unable to grab a treble, but it is the seventh instance in her entire India career (since 2014) that she has dismissed two batters consecutively, only to be denied a third.
It would have been extremely easy for her to consider what could have been after seeing Jonassen survive and take it into her final seven deliveries. But in front of the biggest crowd for a stand-alone women's match in Australia, she snuffed out any threat of a revival from her opponents. That is real class.
Please ensure all fields are completed before submitting your comment!